Quite an interesting couple days since the finale, no? All sorts of reports swirling around and speculation running rampant on what the hell is going on with Juan Pablo and Nikki, his relationship with the show, his relationship with Chris Harrison, what the hell happened at the ATFR, etc. I could seriously write 10 pages on it if you wanted me to break down everything, but honestly at this point, I don't care. I'm Juan Pablo'd out. Sure, it'll get brought up here and there in "Reader Emails" today, but to try and dissect that guy's brain and what he's thinking, and what's gonna happen from here, it's pointless. I'll stick by what I've said for the last 4 months. He did this as a publicity stunt, he was never interested in finding a wife or step mom, and the reason he didn't say he loved her on Monday was not because of some cultural barrier, or because he's trying to be private or whatever…it's because he doesn't. And won't. They are never going to get married, let alone ever get engaged. That's not what he wants, nor ever wanted out of this show. Period. End of story. My tune hasn't changed since November and it certainly isn't changing now.
Tonight will be the final live video chat for a while now that the season is over. Probably will come back the week before Andi's season starts. Her first episode is May 19th, so I'm guessing I'll do a show the Thursday before that on the 15th, then every Thursday from there on out. So join me tonight at 9:00pm EST/6:00pm PST to put a nice little bow around this season and send it off into the dumpster.
Also, I have not decided if I'm gonna go back to doing the "Daily Links" column, or maybe do a "Reality Roundup" once a week, or both. Or neither. Gimmie the weekend to figure it out. I'll be spoiling Andi's season as it's filming whenever I can, so you'll know when a new column is up with info by following on Twitter or my Facebook Fan Page. Definitely be there on Saturday when I give info on what's happening with the group date.
Chris Harrison has obviously spoken a lot since the show ended, but rather than link to every interview he's done, here's the best one I think he did and basically I agree with every single word he wrote in it. I know, shocking huh? His Q&A with TVGuide.com was dead on. Juan Pablo had to keep Nikki a secret for 4 months, and the first opportunity they got to be a public couple, he sat up there for 20 minutes and refused to say anything remotely nice about their relationship. Not like he was trashing it, but geez, give us something, anything.
Thought it was funny to hear Cassandra go on a local show in Michigan and take shots at Juan Pablo and Andi. Good stuff.
I tweeted this out Tuesday afternoon, but if you missed it, here it is again. Did you see the ratings for Monday night? The 2 hr episode got 9.5 million viewers, basically 1 million more than any other episode this season. And the ATFR? 11 million! In comparison, Sean's 2 hr finale drew 10.3 million viewers, with the ATFR drawing 10.8 million. So basically people saw Sean propose in his finale, and a few extras wanted to watch to see them be a happy couple on TV on the ATFR. Juan Pablo doesn't propose, gets crucified by Clare on the way out the door, and an extra 1.5 million people tune in to see where their relationship is at. I'd say that's pretty telling and is all you need to know about this show. People absolutely love a good train wreck. How many media outlets, friends and companions of yours, and social media comments have you seen that have said how bad of a season this was, and Juan Pablo was the worst Bachelor ever? Pretty much all of them. And although some people are tiring of Sean & Catherine, it's safe to say they are way more liked than Juan Pablo & Nikki, right? Yet more people tuned in for Juan Pablo's ending. Why? Because with Sean, you knew what you were getting. "Awwww how cute, they're engaged." There's zero drama once that happens. But Juan Pablo? No engagement, can't tell her he loves her, etc and it's like, "We GOTTA tune in to see what happens next." So yeah, Juan Pablo will be panned as the worst Bachelor ever, but do you think producers care when they get numbers like that? Hell no. People will watch if they get a love story, and people will watch if they get a train wreck. It. Does. Not. Matter. Been saying that for years.
Nice to see Nikki's ex-boyfriend, Ryan McDill tell her what everyone else is telling her in an interview he did with Star Magazine this week. Nice. And the chances of her listening to him are slim and none. Ryan, she's off in la la land right now. Hopefully it'll be sooner rather than later before she comes to her senses. I've known about Ryan for a while now. Figured it was only a matter of time before he spoke out. In case you're curious about what Ryan looks like, here are some old pictures of them together:
Ok, lets get to Andi. Filming started last night. 25 guys as far as I know. I mean, I'm good, but not that good. It's only been a few hours since the rose ceremony ended, so I don't know who was eliminated yet or how many. And considering I don't know all 25 guys yet either, kinda makes it hard to say who's gone. I can tell you that I have 15 of the 25 and will be releasing more of them on Tuesday next week. Today is an off day as the guys move into the mansion, and her first 1-on-1 is tomorrow night, with a group date Saturday, then another 1-on-1 Sunday and second rose ceremony Monday night. None of the producers live tweeted the limo exits last night so I guess they're taking a different route this season. Whatever. Do what you want. Your season is still getting spoiled. You don't think so? This was last night before getting into the limos. Well, hello Marquel: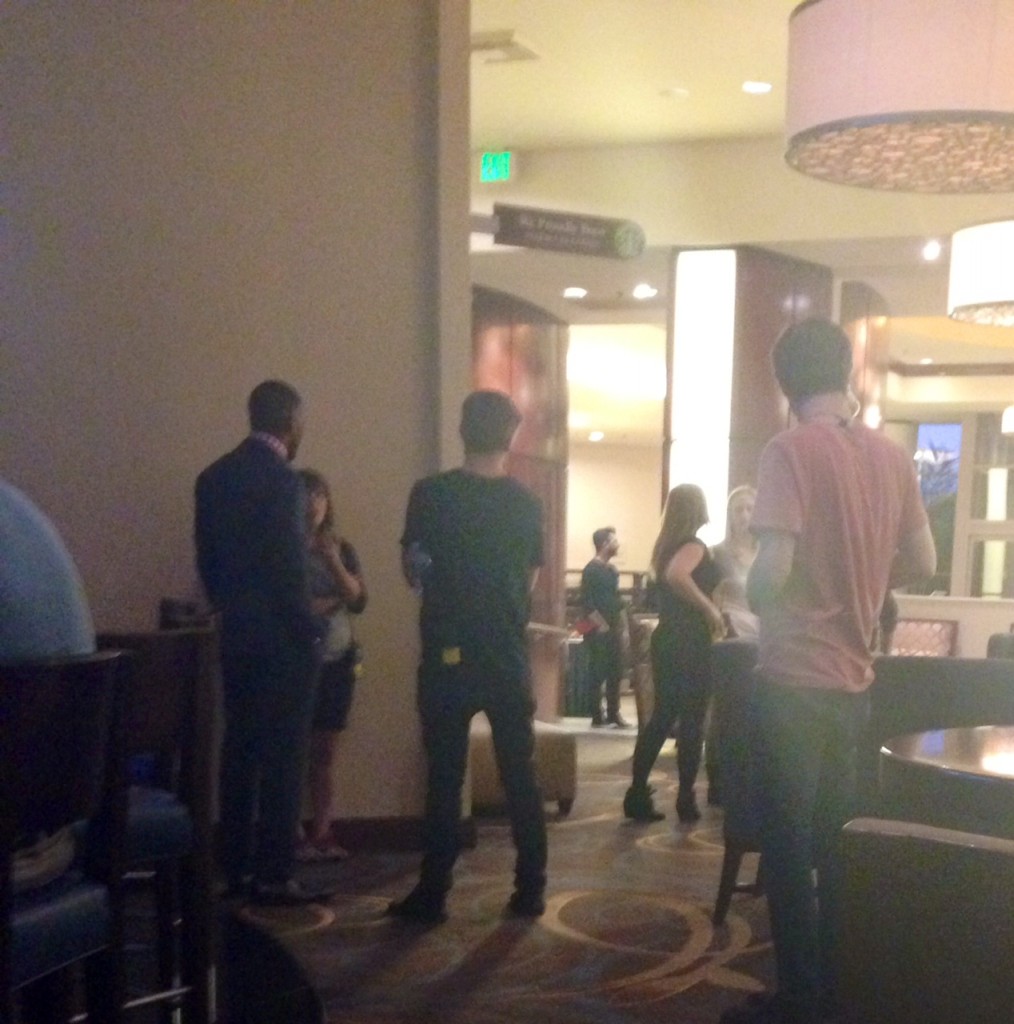 There's more where that came from. Lets save it for a little later.
As for Saturday's group date, I can tell you now that it'll be taking place in the Hollywood & Highland area and the "Hollywood Men" (a male exotic dance group) will be part of the date. So my guess is the guys will have to partake in some sort of male dancing show with minimal clothing on. I'm sure that won't be too embarrassing. Keep an eye on my Twitter feed on Saturday as I'm sure I'll be able to give you more details then.
A few things that have been updated on the "Andi's Guys" page regarding the nine I posted about on Tuesday including Tasos' age (30), and that Dylan no longer works for Ernst & Young, but a company in MA called Walter & Shuffain, P.C..