The second episode of Andi's season is complete with rose ceremony #2 happening last night. Before you ask, no, I don't know who got sent home. I'm good, but I'm not that good. It just ended hours ago. And since I'm not there I can't possibly know who was sent home. But I will at some point as I do every season. Just be patient. Not to mention, I don't know who all 25 guys yet are, so it could be people that I don't know exist. I was going to confirm more contestants for you today, but am gonna hold off til Thursday. Still have some incomplete profiles and waiting for a bit more information. Right now, I have another 11 guys that I know who are on the show. Seven of those 11, I have first and last names for and I'm just trying to get a little more info. One I have a first name and last initial, and the other three I just have a first name for. So gimmie a couple more days to sort through some stuff and I'll give what I can.
I'll start you off today with a little fun fact. This became evident to me after Andi's first 1-on-1 date this past Friday. Last season when I released Des' guys, the first one I released was Brooks. Brooks ended up getting the first 1-on-1 of the season. Last Tuesday when I released the first batch of Andi's guys, Eric Hill was the first one I released, and he ended up getting the first 1-on-1 of the season. Wow. It's like I'm psychic or something. How about that, huh? Now go impress your friends, lovers, and mistresses with that little nugget.
Here's where we're at in filming of Andi's season thus far:
Friday: She had her first 1-on-1 with Eric Hill at the beach. I re-tweeted out a pic from someone who was walking by that wasn't all that clear.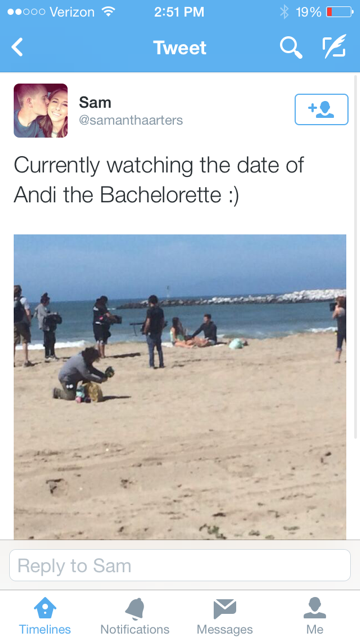 However, paparazzi got plenty more shots of this date (obviously set up by ABC because I highly doubt the paps were randomly just staking out Ventura Beach on a Friday hoping something was happening. They were tipped off to be there so Andi's season could start getting pub) and they released a bunch of pictures including various angles of Andi's crotch. Nice. Ummmm, if I were a girl, I don't think I'd enjoy being flipped on a first date. But hey, that's just me.
Saturday: The group date at the OHM Nightclub on Hollywood in Highland, which we'll call the "Magic Mike" date, because essentially that's what it was. As I tweeted out Saturday, there were 14 men on this date (right now, I know who 12 of them were) and they were broken up into 3 groups of 4, with two guys having to do solo performances. The 3 groups were Cowboys, Firemen, and Army Men and the two solo acts were the Pilot and the Robot. Basically the guys just got up there in those outfits, danced, and by the end had stripped down into different types of underwear.
This was not a competition. There wasn't a winning "team" or someone getting a rose based on their performance. I'm sure the rose was given out on the group date after party, but it wasn't given out during this performance. Kelly and Sharleen were there to watch with Andi, as all three were positioned on a couch in front of the stage. The audience (consisting mostly of women) would give the guys money during their dances and ventures into the audience hoping that one of them would turn into Channing Tatum. They didn't. All the money the guys collected went to charity.
Sunday: I don't know who was on Sunday's 1-on-1 date but the day portion took place at Santa Anita racetrack. This tweet and Instagram pic were posted on Sunday. By the looks of every guy I have (ones I've released and ones I haven't yet), he doesn't look like someone I've identified yet. But it's tough because it's from behind.
Most likely a 1-on-1 date today (first date of episode 3) and tomorrow will be a group date at the Paseo Nuevo mall in downtown Santa Barbara where Boyz II Men will be performing. I'm sure pics from this date will be all over Twitter and Instagram tomorrow afternoon, so look for that.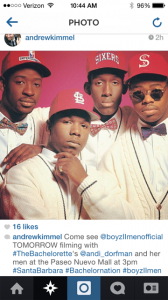 Couple things about the Andi's guys page that I wanted to update you on. I've added some more pictures of Dylan Petitt which I've also included here:
You'll also notice on that page that Will Barry has been removed. Will did not make the final cut on the show. He was let go before they made their limo appearances last Wednesday night, and it's safe to assume a lot had to do with the "Unclesexy" stuff reported last Thursday. However, I'm here to report to you that Will Barry is NOT the "Unclesexy" screen name that harassed former contestants on Twitter and in numerous live chat rooms, including my own. Yes, I know he appeared on Natalie's spreecast a year ago as Unclesexy, but basically he was assuming the identity of a "friend" who was controlling the UncleSexy account at the time and did him a favor, not knowing what this guy was saying on social media or in chat rooms. Will took to Facebook since he returned and posted this statement regarding everything: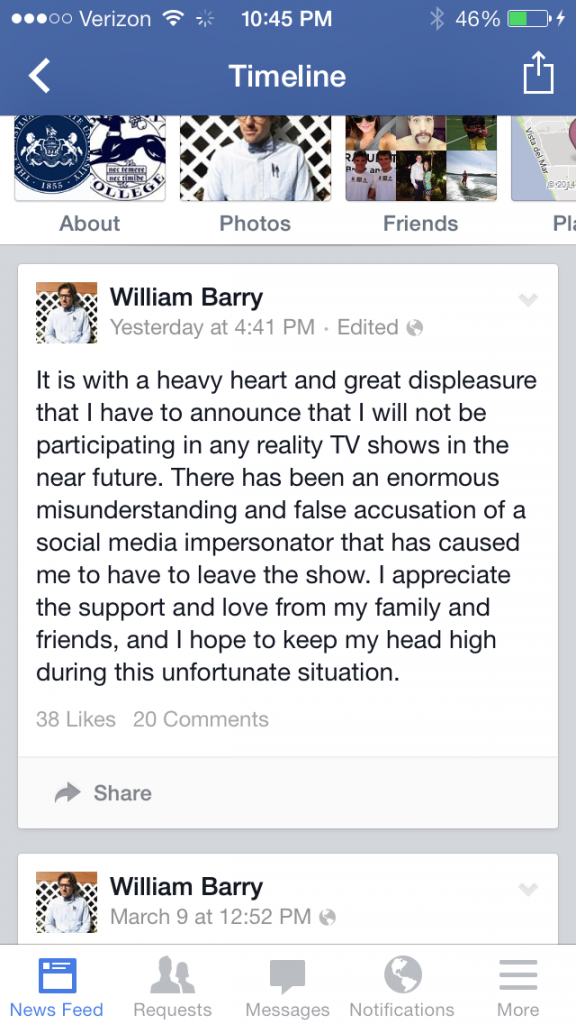 Look, I know some of you may be skeptical. I didn't even know there was a Will Barry/UncleSexy correlation until after I confirmed Will as a contestant last Tuesday. It was then brought to my attention the appearance he made on Natalie's show, and that's when I reported it on Thursday. Will had already been removed from casting Wednesday night before ever appearing on the show, so nothing I wrote Thursday cost him his place. Unfortunately for the guy, he got screwed over by a friend who behind Will's back had created this UncleSexy persona that was very unpopular amongst a lot of the female contestants of the "Bachelor" franchise, and even though UncleSexy is not Will, the perception has been that it WAS him, and apparently that was good enough for the show to not end up casting him and he was sent home. Feel bad that the guy was screwed over by a friend and his reputation tarnished by this UncleSexy persona. I'm just here to clear the air and not trample on the guy for something he didn't do. This wasn't some tag team effort that they were both in on and they got caught and now he's back tracking. Will's "friend" ran the UncleSexy account, Will was aware his friend was doing it, but had no idea the extent of the harassing and the things he was saying. So I repeat, Will Barry is not UncleSexy. It was a "friend" of his who was doing stuff to promote Will and his music career, and the guy took it waaaaaaay too far.
Send all links and emails to: steve@realitysteve.com. To follow me on Twitter, it's: www.twitter.com/RealitySteve. Instagram name is "RealitySteve," or join my Reality Steve Facebook Fan Page. Talk to you Thursday.