When things are slow, I usually only write once a week in the offseason. And there wasn't much to update on Tuesday, so I figured I'd just do one this week and put it all in here to catch you up. A lot of news and notes since last Thursday's column. I'll talk about the "Bachelor in Paradise" show that'll replace "Bachelor Pad" this summer, even though it's essentially the same thing. Andi's finale, Renee and her new husband, Ashley & JP being pregnant (well, Ashley's pregnant. JP just provided the…forget it. You get my point), an article on Sharleen, Ty Brown releasing a new album, "Reader Emails," and give you a timeline since last Thursday of Andi's season and what went on the past week, along with revealing two more guys for her season and updating you on where I'm at with the rest of her cast. A fun filled, action packed, wild ass column today that's sure to blow your socks off. Sit back, relax and enjoy the musings I have for you today. You won't be disappointed. Or maybe you will. I don't know.
Last Friday ABC made their official announcement that the "Bachelor" spin-off show this summer would NOT be "Bachelor Pad," but rather a show called "Bachelor in Paradise," where they will put former contestants in a tropical location in hopes to find love. The press release was about as vague as you can get because, well, the show doesn't even know how EXACTLY it's going to work. It will differ from "Bachelor Pad" in that there will be no challenges and no $250k prize at the end. They're actually going to try and make the show about love, which is downright hilarious. But hey, to each their own. There are former contestants BEGGING to be part of this show just because they want to be on TV again and have people talk about them. I mean, at least with "Bachelor Pad," you had an excuse of, "Hey, there's a money prize I could possibly win." But now you REALLY want to go on this show to date someone that I guarantee you has already hooked up with someone else, if not multiple people, from this franchise? Sound logic.
So your next question to me is obviously going to be, "Who's gonna be on it?" Well, the same exact people that were up for "Bachelor Pad" are up for this show. They are asking EVERYONE, to gauge who would do it. Then once they get enough people who say they will, they'll narrow it down. However, I can tell you that you can pretty much expect these people to be on this season barring something crazy happening: Jef, Arie, Courtney, Michelle Money, Graham, Sarah Herron, Chris Bukowski, and AshLee Frazier. Maybe one of them doesn't make it on, but I would expect to see all of those names on the cast list. Of course there are going to be girls from Juan Pablo's season most definitely on the show, but I don't know who yet, along with others. But if you're asking me right now who's going to be in the cast, I'd say those 8 names are a safe bet. The show doesn't start filming for another couple months anyway, so nothing is official at this point. The cast certainly isn't, nor has the concept of the show been decided. And I'm sure they'll keep it that way so everyone that does go on the show has no idea what to expect until they get out there. That's essentially how they'll rope them in to doing it. Not like they really need to twist any of their arms because these people would probably pay them to be part of the show.
With the premiere of "Bachelor in Paradise" being announced for August 4th, that means the "Bachelorette" finale will be the week prior, so Andi's finale will take place on July 28th. With her premiere being May 19th (only a 90 minute premiere that'll air after the DWTS finale and then it moves back to the regular 2 hr show the following Monday the 26th), this season lines up with past seasons in terms of a timeline. Obviously things can change and they might move episodes around, or air back-to-back episodes, but based on this schedule, it doesn't look like they'll need to:
May 19th (90 minute premiere) – Meet & Greet
May 26th – LA
June 2nd – Santa Barbara
June 9th – Connecticut
June 16th – Overseas
June 23rd – Overseas
June 30th – Overseas
July 7th – Hometowns
July 14th – Overnights
July 21st – Men Tell All
July 28th – Finale
So really doesn't look like there's gonna be anything crazy done to the schedule this season, but I'll keep you updated if they do. After tonight's rose ceremony, they head overseas. I know they're going to Italy this season, just not sure if it's the 1st, 2nd, or 3rd stop. If I had to guess, I think it's their first stop. Just a guess.
So let me get this straight: Renee had a longtime friend/lover that she had lost contact with for a while, but after she got back from filming in November they hit it off again, she gets engaged to him in February, a week later moves her and her son to Seattle to live with him, then 2 weeks later elopes with the guy in a $50 wedding dress with no family involved, yet Desiree was there? Hmmmmmm, ok. Can't exactly say that's the way I would've done it but to each their own. Just one question: How much longer until the pregnancy announcement? I mean, c'mon. Ashton and Mila got engaged and two weeks later, whaddya know, we find out she's pregnant. Stacy Kiebler did the same thing. Is it really that far fetched to throw it out there? I don't think so.
Speaking of pregnancies, Ashley and JP are expecting their first child after making the announcement yesterday as part of the "In Touch" magazine cover story. Congrats to them. Bunch a little "Bachelor" babies running around now. I really hope this show is still around in 25 years so we can see all their kids date each other as well.
In case you didn't know, former "Bachelorette" cast member from Ali's season, Ty Brown, and "Bachelor" cast member Elizabeth Kitt (Jake's season & "Bachelor Pad 1") got married recently. Ty is working on a new album where you can donate and be part of it. All the details are in the link so check it out.
So how has life in the opera world been for Sharleen since here appearance on the show? Eh, the jury is still out based on this recent article. Definitely hasn't gotten any extra gigs because of it, but lets face it, it's still a bit early. She no longer lives in Germany and is doing work out of New York, so I'm guessing that'll at least help a little bit. Or not. I don't know the first thing about the opera world, but good luck to her.
Now lets get to Andi's season. When I last left you a week ago, she was having her rose ceremony in Santa Barbara last Friday. Travel took them to Connecticut for dates this week. I know some of you tweeted at me what they were doing in Connecticut, but this is really no different than Des doing a week of dates in New Jersey last season before heading overseas. This seems to be how the "Bachelorette" has been going for the last 3 seasons or so. Start off in LA, do one U.S. city on the east coast so it's a shorter flight when they head out overseas. Andi had a 1-on-1 this past Monday, a group date Tuesday, then a 1-on-1 last night. I got all screwed up with my info on my tweets Tuesday, so let me set the record straight. I initially tweeted out that the group date Tuesday was in Essex and that the after party was going to be at a private area in Mohegan Sun. Then I changed it to the after party was going to be somewhere else. Well, my initial info was right. Tuesday's group date was on the Essex Steam Train before they went to Mohegan Sun for the after party, were paparazzi spied and got a few pictures (see below). Yesterday's 1-on-1 was with Marcus Grodd. Not sure what they did during the day, but they had dinner at the Griswold Inn before heading to Mohegan Sun for a mini concert put on by Jon Pardi. Here are pics from the date:
I've got two more guys to give you today, bringing the total up to 15. You can see the list of every guy for Andi's season that I've revealed on the Andi's guys link at the top of the page, or just clicking the link I just gave. I have 21 of the 25 guys this season. So the six I've yet to release will come at a later date. Some are still there, some aren't. I'm pretty sure on some of the eliminations so far, but want to wait until we get closer to the end. But we're only two weeks into filming and I've given you over half the guys on this season. I'll release the others when I feel it's necessary. Not really in any hurry since, well, no one else knows anything and there's stuff I've still yet to tell you. Kinda fun holding all the power, no? Anyway, here are the other two guys that were on the Boyz II Men group date last week that I didn't identify, "R" & "C":
___________________________________________________________
14. Ron Worrell: 28, Nashville, TN. Speaks 4 languages, and is currently a distributor sales manager for MillerCoors. Graduated Loyola University in New Orleans in 2008 with a B.A. in Marketing. Mom is from Israel, dad is from Barbados (they are in the pictures below). They both worked for the United Nations so he traveled a lot growing up living in both places along with Florida, Tennessee, and Louisiana. On the Sweater team in the Boyz II Men group date.
Facebook – Ron Worrell
Instagram – ronniewoooo
LinkedIn – Ron Worrell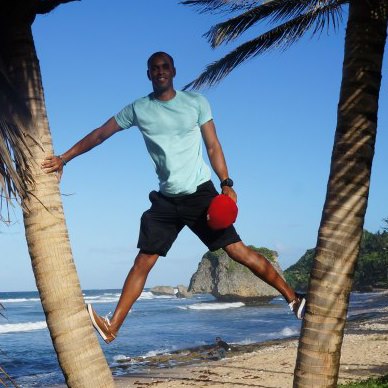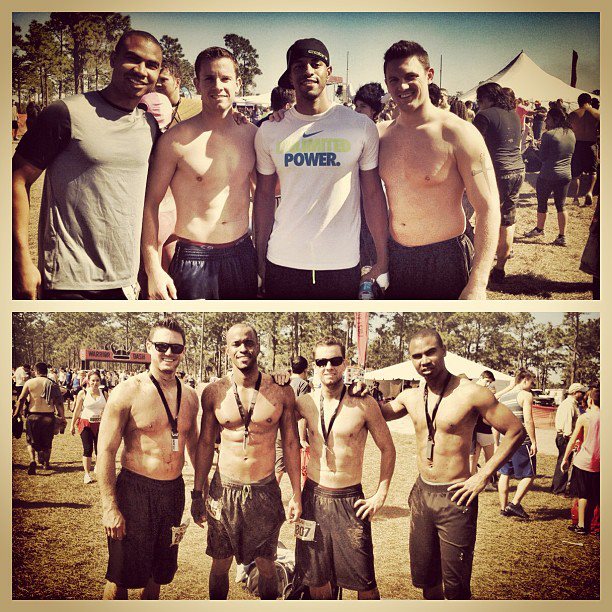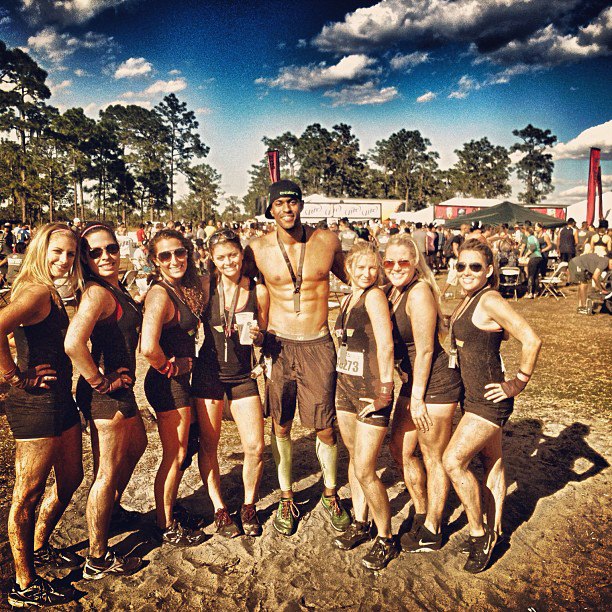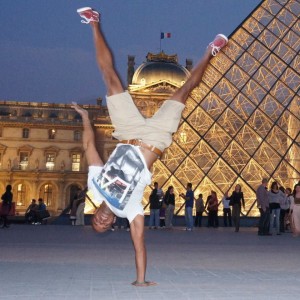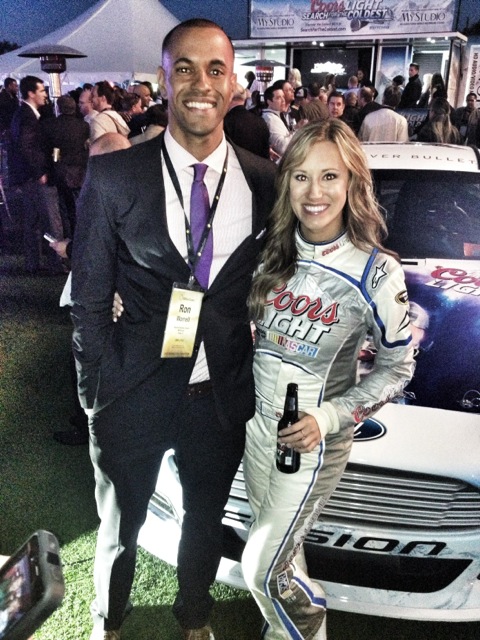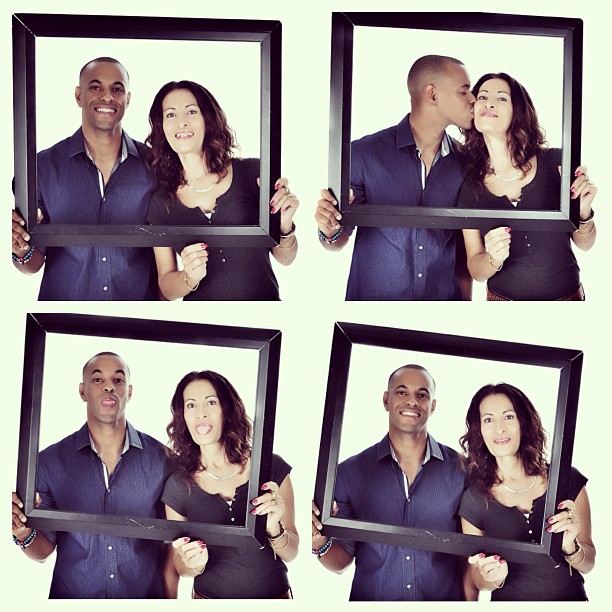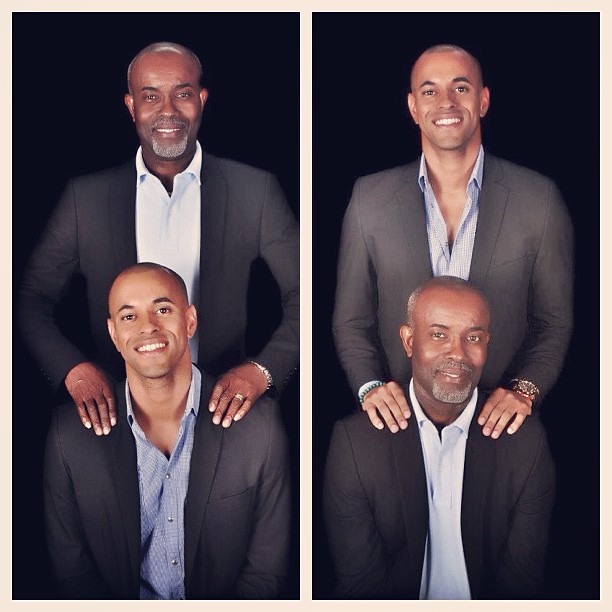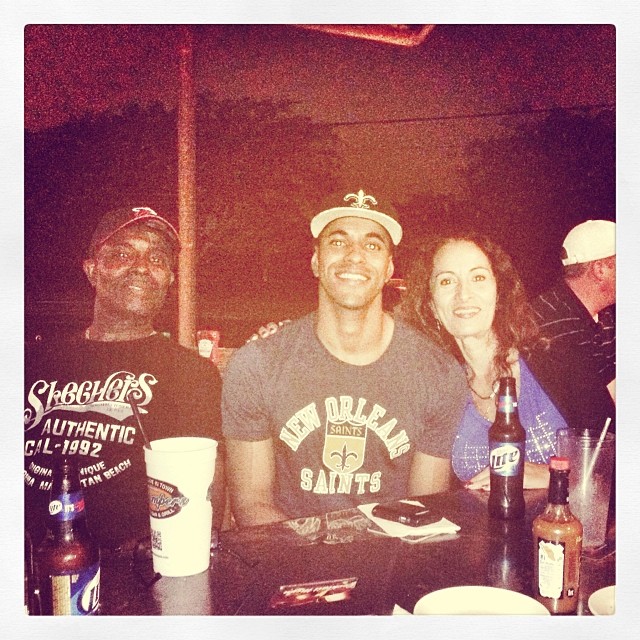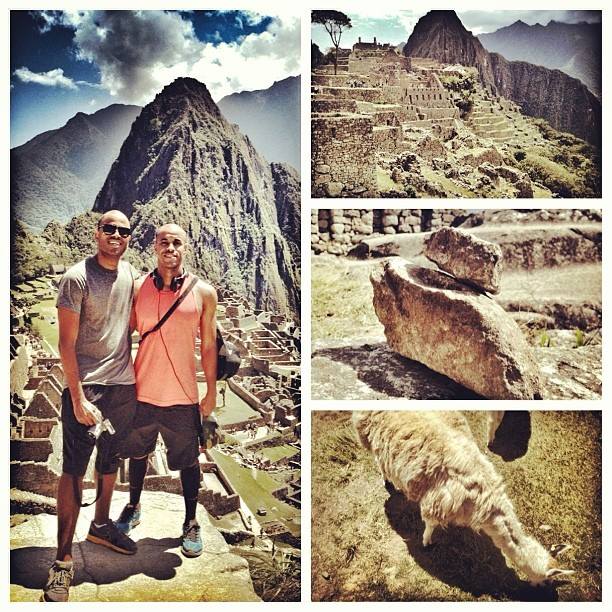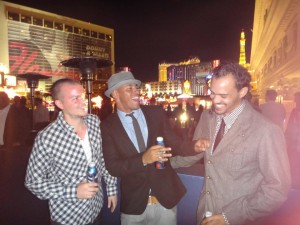 ___________________________________________________________
15. Cody Sattler: 28, Chicago, Ill. Originally from Omaha, NE. Graduated from Kansas St. University after attending Garden City Community College. Former 6th grade elementary school teacher that currently works as a personal trainer and Boot Camp instructor at Chicago Boot Camp Club in the Lincoln Park area. And for the small price of only $50 an hour, he'll tutor your child in vocabulary, prealgebra, and English. And maybe provide them with some PED's. On the Sweater team in the Boyz II Men group date.
Here were pics from the group date after party at Mohegan Sun on Tuesday night that the paparazzi was able to get a few shots of. Uh oh, Cody. Never a good sign when you're getting the butt out hug from a girl like Andi is clearly giving you.