Every season is a different animal for me. I kinda never know what to expect going in to each season, but I know at some point, I'll get the spoilers. Usually they are pretty detailed. Obviously there are things in the past where I gave you spoilers that were never even shown, and sometimes stuff happens that I don't know about. But for the most part, when I release my episode-by-episode spoilers, my main goal is to tell you who went on every date, what they did, who got the group date roses, who got eliminated and how. So basically you'll have an outline for the season in terms of every episode. And then I sprinkle in stuff I hear about drama, cliques, fights, and any other behind the scenes stuff I'm told. What I post is what I know. Some is more than what actually gets shown, and some stuff that gets shown I don't know about. But every once in a while I get stuff that even I shake my head at. As I've always said in regards to my spoilers, people just like sharing stuff with me. Must be my overwhelmingly charming personality. Gotta be it. Anyway, received these last night so I figured I'd share with you. Nick's parents live in Waukesha, WI and that's where dinner was after Andi & Nick had drinks at the Lakefront Brewery in Milwaukee. Here are pictures from last night's dinner at the Viall house along with some notes…
Love the side pony in this one. Very 80's of her…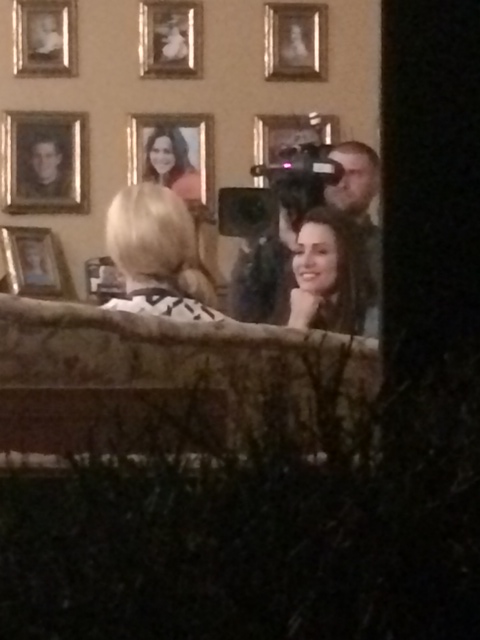 The side pony again. Can't get enough of it…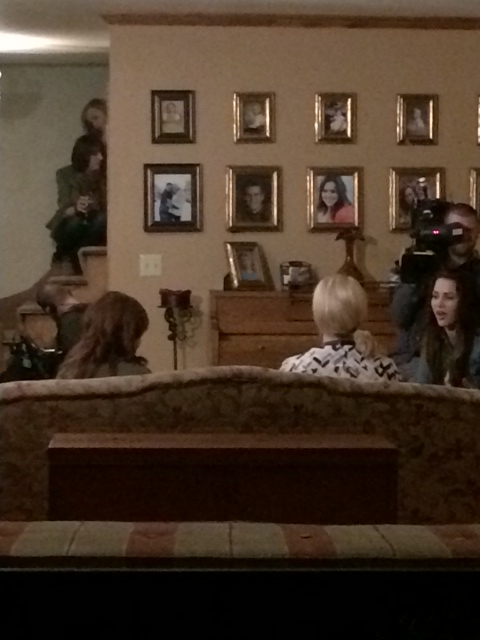 Yeah, this totally seems like you can have a normal conversation with a potential ex future sister-in-law…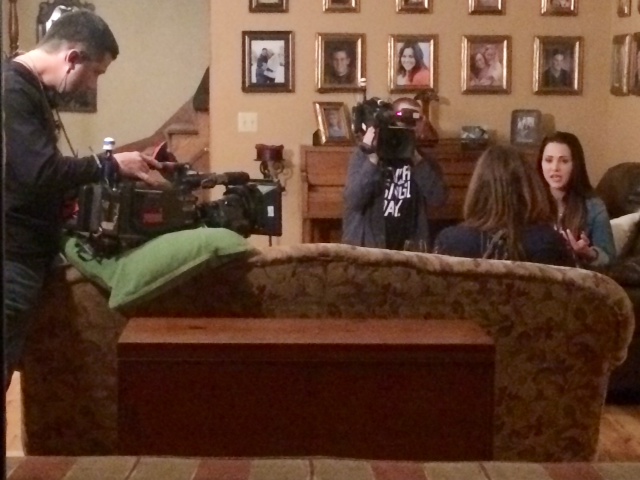 You think all of Nick's sisters (remember, he's the 2nd oldest of 11 siblings) are on their phones fangirling to all their friends, "O…M…G!!!! Andi is on our couch!!!!" (Clarification: These aren't his sisters in this pic. These are producers. But seeing them on their phone made me think of his sisters possibly fangirling)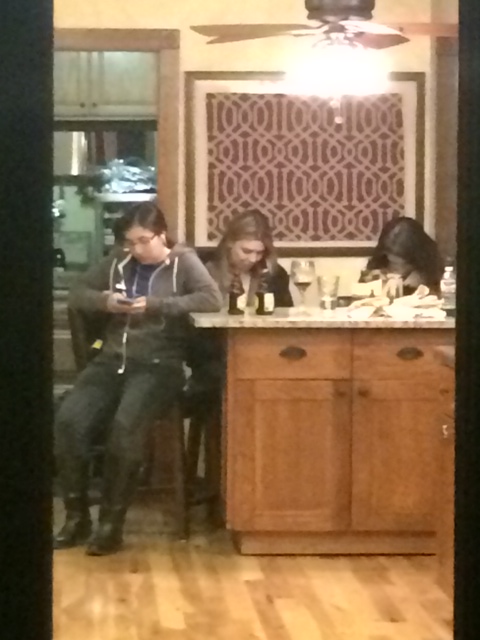 Nom nom nom nom nom……Hey, save a plate for me. I'm starving.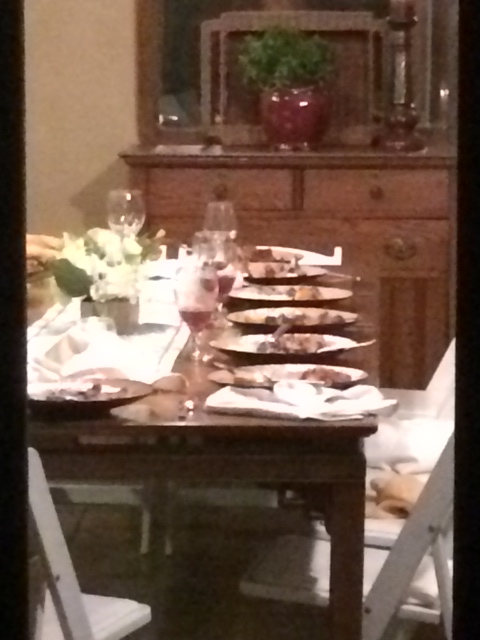 This looks like the conversation with the family member who's like, "Yeah, I think this show is crap and I don't buy it." (This is the same sister who is in pic #2).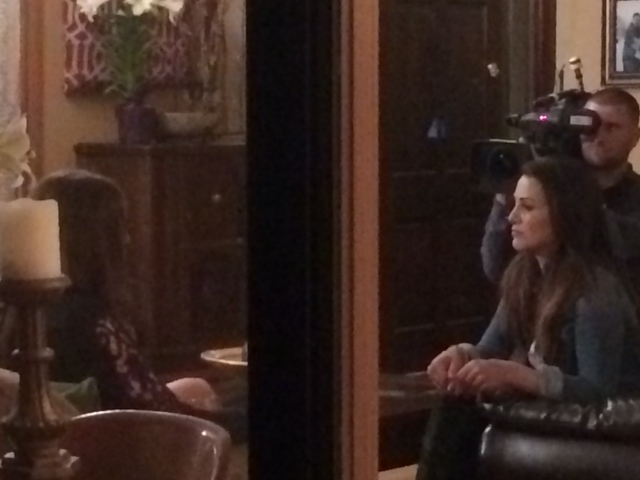 The blonde one sure is a tall drink of water…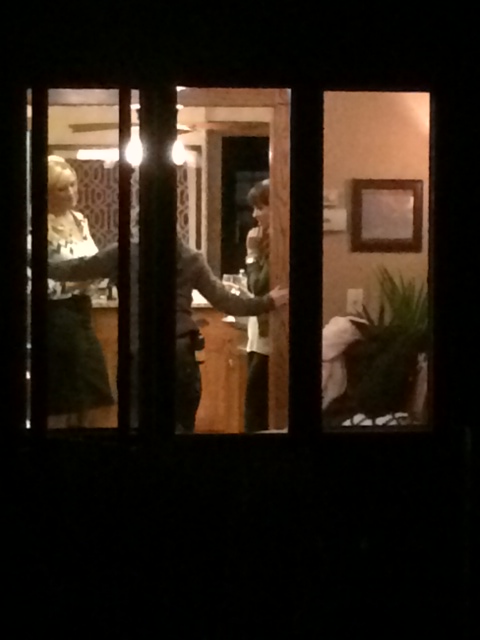 Peek-a-booooooo….I seeeeeeeeeee youuuuuuuuuu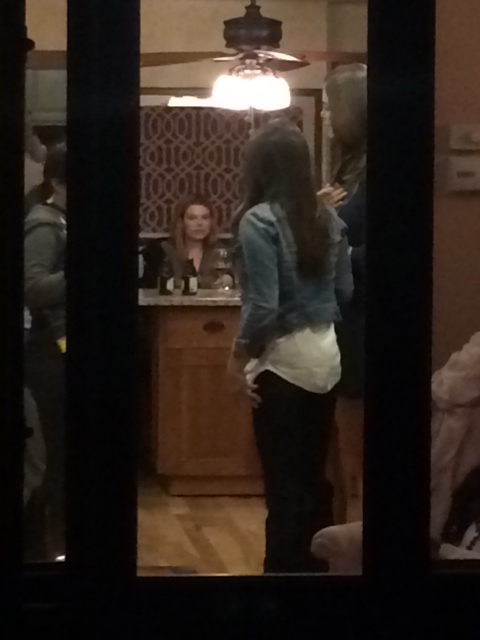 A few notes about this hometown date…
-Nick was once engaged but broke it off because the relationship wasn't working. Andi had a three year relationship in her past that she broke off for the same reasons and that's what they've bonded over.
-Apparently Nick is an emotional guy and cried earlier in the day after seeing a friend. Sounds like before they met the parents, Nick saw a friend somewhere and cried when leaving his house.
-Yes, the sister in pics #2 and #4 is the one who is skeptical of the show. Andi did her best to convince her it's legit. Not sure if it worked.
-There were over 10 people on this date
-Production sure does a great job with security around the house, don't they? Bhahahahahahahahahaha
So there you go. Just wanted to share what I learned from Nick's hometown. I believe Friday's hometown is Chris' in Iowa, Josh's is Sunday in Tampa, and Marcus' will be Tuesday here in Dallas. Hey, maybe I can go scope that one out or have a camera implanted in Marcus' living room without them even noticing. I'm sneaky like that.
Send all links and emails to: steve@realitysteve.com. To follow me on Twitter, it's: www.twitter.com/RealitySteve. Instagram name is "RealitySteve," or join my Reality Steve Facebook Fan Page. Talk to you soon.