I'm in a giving mood today. Maybe it's because I experienced by my first in person spoiling in the 11 year history of this show. Maybe it's because this week has flown by. Or maybe it's because at this time tomorrow, I will be on the Venetian casino floor trying to take their craps table for everything they have. Whatever the case, it's a good day. I'm gonna share with you some of the spoilers to expect this season with Andi, along with narrate my trip on Tuesday spoiling Andi & Marcus' hometown date. Pictures included! Also want to mention that today at 12pm EST, I'm doing a live chat with #SocialFlySessions that you can view by scrolling down to the next post. It'll be hosted by Stephanie Abrams, who you may know as the girl who screens your questions during my live video chats. We'll be talking about how social media has changed the way reporting works, how it affects what I do, and the ramifications of it's importance in the every day lives of people. So tune in for that. We'll be live shortly after you're seeing this column posted, so be sure to come back at 12pm EST/9am PST. If you want to join in and ask a question, just like my live video chats, you can do so by clicking the blue "Question" button on the screen.
Thank you for all the responses yesterday in regards to what I wrote about the passing of Eric Hill. It's definitely a tough time for those close to him I'm sure and even though I didn't know him, by reading some things that people were writing about him on Twitter and his Facebook page, it sounds like he was quite a unique individual and will be missed. The show must go on and will go on, so I wanted to present a few things that must be decided upon going forward. One thing I did get an answer to yesterday speaking with a few people in the legal field is that, unfortunately, the family will have no say at all in how he's portrayed on the show. He signed a contract to appear and ABC owns the right to the footage that they shot. With that said, and as slimy as these people are, I do not expect them to do anything out of the ordinary with him. I'm sure we'll see him on the show as any other contestant, but with an obvious nod (whether it be before or after the show) to the fact he's no longer alive and a tribute to him. You can't edit a guy completely off the show who was somewhat of a central figure in the episodes he appeared, so I'm expecting things to carry on as normal, but with a definite mention of his passing. As for his exit from the show and the how/why he leaves, that's yet to be determined. Out of respect to his family, I don't feel that's important right now to spoil his exit. When the episode airs in June, and I see what ABC shows, it'll be more relevant then and I'll make a determination. It's not like it's this monster, crazy, unbelievable thing we've never seen before on this show. It's not. But it's also not just him not getting a rose at a ceremony either. Lets just see how it plays out on TV first. If some other outlet gets the information and wants to report it, so be it. But you won't be hearing it first from me.
You know, this is 11th year and 28th season this show has produced. I've been covering the show for 9 of those years and spoiling for the last 5. But this past Tuesday was a first for me. Never before had I actually been a part of actually seeing the show filming on location. But that changed this past Tuesday when Marcus' hometown date was filmed in Dallas. For those that follow me on Twitter, you've seen the pictures I tweeted, so let me give you a little background on what happened as I narrate the story with pictures. I was informed earlier in the day that filming would be taking place at Highland Park Village, a boutique outdoor mall close to downtown Dallas, about 30 minutes from me.
It's not very big, so I knew it wouldn't be hard to find them. When I showed up, I had lunch at a place called Bistro 31. For the record, I had the Spaghetti Chitara that was excellent…
I noticed from where I was sitting (which was outside but under a canopy), just on the other side of these curtains were crew members walking around, setting up tables and moving plants in an small outdoor courtyard. I knew at some point, Andi and Marcus would sit down and do some filming here. The courtyard is up a few steps and just on the other side of these curtains. As you can see, it was basically empty except for an old couple having lunch at a table over from me, so it was basically impossible to be discreet…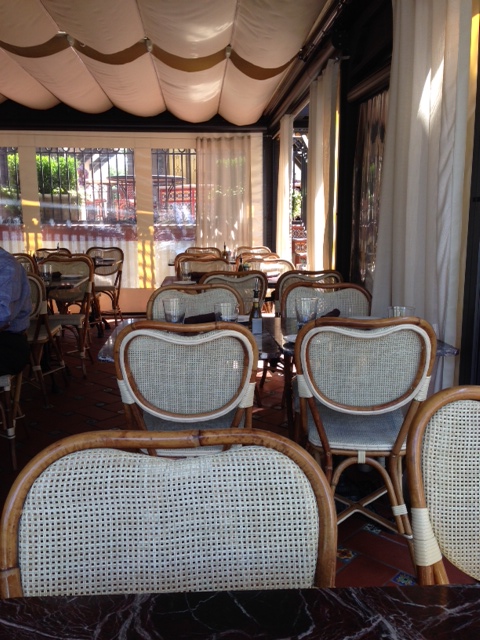 Then I saw a few black SUV's pull up and people with backpacks and cameras get out, so I figured Andi and Marcus were arriving shortly. I finished my lunch, walked around the parking lot, and saw camera and sound guys standing in the parking lot just waiting…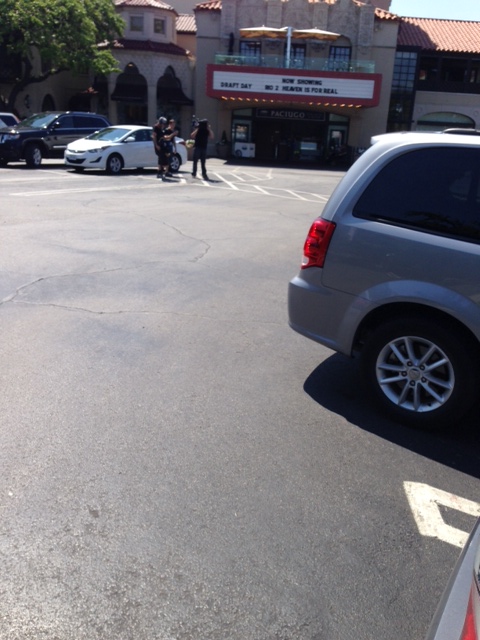 The mall is shaped like a "U," so I assumed Andi and Marcus would just walk the mall in front of all the stores, so I just positioned myself in front of some women's shoe store to pretend like I was actually interested in buying women's shoes. Huge fail. Before I knew it, Andi & Marcus were holding hands walking right towards me…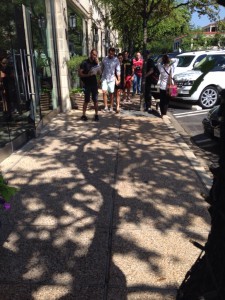 Cameras weren't following them just yet, as they were basically just rehearsing the path they were told to walk and do a sound check. So they walked right by and I took another pic from behind…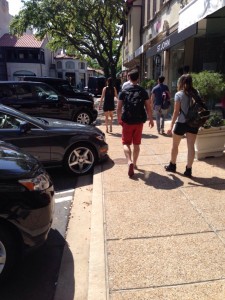 After they circled the outside of the mall, I figured I better head back to Bistro 31 since I was assuming that's where they'd end up to sit and talk. I went upstairs, about 20 feet above them, ordered a few beers and just watched…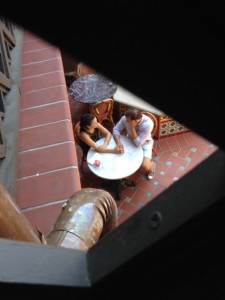 The only other people in this area where I was, was a group of three business guys having a few beers at Happy Hour. And oh yeah, producer Adam Mansfield, who I could tell after about 5 seconds of sitting down, knew exactly who I was and what I was doing. However, he never said anything to me because, well, it's a public place. It's not like I was intruding on anything. I'm sure if I was already seated in the courtyard I would've been told to move, but I'm not that stupid. But Adam just spent the whole time on his phone, talking, texting, and even taking a picture of me. Dude, you're not fooling anybody. I saw you do it. Not sure the need to take a picture of me sitting at a table by myself drinking beers, but hey, hope you enjoyed it. Anyway, I would occasionally glance down at Andi & Marcus, and really it was about as anti-climactic as you can get…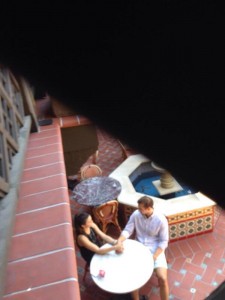 The only thing they did in the 30 minutes I sat there in boredom watching them (because I couldn't hear what they were saying), was eat the cupcake that he had given her. Exhilarating stuff I tell ya'…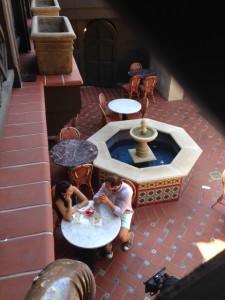 Bottom line is, I could've snapped a 100 pics of them sitting there, and all of them would've looked exactly the same except for different arm positions. I couldn't hear what they were saying, I couldn't tell anything other than it was two people walking, talking, and holding hands on a date while a giant cameraman followed them around. It was about as uneventful as you can get, but hey, I figured I'd share it with you. I hope the production team all enjoyed talking about me while I was there. Hope you got my good side when you took that picture, Adam. Nice touch with trying to take it when I wasn't looking, only to quickly bring your phone down when I looked over. That wasn't too obvious at all. I got what I needed out of that date, and I left.