I feel like two months of work is pretty much over. Now comes the fun part, which is just watching the episodes, making fun of the people involved, and having a jolly good time. We're 11 days away from the premiere and I have for you every date, every rose, and every elimination you'll see this season. Will there be things you read today that won't make it on air? I'm sure. Will there be things that happen this season which aren't reported today? Absolutely. Happens every season. This is a guide to let you know who goes home when, who got roses, and anything else I've been made aware of this season. There will be things I'm sure I will find out as the season goes on which I will report, but for today, here is your guide to what you definitely will see up through the final four. Filming for the season either ended yesterday or today. Once I get the breakdown of what happened in the Dominican Republic, I will report it. Anything else is pure speculation and I'm not real big on speculating. I report what I know to be true. And what you read today all happened. Hope you enjoy your guide and start filling out your "brackets" that your friends will inevitably make up for this season, which is about the silliest idea out there considering I've been spoiling for 5 years now. So if you're running a bracket pool out there, and even one that gives away prizes, then you deserve what you get. And if you enter a bracket pool, yet don't bother to check for spoilers but other people you're competing against are, then you're losing. If you're not cheating, you're not trying.
A few notes to give you as we head into the spoilers for the season:
-For the second season in a row, there is no 2-on-1 date
-Andi's dad showing up at the first night cocktail party to talk to the guys was a surprise to even her. She had no idea he was coming
-Production was not delayed at all by the death of Eric Hill
-Already starting to hear rumblings that a few of the guys were not happy with Andi and thought she was putting on an act the whole time (However lets face it, you HAVE to act to be on this show. The lead will ALWAYS pretend they like someone more than they do, and they will ALWAYS pretend they don't like someone as much as they really do. So yeah, that's acting. It's what you have to do or else there wouldn't be a show. They all act. Every single one of them. This is nothing new).
-With that said, there were definitely a few guys this season who were completely turned off by Andi and found her insincere
-There are 3 people eliminated before rose ceremonies this season
With the announcement that "Bachelor in Paradise" premieres on Monday Aug. 4th, just looking at a calendar, that means Andi's season has to end on Monday, July 28th. So the dates of when every episode will air is in parentheses. Of course, these could possibly change if they decide to do something crazy and switch it up like they did for the end of Des' season. I don't expect it, but you never know. If it happens, I'll let you know and adjust the schedule accordingly. But starting the 19th, and expanding out the next 11 Mondays, this is what the schedule will be.
Episode 1 (airing May 19th): Los Angeles, CA (25 down to 19)
Usually by now, the first episode has already been posted online for selected media to view (I'm not one, but I still do anyway) and/or the ABC bios' are up. Since neither has been released at the time of this posting, I'll just fill in the blanks from the press release earlier this week. I've released 22 of the 25 guys this season on the Andi's guys page, and the three I don't have were all eliminated on night one. Once I watch the first episode or when ABC releases the bios, I will update this page and fill in more information.
-"A romantic young musician invites her to fasten a lock on a gate with him à la the famed "Love Lock" Bridge in Paris…" – Tasos
-"A hunky personal trainer shows off his prowess by pushing his stalled limo up the driveway…" – Cody
-"A hairstylist with an off-beat sense of humor offers her an unusual gift…" – Brett
-"A world traveler gives her a pair of dolls that a little girl in the Andes Mountains gave him for his future girlfriend…" – Eric
-"But the party really gets started when one high energy bachelor uncorks a bottle of champagne in the driveway, unleashing a shower of the bubbly…" – Craig
-"one man attempts to sing his way into Andi's heart…" – Bradley
-"and one suitor with a sweet tooth treats her to a special cookie tasting…" – Marquel (He had a box of cookies and the last cookie was half vanilla, half chocolate. Being that, ummmmm, he's black and she's white, he had her eat the chocolate cookie and he ate the vanilla. Points for creativity since we know minorities are basically ignored on this show).
-"quirky clothing designer brings her a one-of-a-kind fashion look he sewed just for her…" – JJ
-"and a pro golfer offers her a putting lesson…" – Nick S.
-"who will get the first impression rose…" – Nick V.
Last week I revealed which former contestant showed up on the first night trying to get on the show. We've seen in past seasons where they'll bring a former contestant from a previous season to compete on the show. We saw it when Paige and Kacie B. were part of Sean's season. Early on, Mary Delgado appeared on Bob's season, then they re-cast her for Byron's season, which ironically enough ended up with her being the final one – and her giving Byron a fat lip years later. Well, we got another returnee this season, and it's none other than the skirt chaser himself, Chris Bukowski. This is what I was referring to when I said a couple weeks ago "what crazy/stupid/ridiculous thing happened on night one." Yes, Chris showed up at the mansion on night one, suitcase and all, ready to be on the show. However, since Andi has a half a brain in her head, she shot him down. She never saw him, the guys never saw him (hell, I don't even know if the other guys are aware Chris tried to get on the show the first night), and he never made it into the mansion. This was a complete set up by the producers to bring Chris out, but they never told Andi they were going to. Which is exactly the same thing they did with Ben when Shawntel showed up in San Francisco on his season in episode 3. Ben had no idea she was coming and let her go that night. Well, Andi didn't know Chris was going to attempt to be on the show because they never told her. So what I'm told is he shows up at the mansion, is waiting at the gates, either producers or Chris Harrison tells Andi he's there and wants to be on the show, and Andi tells them to tell him she doesn't want him there. And Chris goes home. Hence the reason for this tweet by him the day after the first rose ceremony: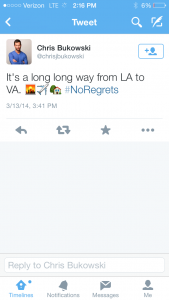 Yet there Chris will be once "Bachelor in Paradise" starts. Yeah, totally believable this guy wants to be in a relationship with somebody…ANYBODY…as long as they are from this franchise. Holy crap. It's starting to get embarrassing. This is the guy that banged 3 different girls on "Bachelor Pad," has hooked up with numerous others from the franchise since he went on the show, tries to weasel his way onto Andi's season, and now will be on "Bachelor in Paradise?" Really? How desperate is this guy? To all the "Bachelor in Paradise" women, whoever you may end up being, just know if you start falling for Chris you're about option #10 from the franchise at this point. I'm sure you feel special. Enjoy.
ADDED 5/14:
-Before the episode started, we see Chris Harrison appear in front of the mansion and give about a :45 second tribute to Eric Hill. They show pictures from his past, he says kind words about him, then says the season will be dedicated to him.
-From there, typical start to a season. Video clips of Andi (mostly re-used the ones they showed from when they announced her as the Bachelorette back on Juan Pablo's ATFR) walking through the park, talking to her parents, then showing up in LA, driving down PCH with the top down, hair blowing in the wind, getting excited for her journey, and moving in to her place. Basically the same exact thing they've done for the previous 27 seasons and will continue to do every season from here on out.
-The day of the rose ceremony, Andi's sister comes to her place and gives her a pep talk and to see the dress she's gonna wear. Sister bonding talk, they cry, sister leaves. Although it is interesting to note they showed this, and I'll explain why later.
-Because this season's premiere is only 90 minutes, they decided to cut out the guys intro videos. So we don't see any of those before Andi arrives at the mansion. They just get straight to her showing up, greeting Chris, then the limo entrances begin. However, I guarantee the guys intro videos will be released on ABC's website after the first episode airs. No way they filmed 10-15 of those with no plans on showing any of them anywhere. They'll pop up online I'm sure.
-As for the limo entrances, these are always shown out of order in the way they were actually shot. But here's the order of what is shown on camera: Marcus, Chris, JJ, Marquel, Tasos, Cody, Steven, Rudie, Carl, Jason, Nick V., Dylan, Pat, Emil, Brett, Craig, Ron, Bradley, Josh B., Nick S., Brian, Andrew, Mike, Eric, Josh M.
-You know how in one of the previews for this season, they show Craig getting out of the limo having trouble popping the cork off the champagne bottle? Yeah, doesn't happen. All we see is Craig get out and successfully pop the champagne bottle then walk over to Andi.
-Dr. Jason has the worst limo entrance because of the stupid joke he tells. "I think you have a fever. Cuz you're lookin' pretty hot." Barf.
-Emil tells her he pronounces his name "AYE-mel. Like, "anal" with an "m." Great first impression.
-Cody's ego is on full display in his entrance from pushing the limo up the driveway, to the popped collar, to telling her he's a personal trainer. Yeah, I think we could probably make that out.
-Tasos brings a lock because he's a fan of Lover's Bridge in Paris and they go put the lock on one of the gates at the mansion then throw the key in the fountain. Clever, but ultimately means nothing.
-JJ uses a phrase that I don't think we've yet to hear on this show: "Love quest." Sounds like something I'd hear on.
-During the cocktail party, the guys who get longer 1-on-1's that we see are Josh (the first one), Marquel, Eric, Tasos, Nick V., Chris, & Marcus. The ones where we get shorter clips of their 1-on-1 time are Brian, Cody, Emil, Steven, Josh B., and Nick S.
-I gotta admit, it does feel a little weird watching Eric. We've just never had anything like this happen before so it's just weird watching her interact with someone who's no longer here. But they definitely spent time showing Andi & Eric's time together. Very positive, told her all about Global Odyssey and what he does.
-As for Josh, they sure don't hide Andi's attraction to him. Andi: "Josh M. is my type. Nailed it. Pegged it. Damn." Josh tells her that he just moved to Atlanta in January. So for all the conspiracy theorists, the guy was only in her area for 2 months before he left to do this show. They did not know each other beforehand. Womp Wooooooooomp.
-In the middle of the cocktail party, they immediately cut outside to Chris Bukowski hanging out in the tent outside with production saying he wants in. The thing is so staged and so stupid, I can't believe they're trying to sell it is he just showed up unbeknownst to everyone there. Even Chris says "I've been out here 7 days on my own just waiting." Sure you haven't.
-In her time with Nick, he talks about his family and that he's the second oldest of 11 kids. I guess this was a big deal to Andi and what led to her giving him the first impression rose later.
Then again, before giving him the rose, Andi is saying in an ITM, "If you'd have asked me at the beginning of the night who my first impression rose would've been, it would've been to someone I was straight up attracted to. But I had a great first impression of someone I would not typically go for." Translation: I'm not attracted to Nick, but I gave him the rose anyway. Compare that to her initial reaction to Josh and, well, you get the idea.
-So basically the Chris Bukowski thing plays out like this: During the middle of the cocktail party you hear sound of production people asking for someone to come out to the driveway, there's Chris waiting, they go to commercial break, later on they go back to it, Chris is sitting there telling production he wants to be on the show and wants to at least see Andi to tell her himself, production tells him they'll get Chris Harrison, he comes out, Chris tells Chris he wants to be on the show, Chris Harrison goes back in and tells Andi Chris Bukowski came on his own, he's wants to meet her, and what does she want to do. Andi tells him that she doesn't think it'd be fair to the other guys who she's already met, so tell him no. Chris Harrison goes back out and tells Chris Andi said no, Chris begs, but eventually just gives up and leaves. It's the only drama of the first episode. And fake drama at that since Chris production was well aware he was coming. Chris Harrison had to tell Andi Chris Bukowski was on Emily's season and Bachelor Pad. I don't know if Andi even knew who he was. If she did, an acknowledgment she knew who he was was never shown.
-Andrew and Pat realize they have stuff in common and end up having a bromance. Which makes sense now since they were hanging out together with Lucy last week that she posted a video of on Twitter.
-Andi says "Marcus is hot" at least 4 times during the episode, so, now we can see why he made it to final 4 before being let go. Strictly physical chemistry.
-Typical first episode stuff except the only drama occurred between a guy who never even made it on the show. No drunk guys doing anything stupid, no guys talking sh*t about another guy, and no one making a complete fool of themselves. Well, except Chris Bukowski.
-Andi's dad's appearance at the cocktail party talking to the guys was never shown. Not the first time I tell you something about this season that didn't make air, and I'm sure it won't be the last. Not sure if it was cut for time or what, but no idea why they showed her talking to her sister, but cut out Hy meeting the guys. Seems to me that would've been more interesting than girl talk about her journey and what dress she was gonna wear. But Hy was definitely there that night, it's just not shown for some reason.
-The rose ceremony is left out of the episode for the media because they don't want anyone spoiling it, but as we all know, the 6 guys who get booted are Josh Bauer, Dr. Jason Leep, Rudie Dane, Mike Campanelli, Steven Woolworth, and Emil Schaffroth.
Rose Ceremony Eliminations: Dr. Jason Leep, Rudie Baldwin, Josh Bauer, & 3 guys I'll know once the bios are released. ADDED: Other 3 guys are Mike Campanelli, Steven Woolworth, & Emil Schaffroth.
The 19 remaining guys after night one are:
Josh Murray
Pat Jagodzinski
JJ O'Brien
Eric Hill
Marquel Martin
Tasos Hernandez
Bradley Wisk
Brian Osborne
Dylan Petitt
Marcus Grodd
Brett Melnick
Andrew Poole
Chris Soules
Ron Worrell
Nick Viall
Carl King
Cody Sattler
Nick Sutter
Craig Muhlbauer