Episode 2 (airing May 26th): Los Angeles, CA (19 to 16)
1-on-1 date: Eric Hill. They went to Ventura Beach which was captured by paparazzi here and here. After the beach, they took a helicopter ride to Big Bear to snow ski.
Group Date: 14 men (Nick S., Bradley, Brett, Dylan, Pat, Marcus, Carl, Craig, Josh, Marquel, Ron, Tasos, Cody, Brian) at the OHM night club on Hollywood and Highland. They were joined by the "Hollywood Men," a Chippendales-like male dance team. This "Magic Mike" date was for "Bachelor Gives Back" as all money given to the guys during the date by the crowd was donated to charity. There were three teams of four, along with two solo performances. The breakdown was as follows:
Cowboys – Josh, Marquel, Carl, and Craig. They danced in cowboy hats, ripped off cowboy chaps, had little shorts on with fringes.
Solo – Marcus. Airline pilot. Dressed in an aviator outfit, then stripped down to white underwear and dog tags.
Fireman – Brett, Dylan, Pat, Bradley. They wore the whole fireman suit – pants, suspenders, jacket, and hat. They sat on chairs backwards pretending to have sex with the chairs and stripped down into yellow speedo underwear.
Solo – Nick Sutter. Wore a silver robot costume and bright pink tennis shoes. Had trouble taking off his costume and was insistent on wearing a beanie the whole time. Stripped down into silver underwear.
Army men – Cody, Tasos, Ron, and Brian. Green tshirts, army pants. Ron was their "leader", he lined them up, spanked them and they had to take off their pants, where they were wearing camouflage boxer briefs.
At the end, Chris Harrison brought Andi up on stage, and cracked a couple Juan Pablo "essss ok" jokes. Carl picked Andi up and carried her like a baby. The after party took place at the Rocky Oaks Estate Vineyard in Malibu (the same place where they shot the Soulja Boy video last season with Des). Craig got drunk during this party and jumped in the pool with his clothes on. Marcus got the group date rose.
1-on-1 date: Chris Soules. Santa Anita Race Track and a private concert by "This Wild Life."
JJ O'Brien, Nick Viall, and Andrew Poole did not get a date in episode 2.
Rose Ceremony Eliminations: Craig Muhlbauer, Nick Sutter, and Carl King.
Episode 3 (airing Sunday, June 1st): Santa Barbara, CA (16 to 13)
1-on-1 date: Nick Viall. They went hiking and had a picnic, then ended the night at the Santa Barbara courthouse. Posted this the next day, but you can't really see them.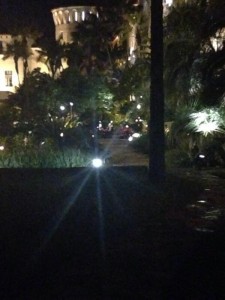 Group date: 12 guys (Cody, Andrew, Marquel, Brian, Tasos, Pat, Bradley, Eric, Brett, Ron, Josh, & Marcus) at Paseo Nuevo Mall Santa Barbara with Boyz II Men. Posted pics and videos back on March 20th. Not to mention more pictures and articles covered here and here. The Suits team was Andrew, Marquel, Pat, Bradley, Marcus, and Eric. The Sweater team was Cody, Brian, Tasos, Josh, Ron, and Brett.
In case you didn't see here are shots of the two teams:
Also, here are some videos taken by various people on Instagram of them actually performing:
Instagram areardon12 – Group singing "I'll Make Love To You"
Instagram comolaflores – Group singing "I'll Make Love To You"
Instagram katherineengel – Group singing "I'll Make Love To You"
Instagram paigerobsb – Josh solo
Instagram katherineengel – Group singing "Motownphilly"
The date was not a competition. There was no "winning" team. It was just twelve guys split up into two teams getting on stage and taking turns singing "I'll Make Love To You" with Andi in the middle. Boyz II Men performed afterwards singing "Motownphilly" as the guys joined in, but all in all, it was just a way to do a date in front of fans, something they seem to do every season now. Josh got the group date rose.
1-on-1 date: JJ O'Brien. Got done up by professional make up artists in Hollywood to look 50 years older, dressed as old people and played practical jokes on citizens.
During this episode, Ron Worrell found out that his friend died and had to leave the show. Dylan Petitt and Chris Soules did not have a date this episode.
Rose Ceremony Eliminations: Bradley Wisk and Brett Melnick. Ron Worrell left earlier because of his friend dying.
Episode 4 (airing, June 2nd): Connecticut (13 to 11)
1-on-1 date: Dylan Petitt. They spent all day on the Essex Steam Train.
Group Date: 11 guys (Chris, Brian, Nick, Tasos, Marquel, Andrew, Pat, Josh, Eric, JJ, & Cody) playing basketball against each other with the WNBA's Connecticut Sun making an appearance. The losing team had to leave the date. Brian being a former basketball player and current coach, was obviously the best player in the group and Brian gets group date rose. After getting the rose, he spends alone time with Andi and bets her he can make a half court shot. If he does, he gets to kiss her. He made it on his second or third try.
1-on-1 date: Marcus Grodd. They rappelled down the side of Mohegan Sun, had dinner at Griswold Inn then a "private" concert with Jon Pardi, although I was spoiling it as it was happening along with others.
It was before this rose ceremony where Eric Hill was let go by Andi. She then cancelled the cocktail party. Not sure what ABC is going to show regarding his exit, but my guess it will not be what actually transpired between these two because it wasn't the most positive exit we've ever had. Not that it was horrible just drama surrounding it, but considering what's happened since he left the show, maybe they don't show all the footage. Make no mistake though, if this tragedy didn't happen, Eric's exit would've been something that was focused more on. They'd never pass on drama surrounding someone leaving. Lets see what ABC decides to show this episode before we get into the circumstances behind his exit.
Rose Ceremony Elimination: Tasos Hernandez. Eric Hill let go before the rose ceremony.