This might be the single most awesome "source" you have ever gotten or will get. Wasn't Nick instructed not to talk about the show with anyone? Much less loudly in a public place?
Will the show clamp down even more on their contestants now? More to the point: can they?
Comment: I'm sure Nick, along with the rest of the contestants, were sent a cast wide memo saying to be careful. Just my guess, but yeah, I gotta imagine they had to reiterate to the guys. Look, what happened to Nick was nothing that couldn't have happened to anyone else. He was just unlucky. Now, why he couldn't have just waited another 2 hrs til his flight landed to start telling family/friends what happened, I don't know. That's where he made his mistake. It was right before take off. He could've waited. He didn't, someone heard him because he was being so loud, and hit record. Plain and simple.
___________________________________________________________
Hey Steve,
Let me preface this by saying that I strongly believe that the video is legit and that you are right. But, I enjoy a good conspiracy theory as much as the next person, and I have a conspiracy theory for you: isn't it odd that somehow just by chance this conversation was caught on camera? Maybe, they told Nick to act like he didn't get picked. Maybe, like on Des' season, they leaked out every correct detail except the ending, and just for good measure, perhaps this video was set up to be the "icing on the cake" to lead you in the wrong direction with the wrong ending.
Comment: No, it's not odd at all. For years info comes to me from places I never would've dreamed of. This is yet another example of it. It just so happened that the content of this information was the best I'd ever gotten.
Lets all remember one thing. I already knew Andi was engaged to Josh before this info came to me. This just reinforced what I already knew and was told by sources. There's no other way to say it other than I know things that others don't know. It's just the way it is.
There was no set up here. I had that video a week before I released it. You don't think I know every bit of detail about its contents, where it came from, and what happened before and after the "record" button was hit? Don't know what to tell ya'. The spoilers are right. See ya' July 28th.
___________________________________________________________
Long time reader, first time writer, blah blah blah…
Two questions:
1) Do you think the way Claire ended her time on the show last season (final rose ceremony, ATFR) could have made it work for her to be the Bachelorette? Obviously she is not but you say the way ABC announces it they couldn't show her crying about not being chosen then turn around and announce her as bachelorette. That really wasn't the case with her. She clearly was over Juan Pablo and I kind of thought how it ended wouldn't make it weird to announce her as bachelorette. Lets not get into yet again why the #2 girl on the "Bachelor" basically can never be the "Bachelorette" as long as production keeps the same filming schedule.
2) Is Nick in "trouble" with ABC? I mean is there something in the contract like he shouldn't have been talking about what he did in those videos in a public place? I'm sure every other person on that flight had no clue who he was. But what does this mean for him? If he pissed them off could they give him a bad edit now or is all editing finished?
Thanks for your hard work and great info! My guess would be no. I'm sure he was lectured about it, but that would be the extent of it. As for his edit, I honestly don't care. His edit will be what his edit will be. Not my concern.
___________________________________________________________
Hi Steve,
Just a few questions for you I'll try to keep it short & sweet.
1.) Is it just me or do they get more feminine guys each season? I think someone says that every season, so this is nothing new.
2.) What's up with Josh's voice? Didn't notice anything weird about Josh's voice.
3.) Ok maybe this is the resident conspiracy theorist in me but is there no chance that video of Nick was staged? I mean I know what you are going to say but I mean who could overhear a conversation that well, figure out that it was a contestant on the bachelorette, and start filming so quickly. Whoever it was I'll give it to them they were quick on the uptake. Conspiracy theorist. No, it wasn't staged. Can't be any more clear than that. Amazing how badly people want to not believe something that's so clear as day. People really love for me to be wrong. Sorry. Not this season.
___________________________________________________________
Hi Steve,
Ok couple things from last night…
1. Andi has made it very obvious who she likes already. She came right out and said Marcus and Josh are HOT and she is attracted to them. She then talks about how much of a good vibe and conversation she had with Nick V. and even giving him the first impression rose. Lastly, she talks about the good conversation she had with Chris and she likes the family lifestyle he has. Boom. Night one she pretty much advertises those are her top 4. Even if I didn't read your site it would have been pretty easy to tell who she likes. You can add in Tasos and Marquel because she mentioned them as well. Other than that the other dudes are toast and filler at this point. Pretty much.
2. Why have most of the bachelorettes been brunettes? Any insight on that? Just curious. Never really thought about that.
3. I don't like how Andi sounds like she ALWAYS has a stuffy nose. There are things you can do to fix that nowadays. Yeah, I remember that from last season. Even mentioned it a couple times. It gets even worse when she starts crying.
4. Chris Bukowski (sp) probably feels like a loser today. Probably not. All he cares about is attention. You think he was bummed that he was on Ryan Seacrests radio show the next morning, or was the cover story on US Weekly for a hot minute, or that TMZ and every other entertainment site was talking about him? Mission accomplished.
5. That Josh B. that got eliminated last night hit the nail on the head and the show is embarrassing and ridiculous and I'm surprised they let him rant like that. He wasn't ranting the show was embarrassing and ridiculous. He was ranting that HE was embarrassed and HE felt ridiculous. Big difference.
6. Lastly, Josh M. is hot and all but his teeth are way too big and I don't think the dude blinked once last night! Jesus dude be careful your eyes might get stuck that way. Definitely noticed Josh has the whitest smile maybe ever, but didn't notice the non-blinking. I'll keep an eye out.
Looking forward to your commentary this season b/c I am already bored by Andi's seriousness and the fact that she ends up w/ Josh Murray just seems way too set up, manipulated and anti-climatic. But I will enjoy what you have to say to keep the summer TV more interesting.
Thanks!
___________________________________________________________
Hey Steve,
Just wondering if you had seen JP's message to Andi:
https://www.facebook.com/juanpablogalavis/posts/243376629188630
I laughed so hard.
Comment: Yes. He's a complete buffoon, and every time he opens his mouth in regards to this franchise, he sounds more and more stupid.
___________________________________________________________
The whole time he was talking to Chris H about waiting 7 days to meet Andi I was thinking, he should have read your site! You knew when filming started!
Comment: Of course he knew when filming started and it had nothing to do with me, and everything to do with the fact the producers were behind it all. Andi was the only one who didn't know he was showing up because they didn't tell her, a la, Shawntel showing up in San Francisco to meet Ben.
___________________________________________________________
Hey RS,
I know you probably will dismiss this, but one thing that I'm not buying in the videos is that why wouldn't Nick's handler be with him? Don't they have them with them at all times? Thanks for what you do. Love your site, just having trouble believing these videos are real.
Comment: Because Nick was heading home. I'm sure his handler was with him on his flight from the Dominican Republic back to the states, but this isn't a date. They don't have someone with you until they drop you off at home. That wouldn't make any sense. So you're saying a handler should fly back to Nick's hometown with him, make sure he gets off the plane and gets his bags, then immediately turn around and get back on another plane to where they live? Waste of air travel. Doesn't work that way. This flight was from Charlotte to Milwaukee on Sunday night the 11th. It was his last flight home. There's no need for his handler to be with him. I even mentioned that in Monday's column. Guess you missed that part.
___________________________________________________________
Hey Steve! I was just reading Cosmo's recap of Andi's premiere… Interesting how they (along with Kimmel) so magically pegged the Final Four as the front runners! Can't wait to see what else they "predict" this season. But hey, I guess I'd be more surprised if the chicks at Cosmo WEREN'T following your site…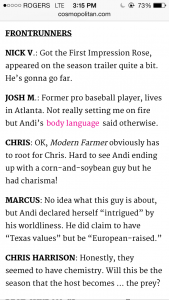 Comment: Not the least bit shocking. I mean, if you're an entertainment magazine and you're covering this show, and you want any ounce of credibility, even if you're pretending to just "guess" Andi's final four, you're not gonna name four guys that don't even make it there. So of course they know and copied. It's what people do.
___________________________________________________________
Dear Steve,
I had emailed you before this many times. I had mentioned that I didnt want to know spoilers. I was hoping to go the whole season and I made that very clear to my friends who watch it and my parents.
And my dad today when cooking dinner told me who wins then he spouts off the final 4. I know its correct because I knew one person in the final 4. He could just be guessing but I doubt it. I wanted to check in with you to see if its correct though. Are Josh, Marcus and Nick V. (First impression rose guy) all in the final 4?
Comment: Ummmmm, yes.
___________________________________________________________
Steve,
I am just now reading and watching Nick's videos, HILARIOUS!!! BUSTED big time!!!! Unreal, that you got that, I have the biggest smile on my face!!!! How awesome!!!
heck, I wonder if that guy that emailed you last season and 'knew' the outcome, wonder if he'll give you a hard time again this season????
Great job, Steve!
LMFAO at this one!!!
Comment: I don't think he's emailed me yet, but a couple of previous emailers have. Their prerogative. Seems like I could post video footage of the final rose ceremony taking place with the guy down on one knee proposing to a girl, and there would still be people out there who would be like, "Oh, well they must've filmed two endings and you got the other one. You were set up." Is what it is. You're not gonna please everyone.
___________________________________________________________
Steve-
All i have to say is that I hope marcus is the bachelor and not chris. Marcus is going to be a fan favorite he already is among everyone I know. So why chris?
Also did you notice chris has no upper lip? What up with that?
Comment: Marcus is not going to be the "Bachelor."
And yes, I think I've already referenced Chris' lack of an upper lip at least three times.
___________________________________________________________
Hey Steve:
Just watched this dumb show. It's only tolerable after reading your column. I'm curious if you felt Chris Harrison seemed to have a little attitude with a weird energy vibe throughout the whole show, almost like he is just not into it. Or is it just me?
Comment: I think I only really saw during the Chris Bukowski bullsh since Chris had to put on an acting job to make that seem less ridiculous than it was. He failed.
___________________________________________________________
When Marcus met Andi he seemed very sincere. I was watching you on Kidd Nation, and Jenna Page said that she hooked up with him, and he had a girlfriend. Is Marcus just a better looking Arie, or is he sincerely looking for a wife? Do you know anything about this guys backround, dating history?
Comment: He very well could be Arie 2.0.
___________________________________________________________
So I can't remember if you had mentioned this in your episode spoilers, but I was reading Andi's People blog and she mentions her dad showed up to surprise her the first night and spoke to some of the guys. I find it really, really odd that we didn't see this on Monday, especially since ABC loves the drama (and damn, would have taken that over Chris's staged surprise) and her father's storyline was kind of played up. That actually would have been interesting–why do you think it wasn't shown? Just a time thing?
Comment: No idea why they cut Hy at the cocktail party out of the show but kept the part in with the sister talking about, well, nothing. Maybe cuz Hy fangirled all over Josh and they felt it was too obvious.