-Marcus' 1-on-1 is up next and his date card said "Sky's the limit." Nah, nah, nah. How about, "Lets join the mile high club." Seems more appropriate for these two. Andi has a fear of heights, so naturally, they will be rappelling down the side of Mohegan Sun. She claims she requested it because it's something she wants to conquer in her life. And what better person to conquer that with than the most unassuming guy in the house. Once they start rappelling, it was like an owner barking instructions to his dog. Andi is freaking out, and Marcus just sitting there waiting for her not to freak out and actually listen to a word he's saying. Andi: "I don't even know where I am right now." Ummmm, you're tied to a rope on top of a tall building in Connecticut about 30 floors up. Are you not aware of this? Have you lost all your brain capacity already even though you haven't taken a step off the ledge? Look, I'm not adventure seeker myself and scaling the side of a building isn't very high on my list of things I want to do, but if I had to, I'd do it. People have bungee jumped and scaled buildings on this show for years and nothing bad happens. Just suck it up, listen to Marcus boss you around, and be done with it. Chelsie and her whiny ass before bungee jumping last season thinks you're being a bit much right now.
-Andi finally starts making her way down the building and Marcus decides to throw in a "You look beautiful by the way" at her. Yes. Totally. In full gear, her face covered, her red nose from how freezing it is, her nasally voice from being congested, and the fact you can't even see her bundled up in all her clothes. There's a time and place to compliment your woman for looking beautiful. This is not one of those times. Because if you tell her she looks beautiful now, then later on when she's in a sexy red dress and heels and you tell her, "Wow, you look beautiful," isn't it a tad overkill and lose its luster? Don't say it just to say it. Say it at times when it's appropriate. Then again, we're talking about Marcus here who later on in the date tells her he's falling in love with her, which completely makes him delusional. It's your first date Marcus. Slow your roll. Falling in love already? Really? And you felt the need to tell her that on your first date? Stage 5 Clinger alert. Marcus is smitten.
-The best part of their rappelling date is that they did it right in front of the guys' room while they all stood at the window and watched. Marcus even got in a, "Hey, you wanna kiss so all the guys can see?" Andi's direct answer: "No." Well, there goes that idea Marcus. Nice try, though. They've done dates in the past where the group left behind could see it from a distance, but I don't remember a 1-on-1 date thrown in the face of the others so blatantly. However, there was nothing all that sexy about watching Marcus and Andi's feet walk against the window, so I can't imagine there was much to be jealous about. When they get to the bottom, even Andi is impressed. "I've yet to find a flaw with Marcus." Then you've yet to look hard enough. Everyone has a flaw. Even Mighty Marcus That Can Do No Wrong. Ask Jenna Page from KISS-FM here in Dallas if Marcus has any flaws, Andi. I'm sure she'll fill you in on a few. The hyperbole on some of these dates is just mind boggling to me. I know it's for TV, but geez. Can it get more over the top than this?
-They go to the Griswold Inn for dinner. Andi with another history lesson. "This is the oldest working Inn in America." Well, lookie here. Miss Andi the Wikipedia expert is at it again: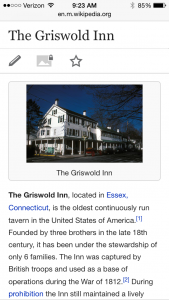 Yep. Very first sentence on the "Griswold Inn" Wikipedia page tells us that. Except she used "Inn" instead of "tavern." You ain't fooling anyone here, Dorfman. Over dinner, the two of them made a toast to conquering fears or something. Hell if I know. I couldn't get over what a surface level relationship these two have. I couldn't tell you one thing about Marcus based on what they've shown. It's just two people physically attracted to each other throwing compliments back and forth and talking about nothing of any substance. And he's falling in love with her. Got it.
-At dinner, Marcus covered up the rose since to him it was the elephant in the room. He didn't want to look at it and Andi found that so endearing. "He has no idea what a catch he is." Actually Andi, it's just the opposite. He's fishing for compliments at this point. Hence the reason he's pretending he doesn't care about the rose while he covers it up, yet obviously does since he's calling it the elephant in the room. Marcus says he hasn't dated in such a long time, and basically is playing along with the company line. Isn't it amazing that all these men, supposedly such great catches and potential husbands for Andi, all say it's been years since they've dated? Who do they think they're kidding. I mean, maybe Marcus hasn't had a girlfriend in a while, but enough with the, "I don't really date that much." Bullsh**. I went on a radio show the morning of the premiere and heard of three girls that you've hooked up with within the last 2 years. So if I've heard of three, I'm guessing you can probably multiply that by 10.
-Andi tells him he's surpassed every expectation she's had for him. Wow. Then those must have been set pretty low. Not sure what Marcus' done at this point to surpass those, but whatever. She gives him the rose and says she has another surprise in store for him. That's right a private concert from a country singer most people have never heard of in an empty casino on a Tuesday night! Woo hoo! Jon Pardi is in the house ladies and gentleman. No, not John Parr who sang "St. Elmo's Fire"…
…but Jon Pardi who sings, uhhhhh, errrrrr, ummmmm….maybe they should've had John Parr perform. Man, did that song not personify every 80's movie soundtrack title? Sure did. While Andi and Marcus are dancing, or whatever they call it, up there on the stage, this is when Marcus leans in to tell her that he's falling in love with her. Andi's ego just got a huge boost. She basically knows she has this guy wrapped around her finger, there's no challenge left, and he basically just eliminated himself by telling her that so soon. But she'll keep him around til hometowns because he's hot and he lives in Dallas so I could spy on them. So in a roundabout way, thank you Andi!