What a snoozefest last night. I mean, we knew it was gonna be a recap show highlighting everything we've seen already this season, but it really didn't provide us anything new. Sure, some of the guys got mad at Nick at last week's rose ceremony for talking to Andi after the Eric blow up. Not sure what the whole point of that was since every guy had an opportunity to talk to her. Not sure what he did wrong in that situation and it makes me think that scene was much more about editing than anything else. Or manufactured drama. Or both. Why would someone get mad at Nick for talking to Andi while she was crying? Why didn't any of the other 11 guys go talk to her? Really made no sense for no one else to talk to her, then have some of them get mad that Nick did. Then again, nothing on this show makes sense, so it's par for the course. A really forgettable episode and that Hilary Clinton interview really threw a wrench into their plans. Never again will they have a recap show four episodes in to the season. A total and utter waste of time. Next week we're back on track and we get it every Monday night for the rest of the season without interruption. More thoughts on last night's episode a little later.
Hearing things about "Bachelor in Paradise" that I can share with you. As I said last week, that cast list that "People" magazine released is not the full cast. Apparently those 13 are the main cast, but then as people are eliminated (yes, there will be eliminations after all) others will appear on the show. So all the people I mentioned who I expect to see on the show are either in two places right now:
1) Isolated in a hotel in Mexico waiting to be brought on the show
2) Still at home waiting to be flown in
They are holding people there and staggering arrivals because, well, the cast got leaked. So I wouldn't be putting too much stock into anything you see on these people's Instagrams or Twitter. People that I have listed as being on the show, if they tweet or post a picture right now, it doesn't mean they aren't on the show. Just means they haven't appeared yet and are still at home, or are in holding apparently. Because they know names are leaking, they're trying to do their best to cover up who else is appearing on the show. The producers are well aware of how social media has impacted their show. So they are now letting people tweet/Instagram things to try and throw people off who want to believe certain things. They're doing it with the "Bachelor" and "Bachelorette" as well. Relying on social media to find things out about this show can be a help sometimes (I know it's helped me), but I'm also aware producers are purposely having contestants plant things now, so you can't believe everything you see. You know, kinda like how Lucy and Michelle Money have tweeted even though they're supposed to be filming the show. Well, they will be. The tweets don't mean they're not gonna be on this season. Just means they aren't on yet.
You can throw Mikey Tenerelli onto that list I gave you last week. He's gonna be on it. He posted this on Instagram before quickly deleting it: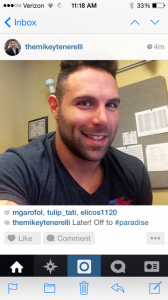 However, one bit of info I can share with you is that Marcus has backed out of "Bachelor in Paradise" and will not be appearing. Some of you may think that's because Andi picks him, or God forbid, he might be the next "Bachelor." Well if you ask him, that's exactly what he thinks is going to happen. Marcus has already been telling people that he's going to be the next "Bachelor." Ahhhh, to be young and naïve. Marcus, everything producers are putting into your ear are the exact same things they're telling Chris and the exact same things they're probably telling anyone else they've "interviewed." Marcus, hate to tell you this, but you're being played. Plain and simple. You're not going to be the next "Bachelor." They just want you to think you are, and apparently they've done a good job of it considering you're telling people you will be. As I said the day I released the spoilers on May 13th, I will say it again: Chris Soules is who they want, and unless he turns it down which I don't expect him to, Chris will be the next "Bachelor." But hey, lets keep pumping Marcus up into thinking he will be. Seems like a fun game. If you see him at Kung Fu or the Social House, tell him you can't wait to see him as the "Bachelor" next season. I'm sure he'll love it.
I'm sure you saw by now but Emily Maynard surprised all her guests by getting married this past weekend to Tyler Johnson. Everyone in attendance thought they were showing up for a regular party, but Emily and Tyler dropped the big ol' surprise on them and got married. Well, it couldn't possibly have been much of a surprise if I heard this was gonna happen two weeks ago. But obviously I'm not gonna ruin the girls wedding and say something, so of course I didn't. I actually think that most people in attendance probably had an idea they were going to a wedding since, hell, if I knew in advance, I'm guessing most of the guests did. It's basically impossible to keep a secret now, especially when it comes to something like a wedding. And oh yeah, you can fully expect "People" magazine to have the exclusive pics and interview in their magazine that hits stands tomorrow since that was conducted before the wedding even took place.
I'm sure Tasos is very torn up about this story that broke the other day. You know that bridge in Paris where you attach a lock and throw away the key to show your undying love to your significant other? Yeah, it's starting to collapse. Never saw that one coming. What's Tasos going to do now? The lock they put on that door back at the mansion with the key thrown into the fountain – it's like they're love never existed. Well, probably because it didn't. I have a research project for someone. I want to know how many of the couples that put a lock on that bridge in Paris and then threw away the key are still together. 75%? 50%? 25%? Impossible to get an answer to this but it sure would be interesting to know. The two couples from the "Bachelor/ette" franchise that did this sort of thing – Emily/John Wolfner & Andi/Tasos – lasted a hot minute. Memo to producers: lets stop doing this little charade since it doesn't work on your show.
Anyone want to buy an engagement ring that was once given to a former "Bachelor" contestant? Well now you can! Seriously, I had no idea there was a website where you could hock an engagement ring you bought for somebody that was returned after it was broken off. But apparently there is. And Juan Pablo contestant, Lauren Solomon, has an ex fiancé who wants to sell her engagement ring. I can't for the life of me understand why he'd mention her name in his story, but he did. Is it supposed to sell for more now that it was once presented to someone who lasted four episodes on a reality show? Sorry your engagement ended man, but this looks pretty pathetic.