At the beginning of the season I told you that if any fans out there wanted to throw a finale viewing party with a minimum of $500 using the Crowdtilt link I gave, I would fly in and watch the show with you. Well, someone has stepped up and they've already raised over $1000 for the event. They've already raised enough to reach the minimum they needed to "tilt" it, so it's definitely a go for me. It's going to be taking place Monday night July 28th at Fortina in Armonk, NY. Tickets right now are $35 and that gets you in to the party along with dinner consisting of pizza, pasta, and salad. A portion of the proceeds are going to the "LiveLikeEric" charity started on behalf of Eric Hill, the contestant on Andi's season who died back in April. If you're in the area come out and watch the show with us. If not, you can still donate whatever you'd like to the event. Any donation is appreciated as I said some of the ticket proceeds will go to Eric's charity. All tickets can be purchased right here. Looking forward to it.
Remember when I gave the review of Courtney's book and made sure I specifically didn't reveal any spoilers? Well, I guess I should've since plenty of other news outlets have no problem doing it. US Weekly relayed the story about how Courtney says Adrian Grenier had the biggest penis she's ever seen, and now WetPaint answers the did she have sex with Ben in the ocean question, and RealityTVWorld.com basically backs up everything I've ever told you about Jef & Arie. So if you want to be spoiled on those things, click the links. The book is filled with good nuggets like this.
When I saw commercials running this past weekend for "Wipeout's" new season on ABC beginning this Sunday, it reminded me of this. Not sure what date it's airing, but they already filmed a "Bachelor" themed episode with all former contestants. It was filmed back in April and this was a picture from that day: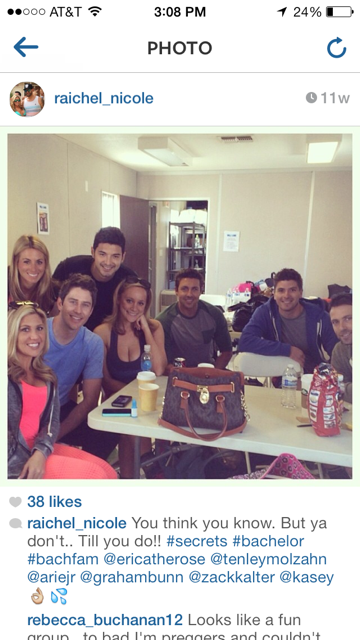 In case you are unaware of who all these people are, it's:
Arie Luyendyk
Tenley Molzahn
Zack Kalter
Kasey Stewart
Graham Bunn
Raichel Goodyear (now Raichel Suarez, the manscaper from Brad's season)
Alejandro Velez
And that blonde girl with the giant boobs who doesn't deserve to have her name mentioned on this site anymore since I can't stand her
So be on the lookout for this show coming during this next season of "Wipeout" airing this summer.
This should come as a surprise to exactly nobody since I've been telling you for weeks that Andi had no intention of going back to work, but it's now official: Andi resigned from her job as assistant D.A. in Fulton County. I'm sure she will now hire an agent and try to get work in the entertainment industry and see where it leads her. I just wish some of these people weren't delusional. For every Melissa Rycroft, Jillian Harris, and Ali Fedotowsky, there's 300 other females who've appeared on this franchise who haven't had any entertainment career to boot after they were on. Hope she knows what she's doing because just because she was the "Bachelorette" doesn't guarantee her sh** in the entertainment industry. She's a dime a dozen in that field.
In case you missed my retweet yesterday, Josh was spotted at the Cancun airport eating at Johnny Rockets.
He was spotted last Thursday on a flight to Cancun, so yesterday was his return trip. Well I can tell you 100% that Josh was not in Mexico for anything to do with "Bachelor in Paradise." So you take a wild guess why he was down there. Like I've said, July 28th can't come soon enough this season.
Ratings are in from last night, and the "Bachelorette" delivered a solid 6.1 million viewers. Pretty much what you can expect the rest of the season. I'm sure every episode will be somewhere in the 6 million viewer range, then when the finale rolls around, it'll get 7 or 8 million. No more recap shows, no more holidays, and no more wonky time slots. 8:00pm EST/7:00pm CST every Monday for the rest of the season.