A LOT of stuff to get to today. Plenty. Like give yourself a good 30-45 minutes to get through all of this today since there's over 50 "Reader Emails," and as far as I can remember, the longest "Dr. Reality Steve" email I've ever been sent. Long may not even do it justice. Absurd is another word that could be used as well. Hell, I'm still debating if the email is even real. But since I don't post names or email address of the people who send them in, I'm not sure who would take that amount of time to share a story like this just to say, "Oh, I got an email in to Dr. Reality Steve." However once you read this thing, I think your head might hurt from banging it against the wall. Anyway, we've got "Reader Emails," "Dr. Reality Steve," a live video chat at 9:00pm EST/6:00pm PST, JJ backs up his story, and more "Bachelor in Paradise" news. Who is off the island, who has gone in, and an exclusive picture from one of the dates yesterday. Granted, it's not the clearest of pictures and looks pretty tame, but, a picture nonetheless confirming who else is there. One I told you a while ago would be on, and the other I completely had forgotten about for some reason.
So on Monday's episode, JJ was the one who came forward and said that during the first rose ceremony, when Andi was giving her rose to Ron, Andrew leaned in to him and said the thing he did about "blackies," which could've been "black guys," but he said something. Andrew of course denied it in the episode, but on Monday night, JJ tweeted out a picture from that first night rose ceremony, and sure enough, here is Andi giving Ron the rose with Andrew leaning in to say something to JJ: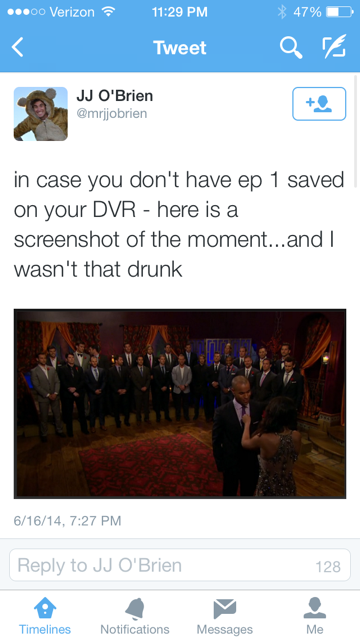 I think this definitely lends credibility to JJ's story, and makes things even worse for Andrew. Only those two will know what was said, but this certainly isn't helping Andrew's cause.
As for "Bachelor in Paradise" news, more news to report since Tuesday. Chris Bukowski and Elise are gone. Moving in have been Kalon, Christy Hansen, and I believe Lucy. How do I know Chris and Elise are gone? Well, they made sure Splash News photo ops were waiting for them at O'Hare airport when they arrived home. For those unaware of how this works, let me explain. The only reason why any paparazzi photo service would be taking pictures of Elise and Chris arriving home is if a publicist told them to. Paparazzi don't just hang out places in HOPES that someone shows up they can take pictures of. They are tipped off on where to go, usually by friends or publicists. That's exactly what happened here. We all know Elise has no problem staging photo ops since she did it 6 months ago at the beach. And whaddya' know, Splash News took those pics as well. Elise is dying for attention and to be famous, which is why she ditched her teaching career in PA and moved to LA to do the "Bachelor" then become a cocktail waitress at a trendy LA club. Good luck Elise. Because if you're looking to really settle down and find a man to be with from this franchise, Chris Bukowski is definitely the one you want. He'll like you for AT LEAST two weeks. Maybe three. If you're lucky, maybe you can be the flavor of the month before you're yesterday's news and he moves on to the next batch of girls come September when the "Bachelor" rolls around. Some people's priorities on this show are so far out of whack, it's unreal.
Also, Marquel and Danielle are both off the show. Moving in have been Kalon, Christy Hansen, and I think Lucy. Yesterday, a date took place down in Tulum between Cody (who I told you was waiting to get on), and a mystery girl. Here's a picture from a distance: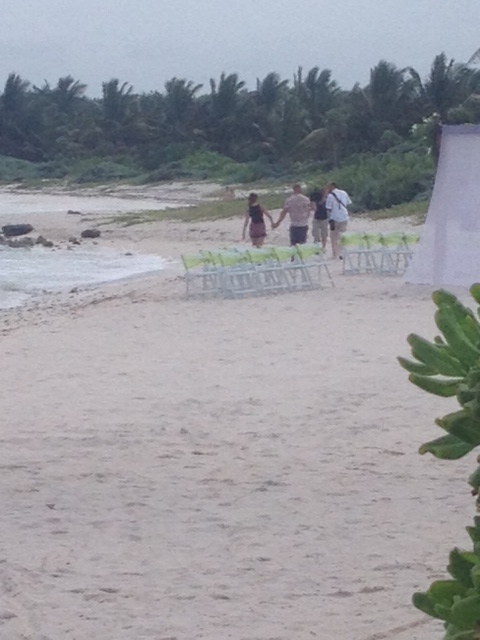 There was a girl I was told was going to be on the show like a month ago, but because she was such a non factor on her season, I had completely forgot to mention her in any posts relating to "Bachelor in Paradise" when it came to casting. She slipped my mind every time, but after seeing this picture, now I remember. I'm pretty certain Cody is on a date with Jackie Parr in that picture. Jackie was the girl from Sean's season who got sent home on the 2-on-1 date when he kept Tierra. She also was one of the three girls who visited Des during her season along with Catherine and Lesley Murphy. Pretty certain that's her on that date, since she's definitely on the show and even though the picture is blurry, it seems to match her description.
Here are your deleted scenes from Monday's episode: