As we get further along in the season, some things start to become a little clearer. In the beginning of the season when I release the spoilers, I tell you everything I know as it's been told to me by trusted sources, then inevitably, I find little things out throughout the course of the season that I add in there. Some things like telling you the France group date card was blank (also told you that Marquel guessed it was a mime date, but that never ended up getting shown). I mentioned that Andrew and Marquel's tiff centered around Andrew making a comment at a rose ceremony about black guys getting a rose. So stuff like that I don't necessarily find out at the very beginning of the show but will as the season goes on. Doesn't affect the overall spoilers as every rose, date, and elimination has been right so far, and will be going forward except for one tiny detail about tonight's date. I'll get to that in a second. Also, will have another detail regarding overnight dates that doesn't necessarily change the game, but it is worth noting. In addition, an update on "Bachelor in Paradise" and the clusterf**k that's happening down there.
As for tonight, it's been changed in the episode-by-episode spoilers, but Josh gets the group date rose tonight, not Chris. UPDATE: Wrong info. Original info was correct. It is Chris who gets it. Sorry. Silly mistake.
He still gets eliminated on the overnight date episode, but there's an addition to be made to that. Andi actually lets Chris go before the overnight date portion, so they never spend the night together. Which means that the rose ceremony for the overnight date episode is just Nick and Josh, and both accept roses to continue on to the finals. And since they're both in the finals, and you've got two videos of Nick on a plane saying everything he did about how the show ended and how he's feeling, well, you have your answer as to what happens. You know how I've been saying a lot this season, "Just wait til July 28th?" I mean, if I'm being technical here, I guess I could say "Just wait til July 14th" since that'll be when the overnight date episode airs, and at the end of that episode, there will only be Josh and Nick left. And with those two left, and Nick saying what he did on the plane, do you really think Nick is engaged to Andi? Please. But hey, I can only say it so many times til I'm blue in the face. Some of you need to be hit over the head with a frying pan 1,000 times before believing it, so I guess you'll need to wait until 9:59pm EST time on July 28th to truly believe what I told you May 13th. Oh well. I blame your parents.
Some "Bachelor in Paradise" news to relay on to you as we wind down:
-Filming ends this week. Hence the reason Mike Fleiss is down there (Chris Harrison instagrammed a pic of them together yesterday), and Chris & Des are headed down there today along with Jason & Molly.
-This picture that I posted on Thursday from filming I identified as Cody and Jackie on a date.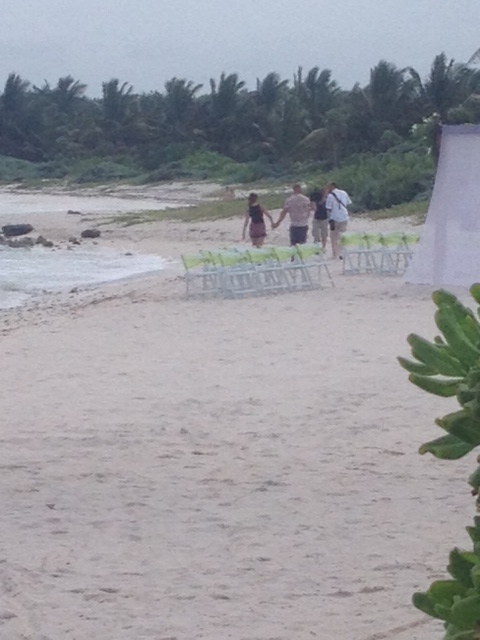 Correction: That is Cody with Michelle Money. Jackie Parr is definitely on the show, but that's not her. Cody and Michelle were the two in that picture and have since "coupled up," whatever that means on this silly show. Marquel and Michelle were never anything serious.
-Kalon had an interesting jaunt onto "Bachelor in Paradise." He came on the show last week bearing a date card, asked three different women if they wanted to go on a date, they all said no, so he went on a date by himself, then left the next day. So yeah, Kalon lasts a whole 24 hours on this show. I told you this show made no sense.
-Currently, the couples in the house of the people still there are:
AshLee and Graham (total showmance)
Cody and Michelle
Marcus & Lacy (these two are all over each other)
Sarah & Robert Graham
Other people still there but who haven't really "coupled up" are: Jackie Parr, Christy Hansen, Jesse Kovacs, and Zack Kalter.
Also, they are still bringing people in even days before filming ends to throw a wrench into some of these "couples." One person I'm hearing who's going in? Brooks. Because for lack of a better word, Sarah is "obsessed" with Brooks. Always has been. And now with Brooks thrown into the mix, I guess they want to see how she reacts. With that said, I don't think Brooks is interested in Sarah like that and this is just being done to create drama.
Plenty of other combinations have been on dates and hooked up, and plenty of people have hooked up with more than one person (Lacy), so I will sort all those out for you in the next week or so. As I mentioned in Thursday's video chat, people are not going to be used to what they're seeing when this show airs. With the "Bachelor," "Bachelorette," and even "Bachelor Pad," we've always known there to be structure within those shows. Every episode you know you're getting dates, roses, and eliminations. With "Bachelor in Paradise," throw that all out the window. Dates happen at random times, people can go on multiple dates with different people, and people even entering the show come in with a date card in hand, and immediately start going on dates. There's basically zero structure to the show at all and it's basically one giant orgy. I think most people went on a date with more than one person.
And no, I still don't have any idea what the "ending" of this show is possibly about. My guess is whoever the "final" couple is (whatever that may entail) will win some vacation trip together. Maybe they'll throw a few bucks their way too. Other than that, I have no clue. Your guess is as good as mine.
Send all links and emails to: steve@realitysteve.com. To follow me on Twitter, it's: www.twitter.com/RealitySteve. Instagram name is "RealitySteve," or join my Reality Steve Facebook Fan Page. Talk to you tomorrow.