-Cody's turn to stop being the pet dog of the group and get a date. Andi really likes Cody A LOT. Well, she likes his eyes at least. Andi: "Cody has the most amazing eyes I've ever seen." At least there's that. She likes your eyes Cody. There. That's one thing she likes about you. Everything else? Ummmmm….we're still working on that. Andi: "Cody is definitely the farthest behind all my other relationships." You don't say? Man, could've fooled me. I thought the guy you hadn't kissed yet, or gone on a date with, or barely spent any time getting to know whatsoever six episodes in, would totally be at the front of the pack by now. You mean, you like Josh and Nick more than Cody? You sure have a hell of a way of showing it. I mean, all those one times we saw you talking to Cody versus the bazillion times you've spoken about everyone else. I just figured you were playing hard to get. Apparently not. Well, thank you for informing us that Cody is light years…excuse me…dog years behind all the other guys on the show at this point, that this is a pity date, and there's not a chance in hell he's going to advance through the night. Completely had me fooled. She's a tricky one that Andi.
-Verona is the birthplace of Romeo and Juliet and that's where their date is. Which is really appropriate when you think about it. Romeo & Juliet we know is the tragic love story written by Billy Shakes, and Andi & Cody's relationship is just, well, tragic. The similarities are so mind boggling really. You know, how Romeo finds Juliet dead and thinking he can't live another day without her, kills himself, only that we see Juliet wasn't dead, she wakes up and sees Romeo killed himself, so she kills herself. Yeah. And Andi might not recognize Cody if she saw him on the squat rack at the gym. So you can see why these two stories are so intertwined. In continuing with the Juliet theme, she takes him to Juliet's courtyard, where they write and respond to love letters that people write to Juliet. Ok, ummmmm, I didn't know this was a real thing. Seriously. I know I had to read it in high school, but I never did and just bought the Cliff Notes. I figured it was just a story and these weren't actually real people. So I did what any smart human would do. I went to Google to find my answer. "Are Romeo and Juliet real?"
"There is a difference between "real" and "based on reality". The Romeo and Juliet legends are (loosely) based on reality. Shakespeare's play was inspired in part by an epic poem by Albert Brooke called "The Tragical Historie of Romeus and Juliet", which had been written decades earlier. Brooke in turn was inspired by an Italian novella written years earlier by Matteo Bandello. Bandello was rewriting a story from Luigi Da Porta. They and all the other "Romeo and Juliet" authors were writing about events that occurred during the very early 1300s in Verona, where a civil war of sorts was in progress between two political factions, the Guelphs and the Ghibellines.
The facts: Verona was ruled by Prince Bartolomeo I della Scala, who really was trying to keep peace between the factions. And Dante really was living in Verona at the time as a guest of the Prince. The names "Capulet" and "Montague" are mentioned cryptically in his "Purgatorio". He says they are "grieving", but does not mention why.
If the fact list seems short, that's because it is. 😀
The LEGEND is that a girl from one faction killed herself after her lover from the other faction was killed in the fighting. Everyone felt so sorry for her that she was buried in consecrated ground under the church, even though she was a suicide. There is no Nurse, no scheming priest, no marriage (arranged or otherwise), no Mercutio, no sleeping potion—all of that is grafted onto the story later. In some early versions of this story, their names are not Romeo and Juliet. In other versions, Romeo is hanged.
The Juliet house in Verona is an example of what my husband likes to call "un trappo di tourista". They've been capitalizing on the success of Shakepeare's play there for centuries."
So there you go. So now people are writing in love letters to a person that was from a story and never really existed. Got it. I've lost all hope for humanity.
-As I try to pick myself up off the floor and continue on, Andi and Cody arrive at the night portion of their date. And if you thought the Romeo & Juliet story had a tragic ending, I think Andi & Cody could go down in TV lore as just as tragic. Might even be worse. Especially considering what each of them were wearing on their "final" date. Andi had some nude leather pants on that clearly looked like she was naked from the waist down when we first saw her. As for Cody, he's taken a page straight from Andi's wardrobe and made sure he wore a shirt where the V-neck went all the way down to his naval. The most impressive cleavage we've seen this season, and that's saying something considering the hot pieces that Andi has thrown on in past weeks. Once their dinner date starts, you'll never guess what Cody did? Yep. He wrote her a letter in the same fashion as the people write fake Juliet letters. For f***s sake, how many guys are gonna write her letters this season? Jesus. Can we get some originality here? Who am I kidding? I guess that's waaaaaaaay too much to ask. Billy Shakes, Cody is not.
-It was at this point where I think everyone watching got seriously uncomfortable. Was Cody trying to brainwash Andi into liking him? Does Cody not know how to read body language? Did Cody realize Andi has tongued down every guy there numerous times and she hasn't so much as patted him on the curl atop his head for six episodes? Does Cody realize that Andi wouldn't fit into his life anyway since she has no interest in a diet that consists of egg whites every morning, chicken and asparagus for lunch, then lean protein and a Muscle Milk for dinner? Is Cody unaware of his surroundings so much that he thinks it's a fashion yes to wear low cut V-necks down to his naval before Labor Day? And last but not least…Cody & Michelle Money? Some things about this franchise I'll just never understand. So many questions, so little answers. But yeah, that was painful to watch. Cody practically begging Andi to keep him around, because he knows "you'll fall in love with me the longer you keep me around." Actually, that's kinda creepy and you're making all our skin crawl, Cody. In fact, I think Cody wants to wear Andi's skin as his next suit based on how he's acting. He's just unloading on her with how great they'll be, just give him a chance, and Andi is making faces and crying like she's passing a kidney stone.
-It really was that bizarre to watch it all go down. Andi is a crying mess telling Cody how much she respects him, so much so that she couldn't possibly hurt him by having him continue on. "I have so much respect for you…you make me feel amazing…but I can't wait til hometowns to hurt you…and if you creep me out any more, I'm going to call the Italian police on you and have you arrested." So with that, she sends Cody on her way. Which led to at least three emails/tweets that I immediately got after the fact which all read something along the lines like this:
"Did u catch the pants she was wearing & the shot after limo pulled away?? Waist down… a guy wearing crotch huggers."
Yes, I saw. But in case anyone else didn't, here's what Andi's crotch looked like in those leather pants as Cody pulled away…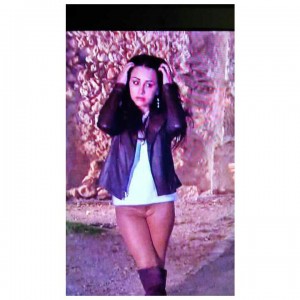 Yikes. Not the most flattering look to say the least. At least now we have an idea what Andi looks like naked.