-Cocktail party time. A very important night where guys make one last ditch effort to get Andi to notice them. Do you realize the night of this rose ceremony was April 8th? Filming started March 13th. Episode 6 and they're only 25 days into filming, yet some of these lug nuts are professing their love to her? Unreal. They've barely known her three weeks. It's always funny to me that to go from 25 people down to the final four, takes around one month of filming. But to go from final four down to the final one takes three weeks (first hometown was April 16th. Filming ended May 9th). With that said, Nick (who already has a rose), is the first to steal Andi away when she shows up at the cocktail party. Oh boy. This is sure to put some guys' panties in a bunch. In fact, Chris called it a "jackass move." Andi didn't seem to mind whatsoever since essentially the second they turned the corner, Nick was tonguing her down like he hadn't seen her in a month. Andi: "He missed it, he wanted it, come get it." Might've had something to do with the tremendous amount of side boob she was rocking in that rose ceremony dress.
-So when he gets back to the group, he can tell the guys are burning daggers through him, so he addresses the elephant in the room. "I'm not thinking about fairness or anything like that, I'm thinking about my relationship with Andi." Which is all fine and dandy to think about, but just know if you already have a rose, and you're the first person to grab her at a cocktail party, you will be disliked because of it. Whether or not he did it on his own or it was producer driven to further the "Nick is the disliked guy in the house" storyline, it doesn't matter. Knowing what I know, including the plane video, I tend to think Nick was completely naïve to this whole process, was not very familiar with the show at all, and just did things that he thought to be right. Which, in a normal setting, might very well be in the right thing to do. But this show is not a normal setting, and basically everything he does is everything at least one person does every season to piss other people in the house off. So in that aspect, Nick becomes the villain this season. It's obvious the way they are portraying him on the show, that's how they want their audience to view him. He's the person in the house that rubs people the wrong way by his actions. Plain and simple. Forced or not, that's what we're clearly seeing. Of the 8 guys left, you've not heard one of them say anything remotely close to negative about anyone else the way they have Nick. Chris? JJ? Brian? Josh? Dylan? Have any of them said anything negative about the others? Nope. All the negativity points towards Nick and what he does. Is it warranted? It could be in some places. But it's definitely being played up, that's for sure.
-Other guys steal time from Andi that we get to see briefly. Marcus tells her he's in love with her again for the 731st time in 25 days as Lacy sees this and hurls her stiletto at the TV. JJ tells her that he's had something that's been on his mind since he last talked to her, which is shoving his tongue down her throat when she least expects it. That was smoooooooove. Completely caught her off guard, but hey, at least he tried. Then there was Brian. Guess what he did? He read her something that he wrote. Shocking. I'll let an email I got at 8:51pm last night tell you how Brian fared:
Reality Steve,
Since you like it when people point out when contestants plagiarize, I
recognized Brian's poem tonight. It wasn't word for word, but it was
definitely similar to Kat's poem in "10 Things I Hate About You." Brian
said:
'I hate the way my knees weaken every time I see you.
I hate how scared I am every time I see you
And I hate how I don't hate any of those feelings.'
Here's the transcript for Kat's poem from the movie (inspiring the
title of the movie): http://www.imdb.com/title/tt0147800/faq.
Here's a video of it:
This definitely isn't plagiarism word for word, but it definitely
reminded me of this poem as soon as I heard Brian say it.
This is the first time I noticed something like this, so I thought I
would contribute in case you want to include it in your column!
Sooooo yeah. Brian gets zero points on the scale of originality. And has entered the Jef Holm Hall of Plagiarizing. Congratulations Brian. That's a very select group to be a part of. You must be proud.
I've never seen that movie, but I think the thing I find most fascinating about that clip is…what the hell happened to Julia Stiles? Remember when she seemed to be in like every other movie and she was the next "it" girl? Does she do anything anymore? Or has she turned in to one of those snobs that thumbs her nose at Hollywood and just makes indie films now?
-Andi had her deliberation with Chris Harrison after she talked to all the guys and the only thing I got out of it was that she had lipstick on her front teeth. I know this happens often to women, but don't you think Chris could've given her the universal sign to brush her teeth with her finger just as a heads up? Can't believe they didn't have her clean her teeth then re-shoot the scene. Oh well. I guess they have Nick to blame for that since he ran his tongue all over her lips and gums to cause this gigantic mess. Way to go, Nick. Can you do anything right this season?
-Rose ceremony time. Nick and Chris already with roses. Andi's turn to speak. Y'all listen up. Andi: "This week had highs and lows…came in with questions…seven amazing guys…very lucky girl…tough to send somebody home but I have to…realize that future and that potential…I hope y'all like my sideboob in this dress. I did it especially for you. Well, for Josh. I don't really care about the rest of you…"
Dylan: Is your tummy wummy better now? Got a little sicky sicky? I saw-wee.
Brian: If "10 Things I Hate About You" is in his top 10 list of favorite movies, where does "Basketball Diaries," "He Got Game," "Teen Wolf," and "Blue Chips" rank?
Marcus: Do you think he told Lacy he loves her too in the 3 weeks he's been filming in Mexico? Lets see if he can beat his record.
"Andi, Gentleman, it's the final rose tonight. When you're ready. Can't wait to see what crazy skirt I can chase this Saturday at Michelle's charity event that I'm hosting. This will be like shooting fish in a barrel."
Josh: Ummmmm, no. He didn't get the last rose of the night. When he walked up, Brian didn't even have his rose on: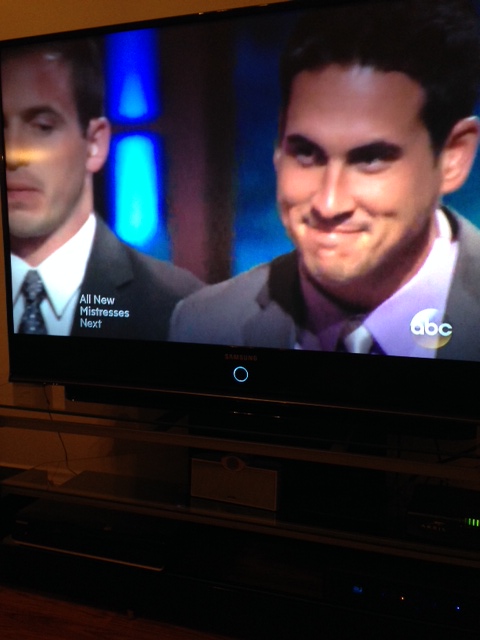 Not to mention when Marcus got his rose before him, there were no roses left on the plate. So yeah, Marcus got the last rose, not Josh.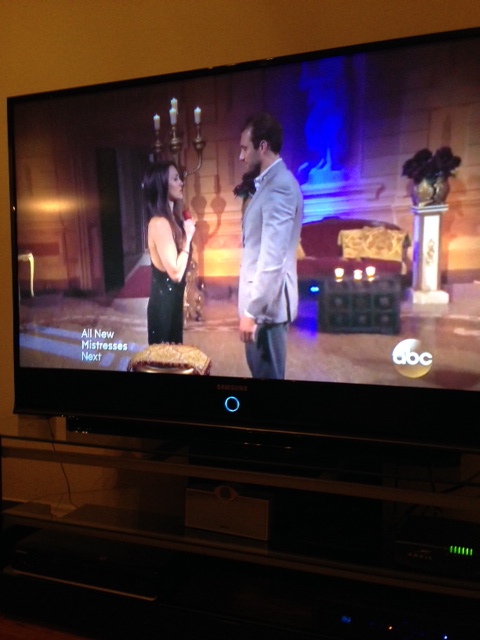 Man, only a week away before hometown dates. This season is flying by. Didn't it seem like we just had corny limo entrances last week? Or is it just my wishful thinking that this season is past the half way mark? Then again, the finale is still over a month away, so maybe I shouldn't be as excited as I am. I'll just mark it on my calendar. Only 32 more days of emails questioning if I have the correct spoiler to the ending of the season. Fun times.
Send all links and emails to: steve@realitysteve.com. To follow me on Twitter, it's: www.twitter.com/RealitySteve. Instagram name is "RealitySteve," or join my Reality Steve Facebook Fan Page. Talk to you Thursday.