Apparently reading an excerpt from Courtney's book last week during the live video chat was a real hit. A lot of you have asked for a reading once a week, so I'll oblige. Tonight, in the first 10 minutes of the show, I want all of you to get in your pajamas, gather around the fireplace, and let old Uncle Reality Steve read you a bedtime story about how a young Courtney Robertson first started to touch herself. It's quite exhilarating. Courtney's book came out on Tuesday, and at least 5 of you have already emailed me saying you purchased it, are already done reading, and loved it. I told you. If you're looking for "Eat, Pray, Love," it's not the book for you. But if you're a die hard fan of this franchise who watches with regularity, you will enjoy reading it. Go purchase it here if you haven't already. Definitely gonna have to read an excerpt tonight since next Thursday, I'm in CA and it's actually Olivia's birthday that day. Probably not appropriate reading around a 10 year old. Call me crazy. So she and Nicholas will be coming on for the last 15 minutes of the show to hang out again. Or maybe just Olivia since she's the birthday girl. Not to mention Nicholas' appearance last time left much to be desired with his gum smacking. We'll see.
I knew once some of you got a hold of Courtney's book, the first question I was gonna be asked was about what was on page 164. Courtney did kind of a "Blind Item" excerpt where she listed 3 gossip stories from the franchise she's heard over the years, but never revealed who was the person behind each story. Here was one of the many emails I received this week, all asking the same thing:
_________________________________________________________
Hi Steve,
Love your site. As with many of your viewers, it is the only reason that I am still able to watch this ridiculous show after so many years (plus a generous amount of wine)!
I read Courtney Robertson's book, and she gives a few "Blind Items" about past Bachelor/ette escapades. I was hoping that you could at least give us a hint of which people she is referencing.
#1 – This Bachelor was so asexual, his extremely hot and bothered Fantasy Suite partner kept filling up his glass with more alcohol every time he tried to hide in the bathroom. The unlucky lady was just trying to loosen up the guy, but it didn't work.
#2- This Bachelor was so horny he couldn't wait to get to the Fantasy Suites to get laid. On a group date, he snuck away with a contestant for an off-camera hookup. But producers busted them just seconds after they left— and she was already on her knees giving him a BJ! When the producers tried to break them up, they didn't stop and had to be pried apart.
#3-This Bachelorette contestant was such a slimeball he hooked up with an ex at his hotel right before Hometowns!
Thanks for your insight and spoilers! Keep up the good work and ignore all of the haters…
_________________________________________________________
I'm pretty sure #1 is Jake and #3 is Jef Holm since I've heard similar stories over the years. Never heard that story on #2, so I don't know about that one.
Another topic I received numerous emails on this week surrounded another social media story regarding Josh. At least 10 different people asked me this, but here's the first one I got:
Saw this on Twitter. No clue if it is real, but it is his FB picture (cropped to fit, I think). My friend told me Tinder links with FB. Interesting if it is real.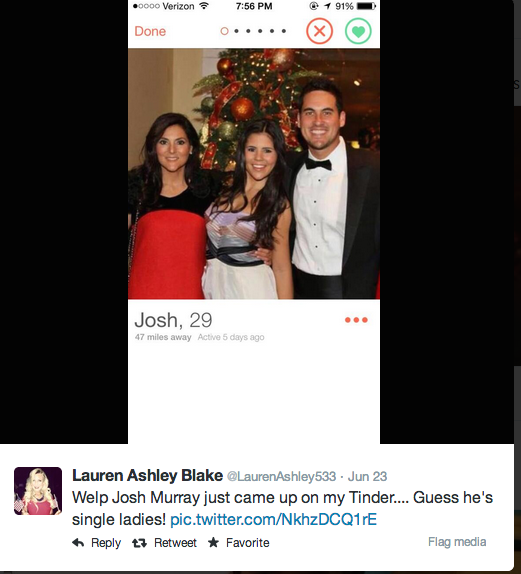 Here's my response to that: Josh and Andi are still engaged. Nothing has changed since May 9th. So apparently that account is either fake, or doesn't matter since it hasn't changed the end result. My guess is that is a fake account. Would not be hard to set up a fake Facebook account using a picture from Josh's page. There are enough crazy people out there with nothing better to do with their time.
And finally, looks like Radar Online is late to the party, but hey, at least they credited me. Their "sources" are telling them that Chris is the next "Bachelor," something that shouldn't be news to any of you. Obviously nothing is official just yet and I doubt we're not gonna get the announcement until the "Bachelor in Paradise" finale, but yeah, it's going to be Chris. Sorry Marquel fans. Just wasn't gonna happen with him.