We are getting to that point in the season where it's down to the final four guys, and the tabloids will start ramping up their coverage digging up whatever dirt they can. Take today's story for example on Chris where they report he's been arrested 13 times. Granted, none of these arrests are remotely anything the average person would give two sh**s about, but since it's a tabloid, they have to make it known. Kinda like how they embellished Kat getting written up back in college for underage drinking when she wasn't even drinking. I mean, read that story. Exactly what "criminal" behavior did Chris have in any of those so-called arrests. He lives in Bumblef**k, Iowa. What else is there to do other than drink, have sex, and run into a little trouble on occasion? Whoa, he went 8 miles and hour over the speed limit in a 55 mph zone? Lock him up! This is so ridiculous and silly, yet they treat it like it's some major headline. Please. Tell me when one of these guys gets on a plane and gives away the ending to the whole season. That's when…oh wait, never mind.
Not sure what's a more ridiculous story, those 13 "arrests" Chris had, or the one that ran last week about Andi being pregnant. In case you didn't see the cover of "In Touch" last week, here it was: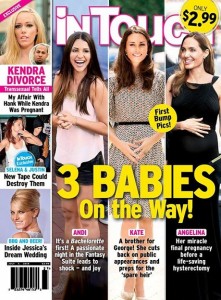 The funny part about all of it is how many people it actually fooled. Do you know how many people emailed or tweeted this story at me to ask if it's true? More than you think. However, as is the case every season, the headline is misleading. If you actually read the story part of it, nowhere in there does it say the words "Andi is pregnant." It just alludes to it, and talks about how she had two overnight dates, and what if she got pregnant and it wasn't from the guy she chose. They're just looking for a reaction and they succeeded. But yeah, Andi's not pregnant. Not only because the story never says that she is, but Andi even addressed it on Twitter. So we can move on from that nonsense now.
"Bachelor in Paradise" wrapped up last week. I will have your episode-by-episode spoilers shortly. One thing I tweeted about this weekend that you can keep your eye out for is you'll start to see a lot of the contestants from the show start hashtagging their tweets with #YOPO. What's that you ask? It stands for "You Only Paradise Once." I guess that's their thing. Deal with it because you're gonna see it a lot come August.
Wanna see a video of Jef Holm drunk hanging out with a 21 year old? I never thought you'd ask (he appears at the 5:20 mark)
This was posted on her account from Saturday night. So apparently Blair Fowler is a YouTube Beauty Guru. Her main channel is juicystar07. Her and her sister Elle make their living off creating videos about makeup. They have "written" two books and design cell phone covers with Cellairis. They are from Tennessee but moved to LA when they got Youtube famous (I had a reader tell me this). Congrats to them. So my question is, what is she doing hanging around Jef Holm late at night drunk in a cab then a hot tub? Hey, she's 21. Right up his alley.
In news that isn't really news but someone thought it was, Drew Kenney and Amy Long are now officially a couple. Wow, that's so great. I was hoping to hear that announcement someday. After all the sleepless nights I was having wondering about those two, I'm glad they finally decided to make sure they ran to an outlet to tell them. Amy lasted two episodes on Juan Pablo's season, but is more known for banging Brooks down in Florida for a few days this past New Year's Eve when he came to visit her and they double dated with Alexis Morgado and Michael Garofola. Pictures were posted on this site shortly thereafter. Man, Drew really seems to enjoy taking Brooks' seconds, doesn't he? Good luck you two. You'll need it.
For those wondering how they were going to handle Eric Hill's death on the show, Chris Harrison addressed it today in his EW.com blog and said you'll see all of it. Just a quick reminder of the timeline and how it happened with the show:
Sunday, April 20th: Eric in a paragliding accident in Utah; Josh Murray's hometown date.
Tuesday, April 22nd: Eric's accident first made public by the news; Marcus Grodd's hometown date in Dallas.
Wednesday, April 23rd: Eric officially pronounced dead; day of the hometown date rose ceremony.
So the quick clip we saw during the preview last night show's Chris telling everyone that Eric has died. That was obviously during the day on April 23rd before they all got dressed and ready for the rose ceremony. I'm glad we're going to see it all. Impossible for them to have left that out. Of course everyone wants to see Andi and the guy's reaction to what happened. One of the few smart decisions this show has made.
And the ratings are in from last night. They're up about 500k viewers from last week, and .1 in the 18-49 demo. However, the most embarrassing thing is this show is drawing more than "24," which has been excellent this season. I will now go flying out of my window, Margot Al Harazi style.