Men Tell All Spoilers
Even though these shows are always two hours, there's never really a ton of content to them. You know what to expect pretty much. Although there were a couple things this time around we haven't seen before, contrived as they may have been. Nothing is organic in these shows.
-In Chris Harrison's blog today he mentions a "surprise" right off the top of the show. This is when Ashley and JP come out. I'm not sure exactly how they present it to the audience since Ashley & JP have already announced the sex of their baby publicly (a boy), but they do an ultrasound on stage. Yes, a real ultrasound. With the technician and the jelly on her belly and everything. JP actually cries during this. Ummmm, ok. I have to see this play out before I decide if this is completely unnecessary or just the stupidest thing they've ever pulled. We know they're having a boy. They know they're having a boy. Exactly why do they have an ultrasound done? I don't get it. They made a little joke when the first picture of the ultrasound had Chris Harrison's face on it. Hilarious. Side splitting laughter I tell ya'.
-Sarah Herron, Michelle Money, Graham Bunn, and Chris Bukowski (of course he was there) were in the audience to promote "Bachelor in Paradise" and are given a shout out during filming, but not interviewed. Although when the guys were out on stage, Chris Harrison introduced Chris Bukowski and Andi's guys admitted they had no idea he had tried to get on the show until they watched the first episode (or read the spoiler a month in advance).
-When all the guys came out on stage, they were all wearing scarves that production had given them. Chris Harrison told them to take them off immediately. So they played up the running joke of the season which was, well, scarves.
-The guys who were there were every guy from episode 2 til last night. In case you forgot: Pat Jagodzinski, JJ O'Brien, Marquel Martin, Tasos Hernandez, Bradley Wisk, Brian Osborne, Dylan Petitt, Marcus Grodd, Brett Melnick, Andrew Poole, Chris Soules, Ron Worrell, Carl King, Cody Sattler, Nick Sutter and Craig Muhlbauer. Josh and Nick were not there obviously.
-Funny story about golfer Nick Sutter. He now has a full head of hair. They spent time talking about it and he admitted to having surgery before "Bachelorette" started filming, but the hair didn't start sprouting until afterwards. Damn. That Miracle Grow actually works?
-The three guys brought up in the hot seat during the show were Marquel, Marcus, and Chris.
Marquel's hot seat focused mainly on his race. Chris Harrison kept going back to the Josh/JJ/Andrew confrontation about what Andrew allegedly said about him and Ron at the first night rose ceremony. They actually showed the clip of when's Ron's name is announced and Andrew leaned into to JJ, but it was inaudible. Marquel also talked about how he was put into the friend zone right away. He even asked Andi later if his race had anything to do with it and she said no. She said he never kissed her. Marquel said he never tried to. Marquel also gave out cookies to the audience.
Andrew still denied that's what he said. Said that the accusations have really affected his personal life. He accused JJ of stirring up trouble in front of the cameras and a few of the guys agreed that JJ handled it poorly. They didn't side with Andrew but JJ got attacked pretty bad. Chris Harrison asked if Marquel still believed that Andrew said it. Marquel said that JJ is his boy and he has to believe JJ. Andrew got defensive but in the end kinda apologized to Marquel for the misunderstanding.
Then again what does JJ care? Yesterday he was hanging out in LA pretending to be receiving mouth love from Lucy. Bizarre.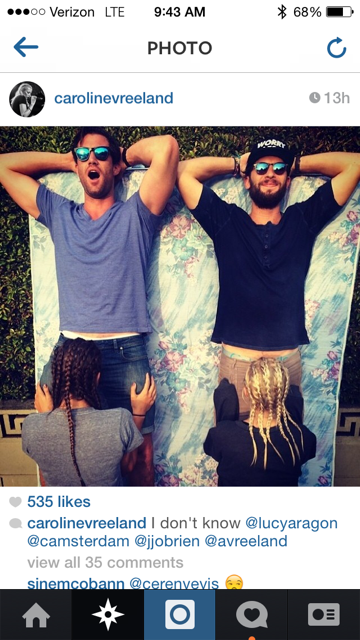 Marcus' time on the hot seat was apparently pretty short. Talked about how fast he opened up to Andi and that if he was on Paradise, could he see himself falling in love again. Total foreshadowing.
Chris' hot seat they talked about how Andi said it was her favorite hometown and how America fell in love with the farmer. Then they staged a "mini date" as some woman from the audience pretended to interrupt Chris Harrison talking to Chris, so they brought her on stage so she could ask farmer Chris a question. Something about does he think he can find love in Iowa.
-When Andi came out, Chris Harrison had the envelope with all the guys from the lie detector group date and read the answers. He named the guys who didn't lie (Chris and Brian), Marcus lied about sleeping with less than 20 women, Dylan lied about liking brunettes more than blondes, and Josh had two lies. Chris Harrison asked if they wanted to hear Josh's lies even though he wasn't there to defend himself. Brian jumped to Josh's defense saying Andi shouldn't do it and that Josh is a man of integrity, it wouldn't be right, blah blah blah. Audience wanted Chris to read Josh's lies but Andi said no.
-There were bloopers. One of Andi using nasal spray. Another one was of Andi filming an ITM and she hears someone peeing, flushing the toilet, then washing their hands.
-Obviously no announcement was made on the next "Bachelor" because we're still two months away from filming beginning. I know some of you freaked out last Thursday when the picture of Nick with producer Bennett Graebner surfaced of them filming in Milwaukee. I don't know why Nick was in Milwaukee filming last week, nor do I know why he was seen in LA this past weekend. Here's what I can tell you though:
1. Nick was not visiting with Andi because she's engaged to Josh and has seen him numerous times over the past two months in a safehouse in Atlanta the show has rented for them, and the weekend they spent in Mexico together while "Bachelor in Paradise" was filming.
2. Nick is not the next "Bachelor."
So there. Do with that what you will. I guess those still doubting will officially get their answer on July 28th, but this has been a formality since May 9th. Sorry Nick fans. Don't know what else to tell ya' other than breathe. Everything will be ok.
Send all links and emails to: steve@realitysteve.com. To follow me on Twitter, it's: www.twitter.com/RealitySteve. Instagram name is "RealitySteve," or join my Reality Steve Facebook Fan Page. Talk to you Thursday.