Being in New York since Sunday, I feel like I have no idea what's going on anywhere. I've watched no TV other than the show from Monday night, and haven't been as thorough with keeping up daily to the entertainment news that's been going on. I appreciate everyone who's emailed me to kinda fill me in on all things Andi/Josh/Nick related, whether it be through email or Twitter. I've got a couple links to share with you before we get to a giant batch of "Reader Emails." You will get a lot of varying opinions on what Nick did Monday night. You know where I stand. I thought it was unnecessary. But the things is, it's so insignificant to me now, that dissecting it from every angle is a waste of time. I don't care how hurt I was by being dumped by someone 2 1/2 months ago, I wouldn't have brought that up on national television. Nick chose to take a different route. Whatever. I'm not gonna write a novel on the pros and cons of it. It's over and done with, Andi & Josh have clearly moved on from it, so I don't understand why others can't. Does it make Nick a horrible human being? No. Did it make him a great guy? No. You'll see a lot of people today discuss it in detail supporting why he should or shouldn't have done it. To me, it's over and done with. Moving on.
Headed to the airport now to head back home, so there will be a live video chat tonight at 9:00pm EST/6:00pm PST. Let me guess, you'll wanna talk about Nick, right? Lets see if there's other stuff we can talk about. Maybe start turning our attention towards "Bachelor in Paradise." That could be a start. See you tonight.
As for the Arie vs Chris debate on who will be the next "Bachelor," it still hasn't been officially decided. Mike Fleiss can tweet all he wants about asking for BachelorNation's help, but that's just to get people talking. They will choose who they want to choose, and as I've said since the day I posted the spoilers, I do think it'll end up being Chris. Just because they hired Arie a personal trainer doesn't mean he's going to get it since, well, they hired Chris a personal trainer too. It's between them. I don't expect an official announcement anytime soon. The final casting weekend for the women hasn't even happened yet, so they're certainly not going to announce it before those girls get in town. I wouldn't expect the next "Bachelor" announcement to be public until September right before filming starts. Of course, I'm sure it will be spoiled before then.
In case you missed it, Nick did his conference call with reporters earlier in the week. Biggest thing to take from it is he says 100% that the producers had nothing to do with him saying what he did. He didn't even plan on doing it, but Andi was being so cold to him on stage, that's why he did it. Ummmmm, that makes it even worse. So basically you just did it to embarrass her because you were mad. Got it.
Andi & Josh also had their conference call with the media and basically you could tell these two have zero interest in ever saying Nick's name again. Also, Andi talks about her comment at the end of the show telling Josh she knew it was him from the first night, which has all the Nick fans' panties in a bunch. I think she clarifies exactly what she meant by that. I'm sure Nick fans will choose not to believe her to support their rants against her, but hey, at least she's explaining what she meant.
The best interview Andi & Josh did was with HuffPost Live (I can't embed the video into the column so definitely click on the link to watch). They're asked about Nick around the 9:30 mark, but then around the 10:30 minute mark, the topic of the Nick plane videos is brought up. Obviously these two were both aware of it, and props to HuffPost Live to acknowledge where the videos came from. I appreciate it. Also, I don't have the clip yet, but some of you emailed me and said that Nick was on ET Live last night and they mentioned the videos. UPDATE: Here's the video:
Well there you go. Of course it wasn't fake.
Anybody catch Nikki's tweet on Monday regarding Nick spilling about having sex with Andi? In case you missed it, this is what she said: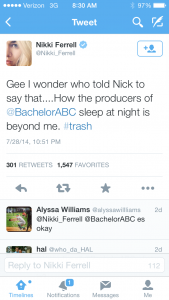 Wow. I find that completely hypocritical of her. You mean the same producers that kissed your ass and bent over backwards for you on Juan Pablo's season? Those producers? The ones bought you more luggage once you started traveling when every other girl was only allowed 2 pieces? The producers that gave you the penthouse suite in Miami when all the other girls had regular rooms? The producers that constantly let you take as much time as you needed to get ready for dates, ITM's, etc when everyone else was on a schedule? The producers that you made go search the streets of Vietnam to buy you a microwave because you were insistent on needing it for your bikini wax (If we're being technical, it was actually a handler who was sent out to buy the mircowave, but obviously it was producer approved)? Those are the producers that are now trash? Amazing how her opinion of them changes once they are of no use to her anymore. Funny how that works.
Sean Lowe wrote an interesting column after Monday's finale regarding Andi & Josh's journey. It was more like an open letter to them having gone through it himself. Leave it to Sean to be the voice of reason for the whole situation. I agree with everything he wrote in there. Good read from someone who went through it himself.
I did an interview about a months ago with the Dallas Observer than ran yesterday. Check it out. Some things you may already know, some you may not. Enlighten yourself today by reading about me. You'll be a better person for it.