-Clare confronts Zack and they have yet another talk. She tells him she rejected Cody's date because "it's only fair to give it a shot between us." She then questions him about other girls. "Jackie comes around and you get so awkward." Yeah, that's because he's looking for a way to pounce on that without you knowing. Duh. But then in the same conversation, somehow Zack has thoroughly convinced her he's 100% all about Clare and that's who he wants. Clare has been suckered in yet again by another guy on this show. "Zack has seriously stepped up…" Oh boy. This is not gonna end well tonight. Well, at least for Clare it isn't. I'm sure Zack was sad Clare left for about, oh I don't know, 18 seconds before moving in on Jackie. The girl he ultimately wanted in the first place that even Clare called him out on. So Clare has now been bitten twice on this show by guys pretending to like her more than they did. Lets hope she learns her lesson and doesn't show up again next season. Who am I kidding?
-Oh boy. It's the return of Kalon. Nobody likes him. Like, nobody. At all. Not even the dudes. But especially Michelle. "He's an a**hole." I'm so glad they recapped Kalon's run on Emily's season where he called Ricki "baggage" ultimately leading to Emily telling him to "get the f**k out." Michelle is/was close with Emily at the time and remembered all of it. Even Kalon tweeting a picture at baggage claim once saying he was just waiting for Emily. Ha ha. Hilarious dude. Which made it all the more bizarre Michelle initially agreed to accept his date offer. For what? She hated him from the get-go. Was she really that desperate for someone, anyone to love on her? Apparently. At least for 12 hours she was. She got her head on straight and decided the next morning to tell him she couldn't accept his date because it would be disrespecting her friend, Emily. Of course, it wasn't until last night I'm sure that Michelle saw what Kalon said about her with his "I want to zipline right into her t**s" and "I'd motorboat that sh**." Classy guy he is. Michelle sure thinks so with her tweet last night: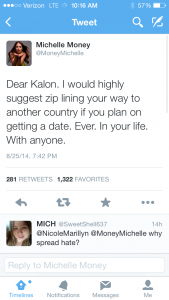 Gee Michelle, tell us how you really feel. Soooooo, you're saying you don't like the guy? I can't tell.
-Kalon then moves on to Jackie and Sarah after calling them "sun lizards." So, is he just trying to get under everyone's skin immediately, or it's just part of his charm? I understand he's hamming it up for the cameras and loves every bit of attention he gets from this show, but the guy couldn't come across as more of a douche if he tried. Holy crap. So after Jackie and Sarah reject him, Kalon decides to go on the first 1-on-none date in show history. It was glorious. Talk about an ego stroke for this guy. Kalon: "After 3 seasons, I'm finally going on a date with someone I like." I'm sure Lindzi Cox appreciated that comment. The fact she fell for this guy, and hard I might add, makes me question her sanity as well. Not to mention she knew he was cheating/had cheated on her, and still wanted him back. Women. Psssshh.
Date #3: Kalon and Himself
-To quote Seth MacFarlane at the Donald Trump Roast, when talking about Donald Trump's ego, he "videotapes himself masturbating, and then masturbates to that video." That's pretty much Kalon in a nutshell for ya'. Kalon goes spelunking at the Cenote Maya. And of course, in true Kalon fashion, he has another brilliant quip for us. "I've never rappelled into a giant Mexican hole, but I've rappelled into a tight Mexican hole." That was allowed on network TV before 10:00pm? Hell, it was allowed on network TV at all? Yikes. Good thing Olivia and Nicholas were already sleeping when I came home to watch this. They might've been scarred for life. I think Kalon's goal in life is just to say something offensive every time he appears on TV. He's basically got it down to a science now. He's playing a role. I get it. But you can't say stuff like that on TV, then just claim "Oh, I'm just having fun," and then expect people to take you serious on anything. He's a douche and not worth talking about anymore. He's made it pretty clear what type of guy he is.
-Back at the resort, Jesse Kovacs arrives. Oh yay, another has been from numerous seasons ago that no one cares about. Man, they sure know how to cast em' this season, don't they? After declaring in an ITM, "I wanna go on a date with every single girl here," he asks Jackie. Yes Jesse, we know. We saw your act on the first "Bachelor Pad" where you had sex with Elizabeth Kitt on camera and then treated her like dog sh** and threw her out like yesterday's trash. Pretty much what we can expect in his treatment of Christy this season. Whether or not they had sex is still up for debate. The show will absolutely make it seem like they did tonight, and will even insinuate a threesome happened with Jesse, Christy, and Lucy. Of course they will. There was no threesome, and I don't believe there was any sex either. Just some serious, uhhhhh, petting. I think.
Date #4: Jesse and Jackie
-Their date is at Rio Secreto. I have no idea what that is, then again, I've never been to Mexico, so I wouldn't have a clue where any of these places are. I just know it's not somewhere I plan on going anytime soon. These two get to have a private dinner in a cave. With bats. Lovely. What an awesome date. So he toasts and says that if you toast without making eye contact "apparently it's 7 years of bad sex." Ok, can we just stop with these dumb superstitions. No, it's not. You know why? Because I know I can toast someone, not look in their eyes, and still have great sex. So there. I guess Jesse just needed a talking point to let Jackie know he wants to get in her pants as soon as possible because he's Jesse Kovacs, and if he's not having intercourse with a female within 10 minutes of being on TV, he loses his powers. Or something like that. Jackie is falling hook, line, and sinker for his B.S. as you'll see when she gives him the rose over Marquel at the beginning of the episode. Oh yeah, they also got a private concert from Andrew Ripp, whoever the hell that is. In fact, I don't give a rip about Ripp. Man, I'm hilarious. I thought of that one all by myself.