The limo entrances for Chris' season are set to begin tonight at the mansion. In the past, the producers have been hit or miss with what they'll tweet about. Emily's season they were very vocal, even sharing some pictures of Emily getting ready. Other seasons, they just tweet a bunch of inside stuff and cryptic things that no one knows what they're talking about. So if you want to follow some of the producers on Twitter tonight or even Chris Harrison and Mike Fleiss, be my guest. Here's a sampling I'm sure of what you're gonna see: "The girls are loving Chris!!!!!" "What an interesting first night this has turned out to be!!!!" How do I know this? Because they tweet it every season. So yeah, when you tweet the same things every season, it kinda loses its effect. Look at Juan Pablo. The guy became the biggest joke in "Bachelor" history and essentially ended up being hated by everyone in production. Not saying that'll happen to Chris. Just saying that what they tweet out the first night means nothing. They do the same thing every season. I mean, we can't possibly all forget how much they were gushing over Juan Pablo's first night last September 17th, can we?
So yeah, it's typical of what to expect tonight. Nothing of substance will be tweeted, probably won't be any pictures of anything significant, and that'll be that. Tomorrow will be the off day when the remaining girls move into the mansion and dates will start Saturday. Wash, rinse, repeat. Same thing, different season.
A couple updates on two of the girls I've already given you. Just like most spoilers that I give you, for the most part, I can't prove them to be true. You just have to believe me and my track record. Well, a couple of the girls I released gave some evidence they were headed out for the show. Jillian Anderson tweeted this out before leaving on Tuesday: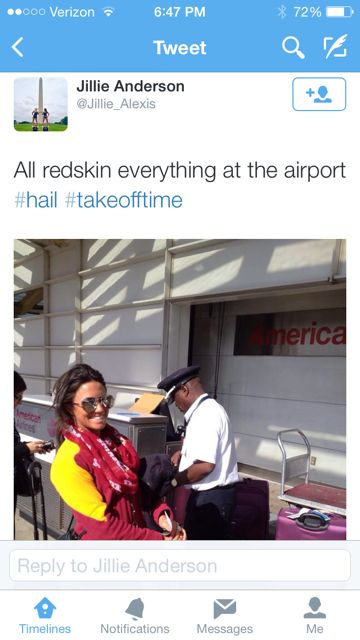 And then Tuesday evening, Kara Wilson took this selfie in the airplane after she'd landed tagging it, "Landed safely!":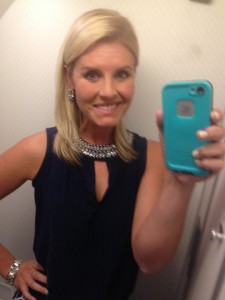 So yeah, those two are on it. I updated Kara's info after I posted on Tuesday. She is 25, and lives in Edmonson County. Leitchfield is where she teaches. And the "not kissing any guy again until she gets married" is a real thing, so yeah, expect her not to last long on this show at all and basically she's being cast for comedic value. If that's Kara's faith, then all the power to her. To each their own. But on a show that's laced with sexual innuendos and about hookups and fantasy suites, do you honestly think a woman who won't kiss a guy til their wedding day stands a chance of lasting on this show? The show will make sure that everyone knows she won't kiss a guy til her wedding day, and she will be ridiculed mercilessly for it by the other girls, the audience, and even the producers. Probably shouldn't have gone on the show in the first place. Oh well. Her life, her choices.
Of the six girls I've given you already, all of their Facebook profiles were active before I posted them, and now all of them are either de-activated or set to private. Jillian Anderson got really creative by just taking down her pictures and spelling her name backwards on her profile so now it reads "Naillij Nosredna". Verrrrrrrry clever.
A couple of you have asked me on Twitter and in email what I've thought of "Couples Therapy" so far with Juan Pablo and Nikki. I have seen all three episodes, and really, it's pretty much exactly what I've told you for a year now. He doesn't love her, never did, never will, has no intention of ever moving in with her, or marrying her, and she was the biggest bitch on his season. You think she only treats the producers on "Couples Therapy" that way and is only bitchy to them? Laughable. The side ABC chose not to show you is now coming out and that's basically exactly how she acted on her season of the "Bachelor." I find it hilarious that Nikki has admittedly quit Twitter because she's sick of people taking shots at her behind a computer, rather than to her face. Yet, this is the same girl who took to Twitter during "Bachelor in Paradise" and said Elise was as bright as a box of rocks. Everything that Jenna Jameson and Deena are saying on that show about her couldn't be more true. You know what you signed up for. Cameras are going to follow you around 24/7. Don't sit and complain about it the whole time. I'm sorry, but it's 2014. We live in a world where social media is a big deal. You don't want to be judged, criticized, mocked, ridiculed, etc? Then don't go on two reality shows. It's as simple as that. More evidence that both of them basically did the show for the pay day. That's all. They've got some major issues as you can see, and it's only a matter of time before zero people will care about them and they'll just end things.
Here's another girl to add to the list of contestants this season. She's been added to the Chris' Girls page in the navigation bar. This show sure loves themselves some single moms from Utah, don't they? And not the least bit surprising that Michelle Money's brother also works for Vivint. Wow. What an amazing coincidence.
_________________________________________________________
7. Michelle Davis: 25, Provo, UT. Got pregnant at 17, married shortly thereafter, and has been divorced a couple years. Daughter Sadie turns 8 next month and son Cohen just turned 6. Currently works for Vivint in Provo, UT and attended Utah Valley University. UPDATE 10/10: She no longer works for Vivint. Here's an About Me page she has.
Facebook – Michelle Davis (currently de-activated)
Instagram – MichelleD02 (currently set to private)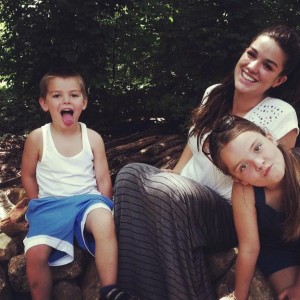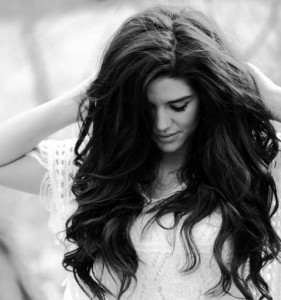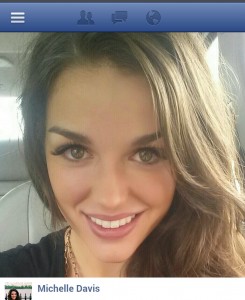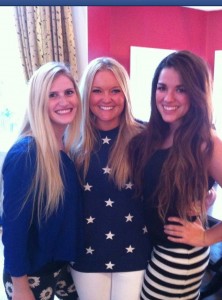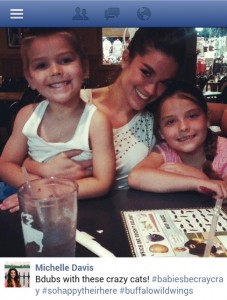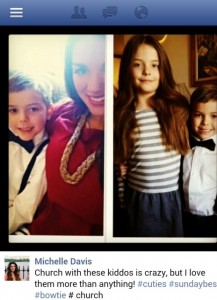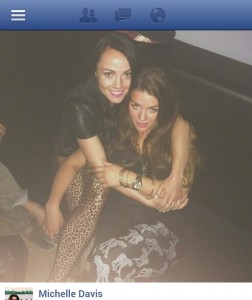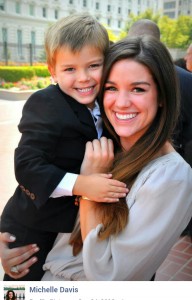 _________________________________________________________
Send all links and emails to: steve@realitysteve.com. To follow me on Twitter, it's: www.twitter.com/RealitySteve. Instagram name is "RealitySteve," or join my Reality Steve Facebook Fan Page. Talk to you soon.