Anyway, they are leaving New Mexico today and heading for…South Dakota for episode 6. Looks like we'll at least get one public date in South Dakota as there is a Big & Rich Live Taping Event at the Deadwood Mountain Grand in South Dakota this Sunday night. If you read the particulars on it, they specifically say it's not a concert but a taping for a TV show that'll be shown at a later date. Trust me, it's for the "Bachelor." So I'm guessing at least on Sunday night we'll get some pictures of one of Chris' dates since this taping is open to the public and plenty of people have RSVP'd already. Funny though that none of them know what it's for. They do now. If somebody wants to go on that site and mention it's for the "Bachelor," I bet you'll get a ton of women freaking out.
After South Dakota, filming will move to Des Moines, IA for episode 7, which is the episode before hometowns. I'll fill you in on some info of that next week. Episode 8 is always the hometown date episode. So this will mark the first time in recent memory that a "Bachelor" or "Bachelorette" season never left the country before hometown dates. I'd even venture to guess that some of these women are probably pissed at the travel this season. New Mexico, South Dakota, and Iowa? Really? Probably weren't on their bucket list to say the least. They are definitely leaving the country for overnights and final rose, but with the next two locations in the U.S., and the first 5 episodes shot in the U.S., we have a first for this show since the early years. In case you forgot, just look at the most recent seasons:
"Bachelor":
Juan Pablo – 3 eps in LA, ep 4 South Korea, ep 5 Vietnam, ep 6, New Zealand, ep 7 Miami
Sean – 4 eps in LA, ep 5 Montana, ep 6 Canada, ep 7 St. Lucia
Ben – ep 2 Sonoma, ep 3 SF, ep 4 Utah, ep 5 Puerto Rico, ep 6 Panama, ep 7 Belize
Brad – 4 eps in LA, ep 5 Las Vegas, ep 6 Costa Rica, ep 7 Anguilla
"Bachelorette":
Andi – 2 eps in LA, ep 3 Santa Barbara, ep 4 Connecticut, ep 5 France, ep 6, Italy, ep 7 Belgium
Des – 3 eps in LA, ep 4 New Jersey, ep 5 Germany, ep 6 Spain, ep 7 Madeira Islands
Emily – 3 eps in North Carolina, ep 4 Bermuda, ep 5 England, ep 6 Croatia, ep 7 Czech Republic
Ashley – ep 2 Las Vegas, ep 3 LA, eps 4 & 5 Thailand, ep 6 Hong Kong, ep 7 Taiwan
Looking at these seasons, just off the top of my head think of how many dates were spoiled on Instagram or Twitter by the public:
Andi – 1-on-1 at the beach with Eric, Boyz II Men group date, 1-on-1 w/ Marcus at Mohegan Sun
Juan Pablo – 1-on-1 w/ Kat in Utah on Electric Run, Group date in South Korea singing the K Pop song, Nikki's 1-on-1 in Miami, Nikki's hometown date eating BBQ
Desiree – 1-on-1 "wedding date" w Brooks, Dodgeball group date, Mr. America Group Date in New Jersey
Sean – Guinness Book of World Record kissing date w/ Lesley, 1-on-1 concert date with Lindsey in Montana, Catherine's hometown date in Seattle
Emily – Practically every date in North Carolina was spoiled (Rappelling & Luke Bryan concert w/ Chris, 1-on-1 concert date w/ Ryan Bowers, etc), boat racing date in Bermuda, Romeo & Juliet date in England, 1-on-1 w Travis in Croatia, 1-on-1 with John Wolfner in Czech Republic
Ben – Group Date in Sonoma with puppet show, Group Date in SF snow skiing down the street, 1-on-1 w Jennifer in Utah for Clay Walker concert, Puerto Rico baseball Group Date, 1-on-1 w/ Emily in Belize
Ashley – 1-on-1 w/ William at the Bellagio, Group Date at the Monte Carlo for "Jabbawockeez" show, 1-on-1 w Ben C for the Flash Mob Dance in Pasadena, Group Date in Hong Kong for Dragon Boat Race
So as you can see for the last 7 or 8 seasons, at least 3 to 4 dates per season were spoiled by the public. You can also see that the "Bachelorette" seasons seem to have a lot more exotic traveling in them than the "Bachelor" seasons. Definitely will be the case for Chris since he's not even leaving the country until overnights and the final rose ceremony. I told you months ago I had a lead on a city that put in a bid for Chris' final two episodes. I just don't know if they got it, and if they didn't, does that mean the show goes somewhere else completely for the finale, or just finds a different city within that country to go to. That's what I'm trying to figure out. I can tell you that the country that bid is not somewhere they've ever been before. Unless it was early on and I'm forgetting, but I don't remember them ever going here. If I get it confirmed, I'll let you know. But yes, it is weird to think that they've completed 5 episodes of filming and not one date has been spoiled publicly outside of this tweet from back on Oct. 2nd where a portion of Chris' 1-on-1 date was at Costco in Van Nuys: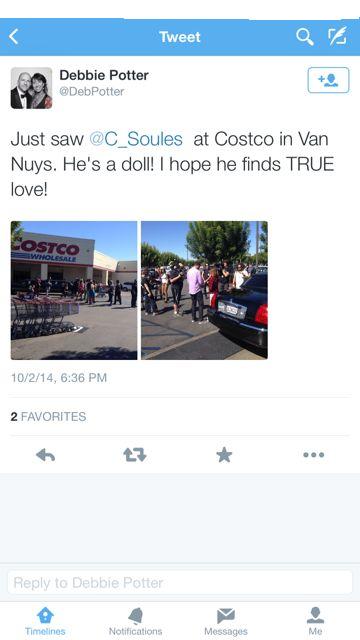 As for the girls, there are a few that I'm holding on to for the time being. I'm curious to see how far they are going. But of the 10 I've already given you, some are home already and some aren't. Like I said, I'm doing things a little different this season. If Sunday's Big & Rich live taping gets spoiled on social media which I'm sure it will, and it's one of the girls I know but haven't posted, I'll deal with it then. Lets just wait for the time being. But considering they're heading to Des Moines, IA for episode 7, my guess is there'll be more pictures coming from some of those dates as well. I guess we'll see. Good to be back, and I promise to start writing more in the coming weeks. I've got a lot of thoughts on DWTS, Survivor, Couples Therapy, and the Voice. Expect that next week. Until then….
Send all links and emails to: steve@realitysteve.com. To follow me on Twitter, it's: www.twitter.com/RealitySteve. Instagram name is "RealitySteve," or join my Reality Steve Facebook Fan Page. Talk to you soon.