Sorry I'm a day late on the column. Yesterday got caught up dealing with some website stuff and never finished my "Survivor" and "Couples Therapy" stuff. But they're here today and they're wonderful. As I mentioned Wednesday, filming has moved to Des Moines. Yesterday, Chris was by himself filming walk arounds in downtown Des Moines, with dates starting today. Chris has a 1-on-1 date tonight at his alma mater's football game. Starmont High School in Arlington is taking on Edgewood-Colesburg in what's being billed as the Game of the Century. Ok, I'm kidding. I don't have a clue how good either of these teams are, but tonight is Parents Night and Chris and his date will be appearing so the town is freaking out. I will tweet out the pictures I get from what happens tonight, so if you don't follow me, you'll have to wait til my next column to see them. Twitter is so much easier guys. Takes a few seconds to create a Twitter account. Just do it and you'll thank me for it. There's going to be tons of pictures on Twitter and Instagram tonight of Chris in attendance I'm sure. I mean, it's a high school football game and they're filming a TV show as well. Everyone there is going to have a phone and be taking pictures and posting them to social media. So if you're that interested in seeing it as it happens, I suggest you sign up for Twitter and follow me.
Tomorrow night is when Chris and his 1-on-1 date will be getting an Easton Corbin concert, which I'm assuming is a private one. According to the Des Moines Register, production is looking for a farm to film at and has requested corn harvesting and livestock. So assume that a date in Des Moines will consist of that.
The women and production are staying at the Renaissance Des Moines Savery Hotel as evidenced by all the production vans camped outside:
In case you missed the recent news regarding the "Murray Family Feud", the gist of the story is the Murray family hates Andi, doesn't want her marrying into the family, and that Andi & Josh snubbed his own brother's engagement party. This was the first I'd heard of any of this. No idea if it's true or not. A lot of "sources" in this story, so you never know how credible they are. The only factual part of that story is that yes, neither Andi or Josh have acknowledged on Twitter that his brother got engaged. That does seem kinda weird. His brother that got all the attention on the hometown date, his brother that Josh constantly talked about and even followed to college to be there with him in his playing days, and his brother that he's tweeted about numerous times in the last few months. Hell, Josh sent this tweet on May 10th, a day after he got engaged to Andi and was still in the Dominican Republic with her: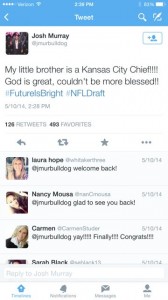 Not to mention all these others in the past few months:
So the guy who obviously has a close relationship with his family and his brother, and has tweeted numerous times about being supportive of his career, can't send one tweet to acknowledge his little brother getting engaged? And neither did Andi? Draw your own conclusions on that one. The story seems a tad embellished, but there is visual evidence that neither Josh nor Andi have acknowledged his little brother's engagement, and I find that quite odd.
And even though I'm guessing none of you saw it since, well, we live in the states and this took place in Australia, the "Bachelor: Australia" recently wrapped up airing their season and their Bachelor, Blake, proposed to some girl in the finale. Only the day after the finale aired, neither was made available to the media, and speculation began running rampant that they'd already broken up. There were even stories he impregnated the girl he didn't choose, but she shot those down immediately. In the end, the stories were true that Blake had already broken up with the girl he proposed to by the time the finale aired, but what made it juicy was he broke it off with her because he had started dating the girl who he let go at #3. And they are together now after doing a public interview together. Yowza. Here is Blake with his new fling, Louise, the girl he dumped in their first interview together explaining what happened:
So yes, the Mesnick went international, and Jason and Molly gave their thoughts on their podcast this week since they essentially went through the same thing. Good stuff. Man, bring back those days.