-At this point after the first 15 girls have exited the limos, Chris Harrison joins Chris, asks him what he thinks (even slaps him across the face), and tells him to go inside and get to know the women. Chris seems confused since there's only 15, but goes inside anyway. Once inside, the women start talking about why Chris is inside while then there's only 15 girls there. And this is another running theme through the night, having all the girls question when and if there are more girls coming. Kaitlyn announces she has a joke to break the tension in the room, but Chris wants to make a toast first, and then he says she can tell her joke. He does, then the floor is yours Kaitlyn. "Why did the walrus go to the Tupperware party? Because he wanted to find a tight seal." Yeah, I'm guessing we're gonna get a whole lot of that this season from Kaitlyn. She's essentially this season's comic relief like Kelly Travis last season, but with more crude jokes. Megan's edit seems to come to the forefront as she admits, "I didn't even really get it. That's just me. Something's not clicking" as she knocks on her head. Wow.
-One other thing to mention is why exactly were all these women freaking out over if/when more women were coming? A lot of them admitted to watching the show. They're aware of what happens every season. No season has ever had less than 25 contestants, so why they were making a big deal out of it was nonsense. Of course more women were coming. Like they're really going to do a season with 15 women? Really? C'mon. Think people. It was such a big deal they were making about it before the other 15 showed up and by the way they were acting, you'd think that this was something brand new to them. There are some that even ask, "How many usually are here?" Then there are people like Tara who are making love to their Jameson on the rocks and are in the early stages of hot messed-ness. Yes, that's now a word.
-Normally all 25 (or 27) would exit the limo, then the lead goes inside once they arrived to get alone time with all of them, so that's where this was done a little differently. Chris started his mingling with the first 15, while the next 15 hadn't even arrived yet. In real time, it was close to 3 hours from the time the first group of 15 arrived to when the second group of 15 did.
-Chris first pulled aside Britt for some alone time, and if you read Chris Harrison's preview of the "5 To Watch", it's pretty accurate what he said about Britt. Chris absolutely was enamored with Britt last night, and if the season ended after one episode, he would've ended up with her. Britt makes sure he takes her up on his offer for a free hug, and they have another long, sexually filled hug in which they almost ended up kissing. Britt says she felt it, they looked like they were going to, but they didn't. It was obvious they both wanted to, but for whatever reason, they didn't. I guess that would've made him seem pretty horny if, even though he didn't know at the time if more girls were coming, he kisses the first girl he talked to. So he held off. For a few hours at least.
-Chris gets alone time with Whitney and she tells him she makes babies for a living. Then asks him if "y'all inseminate hogs." He says he doesn't, but people that he works with does. She now thinks the two of them are like kindred spirits since they have the whole baby making thing in their profession. It is at this moment where I realized 11 episodes of Whitney's voice might cause me to paper cut my eyeballs til' I'm blind. Don't say I didn't warn you. However, maybe Whitney talks like that because she's had a nose job. Don't believe me? I'd say this is all the proof you need.
Pre nose job:
Post nose job: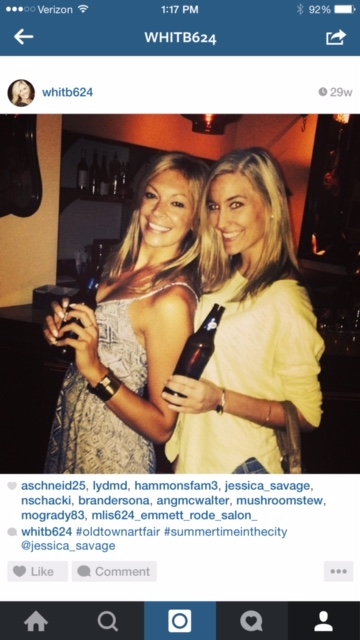 Hey, I've got no problem if she wants to get herself a nose job. To each their own. But since her voice was a huge topic of conversation on Twitter last night, maybe there's a possible reason behind it. Do I think she sounded like she gargled razor blades before she had a nose job? No. But could her high pitched squeal now possibly be attributed to it? Maybe. I don't know. Just throwing it out there. Whatever the case, I loved her in "Alvin and The Chipmunks: The Squeakquel."
-Chris then comes looking for his secret admirer who gave him the note out of the limos. He realizes it's Amanda because of the thick Chick-ahhhh-go accent she has. I wonder how long it'll be before Amanda tells him she lives at home, doesn't like paying bills, doesn't like cleaning, and doesn't like cooking? I'm sure that'll be a huge feather in her cap that'll move her right to the front of Chris' list currently being occupied by Britt and….well, Britt at this point. Although he likes Whitney too, Britt has a huge lead.
-Chris Harrison then joins the party again and tells the girls he needs to steal Chris away. He brings him out front and tells him he's got more women coming, while all the girls run to the windows of the mansion to watch as the other girls arrive. Something they've never done before, even though they obviously could since there are always people in the mansion while others are arriving. I think it was Jillian that even referred to the next 15 as "The Others" since they felt like they'd staked their claim to Chris first since they had 3 hrs with him before "The Others" arrived. It really was a whole bunch of nothing, but something different from season's past. Just imagine if they brought in another 15 girls? We could've called them the Dharma Initiative.
-There definitely was less attention focused on the next 15 girls' arrivals just because they kept cutting back to the girls in the mansion making comments about them arriving, or playing voiceovers of them making catty comments. So the actual real order of when the next 15 arrived were:
Limo 4: Samantha, Michelle, Jordan, Brittany, Nicole
Limo 5: Tandra, Carly, Juelia, Alissa, Kara
Limo 6: Bo, Becca, Tracy, Jade, Kimberly
However, the actual chronological order that we saw was:
Limo 4: Samantha, Michelle, Juelia, Becca, Tandra
Limo 5: Alissa, Jordan, Nicole, Brittany, Carly
Limo 6: Tracy, Bo, Kimberly, Kara, Jade
-The first 3 girls out they were much less focused on what they were saying and their entrances, and much more focused on what the girls watching at the window were saying. But they made sure when Becca made her entrance, you saw her full entrance and it wasn't until she was done was when they showed someone making a comment. Obviously of the main girls this season, Becca got the least camera time of anyone last night. It's like she was barely there. No, no, no…don't go reading into that thinking, "See Steve…they're hiding her from us because they know you said he's with Whitney. They're doing it on purpose to fool you." They're not. Don't know what else to tell ya'.
Some notable limo entrances from "The Others"
-Tandra showed up on a motorcycle, which is something I believe I predicted would happen before she even left for the show.
-Alissa brought a seat belt telling him it's gonna be a "bumpy ride." Clever. Now go get me my hot towel and a dish of peanuts, air waitress lady.
-Jordan brought a bottle of whiskey so each of them could take a shot. No proof yet that Tara confiscated that bottle later and downed the whole thing in one swig.
-Nicole wore a pig nose because she wanted to "ham it up for you." Just stop.
-Carly came out with a Mr. Microphone set and started singing to him. After, "My name is Carly, it's nice to meet you, in a few weeks, I hope to teach you…" I stopped paying attention and had to clean up the vomit all over my computer.
-Tracy I think had the best gimmick in her entrance, which was she read a note from one of her 4th grade kids that she teaches that was telling Chris why he should pick their teacher. Original, funny, and not over the top. Points for Tracy. I'm still questioning why she didn't last long. Oh I know. Too normal.
-Jade was shown last. We all know Jade's past by now, but any mention of it on the show doesn't come til way later, and I don't believe any of the girls had a clue about it, nor was it brought up as topic of conversation. If it was, it wasn't until the episode before she was gone. I think it's gonna be one of those things where Jade talks about it in ITM's on when/how she should tell Chris, but no one else knows about it. By the way, Jade is really attractive. She knows it, Chris knows it, and the show knows it. Of course they knew the Playboy stuff would get out, hell, it's probably the main reason they cast her in the first place. But if you expected her to be this wild child out of the limo, and the chatty girl, and the center of attention, it couldn't be further from how she acted.