-At the cocktail party, there were still 23 girls left. 3 were safe with roses, so 20 girls you'd think he wanted to spend time with. I know the show is only 2 hours long and there's only so much they can show, but how convenient to make sure they showed his time with Whitney, as she brought him outside and had a bottle of his favorite whiskey waiting for him that they toasted to. Whiskey makes my lungs burn. You think if Whitney drank enough whiskey she could go from talking like a chipmunk to maybe, oh I don't know, sounding like Barry White? Anything is an upgrade from what we're currently hearing coming out of that mouth, right? Whitney seems like a really genuine girl, super sweet, and you can tell is actually there for Chris. But all I do when I see her on screen is count down how many episodes we have left of her voice. 2 down, 9 to go.
-Ashley I., Megan, and Mackenzie are having a conversation in the backyard where Ashley mentions that not only has she never had a boyfriend, but that she's also a virgin. This astonishes Mackenzie. So much so that she's jealous of her because, well, "all guys want virgins…every guy likes it. Guys like taking your virginity." Ummmm, maybe when we're in high school yeah. I'm almost 40 years old. I don't expect to meet anyone nowadays that's a virgin. Lets face it, virgins aren't that prominent anymore. They're basically like unicorns. So to say that guys like that and that we are looking for it? Not quite. No guy expects to meet a virgin anymore. Remember, this was Mackenzie's take. The 21 year old. I rest my case. Basically Mackenzie is telling Ashley I. she needs to tell Chris about her virginity because he'll totally love that. I couldn't even tell if Mackenzie believed what she was saying, or if she knew if Ashley told him that, she knew she'd have a leg up on her since we doubt Chris is into virgins considering how he openly tongues anyone on this show.
-Ashley I. gets Chris alone and grants him three wishes. No, she didn't bring a genie lamp with her. And no, she didn't pass him a note to where he can cash in his three wishes at a later date. Nope, she had him wish up on her belly button ring because apparently that's a thing. Yep. I've heard it all now. Next thing you know she'll have him rubbing her ass pretending it's a magic genie bottle. For someone who's never had a boyfriend and who's never rolled around in the throws of passion with a man, Ashley I. sure is a sexual woman. Geez. Did you see the way they were making out? I thought she was going to lose her virginity on the backyard bench there for a second. Not to mention, she really likes to eat men's faces when she kisses them. I wasn't sure exactly what I was witnessing. Them having a passionate kiss, or Ashley needing Chris' whole face for oxygen. It was sloppy, it was wet, and it was…kinda hot? I'm not sure what I make of Ashley yet. A part of me finds her ridiculously sexy, and another part wants nothing to do with someone who's never had a boyfriend or been in bed with a man. Ahhhh those tricky virgins.
-Somehow, some way Amber coerces Chris into making out with her. For those keeping track, like I most certainly was, Chris made out with six girls in last night's episode. And those are only six that they showed us. I wouldn't be surprised if there were more. Mackenzie, Megan, Kaitlyn, Britt, Ashley I., and Amber. Bob Guiney, your record might in some serious, serious jeopardy. So after Amber gets a makeout with Chris, she decides to tell the drunkest girl in the house, Jordan. Which led to this reaction:
Jordan, your parents must be proud. Exactly why you ever thought it was a good idea to try and come back on the show, I have no clue. You are a hot mess and you're embarrassing your family. Stay at home.
-Rose ceremony time. Mackenzie, Megan, & Kaitlyn already with roses. Chris: "Ladies…thank you for being here…ups and downs…willing to go through this to find my wife…tough decisions to make along the way…you know, like fighting the producers on forcing me to keep Ashley S. around when she's about as sharp as a beach ball."
Britt, Ashley I., Trina, Kelsey, Samantha, Juelia, Amber, Tracy, Jillian, Jade, Nikki, Becca, Carly, Whitney all get roses.
"Ladies…it's the final rose tonight. When you're ready." Ummmm, he didn't inform Chris it was the final rose either. Is Host Chris off his game this season? How does he forget that part?
Ashley S. gets the final rose. Well, they wanted to make you think Ashley S. got the last rose, but of course thanks to another hatchet editing job, we can see before Chris hands out the last rose, Ashley S. already had one: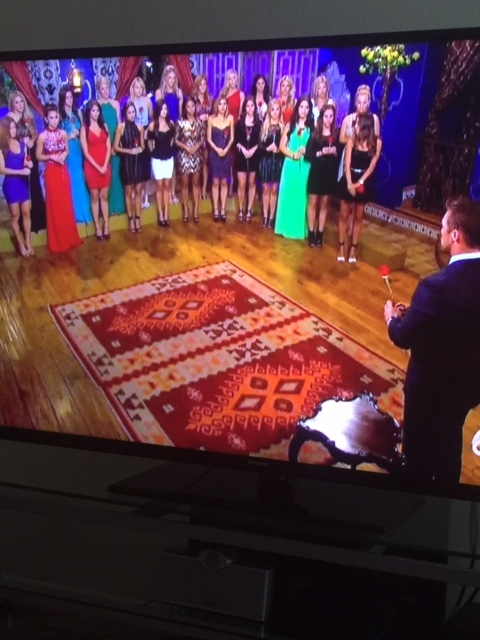 So next week it's back to two 1-on-1 dates and a group date with Jimmy Kimmel co-hosting the episode. Chris and Kaitlyn throw a dinner party for Kimmel, Chris and Whitney crash a wedding, and there's farm themed group date. Really? No way! Never thought they'd do something farm related this season.
Send all links and emails to: steve@realitysteve.com. To follow me on Twitter, it's: www.twitter.com/RealitySteve. Instagram name is "RealitySteve," or join my Reality Steve Facebook Fan Page. Talk to you tomorrow.