Now, nobody actually really believed for a second Chris and Whitney crashed that wedding unannounced last night. First off, because as I've told you 1,000 times nothing on this show is spontaneous. Everything is set up beforehand. That wedding was no different. Now, they might have tried to fool you by doing camera shots from farther away than they usually do, and no one appearing to know who either of them were. They tried damn hard to get you to buy it. Hell, even Chris Harrison in his blog today was begging you to believe it wasn't staged:
"…We did an okay job of showing this, but you should know this was not planned and it was not our idea at all. None of this was set up by our producers and we didn't know those people at the wedding. Whitney is really the one who came up with the idea. The more she and Chris joked about it the more they wanted to do it. Finally as you saw one of our producers said, 'Hey if y'all want to do this, then go do it.'"
Then Chris Soules even followed up in his blog trying to get you to believe it was all Whitney's idea to do it:
"…What you didn't see was us talking to the show's producers. Nothing like this had ever been done before, and everybody was really hesitant to actually do it. They had to scramble to figure out logistics, how they were going to capture everything on camera and make it work. Thankfully they figured out a way to make it happen, and off we went to the mansion to change into our crashing clothes…"
I don't think I need to convince many people it wasn't staged. But how you ask? If the producers and both Chris' weren't so adamant about shoving it down people's throats that it wasn't staged, I wouldn't really care to show you how it was. You'd just assume it was and that'd be that. Plenty of things we saw last night would make anyone question how real that was. But since they so badly want everyone to believe it wasn't, well….I'm here to tell you that despite any question you may have about how it was shot, and how they got them a gift with the correct wrapping paper, and how at such an intimate wedding, no one questioned who two strangers were…despite all that, there's much more solid proof as to how that whole wedding crashing scene was staged: the bride herself, Shannon Deao.
Nick and Shannon Deao (formerly Shannon French) were married on Saturday, October 4th, the day of Chris and Whitney's date. Hey, if you even want to get them a wedding gift, they still have plenty of stuff left on their registry. She is shannonfrench99 on Instagram and he is @cougarnads on Twitter. At the time of the wedding, she posted this picture of her with Chris and Whitney's gift, along with the card attached: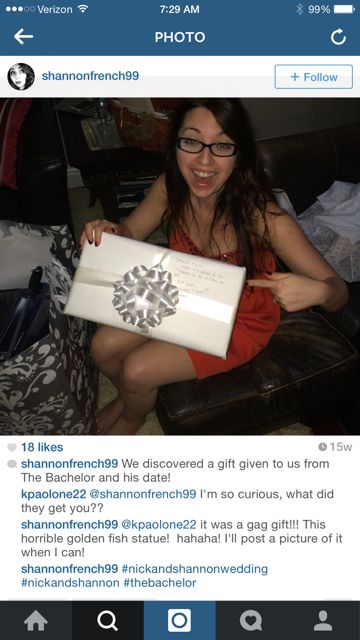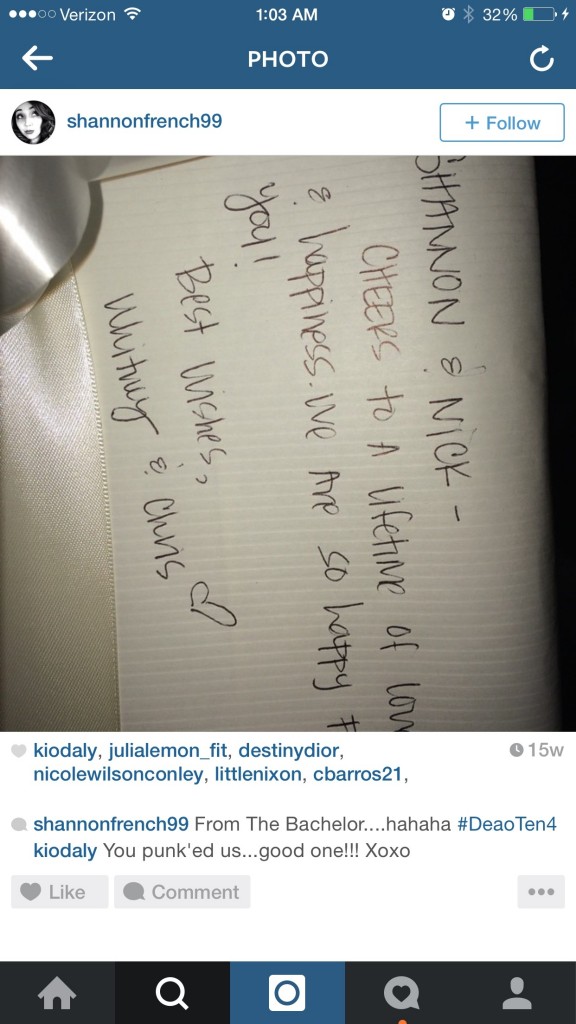 You see in there she says that they actually got them a gag gift from the mansion which was a horrible golden fish statue. That was posted last night by Nick after the show aired: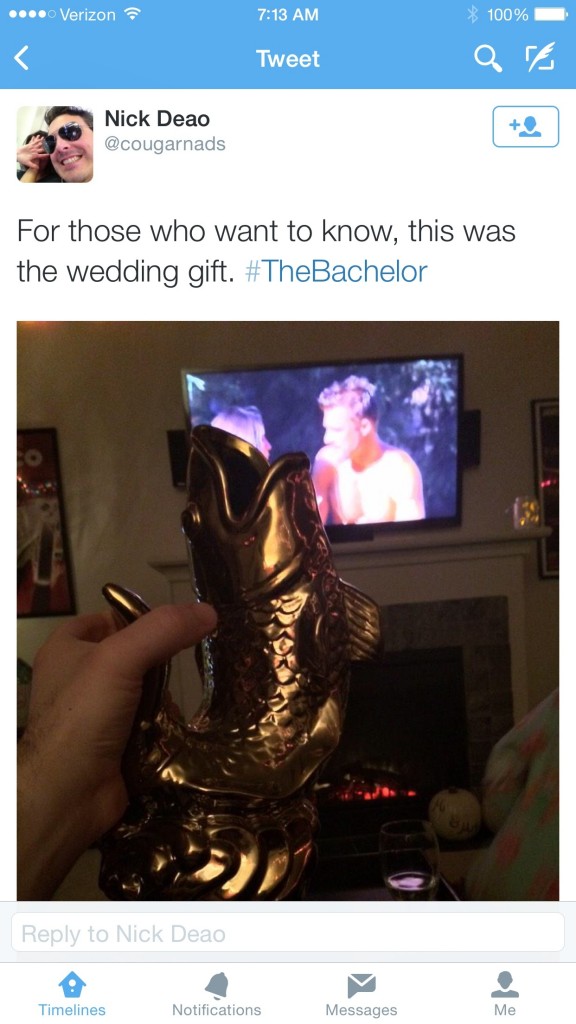 Then about 2 months after their wedding, "Bachelor" production actually sent them a real wedding gift, which was a bottle of Dom and two wine glasses.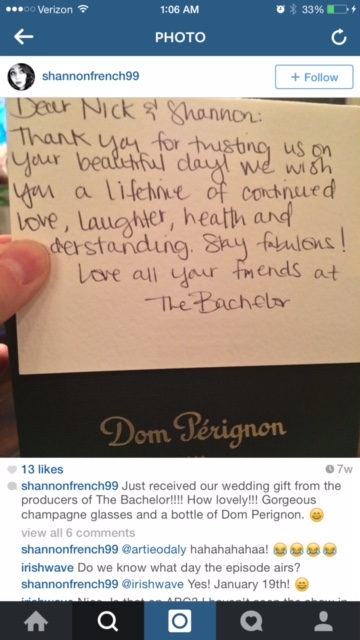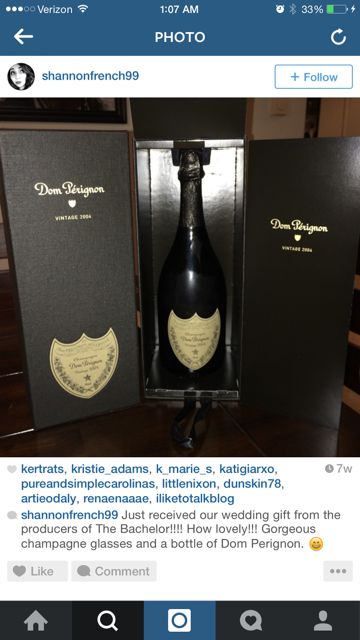 However, here's where Shannon spilled the beans. Don't go bother looking for this anymore since I was alerted to it last night, and figuring the producers would get to her and tell her to take it down since it kills their "We SWEAR it wasn't staged" bit, I made sure to take a screen shot of it to share with all of you. Here's exactly how the planning of the "crashed" wedding really happened, as told from Shannon to her friend over Instagram: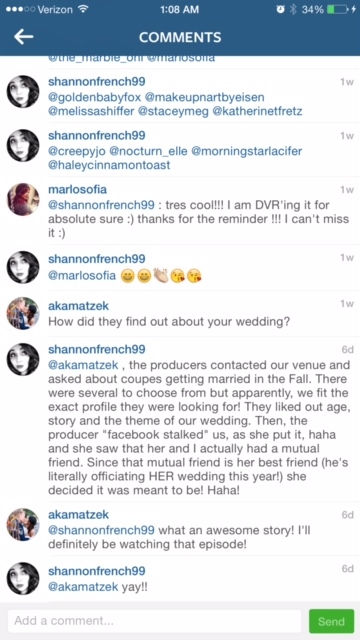 Not to mention Shannon promoting it last week on Instagram to watch the episode she was gonna be on and thanking Chris, his date, and the wonderful production crew: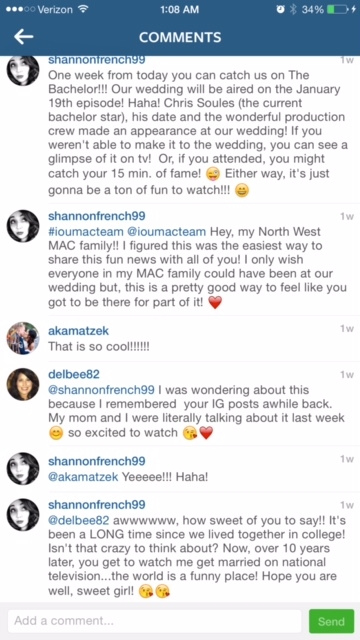 Soooooooo yeah. Nice try, producers. The damn bride even outed you guys. And considering when I woke up this morning that comment on her Instagram picture has been deleted pretty much tells us all we need to know. But hey, good effort there. Here's another picture Shannon left up from that night: