-What Chris Soules episode wouldn't be complete without some farming element to one of its dates? This one sure wouldn't. Jimmy tells the girls they will be competing in a Hoedown Throwdown. Unfortunately, Jade isn't on this group date, so it's not truly a hoedown. Jimmy explains to them that there will be 5 different parts to the race: 1) Corn shucking 2) Getting an egg from the chicken pen 3) Milking goats then drinking it 4) Shoveling manure 5) Wrestle a pig. The first woman to get through it completely wins. Jillian is convinced she's going to take it for the sole fact she's already done 1,000 crunches, 500 dips, and 500 pushups before any of the other girls woke up this morning. Jillian is the most fit chick we've ever seen on this show, and it's really not even close. Like I'm genuinely scared of her. She could take out the other 17 girls right now probably with her pinkie. Blindfolded. And standing on her head. Chuck Norris has nightmares of Jillian Anderson. Jillian can hit you so hard, your blood will bleed. Jillian can strangle you with a cordless phone. Jillian can kill two stones with one bird. She's a bad ass chick is what I'm trying to say.
-Of course, with her own build up to how she fully expected to win this race, you knew she wasn't going to. I think the part most struggled with was milking a goat, then drinking it. Carly is lactose intolerant, yet somehow managed to do both. Ahhhh, what some women will do for love. However Amber never even got to the goat milking stage of the race. And it's a good thing she didn't. Amber: "I heard the milk was salty and warm. That's not what I like in my mouth." And on a related note, Amber got eliminated last night. Shocking, I know. Didn't realize they still made women like you. The final four came down to: Nikki, Carly, Kelsey, and Jillian. Don't ask me why practically every scene of Jillian shows a black box around her lady parts. I'm sure it's nothing more than editing giving people something to talk about. She's obviously not naked, so unless every article of clothing she owns rides up her ass and crotch, producers are over exaggerating it. And it's working since I keep getting asked about it.
-Carly ends up winning the race by capturing the pig first once all four of them were in there. You know the only reason why Jillian couldn't catch any of the pigs? Because they all knew they'd be dead if she did so they valued their life and practically ran right into Carly's arms. Would you rather meet your maker during a silly reality show, or run into the arms of a harmless blonde with a permanent surprised look on her face caused by an awful eyebrow job she had done? Seriously, whatever stylist she asks to do that needs to lose their license. What is this?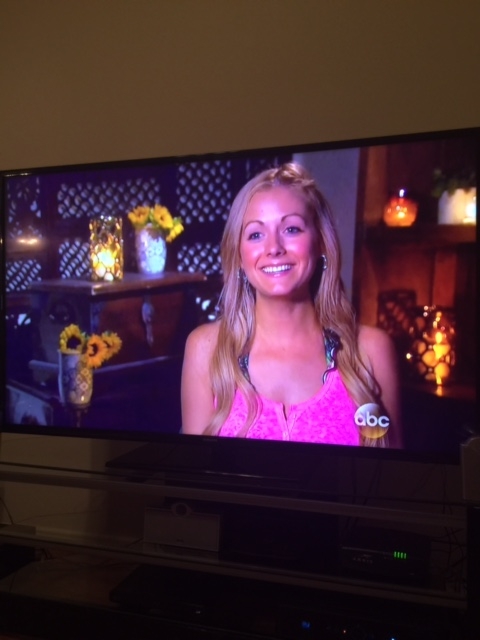 A half moon crescent that practically wraps around her whole eye? Is that a look now? Am I just not hip to women's eyebrow fashion? Good. For a second there I thought I was crazy, but no, it's just her whack eyebrows. Anyway, at the group date cocktail party held at the Loews Hollywood Hotel, Carly immediately steals Chris away first because she feels left out. You know, left out of the fact that everyone has already sucked on Chris' tongue for hours except her, so she wants in on the action. "You're a man, I'm a woman. I just wanted to take advantage of that." She then proceeds to tongue molest him, which Chris obviously doesn't disagree with. Chris would make out with Jimmy Kimmel at this point. He's not the least bit concerned with setting a world record for the amount of women kissed on a reality show through two episodes. Bob Guiney looks at Chris and thinks, "Hot damn this guy is a giant horn dog."
-Amber pulls him aside and asks to dance with him, which was really just a clever way of adding her tongue to the list of ones that Chris tasted this episode. Man, Amber got a makeout session last week as well. She must be trying to make up for her "I don't like warm and salty things in my mouth" comment since, well, that's like the worst thing you can ever say. Right after they show Chris making out with Amber, they show a shot of him digging into Jillian's molars as well, bringing the total number of girls he's made out with this episode to 4, and we're not even half way done. Mackenzie feels like calling him out on it now. Since she got the first kiss of the season, she thought that maybe she was special or something. You're not Mackenzie. Especially after your obsession with big noses and aliens. But go ahead, confront him about it. I'm sure this will go over well. Mackenzie: "Why are you kissing everyone else too?" Chris: "Ummmm, because it's part of my job and I'm as horny as a dog in heat right now." Or something like that.
-Britt was another one a little bothered by the fact that Chris needs to taste test everyone's saliva on the show. Britt: "I've never been kissing someone that's been kissing other people." Well, not that you know of. You said your last relationship had no sex. Remember?
So we go from Chris tonguing down everyone, to getting some alone time with Becca, virgin #2 in the house. Although she hasn't told him yet, her whole game of "Don't think I don't want to kiss you because I do, but I don't want to rush it" is probably making Chris lose his hard on at this point. I mean, when every single other girl in the house is ready and able to basically get on their knees for him and Becca strolls in with her "no kisses for you" attitude, that's gotta be a mood killer, right? Have fun with that Chris. Chris enjoyed not kissing Becca so much that he ended up giving her the group date rose. I guess it was out of pity or something. Kind of like, "Awwwww it's so cute you don't want to kiss me. You're like one in a million who won't do that. Here. Here's a rose for you tonight you precious little thing."