-No cocktail party this week and that's because Jimmy insists on a pool party instead. I guess it's better to try and convince Chris that he needs to keep you while you bounce around in a two piece rather than a formal setting where the girls are covered up. Smart. Maybe every day of the rose ceremony they should ditch the cocktail party and just go with bikini's by the pool in the afternoon. If it's gonna give us what it gave us last night, then I'm all for it. Cocktail parties are too formal and stuffy anyway. Lets get more chicks in bikinis laying poolside. Chris is more inclined to start making out with them if they are. When you're all suited up and the women are in evening gowns and cocktails you gotta be all formal stuff. Dumb. Hell, lets just make the rose ceremonies casual wear from now on. Maybe it'll get people to start acting more normal than trying to pretend they're someone they're not. I'm all for this. Hey, if you're gonna switch things up this season with only one place of travel out of the country and have Jimmy Kimmel hijack an episode, why not take it a step further? I should be producing this show.
-The first girl to pull Chris aside at the pool party is Juelia, because what better way bring the mood down than to bring out the ol' my-husband-committed-suicide-and-here's-how-he-did-it storyline. There will be people that disagree with me on this and that's fine, but in my eyes, her outing her ex-husband's suicide on national television was flat out disgusting. You think his family appreciated that? My guess is no. Obviously it's a major part of her life and it's something that's going to come up in any relationship she has for the rest of her life, but c'mon. She hadn't even had a date with the guy yet. There were cameras in her face. It's not something you go into detail with that early. Did she not realize the only reason she was even cast on this show in the first place was so she could tell that story? If the show was so sympathetic to her and her past, how come at the end of the episode, or even at commercial break, they didn't give the viewers any suicide prevention information like they did with Gia? It's because they exploited Juelia and she went with it. And it wasn't so much she told Chris her ex committed suicide (of course she'd tell him that), but to go into detail about it? What purpose did that serve? Sheer exploitation. We see it every season on this show in some way, shape or form and this was no different. I mean, Chris Harrison and Chris Soules cared SO much about Juelia's story, that neither of them even referenced it in their blogs today recapping last night's episode. Pathetic. Moving on.
-Once we'd moved on from the sad part of the pool party, it was time for Chris to get his mack on. And boy did he ever. He made out with Britt for the third episode in a row because he can't help himself. Who wouldn't make out with Britt? I think most women watching this show would even make out with her. Then came Jade. Oh Jade. So sweet. So innocent. So pulling the wool over Chris' eyes. In the middle of the conversation, Jade has to think of a clever way to get Chris back to his room so she concocts this, "A lot of the girls were talking about your place. Maybe you could show me?" Good one, Jade. How many times has that worked for you in the past with photographers? Or is it the other way around? You know, like when you did this photo shoot for TheChive.com?
-Then Jade utters the line of the night saying they decided to test out Chris' bed. Oh if Chris only knew then what experience Jade had testing out beds. I mean, patio chairs. I mean, antique cars. Whatever. And if Chris and Jade are on a bed and she's in a bikini, chances are there's going to be some making out. And there was. Of course, a lot of you thought her boob was exposed during this make out. Not that we haven't seen enough of Jade's boobs everywhere already, but this was actually one time where it wasn't. It was actually a nude colored bra she had on. You can clearly see it here: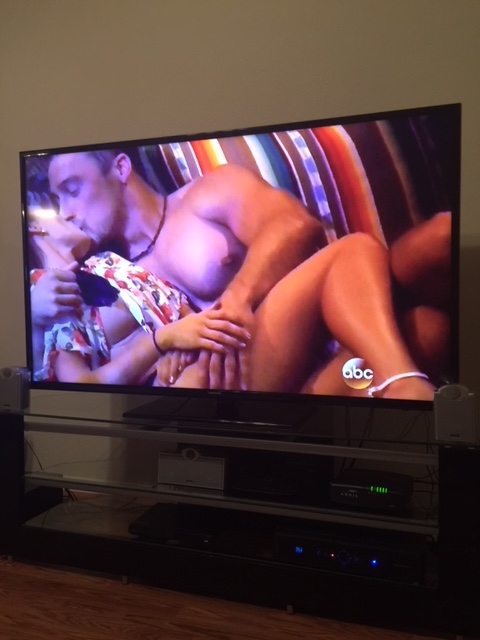 You know, if I hadn't already seen Jade's lady bits everywhere on the internet already, I'd say that maybe she was interested in just talking to Chris and getting to know him while laying down on her back half naked. But no. Crazy, huh?
-The other hubba balloo at this pool party was Jillian stealing time from some of the other girls, mainly Megan, Mackenzie, and Ashley I. Although Ashley I. went in full freak out mode because of it. Right after Chris was done swabbing the inside of Jade's mouth with his tongue, he immediately dove into Jillian's chompers as she was waiting for him in the hot tub right outside his door. No mouthwash? No gum? No breath strip? Nothing? Just straight from Jade's mouth to Jillian's. Nice. Their mothers watch this show, right? What exactly do they think of their daughters behavior? Actually, this is Jillian's second time tonguing down Chris in three days, as she got a little somethin' somethin' on the group date after party. So even though she could easily bench press Chris and probably drop kick him over the mansion like a young Clark Kent did to that football in the original "Superman," Chris reeeeeealllly likes making out with her apparently.
-Ashley I. did get her own time as well. After whining about Jillian taking too much of Chris' time, spilling her drink down the driveway, and crying until her fake eyelashes almost came falling out, Chris finally gets around to pulling Ashley I. aside to ask what's wrong. She kind of explains why she's crying. Or laughing. Or both. Whatever she was doing, it earned her sympathy points, as these two start going at it like they're on a time crunch or something. They were making out over the edge of the balcony that had me thinking these two are going to plummet to their death. I'm sure at this point, plenty of women watching this show are furious at Ashley for just being plain annoying and a whiner. And that she's clearly trying to be a Kardashian clone. Hell, she doesn't even try to hide from that fact, but considering how disliked they are by the public, it's not going too well for Ashley. You know what else people are having a hard time buying? That Ashley has never had a boyfriend or ever had sex before. Hey, maybe it's true, but the way she carries herself on this show, it is becoming awfully hard to believe.
-So for the record if you weren't keeping track this episode, Chris made out with 8 different girls. Last week was only 6. He outdid himself! Congrats Chris! You win! The 8 girls were: Kaitlyn, Carly, Amber, Jillian (2x), Whitney, Britt, Jade, and Ashley I. Impressive. 8 out of 18. That's almost 50% in one episode. And if Becca wasn't such a kissing prude, he would've slobbered on half of them! Chris Soules may be our greatest Bachelor ever.
-Rose ceremony time. Kaitlyn, Becca, and Whitney already with roses. Chris' turn to speak. "Ladies…this has been an amazing..err..incredible week…all want you to know…intentions are 100% true…here to find my wife…decisions not easy…especially when Jade is half naked on a bed underneath me. It took everything in my power for me not to violate her every which way but Sunday."
Jade, Samantha, Juelia, Mackenzie, Kelsey, Britt, Megan, Carly, Ashley S., Nikki, and Jillian get roses.
Jimmy comes out in replace of Chris Harrison. "Ladies, Chris. This is the final rose tonight. When you're ready." You know, it's not so easy to come out and do that. Jimmy really struggled with getting that down.
Ashley I. gets the last rose of the night. No suspense there since we know from previews she lasts much longer this season. South Dakota to be exact.
Next week, we get 2 group dates and Jade's "Cinderella" date picked out by Chris' sisters. Oh boy is that gonna be like shooting fish in a barrel. Geez, I mean at least make it somewhat challenging to make fun of your show. Jade? Cinderella? Bhahahahahahahahahahahahahahahahahahahaha.
Send all links and emails to: steve@realitysteve.com. To follow me on Twitter, it's: www.twitter.com/RealitySteve. Instagram name is "RealitySteve," or join my Reality Steve Facebook Fan Page. Talk to you tomorrow.