Heck of a football game huh? I had no rooting interest either way, other than a few box squares that I filled out that didn't win. Nor did they really come close. There really isn't much to say after the fact. Everyone knows the Seahawks royally screwed the end of the game up and there is no debate. When you have 1st and goal at the 5, and you run Marshawn for 4 yards down to the 1 yard line on 1st down, don't tell me you decided to throw the ball the next play to "waste a down." New England didn't even call timeout after that first down run, which was an even stupider decision if you ask me. You play the percentages, and 99 times out of a 100, you gotta figure they're gonna score on 2nd and goal from the 1, so you leave yourself enough time on the clock when you get it back to try and get in FG range to tie it. But Seattle gave them the gift of the century with that play call. Coach Eric Taylor doesn't make that call, so neither should Pete Carroll. No biggie though Pete. It only cost your franchise a back-to-back Super Bowl Championship. I'm sure it won't sting very much. Awful call.
Well, February has started, and we're 5 weeks away from the "Bachelor" finale. This is the month where the gossip sites and magazines rev up their game and start going for the jugular with their stories. In the first month, they don't focus on that because it's still early in the season. But like every season, once the number of women start dwindling down, they come with all guns blazing. You know, like this article released yesterday. Oh I'm sure it'll have everyone talking, and I'll get emailed about it daily. Here's my answer: It's not true. Period. End of story. Chris is engaged to Whitney and nothing has changed. I mean, just look at what they name their website. Isn't it basically implied in their sites name to write stories like this? And then when you read the story, shocker, they have zero proof of anything. Hell, even the second line says Chris "might cancel his engagement." Great. Based on what? The rest of the article provides nothing we already didn't know. He was in a long distance 7 year relationship with Sheena, they were engaged, and it was broken off. He even said it on the show last week during his date with Jade. So before any of you start emailing me that story today, just know it's garbage. Chris & Whitney are still engaged.
As I've mentioned, I don't watch "Vanderpump Rules." I've heard the names of the characters, but have no idea really what anyones storyline is. However, when I first confirmed Jade as a contestant, I think you remember me saying she had a bunch of pictures posted to Instagram with some girl who used to bang Jax by the name of Carmen Dickman. From what I hear, Jax bangs everyone on that show so Carmen must feel quite special. Anyway, one of you pointed out to me that on the preview for tonight's "Vanderpump Rules," you saw Jade in it: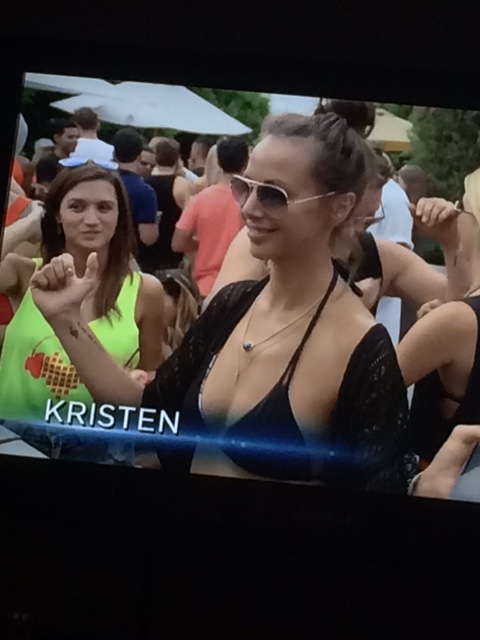 Why yes, that is Jade. I'm sure she doesn't actually have a speaking part in it and she just happened to be caught on camera during a scene with this Kristen girl, but I guess congratulations are in order. Jade will appear on two different TV shows tonight at the same time. I'm sure it's all part of her plan: People watch the "Bachelor," people watch "Vanderpump Rules," they see Jade on both, then they become so curious about her they look her up and see her organic comestic line and go buy themselves a $17.99 tube of lip gloss. Makes total sense considering, well, that's the only product Jade has in her line currently. Now that's funny.
Juelia had her conference call with the media last week where she talked about her experience on the show. She briefly touched on why she shared the story of Dustin with Chris, but didn't go into too much detail. As I said last week, this story is a done deal. No more reason to go back and forth. Some don't have a problem with what she said, and some do. But I'll always link to eliminated contestants conference calls with the media, so just wanted to pass Juelia's on to you. She gave pretty generic answers like most of the contestants do, but then again, she wasn't really someone that anyone saw her having any sort of connection with Chris anyway. She was filler. Not until usually the final 6 or so when they give their interviews do you start actually getting somewhat interested in what they had to say, only because they lasted so long. I mean, Juelia lasted 4 episodes and had no 1-on-1 dates with him, never got a group date rose, nor did she ever kiss him. So it's not like people were dying to hear from her.
As for tonight's episode, you can read about it in your episode-by-episode spoilers, but here's a quick review:
-If you're curious as to how Santa Fe, New Mexico landed this episode, you can read about it here. Gives you a little insight into what cities have to provide for the show to come to their location. It's basically all done on trade and these cities use it as a marketing tool for their tourism board. Makes sense to me.
-Carly gets the first 1-on-1 as she and Chris meet a "Love Doctor" that has them doing a bunch of a freaky sh** where they want you to believe they sex. But they didn't. Of course.
-9 girls (Kaitlyn, Jade, Whitney, Megan, Samantha, Mackenzie, Kelsey, Becca, and Ashley I.) go white water rafting on the Rio Grande River. On the group date after party is where Jordan shows up after driving from her home in Colorado to try and get a second chance with Chris. He doesn't give it to her and eventually sends her right back home.
I don't know who gets the group date rose, but by process of elimination, we know who doesn't get it. Samantha and Mackenzie don't since they're eliminated tonight. Jade doesn't since she got one last week. I seriously doubt Kaitlyn is getting 3 group date roses in a row. And since Ashley I and Kelsey have the 2-on-1 next week and both go home, I don't see either of them getting the rose tonight. Megan also leaves next week and I don't see her getting it either. So the only real possibilities of getting the group date rose tonight are Whitney and Becca. And since Whitney has already had a 1-on-1, and Becca hasn't gotten a group date rose, or a 1-on-1, and we know her first 1-on-1 is next week, my guess is she gets the group date rose tonight. Happens a lot on this show where someone gets a group date rose, then the next episode, they get a 1-on-1. UPDATE: Woops. Becca did get a group date rose back on the Hoedown Throwdown group date. Oh well. Then I'm not sure who gets it tonight. Still think it's either Whitney or Becca based on process of elimination. Now I'll go with Whitney.
-Britt gets a 1-on-1 in a hot air balloon ride. And of course, since Britt is terrified of heights to where she says heights "make my body shut down" they give her this date. When will they ever learn?
Mackenzie and Samantha are eliminated at the rose ceremony, leaving 9 girls going to South Dakota next week.
Send all links and emails to: steve@realitysteve.com. To follow me on Twitter, it's: www.twitter.com/RealitySteve. Instagram name is "RealitySteve," or join my Reality Steve Facebook Fan Page. Talk to you tomorrow.