-Group date time as everyone is headed to the Rio Grande for a little white water rafting. Look, I've never been white water rafting so I can't comment on what it's like, but those seemed like some pretty tame waters to me. Didn't "The Challenge" finale last season have white water rafting in the final race and basically someone almost died? Yeah, not quite last night. It's like they were paddling around a pond. Although, at some point, the tide kicked up a little bit, knocking Jade out of her raft and into the water. I'm guessing that's not the first time Jade has been flipped upside down, and I'm sure it won't be the last. I also don't think it's the first time Jade has been on her back looking up while a tidal wave of white…forget it. Jade survived and that's all that matters, right? Because we're all just looking out for her well being. At least I am. I don't know about you sickos but I care dammit.
-Jade is ok once getting back in the raft, but once everyone is back on land, Jade goes to Chris seeking attention. You see, Jade does not deal well with the cold. She can get hypothermia if she's not at room temperature and her hands and feel can lose circulation, so Chris needs to tend to her. Doesn't really seem like a lot of the other girls are buying this and, well, they probably shouldn't. I mean, Jade's body might not deal well with the cold, but her nipples sure do. So wait, she's trying to get us to believe that her body almost shuts down if it's not room temperature? Huh? The girl grew up in Nebraska. I'm guessing it cold pretty cold in the winters there and by the looks of things, Jade is still alive as we speak. And doing quite well for herself thank you as she has her thriving organic cosmetic line that I'm sure you're all purchasing $17.99 lip gloss from. If not, you should. It'll go toward Jade's fund of being able to get into Sur with her D-list friends trying to be LA socialites.
-They barely spent any time showing us the actual group date activity of white water rafting since nothing really happened, and all the drama came at the cocktail party. Whitney made it known in ITM's that this was a very big night because she needed to get some 1-on-1 time. "Time is the most important thing in this process." Well, that and looking like one of Chris' sisters helps too since he's always wanted someone who resembled his sisters. However, the big "surprise" at the cocktail party was the return of the ever-so-popular Jordan. (Crickets…crickets…crickets). Yeah, that's what I thought. Usually when they bring someone back or have a surprise visit, it's from someone memorable. Like anyone remembers this chick. Or cares. I mean, she lasted 2 episodes and formed no bond with Chris whatsoever. All she did was drink like a fish and twerk against the wall in the bathroom before face planting. THIS is the big return everyone is supposed to "oooohhh" and "aaaahhhh" over? Yeah, not quite. Especially when it was spoiled here two weeks ago. Bentley visiting Ashley's hotel room in Asia this is not.
-Jordan says she drove from Colorado because she wanted to see Chris. "How'd I let that happen…you asked me about myself…I was nervous…the wine certainly helped…if there's not a connection, there's not a connection…I'm asking for a second chance." Like I said, if you were somebody who got eliminated at final 6 or final 4, and show up on the overnights, sure you'd still get dumped on your ass, but at least the audience would think it's somewhat believable that Chris was re-thinking a mistake. You were on the show 2 episodes, which in real time was about 5 days, you never had a 1-on-1, you never got a group date rose, you never kissed him, and you made a complete ass of yourself. Were they really dying for some storyline drama this episode to bring back this nobody that not a single person would think Chris would take back? Well, it worked since Jordan's return put Ashley in a state of panic and set her off so much that she almost came out of that nightie she was wearing. Holy crap. Does she sleep in that thing? Is that what she wears when she tries to nail a triple sow cow? I didn't even know a dress that short could be worn on national television before 10pm. Guess I was wrong.
-The amazing part of Jordan's return? It completely overshadowed them allowing Samantha to show up in episode 5 without anyone knowing. How cute. Exactly. Who? If you google her, I swear Samantha Steffen is on the show this season. You just would never know it by the lack of camera time. No one has ever lasted this long on the show with as little camera time as she has. It's unreal. It's like they went out of their way to make sure they didn't show her. Probably too normal and gave them no good audio to use, so she got sent to the cutting room floor. Anyway, Ashley is still all bent out of shape about Jordan showing up. "She's not really my favorite person in the house." You don't say? And here I thought you two were gonna break bread together and sing "Kumbaya." When Ashley speaks with Chris during her alone time, it's more of the same. "She's so different than me…I don't think she's wife material." If Ashley gets any more eye rolls in over Jordan's re-appearance, she's gonna end up choking on her fake eyelashes and we can't have that. Those things need to be saved for future episodes of BIP 2. I can only imagine in the heat and humidity of Mexico watching those things drip and melt down her face while on some cheesy water well date with some guy trying to deflower her.
-We see short clips of Becca, Megan, Jade and Kelsey all getting time with Chris, and all of it is spent on giving them their thoughts on how quickly he should throw Jordan's ass back out to the curb. Chris is seeing this isn't going well and pretty much knows what he needs to do. But before that, we get a little tiff between Ashley and Whitney, which basically Whitney is going to win with the public every day of the week and twice on Sunday. Why? Oh, I don't know. Maybe because Whitney has some semblance of normalcy to her while Ashley basically cries, whines, and pouts every episode about something. She thinks that because they are all in the Top 11 that they should start thinking a little more selfishly, which I don't necessarily agree with. But when she follows it with, "…we shouldn't be nice to Jordan," that's where Whitney disagrees. Look, Ashley if you had a clue how this show worked, you wouldn't be the least bit threatened by Jordan's return. He barely knows her, he obviously doesn't like her, and there's no way he's keeping her around. Your immaturity seems to come to the forefront every episode at some point. And if you don't change your new eyelashes quick, Whitney is going to pluck them out and staple them over your eyes to make you look even more ridiculous.
-Britt and Carly are the only two left back at the hotel when Britt's date card arrives. When she realizes her date has to do with heights, she immediately begins crying because according to her, her body shuts down at heights. Also, Carly tells us in an ITM that Britt hasn't showered in weeks and even tells Britt she should. She says this in a laughing matter so it makes me think it's obviously not a big deal with the girls. They just find it amusing. And judging by comments on Instagram last night, people who apparently know Britt are saying this isn't a "conventional shower," whatever that means. Like, she showers but just never wets her hair? Obviously none of the girls have a problem being close to Britt, and even Chris said in his blog today that Britt smells great, so I think this is something that the show is making a bigger deal of, or, just purposely leaving out other details of what this means. With that said, I'm not really sure why they'd want something like that out there about her. Britt seems to have a sense of humor about it: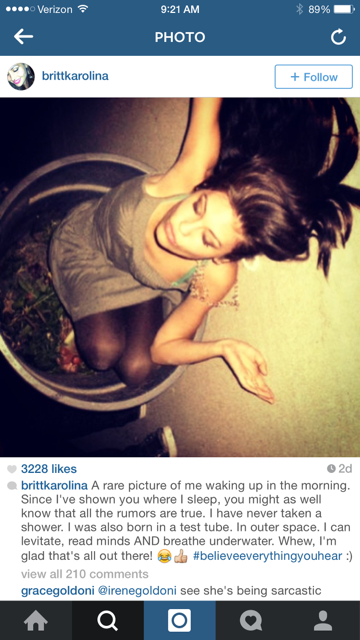 -After feeling the wrath from all the other girls, it's clear Chris bringing Jordan onto the date didn't go over as well as he thought, so he sends her home. "This is the right decision as a man to not let this go any further." Translation: Those girls in there will hang me upside down from my balls if I keep you here, so, see ya'. Jordan then gets back in her car and drives home completing one of the worst drives of shame in TV history. I hope she has some good music on her ipod to keep her occupied for a 7 hr drive back home. Think she listened to Ed Sheeran on a loop? Maybe Adele? Whatever the case, that was totally not worth it. I was told she was the one who contacted producers asking back on and they said she could, but only if she found her own way to New Mexico. Translation: This is going to be a disaster for you since we know there's no way he'll keep you, but hey, if you wanna join us, go ahead. They certainly didn't do anything to talk her out of it that's for sure.
-Whitney ended up getting the group date rose even though we never saw her have any 1-on-1 time with Chris during this after party. I asked on Twitter last night if that's the first time we've seen that happen before, and I was quickly reminded that not only did it happen in Juan Pablo's season where Kelly got the group date rose when everyone had to dress up like dogs, but hell, it even happened in the second episode this season when Mackenzie got one on the bikini tractor race. Even I commented then how strange that was that he randomly gave it to Kelsey when Ashley I. had won the race and they showed him talking to her. Pretty much goes to show how much they want you to keep focus on Whitney in these episodes. I guess my question now would be who has gotten the most unsuspecting group date rose in this show's history? Like when we look back on it now, it really makes no sense. Tough questions since there's been a ton of group dates and it's kinda hard to remember who's gotten them. Right now my vote would be for Mackenzie in episode 2. People that get group date roses are usually people who stick around a while and the lead ends up giving a 1-on-1 to. Not so much the case for Mackenzie and even Kelly last season.