Apparently this designer has not one, but two chicks pimping out his clothes on the show. Looks like Jade beat Samantha to the punch on wearing the blue dress. Would have been more entertaining had they both wore it the same night.
Comment: Or just worn nothing at all. I gotta imagine Jade and Stephanie somehow knew each other before the show if this designer is pimping out dresses to both of them. He had to have told each of them about the other.
___________________________________________________________
Tenley talks about Kiptyn. Starts at 14:50 for those interested


Spreecast is the social video platform that connects people.

Check out Murtz Show W Bachelor's Tenley Molzahn on Spreecast.
Comment: Well, there's your answer. Hopefully no one will ask me ever again.
___________________________________________________________
Hi Steve,
Why does Samantha Steffen get close to zero screen time? She is arguably one of the most attractive contestants. The producers have not shied away from embarrassing, boring, stupid, or otherwise "mehhh" material. It pretty much seems like after four episodes, we have not seen or heard from Samantha for more than 30 seconds, if that. What gives? Maybe she is really boring? Any inside information or insight you have is appreciated!
Thanks for all your excellent work!
Comment: The only reason anyone who goes on this show gets limited camera time is if they don't give the producers what they want. Either drama, good sound bites, cattiness, etc. Samantha seems like she's above all of it, hence, no screen time. Trust me, if she was cracking jokes or always having good one liners like Kaitlyn, she'd have been featured way more.
___________________________________________________________
Hi Steve,
I'm a big tennis fan and was watching the Australian Open the other day and….who turns up on the broadcast, but the Weatherman (Jonathan someone…can't remember which Bachelorette season he was on, but I do remember he's short).
He was the host of some infomercial style commercial for a joint venture between the Tennis Channel and Apple TV.
So, I guess the Bachelorette helped him out in some small way!
Comment: Do they let him stand on phonebooks when he does his telecast, or do they just shoot him from the knees up?
___________________________________________________________
Can you put some 2015 spoilers of greys anatomy?? I just really need to know what's going to happen.
Comment: Sure. Here's what happens…
-That one good looking doctor starts banging the one with the sour puss face all the time.
-Then that other outspoken doctor, he defies authority and starts sleeping with that other new intern.
-They have an emergency at the beginning of the episode that will inevitably be solved within the hour.
The end.
___________________________________________________________
Hey Steve,
I love your website. Amazing and reliable information.
Why dont you think Kaitlyn will get the gig as the Bachelorette? I strongly dislike her & dont want her to get it either. Just wanted your opinion on WHY you don't think she'll get it. Because I think Kaitlyn is a girl that guys look at to have fun, drink beers with, and occasionally bang on the side. She's more of a buddy buddy type than the lead role for this show. I just don't think she's someone that guys are lining up to date.
Also, whats your opinion on Michelle & Cody's breakup? How weird & random, right? Not really when you look at both of their track records.
Last thing- dont you think bachelor producers get mad when bachlor alum tweet at you ? Like Molly, or Des & Chris? Dont they hate you? Lol
Thanks for the columns. YOU ROCK!
Comment: It's happens so rarely, that I don't think it's a big deal. If it was constant, then I could see producers stepping in and telling them to knock it off.
___________________________________________________________
Hey Steve,
I remember you kept reiterating before the season premieres that Jade was by far one of the most attractive girls this season. I've been casually watching the show, and each time I've seen her I'm expecting a "WOW," but I just don't know. I think there are other more attractive girls. I mean, I'm straight and a woman, so I may not know what I'm talking about. It's not that she's not pretty, but do you still think she is the most attractive now that you've seen more than pictures? If not, who is on your top 3? Just thought this would be a fun question to ask.
Comment: Yes. Jade is in my top 3 this season – clothes or not. Britt, Nikki, and Jade I think are the three most attractive. I'm sure plenty will disagree, but hey, it's my list. Beauty is entirely subjective so of course everyone has their likes and dislikes.
___________________________________________________________
Hey Steve!
Interesting spoiler about the canceled rose ceremony! We've seen before these "confirmation" rose ceremonies when there's the same number of roses as there are people left, but it's always been because of just one person either being let go before the rose ceremony or eliminating themselves. And, it's always later in the season when it's just a couple of roses to give out anyway.
Here we have 3 ladies gone before the ceremony and there's 6 left! I'll just say this: I really hope you are correct about the canceled rose ceremony. It would be awful to suffer through (and ridiculous to watch) Chris asking 6 ladies "Will you accept this rose?"- of course they're going to say "yes" ( times 6!)
Do you think/know if they'll still do a cocktail party, or use the time to focus on the 3 ladies' exits?
Thanks for all you do!
Comment: Not sure about the cocktail party, but I definitely think I'm right about the rose ceremony and here's why. This is the ABC press release for next Monday's episode. I read these every week. This is the first one I can remember that never even mentions what happens at the rose ceremony. Hell, it doesn't even mention that there is one.
If I had to guess, I'd say Megan leaves during the cocktail party, and from there is when there's no rose ceremony since no one else goes home.
___________________________________________________________
Hi Steve,
I am a devoted reader of your blog, and every season I tell myself I want to avoid spoilers, yet I can't stay away. I have a few random questions.
I was wondering if you recalled what some of the married "Bachelor" couples said to you in their thank you notes after you sent them a wedding present. I would think that they would acknowledge the sentiment, but I know that I would be perplexed writing one to someone I didn't know under what is an odd circumstance. I still have all three cards from Jason & Molly, Ashley & JP, and Sean & Catherine. Haven't read them since I first got them, but they were very appreciative.
What do you think of Ian Ziering on "The Apprentice?" He seems pretty self-righteous for someone who's last major acting credits were "Sharknado" and "Sharknado the Second One." I know most of the contestants are arrogant, but the way he talks himself up is quite comical. He does seem like a nice guy though, but he tries to make himself sound like a hero. He honestly comes across as Steve Sanders to me. Not kidding. Talks in exactly the same pitch and tone. It's scary.
Lastly, I read a "Runners World" article about Nikki, the eliminated contestant. Despite being a model for the magazine and an avid runner, she finished dead last in the mud run competition. You would have thought that they would have at least showed her in an ITM saying that she thought she had it in the bag or that she was excited to participate in the race. It just goes to show that producers did not think that she deserved screen time. I always thought there was a gym in the house until I read Courtney's book, and that was reiterated in the article. Why do you think that is, given that many of the girls (and the guys when it's The Bachelorette) are clearly into fitness? Is it because they want them to just party all day for better television? I would think 15 girls battling it out over an elliptical machine would also be entertaining.
Comment: Because they don't want girls or guys spending all their time in the gym. They want them interacting so drama can happen. Plus, no one wants to watch these people working out. That's not good TV.
___________________________________________________________
I absolutely adore Brit and think she should be the next Bachelorette, because I could just watch her for days. However I just wanted to say that the more and more I read about how scripted this show is the more I am disappointed. That is a very true statement and the point of reality TV is to be real not scripted. Next week Brit cries like a baby that she is scare of heights however, if you look at her Instagram pictures we know that is not the case. So the franchise has to add drama because they obviously think that the girls alone are not enough to keep the ratings going.
Just sharing my thoughts, thank you for all you do!!!!
Comment: Unfortunately your statement of "the point of reality TV is to be real, not scripted" couldn't be further from the truth. Reality TV is basically "unscripted drama." There's nothing real about it. And until you learn to realize that, I think you'll continue to be frustrated. It's not like it's just the "Bachelor" that is like this either. EVERY reality show pretty much follows the same formula, but just catered towards what type of show it is.
___________________________________________________________
Hi Steve,
I have a humble request. I really enjoy your columns, but I just cringe so much when you use the phrase "lady bits." It's such a gross term. Given how frequently you discuss Jade's anatomy and its widespread availability on the internet, it's really become a problem for me.
Bits of what? What does that even mean? I'm not sure if you're aware of this, but there are a lot of terms out there for female genitalia. Why not seek out a few synonyms? Maybe you could eavesdrop in a locker room or a frat house to get some ideas? If not, urban dictionary should help.
Thanks for your consideration.
Comment: I will stop posting the pics of Jade, whether she's covered or not. I'll just put the links in and warn you beforehand.
Yes. Lady bits. Of course there are tons of other euphemisms I could use, and on occasion I do. Keep reading. I'm sure you'll see some more as the show continues.
___________________________________________________________
Hi, Steve,
I thought you might find it rather amusing to know I had a dream about Jillian last night and she is even BADASS in dreams. Ok, so it appears I was at some college party or maybe it was a college dorm with lots of people partying. Anyway, It seems I didn't know Jillian but she was at the party too. His one chick got really drunk (Tara wannabe but not Tara) and threw up everywhere! It was really gross. Jillian proceeds to bark an order at me to clean up the mess. I get mad because I don't know Jillian and told her "F*** you I am not cleaning that up". Jillian gets pissed and punches me in the face. Now, she didn't hit me very hard it was more like a warning punch. I turn to leave and as I am almost gone I see Jillian grab a baseball bat like she ready to kill someone (me). I take off running scared for my life down a long, wide hallway (hence why I think it might have been a college dorm). Jillian is right behind me like a madman chasing after me with a baseball bat. She meant business, she was going to mess me up that's for sure….and then I woke up.
There you have it. Jillian is haunting and scaring the sh*t out of your readers in their dreams. No idea why I had a dream about her not like I social media stalked her or even cared about her being on the show. But, if anything I thought you might get a good laugh as I did 🙂
Comment: Ummmm, thanks?
___________________________________________________________
for a next bachelorette in case they don't go with Britt…
what about Andi Dorfman? Emily Maynard got two shots.
Why not consider Andi? I bet that's why Andi broke up in such a "timely" manner.
what do you think?
Comment: They will never make Andi the "Bachelorette" in back-to-back seasons. Nor will she ever be asked again.
___________________________________________________________
Hello and happy Super Bowl weekend! Hope you have some awesome plans.
My question is, while a season is filming, if producers see someone that they really want for the next Bachelor/ette can they manipulate the season to get the potential into prime 'Bachelor/ette' position, ie, Do they encourage Andi/Ali and Britt leaving early (if she gets the gig) and get contestants to stay, or leave, till they reach a certain position, or do they just let it run it's course and hope for the best? Absolutely.
Also, I don't think I have seen a season with top contenders who are so clearly not into the lead before. I don't believe for a second that Kaitlyn is attracted to Chris, I think she's just there for the experience (though I do think she's awesome), Jade is just there to advertise herself – and her past will come out. But, I think, Britt in the worst, she doesn't like him, would never be a farmers wife, and seems she's hiding that she is even an actress, and trying to come off like a sweet, humble, waitress. Last episode she showed she's actually really manipulative and bitchy – as seen when she trashed Kaitlyn to Chris. She is pretty, but I wonder how she looks without all that makeup. Say what you will about Jade, but she doesn't have caked on makeup, and she looks beautiful. I think Britt has schooled herself on how to be the next Bachelorette and is playing her cards very carefully. I'm not a fan. I think the only two girls who were truly invested in Chris and willing to settle down in his life were his final 2, Whitney and Becca.
I think a 'Wipeout' meets 'Blind Date' style gameshow with the top 5 Bachelorette contenders should be the way to decide who gets the gig from here on in – haha!
Thanks, as always, for the recaps.
PS: You gave me Reality Steve advice a few months back, I am embarrassed by the original email, but it was a guy who I thought wanted to be with me, who actually had a sneaky, hidden, girlfriend. I took your advice, and despite him still not 'fessing up to me, i've decided to give no second thoughts to him. It might not have worked out the way I thought I wanted it to, but now I know i'd rather be single than be with someone like that! So thank you for listening.
PSS: Three 'likes' for Daily Links!
Comment: Glad the Dr. could help.
I don't see "Daily Links" making a comeback, but, I do see myself doing something different in the offseason.
___________________________________________________________
You're brilliant… and truly the only reason I watch The Bachelor. Love that you see things I don't on first watch. I don't care if you're right or wrong with your predictions – it's the fact that you call them out on so many things that makes it all worthwhile for me. It truly is a huge joke and it's nuts that people think it's real. Get a life.
I'm in Canada and sadly we don't have access to so many of your videos and life chats because it's "only offered to people in the United States and it's territories". I understand how it works, just disappointed and sometimes just plain pissed because your written explanations look like the videos would be awesome.
Anyway, after reading your columns for years I thought I should say thanks. And your dog's cute too.
Comment: Yeah, Canada doesn't get to see a lot of the YouTube videos I post. Can't do anything about that. Sorry hosers.
___________________________________________________________
I read Sean's book – not bad! Anyway this part was interesting to me – especially given Jades "past". If they go through this evaluation BEFORE officially being cast – either that means that Jade lied OR even worse – that the producers knew and deliberately still cast her. How did someone with this kind of past make it on the show?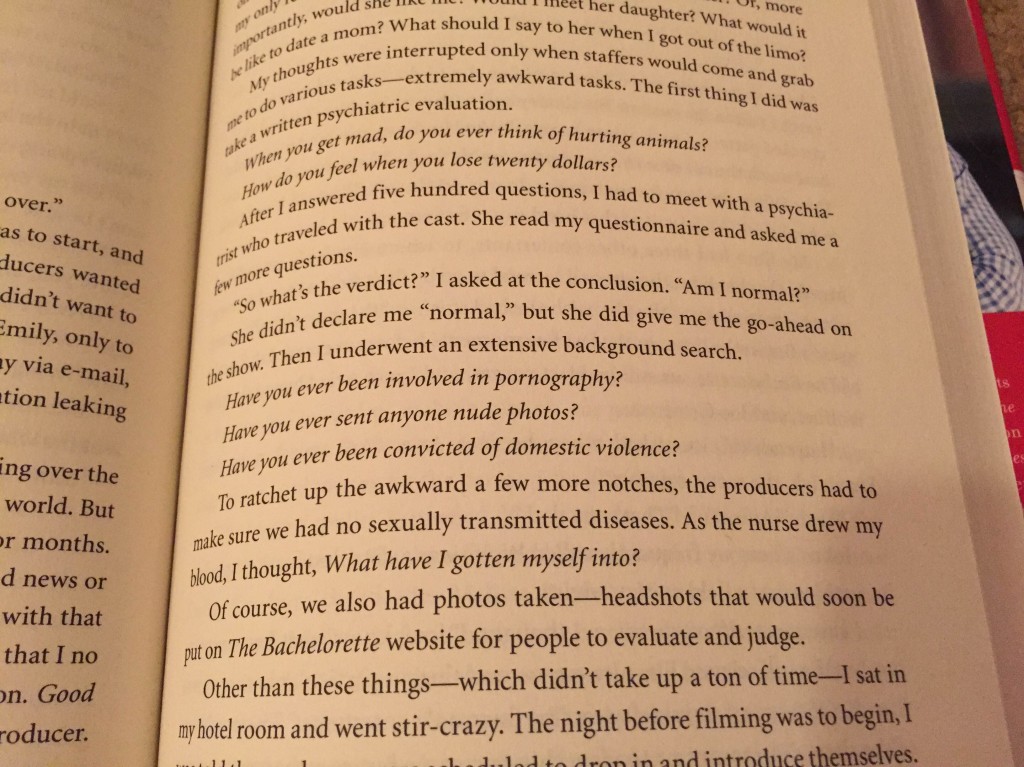 Comment: Of course they knew about her past. It's probably a major reason she made it on the first place. They know by casting her, it'll draw attention because she will get a lot of tabloid fodder thrown her way. They love that. As long as people are talking and tweeting about the show, that's what they want. It's when people are indifferent about your show is when you're in trouble.
___________________________________________________________
Subject: Andi & Josh
Wow. Think things are going to get a little ugly they are having a little quarrel via twitter! I think she has been going into is social media accounts! My take is he has a wondering eye and left her plus he can't cut that mommy cord!
Comment: It was obvious their tweets were directed at each other. How much truth there is to it, none of us will ever know. But no doubt it was both referencing the other. In case you missed the story, here it is.
___________________________________________________________
Steve,
2 questions:
-You say in reference to the winner that 99.9% of the people don't know what you know. I don't doubt that. So, will you be sharing any of that info with us at some time? A video or photo? No. March 9th will be all the vindication I need. It's right, and that's all I need to share.
-Playboy, a few years back, had a photo spread of "Women of Reality Television". I bet they do that again with Jade. They already have the photos and her signed model release. It may pay off for her yet. When they do these amateur shoots they always video it. I can see them putting it on Playboy TV. We haven't seen the last of her girls.
Comment: Yeah, I remember that. I wanna say that was close to 10 years ago. Jenna and Jerri from "Survivor." That one blonde chick that was BFF's with Jenna who is Cole Hamel's wife now. A few "Real World" people too. Not sure if they'll do it again, but I'm sure Jade would be at the top of their list.
___________________________________________________________
Don't you think Carly would make a good Bachelorette? She was technically 5th since Britt leaves before her. Her bubbly personality reminds me so much of Ashley Hebert. And remember you said that was your favorite season. I don't know why I haven't heard her as a choice.
Comment: I just don't see her as their pick. Not enough self esteem, doesn't seem to have much of a dating past, not confident enough, and I don't think guys look at her and are like, "I really wanna date her." Nice girl, attractive girl, but I don't think she's what they're looking for.