Quite a few things to get to before we start this week's recap. We will get to a quick recap of the "Chris Tells All" on page 2, along with all the Chris' blogs for today later on this page. However, with the way the previews for tonight were laid out, it is possible now that Britt just doesn't get a rose. As I reported I was told she eliminated herself in Des Moines before the rose ceremony. I guess that's still possible, but judging by what they showed us, it looks like he just doesn't give her a rose and she has a breakdown outside. I guess we'll find out tonight, but once the episode begins and we see the Des Moines rose ceremony, just know Carly and Britt won't be advancing. I thought Britt eliminated herself but maybe she doesn't. I just know she's gone this episode. If you're gonna throw stones at me for getting my semantics wrong, so be it. I can take it. I'm a big boy. It's still a possibility she does, but after watching the preview, it's possible she doesn't. Guess we'll find out tonight.
However, the biggest question I've been getting since last night has been, "Do you still think Britt will be the Bachelorette based on her edit?" Yes, I still think she has a chance. Britt isn't a villain this season. Villains have zero chance at becoming the "Bachelorette." All Britt did last night was get upset that Kaitlyn got the rose over her and expressed it a very poor time. Horrible decision on her part and made her look bad, but it's not like she trashed any of the other girls. Hell, she even said she felt selfish that she processed those feelings in front of Kaitlyn and Carly. I certainly don't think that would completely take someone out of the running for the "Bachelorette" because they got mad they got emotional they didn't get a rose. Her storyline is it didn't work out with Chris, he didn't want her and/or didn't think she'd fit in his hometown, so now it's time for her to create her own journey.
Remember, if she gets the gig, this will all be forgotten. Sure, some people at first will say, "How can they make her the 'Bachelorette'," but people say that every season about every lead. You're still going to watch. And if you say you don't, no one cares, because millions of others will. Britt as the "Bachelorette" really doesn't have much to do about her journey and what happened with Chris. They're completely separate. She'd still have a storyline they could build around her. You don't think so? Chris Harrison sure does. Did you see this interview he gave with E! Online? Makes me think this is a two horse race between Kaitlyn and Britt. I can't see Chris making a case for both of them, then them going with someone completely different. Chris answered that question the way he did for a reason. Those are the two in the running. My personal opinion is that they will pick Britt. Chris just made the case for why they could pick her. If they had no interest, he never would've even entertained the thought and thrown that out there.
Here are your blogs for this week. Chris Harrison's weekly interview with TVGuide.com. Yes, he admits Britt stepped in it with her behavior from the group date because she did. And he says the same thing in his blog for Yahoo. Chris Soules blog talks about the Britt situation and even hints at what to expect for Jade's hometown. You know what's funny? The show has given away the final four in social media and through their previews. Last night during the preview for tonight, they clearly show 2 girls hometown dates: Jade and Becca. We know Kaitlyn has a hometown because she got the group date rose, and in that TVGuide.com interview, there's a clip of Whitney's hometown tonight. So yeah, that's all four. Granted, you knew this on Nov. 24th, but I'm just saying if you pay enough attention, the show will give plenty away anyway.
As for tonight, something I want to address. Just like the last two episodes before it have ended with a cliffhanger, so did last night's. We saw two 1-on-1's last night (Jade and Whitney), and Britt, Kaitlyn, and Carly on a group date. Which means Becca had the third 1-on-1. I'm telling you right now, I'd be shocked if we see any of it tonight. I'm thinking they'll go straight into the rose ceremony like they have the previous two episodes. I don't think there's enough time tonight to show Becca's 1-on-1 date, then the rose ceremony with the Britt drama, then 4 hometowns, then another rose ceremony at the end of the episode where Jade is eliminated. So yeah, you might not see Becca's 1-on-1 she had in Des Moines. I'd be shocked. Either Chris would've mentioned it in their blogs today if we were gonna see it, and it would be given more hype. But it definitely happened on Monday, October 27th. Here were a couple pics from it that people caught on social media that day:
What's funny to me is when I first reported the spoilers for episode 7, I had Jade, Whitney, and Britt getting the three 1-on-1's when I totally forgot about these pictures. That was just stupid on my part. Because I get a lot of information sent to me, some things I completely forget I have. Here's something exclusive I can share with you about Becca's date since I've had since that night. I can't believe I forgot about this until yesterday. The night of Becca's 1-on-1 (Oct. 27th), I received this email:
"What's up Reality Steve?
I never thought I'd personally have the chance to speak with the legendary man with almost as much information as God, but I got a little lucky tonight.
I just happened to go out to dinner downtown tonight with my friends at a restaurant called Hessen Haus. I had just sat down when I noticed a man walking through the doors who looked pretty familiar. I instantly recognized it was Chris Soules in the flesh, and he started walking towards me to go to the bathroom. Somehow I thought quick enough to ask him to snap a selfie with me. He accepted just before a producer came up to stop the picture from happening. I attached the picture of us just so you know I'm not some Bachelor-loving psycho bored on a Monday night and emailing you with fake info.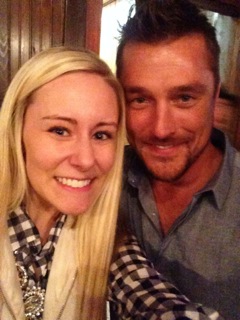 Enough about my celeb spotting moment; here's what I have for you.
He was at dinner with eight other people at Hessen Haus tonight around 6:30-8:30. They weren't filming, so I assumed he was just with producers. Halfway through dinner, one of his guests brought in a birthday cake. My sister is a little too invested in bachelor insiders and claims the cake was celebrating a producer's birthday today, but you know best there (Note: They were celebrating Elan's birthday that night). When they got up to leave, I noticed a woman with them that seemed more like the type of woman casted on the shows rather than a producer (aka she was hot). If I had to guess which girl, it was Tandra Steiner (Note: Obviously not Tandra. She has since confirmed it was Becca because she was wearing the same yellow top in the pictures tweeted out.) He kissed her in the restaurant, then continued to make out with her outside in the parking lot. She was wearing a yellow peplum top with jeans and a turquoise necklace. It seemed a little weird to me that a girl would already join him and the producers for a casual dinner without cameras, but take what you want from that.
That's all I know… hope that helps!
So for all the Becca fans that want to cling on to hope that maybe she's engaged to Chris, I guess you can salivate over that information that she made out with Chris in the parking lot of Hessen Haus. I can't remember them ever NOT showing someone's date on this show, so if we don't see it tonight, that surely doesn't bode well for fans clinging to the spoiler being wrong. If they do show it, well then you got an extra tidbit about what happened at Hessen Haus because the girl said they weren't filming that part. I'd be pretty surprised if the date was shown since they haven't said a word about it, nor was there anything in the preview about it. Well, now you know it happened and what they did to end the night.