Hey Steve,
I host a university radio show in Canada, and do bachelor recaps every Tuesday morning. I also religiously read your column to keep up to date on all things bachelor (and give you credit where it's due). I have a lot of respect for you, especially since you have been able to make a living doing this, it's really awesome. But lately, I have been getting pissed off about your opinions of Kaitlyn. You seem to say, with so much authority, that 25 guys would not be lined up around the block to date her, whereas they would for Britt. I totally understand that this is a matter of personal opinion, but you seem to state this as FACT rather than your opinion. When you first posted all the info about Kaitlyn, I thought no doubt she wouldn't last very long, and was shocked when you showed how far she went. But on the show, she's carried herself extremely well, and is also super hot. Myself and my roommates, the ones who will watch with me, agree she is the best catch out of the group this year. Britt is hot no question, but she is high maintenance and hates not to be the centre of attention. That is just the opinion of me and my four college roommates. I think Kaitlyn would be an awesome Bachelorette, and you come off like a d**k saying that for sure no guys would be interested in her other than a buddy. She's the hottest and coolest girl to be on this show since that Leslie girl from Sean's season. Lindsay? No Leslie. The politics one. Just my opinion. Keep it up, and thanks again for all the great work.
Comment: That's fine. You're allowed to disagree. Obviously me saying 25 guys would not be lined up around the block to date Kaitlyn is an opinion, not fact. I just feel since it's my site, and it's my writing, I don't think throwing in "in my opinion" before a statement like that is necessary. Of course it's my opinion. You're reading my writings. Who else's opinion would it be? Get what I'm saying?
I think being from Canada I'm sure you have a little bias towards Kaitlyn, so I get it. We'll see what happens. I still think Britt makes a better "Bachelorette," whether they choose her or not.
__________________________________________________________
Subject: Britt
She's gorgeous, she's likable and Carly is so jealous it just makes her look pathetic. Men all over America are signing up hoping Britt is The Bachelorette. Carly is completely unlikable. We've seen hints of it all season but it's really showing now. Pathetic.
Comment: Well, I guess there's one vote for Britt.
__________________________________________________________
Ouch! That's all I have to say about watching the episode that was being filmed in Iowa.
I am from Iowa and i'm from a small town too, but not as small as Chris town. My town has close to 1,000. We have a bar, grocery store, insurance agents, daycare, restaurant, bank, bar and other things.
I had and no one has probably ever heard of Arlington unless you live close to it. It's literally one of those town that when you drive through it, if you blink you'll miss it. In my opinion the bachelor is not helping Iowa out at all. Iowa is a wonderful state to live in but no one really understand that unless you're from Iowa. Also, NONE of those girls and I repeat NONE of those girls are going to want to live in Iowa. Especially since a lot of them are from bigger cities and there are going from living somewhere where they are with a population 1000000x more than Arlington.
Sorry about your luck Chris.
How many months do you give it until Whitney and Chris split?
Comment: Three.
__________________________________________________________
Hey Steve,
I'm a big fan, probably like most of the people who take time to write you an email about The Bachelor. eek. Thanks for your work!
First, I could not agree with you more about Carly. She zero chance at scoring The Bachelorette. I initially liked her because she seemed funny and genuine. But the more I watch her, the more I realize that she is always the one badmouthing other women or leading the charge against women there for the "wrong reasons." It doesn't take a genius to figure out why she does this (ahem, she is massively insecure), but she comes across as a "mean girl" in many of her ITMs, which makes me think the producers also see this and won't cast her for the lead. I agree.
I also agree with you that Britt is still a contender for The Bachelorette. Her recent edit has given me pause but she is the type the producers seem to cast. Yes, Kaitlyn is more like Ashley who is funny, cute, and real, but many more former Bachelorette leads seem to better resemble Britt: beautiful, confident (at least in their looks), and fake as hell (e.g. smile even when unhappy and guarded with their true emotions). Sorry, I'm sure Britt is nice but she just seems like she really forces it, whether known or unknown to her. I agree on that as well.
On a side note, Britt's job does not matter. If we were talking about the next lead for The Bachelor, yes, it would matter. But for women, you can be a dog lover or free spirit or a wwe diva in-training. This show has made it abundantly clear that a woman's career means nothing as even Bachelorette leads say they will give up their careers to move to wherever the guys live. Case in point, Andi–who is a licensed attorney, has not been licensed long enough to waive in for most states, and would have to take another bar exam to move to another state–was supposedly going to move to Iowa for Chris and Chicago for what's-his-name. Of course, as you spoiled for us, she never planned on returning to her legal career, but it still shows how little consideration is given to a woman's career on The Bachelorette. Waitress or surgeon, the storyline remains the same: Bachelorette moves to new state to be with her fiance. Very good points.
Personally, I would enjoy a lead like Kaitlyn, who is flawed but authentic. However, they don't give a sh*t what the fans want. The next Bachelorette will be Britt. (I must say though that I disagree with you on Kaitlyn's appeal. She might not be as pretty as Britt but she certainly is not the type who is destined to always be in the friend-zone. Sorry but she is just way too attractive for that. Chicks doomed to the friend-zone don't look like her and often lack sexual appeal. Maybe you don't find her attractive and that's okay but there are plenty of guys who sign up for the show and be happy it's her. Maybe people don't sign up hoping for her but it's not like that matters in casting anyways. They cast characters, not matches for the lead.) Yes, that's why I said Kaitlyn could be the lead. I never said I don't think they would cast her. I just said I don't see it. But my opinion means nothing to them, so they very well could. I just think Britt is a better fit.
Finally, none of these women are moving to Arlington. I mean, it is the most unbelievable part of this show. I cannot believe people are watching this thinking that someone like Jade or Britt is really going to stay in a town without a grocery store or coffee shop just to be Chris's wife. They know they have other options.
Whitney is the only one of the final four who I could possibly see living there and it's only because of the orphan factor. Chris's family is the only selling point for Arlington, so maybe Whitney.. but where would she work? Some clinic with one doctor an hour away from Arlington? They probably aren't even hiring.
Anyhoo, thanks for reading and keep up the good work!
Comment: I think Whitney is in for a rude awakening.
__________________________________________________________
Hi Steve – Love your Website
I'm kind of a closet Bachelor(ette) watcher. My kids make fun of me haha.
Anyway – After watching the premiere night/red carpet event, I had a feeling that they might ask Nikki to be the next Bachelorette. Chris H. spent an awful lot of time speaking to her (he actually was making me feel uncomfortable for her with such horrible questions).
What do you think?
Comment: Nikki is not going to be the "Bachelorette."
__________________________________________________________
Hello RS!!!! Is this the best casting this show has ever done??? I say yes. I mean for writer like yourself, this season might one of the easiest to write as there has been so much going on. My take on Britt, she reminds me of a college football player that is held in high regard, but as the draft gets closer his stock just starts to go down hill and instead of being a top 5 pick, he drops to late first round. I mean in the beginning there was no doubt that Britt was going to be the next bachelorette, but as weeks went her stock keeps falling and falling. I still think she could be the Bachelorette, but I think more like 50/50 now. Is it just me or was kaitlyn shown in a different light last night? I agree what happened Sunday, did not remove Britt from being the Bachelorette, but it didn't help her cause either. Britt is a stunning lady, probably one of top three most beautiful ladies ever to appear on the Bachelor. Britt has had an interesting run on this season:
1) Telling Chris's sisters that you are the front runner was probably not the most smartest answers that you can give, makes you look like you are bragging, even if you are not.
2) I don't know what to make of this showering thing (or maybe lack of), I do know one thing, its very very weird for sure.
3) Telling Ashley I (if you believe her) that she likes being single and is in no hurry to get married and then telling Chris the opposite. I am not sure what to make of this, on one hand is was Ashley I, but Ashee was right about Kelsey.
4) On Sunday, watching Britt jumping up and down, telling Chris how she wants to move to Iowa, not very believable and little over the top (this happened on group outside the area during there chat). Of the 30 girls that started on this show, Britt would be the least likely to move (not saying that any of them would move).
5) Now saving the best for last, calling the Bachelor out for not giving you the group rose in front of the two other was just plain dumb, and basically acting like a spoiled child. I get it Britt, you are used to getting your way and you don't know how to handle it when you don't.
I will say she has had an interesting and colorful run on the Bachelor this season and if she gets the Bachelorette gig, it's the most colorful run ever for a lead. Well RS, you said a million times that this show has a script and follows it very well and that script is that usually a lead is in the final four. I know you will tell me that Jake, but he was not the first choice Chris L was and Juan Pablo, but JP got it because there was no other person in the final four to choose and they were under some pressure to have a different lead. This is a really tuff call, but I say this show sticks to the script and kaitlyn will be the next Bachelorette. Kaitlyn is a safe pick and look no farther than when they picked Chris, he was a safe pick over Arie, now I am not saying Britt is like Arie, but she would be more of a wild card pick than Kaitlyn would be. I am guessing that you will disagree with me and that is cool, and I maybe way off and they pick Britt. I guess we will find out in RS column on Tuesday Feb 24th or Wed Feb 25th as that is when you usually find out and report it in prior years. I really enjoy your writings and your point of view. Keep up the great work, as you ROCK!!!!!!!!!!
Comment: All very interesting points. Britt is far from being a saint. Britt did a few things wrong this season in circumstances where she could've handled herself better. No doubt about that. But I think she absolutely could be the "Bachelorette." We'll know soon enough.
__________________________________________________________
I apologize in advance for the long email. It's President's Day, I have the day off and nothing to do. I just watched Sunday's episode again, read your blog and have time to write. I also watched Draft Day (loved Kevin Costner in it) 3 times in 2 days. I hadn't even heard of it until it came on TV yesterday and it's now one of my favorite movies. Watch it if you haven't already, although I am sure you have.
Regarding the different receptions of contestants sharing date stories with each other: You questioned why Whitney telling the girls about her date wasn't perceived negatively while McKenzie & Britt's conversations were. From what I can tell, Whitney was very well liked in the group. She is also more mature, especially being 29, and knows her audience. Someone like Becca isn't going to flip out or get upset about another girls date, and they are probably closer friends who share similar stories with each other. The reason McKenzie & Britt's stories didn't go over well was because of their approach, the setting and the girls (also the amount of girls) they shared with. McKenzie detailed intimate, physical details very early on and just about every remaining girl was around. The girls seemed like they were forced to be in the conversation and didn't want to be listening to her in the first place. And just the way she told the story was very immature and middle school like. As for Britt, the editing made her seem worse than the way she was actually perceived. The girls seemed more upset by the scenario than what Britt had to say. Paying closer attention to what the girls said about her, they didn't say anything mean it was almost complimentary in a weird way. They were more-so jealous and intimidated by her looks and connection with Chris. Especially after sitting around doing nothing for an hour + while she was dancing on stage at a concert, all while they had no idea where the two of them were/why they had to wait around dressed up for no reason. Then Britt going in depth about how much fun they had while being in a more unique experience this season, added more fuel to the already lit fire. So while I overall agree with your opinions weekly, I didn't think the comparisons added up. *Disclaimer*I'm also a 29 year old female from Chicago with family in Louisville so yes I am biased toward Whitney. And that's all I have to say about that.
As for Jade: You asked about what we thought of her telling Carly about her past. I actually thought it was a smart move. I went into the season expecting to hate Jade because of her Playboy shoot(s), thinking she would get a Vienna-like edit. And while I wish I wouldn't judge her based on pictures, I did find my opinion of her change due to her personality on the show (while still knowing her intentions were most likely not finding a husband in Chris). I think telling another girl made her more relatable to Bachelor fans, which is what she wants to sell her gloss. By telling another girl you see her as someone's friend, and while her experience is more permanent/extreme than a typical friend, you see her in that light. We all have friends who tell us crazy stories, or we tell our friends crazy stories (not me, I am a church going angel) therefore making her feel like one of the girls and making her relatable. The only thing lacking was the pillow fight right after (jk).*Disclaimer #2*I was in a sorority so overdone pillow fight comments are forever imbedded in my brain.
Comment: Interesting point on Britt. Didn't think of it that way. Definitely a lot of reaction towards Britt, especially on the South Dakota group date, was based in jealousy. The girls practically admitted it when they were all crying they kept mentioning how it was the Chris & Britt show, and saying how beautiful she was. So their sadness/disappointment definitely seemed rooted in jealousy moreso than being mad at her.
I don't know how Jade telling Carly about Playboy made her relatable. You kinda lost me there. I definitely think Jade's demeanor on the show definitely doesn't match what we saw in the Playboy video or what we currently see to this day on her Instagram. Could she do a 180 and turn her life around? Sure. But that past will always be a sticking point with most guys.
__________________________________________________________
Steve,
I think you're giving Carly a hard time… Though her insecurities are obviously there and she was bashing on Britt a ton, I think she was just being honest with Chris. A relationship between Britt and Chris would not last. As you said, Britt likes to touch and love on people. She's been that way with Chris since day one, yet, I feel like there is little depth in that relationship. It's all about kissing and hugging and talking about how they're feeling through this "amazing" journey. Gag. If a beautiful woman like Britt came up to you at every possible moment and just started hugging and kissing all over you, you'd be pretty blind about anything else this girl can bring to the table. Not to mention she is a shining example of a close-face-talker (sorry, had to get that out there). I think Carly knew she was never going to make it to the end, but wanted to try to bring Chris back to reality. Carly was totally right about the "bachelorette" comment she made too… Britt literally choked on her own tears when Jade was talking about her date. And I didn't buy that BS about the sunset and the cornfield nonsense when she tried to justify her case about living in Iowa. She was probably just glad to be leaving Arlington to go back to Des Moines where she could stop by the mall to buy a new pair of Chuck Taylor's and call it a night with some room service at the Renaissance. Kudos to Carly for planting yet another seed about Britt not being right for Chris.
Love your blog!
Comment: I think Carly is skating in public opinion. If a more disliked girl were to say the same exact things Carly did being the snitch and constantly expressing herself that way, she'd be crucified. But since Carly masks it in humor so she's getting a free pass. Oh sure, there are definitely people that think Carly has been a bitch for the last couple episodes, but I think it's pretty tame compared to what former contestants who did the exact same thing received.
__________________________________________________________
I think you made a big deal out of nothing. Why didn't you dig up Chris past and show he is not a saint either. Vote Jade next bachelorette. She owned up to it. She didn't deny. Everyone makes mistakes. How about you?
Comment: Top 5 stupidest emails I've ever received. Not even worth responding to.
__________________________________________________________
Dear RS,
First time emailer, but I really love your blog and spoilers. It makes watching the show so much more entertaining… In any case, I remember reading from your blog at some point that the lead "picks" the final four girls fairly early on so that production can start figuring out hometown dates. Does the lead actually choose four girls or a few more? Up until this past week, it seemed as if Britt would definitely get a hometown, but clearly she did not. I would have thought that Chris would have "picked" her early on but then changed his mind at the end. Do they have back up plans? My other question has to do with post the final rose ceremony. You have said in the past that the final girl and the bachelor get a few days together in the usual tropical location before returning and pretending nothing happened until the finale. Since the final rose ceremony was in Iowa – did Whitney and Chris get some time together? Where did they go?
Comment: They have it narrowed to 4 or 6 after the first night. Producers start calling parents/family during the location before hometowns telling them they might be coming and to make plans.
I don't know where Chris and Whitney stayed or went.
__________________________________________________________
Dear Reality Steve,
Totally agree with you regarding Britt and Carly. Britt was shell-shocked after arriving in Arlington, then changed her mind and settled into the idea on the way home. Carly threw her under the bus and interfered with what probably would have been Chris' final choice (Britt). Thanks for calling a spade a spade with Carly. (What she did was catty and tasteless) I hope Britt gets the bachelorette role so that Carly has to see Britt's face plastered on tv and tabloids with men swooning all over her.
Love your site! Thanks!
Comment: See how people can watch the same exact thing yet form two completely different opinions? Isn't the world a great place?
__________________________________________________________
Hey RS!
It's been bothering me so much, but I finally realized who Kelsey reminds me of: Crazy Trish from Jesse Palmer's season. Apparently a short brown hair = crazy on this show.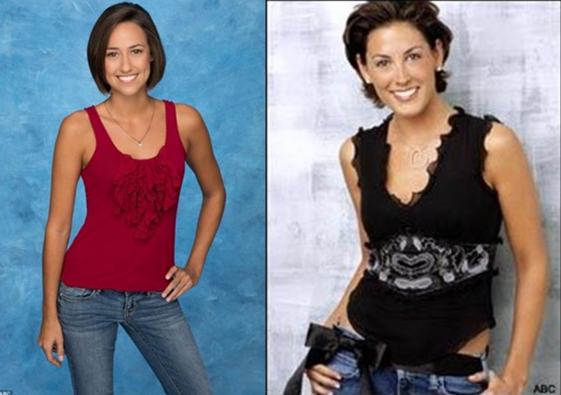 Also, wanted to point out that it didn't take long for Robert Graham & Zack Kalter to horn in on the new crop: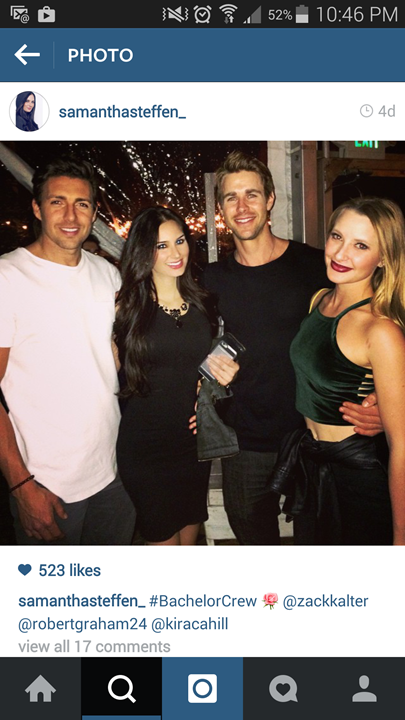 Hope you have a great week!
Comment: Well, Zack and Robert are gonna have to take a backseat to Jeremy Piven after yesterday's story that broke. For those that don't know, Jeremy Piven is known in Hollywood circles as one of the all time skirt chasers. His parties are legendary, and it's not because everyone gets a parting gift and he has the best milk and cookies. Think orgies. Sam wants to associate herself in that circle? Be my guest, but it's not a good look.
__________________________________________________________
Are homes rented for hometown dates?? I just don't believe that Kaitlyn's "home" has been lived in.
Comment: Some are the actual parents home, some are the homes of other family members, and I know a few have been rented. It varies.
__________________________________________________________
Has Andi had any work done to her face since she was the Bachelorette? Her face, mainly her cheeks and top lip, looked a little "fuller" than normal.
Thanks!
Comment: I only noticed her top lip. Definitely looked fuller.
__________________________________________________________
Hey Steve, I was curious what the ratings were for Sunday's episode, I heard the SNL special did some great numbers that night. In our house we watched both haha! It destroyed. Over 23 million with a 7.5 in the Adult Demo.
Second- I know you said ratings have been high this season, but I feel like the bachelor magic is fading. In the past we saw these "love" stories unfold, as silly as they were, we as viewers were along for the ride. I think that has rapidly been replaced with drama and then people we're clueless about being "in love" with him. Plus the random cliff hanger endings were unnecessary tactics that crappy shows usually use. If they're trying to ruin the spoilers you post, they've accomplished the opposite! We know their stupid cliff hanger endings by coming here instead of waiting a week to see the rest play out. Also, they seem to be giving away the "farm" if you will by giving "Whit" the only good edit. I don't remember that being the case with any other season. One thing you have to remember: There are WAY more people that have no idea about the spoilers than ones that do. This show caters to the unspoiled. Yes, they know the spoilers are out there, but it's still a small percentage of their audience. Don't believe me? Go read the "The Bachelor" Facebook Fan Page and read some of the idiotic comments on there. People are clueless.
Lastly, I don't see Britt as the bachelorette, no way! Not only did she leave on bad terms, she's also really really small. Like wayyyy short, nothing against that, but she almost looks like a kid playing dress up. She's not lead material in any way! If anyone from this boring season, I'd say Kaitlyn. She's looking more like a woman and less a Tom-boy as the show marches on.
Thanks Steve! Keep up the great work! You have a real knack for this, and I hope you find another show to spoil and recap when the bachelor is over one day!
Comment: It's definitely between Britt and Kaitlyn at this point.
__________________________________________________________
I agree with you that Britt still has as good of a chance as anyone for Bachelorette, however I'm just curious who you think they would bring back from another season to be the Bachelorette. I know you don't like to speculate bc people take you for your word but I'm asking you to speculate!! Michelle Money? Claire? You would know more names than me! Hypothetically speaking who could you see them bringing back?
Comment: I don't think they're going to use someone from another season. I don't see it.
__________________________________________________________
Thanks for this season!
So a few questions…
1. I haven't really followed Jade, but do you think she honestly regrets playboy? She's so soft spoken and seems so nice and sweet on TV. Is that all an act or do you really think that playboy thing was a one time thing and something she truly regrets? She certainly didn't seem like she regretted it when she sat there with Chris watching it with him. Seemed pretty proud of it actually.
2. I know you said there's no way Becca could get it because while she could be over him emotionally there's no way it works out logistically because she has to sit there and talk about her feelings towards chris on ATFR… but Ben became the bachelor and he was the runner up. Was the shooting schedule that different a few years ago? (Not thinking Becca has a chance because no. I just can't see it. But Ben was the runner up, so…) Exactly. You're talking about Ben. That's the "Bachelor." I speak of the "Bachelorette." The "Bachelorette" turn around time is the same week as the "Bachelor" finale. The "Bachelor" doesn't start filming til about 6-7 weeks after the "Bachelorette" finale airs. That's the difference. There's been 10 "Bachelorettes" and only Trista was the one that finished 2nd, and that was when they were on a completely different shooting schedule. It's not a coincidence.
3. As far as you know, Whitney and Chris are still very much together, right? Yes.
And lastly…
4. Chris Harrison's in love with Andi, right???? Holy moly. I would gag if they dated, though.
Comment: They are not dating, although I'm sure Chris wouldn't mind.
__________________________________________________________
Hey Steve,
Just the one question today…. Don't you think the Chris' blogs would be making more excuses for Britt if that's who they were planning to go with? Chris Soules' ghost written blog talked about questioning her sincerity and Chris Harrison's even said something about her "disrespecting" Chris time and time again. I know she does have the WTA to make up for everything but you'd think they'd want to at least start winning people back rather than reinforce what a lot of people already think right? I honestly don't think the lead's blogs mean that much since they're ghost written and done after the fact. I put more stock into what Chris Harrison says in his, even though it's still not a lot.
Maybe it's just wishful thinking. I'd much rather see Kaitlyn, or even Jade (not likely, I know) as the next Bachelorette. And I'd almost rather have an Andi or Ali 2.0 or someone from a previous season like Clare. None of their options are really looking too good to me but I'm sure once the bachelor marketing machine gets going, all the people who take this show seriously will be gushing over how exciting the next "love story" will be and how this next bachelorette is the "most sincere ever". I guess at this point I should just hope for a crazy batch of guys to make up for whatever cringe-worthy woman they choose. The cast and the formula is what gets people to tune in, not the lead. Sure some people will like the lead better than some other leads, but the reason it's been on the air for 11 years and 29 seasons is the casting of the contestants and the formula.
Thanks for all the spoilers, and to the people who nitpick about you getting slight details about the way things happen wrong, it's silly to complain when the important information is all there and correct. If at the end of the day Whitney gets a proposal and she says yes, you'll have done your job.
Comment: I'm not worried about any of that. I can't. It happens every season regardless of what info I give. Comes with the territory. This season is no different. The spoiler will be right, and next season it will be right again, and people will doubt it all season.
__________________________________________________________
Hi Reality Steve,
I love your site! It's the only reason I still watch the show. Anyway, I just wanted to take a moment to vent about Chris Soules. I can't stand him. I don't think I've ever been as annoyed with a lead on this show. I can't tell if he's just socially awkward or if he's a complete idiot. I don't understand how any of the women are attracted to him. You are totally right, though…no one watches the show for the lead. This season has been one of my favorites, despite Chris being the Bachelor.
My question for you is why do you think the women seemed to hate Britt so much? It's almost like they never got over the Big & Rich concert, which speaking of, I didn't understand that either. Why did they all get pissed at Britt? I would have been annoyed with Chris. All of the women came across as petty and jealous last night. Not attractive at all. Chris is a dumbass for making out with a girl in front of the other women. I don't think we've ever seen a lead do that before. Anyway, why all the Britt hate? Why aren't they directing any of it towards Chris? Am I missing something?
Thanks again for your recaps. They are fabulous!
Comment: The women made it known why they were so upset at the Big & Rich date. The attention Chris gave to Britt and felt like she was running away with the thing. Why they took it out on her? That's obvious. Because the second they take it out on him, they're going home.
__________________________________________________________
Steve — my brother has a theory on the absence of people in Arlington. You were almost onto it here:
Anyway, back to the four girls snooping around Arlington. That's where all the real shizz is goin' down. They went up to some random strangers hanging out on their porch and asked, "Where's there a place to eat around here?" The guy responded with "nowhere in Arlington. Gotta go to Waterloo or Cedar Rapids." Look, I don't care how happy Whitney THINKS she is right now being engaged to Chris, and I don't care that Whitney grew up in Kentucky…she ain't gonna live there. I think the best part about this conversation is that they found out he was the pastor at the local church. What they didn't care to point out to the pastor is that he might be the only man of God in all the land who also rocks a "Call of Duty" shirt when he's not giving a sermon. Outstanding. What the hell is going on in Arlington? Does this pastor keep an Xbox in the back room that he plays right before mass starts? These are things I need to know. Like, now.
Yes — this creepy old ass man of God is wearing a Call of Duty shirt. Does that not bother you? What 'man of God' wears a Call of Duty shirt, seriously? Besides, they don't even have a freakin' grocery store in Arlington – do we really think they have internet?!
No. There are no people in Arlington because this man is quite possibly a nut job. Everyone has disappeared because they're in this guy's basement, sitting right next to his xBox. AND he's the freaking pastor of a church, so he's convinced them he is not Creepy McCreeperson. IT'S THE BEST COVER IN THE WORLD!!
If you're concerned for my brother's well being after reading this, welcome to the club. He "says" his girlfriend forces him to watch this show on Monday nights. I somewhat think that is how it started, however, this is the 6th season you've watched, bro. At this point, I think he enjoys watching then calling me to hash out these incredibly crazy theories on the supporting roles of the show.
All joking aside, I'm ready for this season to be over. I need more upper lip and less helium voice in my Monday night life. Although, I have been enjoying snarky Carly in the last couple of episodes; however, she undid everything I liked about her in that weak ass limo exit. "Why can't anyone just want me for me, blah blah blah, cry cry cry, tears tears tears, I'm a pathetic girl with permanently arched eyebrows…" Listen up girl, we've all had tough times. We've all been treated poorly by the opposite sex. At some point, it's on you to put yourself in a better situation — and this show was not that situation. Plus, if that was your bid to be the Bachelorette, I'd have to vehemently say NO. We do not need your pathetic bullshit clogging up this crotch-stain of a show that is so entertaining to tear apart.
I really have no idea where this email has gone, so I'm ending this before it becomes a Juan Pablo-style train wreck.
Comment: I appreciate the insight. It wasn't on par with a Juan Pablo train wreck, but I felt if you went any longer, you might have an aneurysm.