We are finally only one week away from the finale that I've been waiting for since Nov. 24th when I released the spoiler of the ending. It's been three months in the making and this thing can't get here any quicker. Just like every previous season before it, the closer we get to the finale, the stranger and stranger the conspiracy theories get as to how my spoiler is wrong, and ABC duped me, and blah blah blah. Keep it coming. After next Monday night, I'm sure I won't hear peep from those that are doubting it. Happens every season. I get told for months leading into the finale about how I'm wrong, no one will ever listen to me again, my sources are drying up, ABC is on to me, and then the spoiler ends up being right, and all those people go away with egg on their face. Just keep in mind, it's exactly what I heard when I WAS wrong about Des' season, and since then, I've given you the correct spoilers on Juan Pablo, Andi, and now Chris' season along with spoiling "Bachelor in Paradise" for you. But next Tuesday, which is becoming somewhat of a seasonal tradition now, you will get to see all the emails I've saved over the last few months telling me I'm wrong. Oh, they're fun. And somewhat looney. The theories that people come up with are truly from another planet. You will get a kick out of them, I promise. There's been over 30 of them, but I'll narrow it down to probably the best 10-15, so look for that in next Tuesday's recap.
We're also getting closer to me releasing some of the guy's for next season's "Bachelorette." Filming starts next week and I've got a decent crop of them already, so I will probably release those next Tuesday as well. Honestly, it looks no different than the same group of guys they cast every season. You'll see. Not sure how many or how frequently I'll release them, but I'll definitely give you a few of them next Tuesday. Remember, they always bring out alternates and people get sent home right before filming starts for various reasons, so there could be a guy that I post who ends up getting cut at the last minute. It's happened before. But I'll give you a few that I know for sure are in LA and we'll go from there hoping they make the cut.
I think we're going to see a first in ATFR history next Monday night. As we know, the past 5 or 6 seasons or so, the finale has been live with them airing the 2 hour episode (with Chris Harrison in front of a studio audience live), and then immediately goes into the live ATFR. Well, judging by this post yesterday from the Hotel Julien Dubuque, looks like they're moving locations for this season's finale: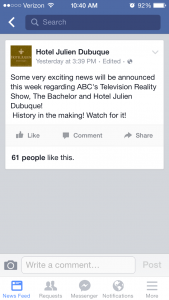 If the Hotel Julien is making a "major" announcement in conjunction with the show this week where "history is in the making," and we know the finale is next week, and we know how much this season has centered around Chris and where he's from, and the Hotel Julien is where they came back to and stayed after returning from Bali, it only makes sense that next week's ATFR will take place from the hotel. You can probably expect that announcement either coming at the end of the episode tonight or sometime this week. The Hotel Julien has been holding viewing parties every Monday night while the show has been airing all season, so it's not far fetched to think they're gonna hold the show being there again next Monday night for the finale. "History in the making" would be that they've never held an ATFR outside of LA before. It's always been in the LA studios.
As for tonight, I have no detailed spoilers for you for tonight's episode other than what they've been giving out all week. So in case you missed it, here are three different clips that have circulated the past week:
Britt breaks down on stage:
EXTRA TV talks to Chris and some of the women backstage after the taping:

Sneak Peek Of "Women Tell All" by Codebear2
Chris Harrison pleads for Ashley S. to come on "Bachelor in Paradise":
So lets all raise a glass to this trashtastic season so far, enjoy these women going at each other tonight as the claws come out, and start the 7 day countdown to where I can be vindicated on something I told you 3 months ago. And 8 days til you get to see all the idiocy I was emailed all season regarding being wrong. Good times all around. Enjoy tonight and I will talk to you tomorrow.
Side note: The people have spoken. I think "Daily Links" is gonna make its return this offseason.
Send all links and emails to: steve@realitysteve.com. To follow me on Twitter, it's: www.twitter.com/RealitySteve. Instagram name is "RealitySteve," or join my Reality Steve Facebook Fan Page. Talk to you tomorrow.