They really hyped up that WTA last night, didn't they? The problem is, just like movie trailers, it seemed like all the good parts we had already seen in teasers they released last week that I put on the site yesterday. Jillian screaming down Carly for bashing Britt, Britt on stage crying and calling out Carly, and Ashley on stage acting like a blonde dingbat again. Yes, there were some good moments last night, but after sitting through two hours of horribly edited cuts of conversations, it was once again another hype job that failed to produce. I guess we can come to expect that by now. I mean, I've discussed ad nauseam in the past of how long those tapings last and how the crowd is told exactly how to react etc. Well, someone who was at that taping decided to give an in depth look as to what one of those tapings is like. So yes, if you didn't think it was fake before, now you have a clearer idea of what that show actually consists of. Pretty ridiculous.
Speaking of a hype job that failed to produce, let me be the first to apologize for jumping the gun yesterday and assuming that the ATFR would be held at the Hotel Julien in Dubuque next week. Not happening. When I saw the hotel's FB post from yesterday, and them calling it historic and a major announcement, I just assumed that's what it was. I had heard rumblings a month ago they were thinking of coming back, so I assumed it was finalized. I was wrong. Here was the Hotel Julien's FB post a little while ago: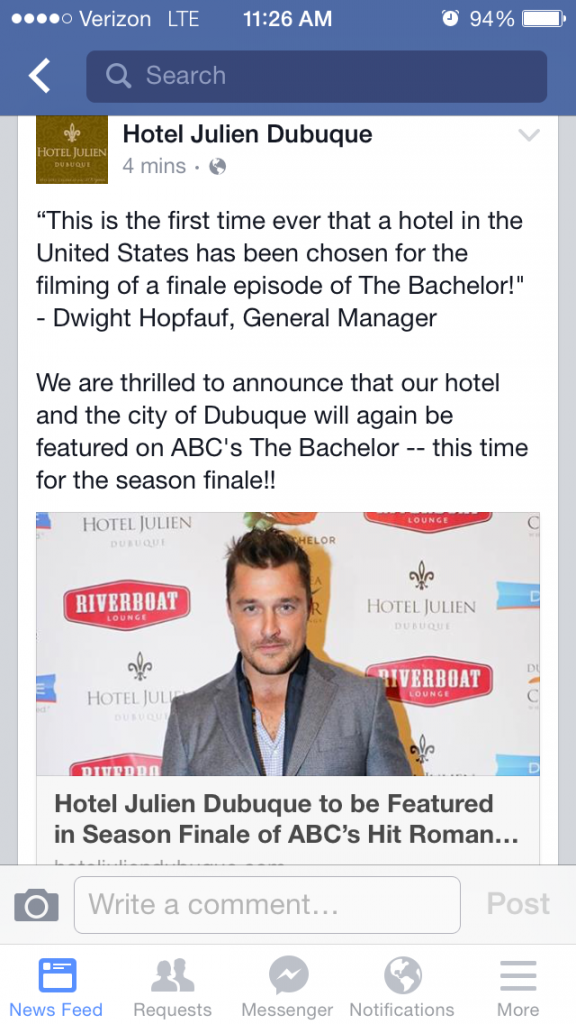 Great. All they did was confirm something we knew about 3 months ago. It's like my own spoiler had me overthinking this major announcement. Of course I was aware the Hotel Julien was the location where everyone stayed 3 months ago during the final episode, but to the average viewer, they have no clue. So the hotel hyping it as something that's never happened makes sense, because it hasn't. So my mistake on that. I jumped the gun in assuming that's what their announcement was. Live finale next week will be in LA like it has been the last 5 seasons or so.
So this weekend I was bored and decided to whip out Chris' season premiere promo. Hadn't watched it in a while, and holy crap, it's amazing to go back and look at this thing now. There's probably 15 clips in this season's preview that were never even shown during the season. Not that this is any different than past seasons, but wow. Remember all the questions you were sending after this thing aired? It's why you can't put any stock into these season previews. SO MUCH that's in them will never get addressed. All it is is a teaser to get you excited about the show. Especially pay attention at the 4:00 mark, where it's a clip from Chris and Kaitlyn's overnight date at dinner and she asks, "Do you trust me?" and Chris gives the "Yeah. I do" look to her. Kind of important knowing what we know now, isn't it? Totally left that on the cutting room floor.
These season previews are a joke. The thing is, I know when the next "Bachelorette" season preview rolls around, you're going to ask the same exact questions, and those questions will have no answers to them.
So the show immediately started out last night with the feud most people wanted to see, and that was Britt vs Carly. I'll discuss it more on the next page, but that brings us to this week's poll question:
Honestly I don't think either of them really came off that well. Britt did a little better than Carly, but not by much. I'm interested to hear your reaction.
Nell Kalter's Vanderpump Rules recap is now up for your reading pleasure. From what I've been told, that was the season finale but since this show has like 19 reunion episodes, I guess Nell will be stuck writing on that one a few more weeks. Enjoy.
Ratings are in from last night, and for a "Tell All" episode, it did pretty well. 8 million viewers with a 2.4 rating in the 18-49 demo. I don't have the ratings for all past "Tell All" shows, but that's gotta be one of the higher ones. I expect them to reach 10 million at least next week for the finale, with the ATFR pulling in a little more. The ATFR usually outdraws the finale because people want to see the final couple for the first time together. Remember Jason's season? The whole thing was the spoiler I had given was that yeah he proposed to Melissa but the ATFR is where the sh** hit the fan? The finale episode drew like 11 million and the ATFR had 17 million. I don't expect anything near that for Chris' finale, but I do expect the ATFR to be slightly higher.
All the Chris' blogs are up. Chris Harrison defends Britt while indirectly pretty much asking her on a date in his TVGuide.com interview.
His Yahoo blog is an ass kiss to his bosses for letting him shill his new romance novel coming out. Outstanding. I can't wait to not read that one. But Chris Soules People blog is actually an interview this week, and not a blog. I wonder if that has anything to do with this blog being a focal point last night during the WTA. Lets see how this goes in future seasons. I'm curious. Do they keep letting them "write" a blog even though we know they don't write it, or do it this way where it's more of an interview?