Oh it's that time. That time of year where we're mere hours away from the finale, meaning the anticipation grows stronger, and the conspiracy theories run wilder. I mean holy crap. Talk about ramping up the rumors and speculation to ludicrous speed. Geez people. Calm down. The funny thing is, it happens every season. And every season people get suckered in, and then they realize the show is overhyping something and it turns out to be nothing. Then the next season will roll around, and at the EXACT SAME TIME, people will start buying in again to the rumors and speculation, when in reality, the answer has been there for you all along. I haven't wavered all season from what I reported back on Nov. 24th and I'm certainly not wavering today. Not because of pride or stubbornness because I'm hoping some sort of "guess" comes true. No. It's because I know what happened. I've said that since they day I reported the spoiler. I don't guess, I don't predict, I don't assume. I have numerous sources who confirmed to me back then that Chris got engaged to Whitney and that's the ending you will see tonight. Period. End of story. You will see tonight.
I'm not the least bit concerned about Chris' ending. Obviously there's a reason for that, it's because of the texts, emails, and phone conversations I've had with sources that gave me the 100% proof I needed. Can I share that info? Of course not. That's why all I can say over the last 3 ½ months anytime someone questions it, is "Chris is engaged to Whitney." That's it. That's the ending of the show. But I can't out my sources, so of course you might doubt. But if you've noticed (and you'll see in tomorrow's column all the doubting emails I've received the last 3 months), all the doubters can say is I'm wrong because of what they saw during the season. Maybe they like Becca more than Whitney, maybe they just want to see her win, maybe they just want to see me be wrong, but mind you, none of them once came to me with any hard evidence of Chris choosing Becca back on Nov. 22nd the day of the final rose ceremony. The show can edit and splice promos until they're blue in the face. The one thing they can't do though is change what happened back on the day of the final rose ceremony. That's where my info comes from. Not anything that happened since. That stuff doesn't matter. Completely irrelevant. I've had the hard evidence I need since that day. I just can't share it. So I just repeat myself like a broken record all season saying "Chris is engaged to Whitney." Because he is.
By the way, tonight for 30 minutes before the finale starts, I have teamed with Skinnygirl cocktails to do a takeover of their Twitter account where I'll be answering your questions regarding the "Bachelor" and "Bachelorette." Very excited about this affiliation as I know many of you probably enjoy Skinnygirl margaritas while watching this show, along with many other of their drinks. We will be doing this more once the "Bachelorette" season rolls around, but will start tonight for the finale. So from 7:30-8:00pm EST, I will be answering your questions on @Skinnygirl Twitter account. Any questions, send them in.
The bigger issue tonight, and what had people running around with their head chopped off all weekend, is what's the deal with the "Bachelorette?" WetPaint reported two weeks ago it was Kaitlyn. I confirmed the next day it was Kaitlyn. Yet, producers and Mike Fleiss kept tweeting ever since then that a decision hadn't been made. What complicated matters this weekend was Kaitlyn on Friday afternoon telling fans she was gonna be at Universal City Walk and then sending tweets out with a camera crew following her around:
Holy shmoley it's HOT pic.twitter.com/4mL09MXzl0

— Kaitlyn Bristowe (@kaitlynbristowe) March 6, 2015
Immediately people started saying, "See it's Kaitlyn! She's the Bachelorette since she's filming her intro video!" But then the next day on Saturday, Britt was walking the streets of Hollywood with the same camera crew that was with Kaitlyn the previous day, and her fans tweeted this out: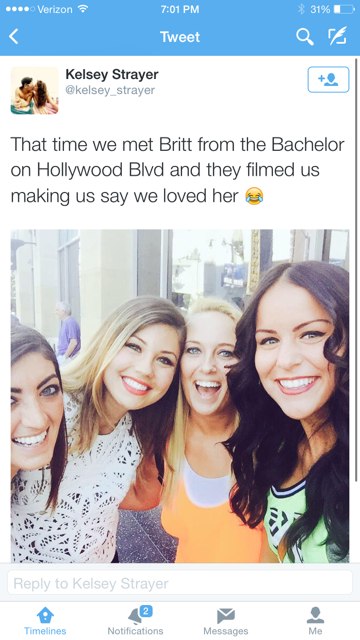 So where does that leave us? The best answer I can give right now is, "I don't know." All season you know I campaigned for Britt. I thought she was the perfect fit for the lead role and a girl that the guys would drool over. Then Kaitlyn overcame her first episode edit and became a favorite with the public. Early last week I heard that production really was having a tough time deciding who they wanted as the next lead and the rumor going around was they were gonna go with both Kaitlyn and Britt, and the guys would end up choosing who they wanted on the first night. They did this once before on Byron's season. However, I heard on Thursday that rumor wasn't true. Then Kaitlyn and Britt are each shooting intro videos this weekend, so honestly, I don't know what they've decided.
Here's one way to look at it: If they really have been torn over these last two weeks on who to choose, it would make sense for them to have both girls there the first night and let the guys choose. We saw this before on the "Bachelor" season 6 with Byron and Jay. 25 girls met both of them, then they decided who they wanted as the "Bachelor." They were given a yellow rose (for Jay) and a white rose (for Byron), and each girl would go up and place the rose of the "Bachelor" they wanted on a tray. Jay and Byron had their backs turned to the women and didn't see which ones voted for them. Once one "Bachelor" got to 13 roses (the majority), he was declared the "Bachelor." Byron got to 13 first and at the time, Jay only had been given 7 roses. So they only showed 20 of the 25 votes, and Byron already had 13. IF, and it's still an "if," but if they choose to go with two "Bachelorettes" and the guys choose, my guess would be the guys would choose Britt.
I'll tell you what, I'm kinda hoping this is what the show has decided to do. I'd be fine with it. Why? Hell, this is season 30. A nice round number. It would kinda make sense to do something different for the first night, no? Why not? It's only been done once in the franchise history. And we know both girls were seen filming intro videos this past weekend in CA, not to mention Mike Fleiss made it a point again on Friday to tweet out that a decision has not been made.
I honestly don't think that they told one of the girls before this weekend, "Hey, we decided to go with the other girl, but please go out in LA with a camera crew, take pictures with fans, and just help us pretend so people will think it's you." I can't imagine Britt or Kaitlyn agreeing to do that for them KNOWING they weren't picked. I mean, according to Sean Lowe, he said they shot an intro video of Arie telling his family he was the "Bachelor," and then they went with Chris, so we know it's possible they will shoot an intro video of someone who ultimately doesn't get it. So we have three options at this point:
1) Kaitlyn is the "Bachelorette"
2) Britt is the "Bachelorette"
3) They both are, and the guys will choose who they want on the first night
Now, here's something to remember if they decide to go with two "Bachelorettes." Back in 2004 when Byron's season was filmed, social media wasn't around. So yeah, when it premiered in September of that year, it probably wasn't known who the girls chose. Obviously in 2015, I'm guessing if I don't hear within a few days of who the guys chose, then it's going to be spoiled the first time there's a public date since we'll see which girl it is. Not to mention, you can't tell the girl who isn't picked, "Don't go on social media for the next two months and don't be seen anywhere." Trust me, it'll get out. And sooner rather than later. Do I think that would detract them from doing this? Not necessarily. To me casting two "Bachelorettes" and having the guys choose will have less to do with wanting to keep it a secret, and more to do with changing things up on the first night. It would make the premiere episode completely different. If you remember Byron's season, after he was chosen by the girls, THEN the cocktail party and first rose ceremony was the following night and he narrowed it from 25 down to 15. Of the 15 he kept, some had obviously left a rose for Jay wanting it to be him, so that made things a little more interesting. You'd have the same thing this season if they decided to do it. Whoever the "Bachelorette" was, she'd end up keeping around someone who initially didn't choose her. Hell, Bryon's final 2 girl that season was Tanya, and she voted for Jay.
If you're asking me personally, I hope they do this. I'd like to see them change it up and go with both girls, and have the guys choose on the first night. For two reasons: 1) It would give us something different for night one that we haven't seen in over 10 years, and 2) I think it would lead to Britt being the "Bachelorette." If they chose Kaitlyn, I'd be fine with that too. I just tend to think Britt would win the vote if left up to 25 horny guys. So for just a little fun since we don't know what they've decided, here's a little poll question:
Of course, I'm completely getting ahead myself though because as we head into the finale, I don't know what they've chosen to do. This two "Bachelorette" thing may all be for naught and they have decided on either Britt or Kaitlyn. But hey, it's fun to think about. Thought it was Kaitlyn two weeks ago, and it still might be. But I do not know for sure. You've got people from both camps swearing it's either one of them, then I've got the rumor that circulated last week that they were thinking of going with both. Maybe they will. Hell, I HOPE they do. I think it'll be a nice jolt to put into the franchise where we can at least see something different on the first night. We'll find out tonight on the "ATFR" when they make the official next "Bachelorette" announcement.
All last week ABC has been running a promo in which they specifically say to stay tuned for the ATFR for a "surprise twist you didn't see coming." Trust me, a gazillion of you have asked me about it since it started airing. I'm guessing ABC wants you to think it has something to do with Chris' decision, etc. It doesn't. Again, Chris is engaged to Whitney. So I don't know what they're teasing and since we know this show is the king of hyperbole and overhyping something, my guess is whatever it is, it doesn't have to do with Chris and decision. For all we know, it could just be Chris "officially" saying he's on DWTS. Or since they're specifically saying this twist is on the ATFR, the twist they could be referring to is the "Bachelorette" announcement. What better "twist" than to say they've chosen both Kaitlyn AND Britt, and the guys will decide on night one? It's certainly possible.
A lot to digest I know. But just know that the spoiler of Chris getting engaged to Whitney back on Nov. 22nd in that barn is 100% accurate. Can't make that any more clear. As for "Bachelorette," that's where it gets a little tricky, and honestly, I'm fine with any outcome. If they chose Kaitlyn? Great. If they chose Britt? Even better. If they decide to go with both and the guys will pick on the first night? Would be interesting and different. None of those three scenarios would surprise me at this point, so just wanted to let you know all three of those are on the table as we speak. I don't know what decision they've made. We'll find out tonight. Should be interesting. If I somehow hear anything before it happens, I'll tweet it out. But I don't expect to this late.
Man, can't we just skip to the last 30 minutes of episode tonight and then the ATFR. The first 90 minutes of the finale is basically fluff since nothing that's said even matters. Just a bunch of hot air and editing to get you to think he's leaning one way, or maybe won't propose at all, when in reality, it's all just smoke and mirrors. Chris and Whintey sittin' in a tree, k-i-s-s-i-n-g. I've waited 3 ½ months for this day to come. I'm much more excited about this "Bachelorette" announcement than the finale ending that I've known about since November. Should be a good one. Talk to you tomorrow.
Send all links and emails to: steve@realitysteve.com. To follow me on Twitter, it's: www.twitter.com/RealitySteve. Instagram name is "RealitySteve," or join my Reality Steve Facebook Fan Page. Talk to you tomorrow.