We have a plethora of stuff to cover today, so be ready. Just like I start any vindication column, I want to thank the best sources out there for nailing yet another ending to this show. You people know who you are and what you did and I'm forever thankful. Sometimes it's not easy being the middle man like I am, but when it pays off like it did last night, makes the 3 ½ month wait all the more worth it. I'm only as good as my sources, and time after time after time after time, they've come through for me. Even the ones that came through last week to update me on a possible double "Bachelorette" that I mentioned yesterday which is confirmed now. We'll talk about that plenty on pages 4 & 5 today, but before that we've a bunch of news & notes for you, then to end it all on page 6, your first exclusive look at some of the guys who will be appearing on the "Bachelorette." Once again, there is no other site even talking about next season's guys yet so if you are going to post them, please credit this site. Thank you.
Your Vanderpump Rules recap by Nell Kalter is now up. I believe last night was the reunion episode correct? Don't they have like 17 of those for each season? I'm sure it was glorious. Go check out the recap and then be back here tomorrow for her RHOBH recap as well.
So the Andi/Molly ring controversy was pretty much put to an end by Molly herself the other day when Jason and Molly discussed it on their podcast. Not the same ring. You can listen here: http://gossipandreality.com/episode-92-the-women-tell-all-and-the-ring-controversy/
So this was kinda weird. The ABC affiliate in Indianapolis WRTV-6 ran a story last night after the "Bachelor" aired about the show, then just decided to throw in a little commentary about me and my site. Sweet. Thanks Indianapolis. You're now my favorite city in America!
Tell me you don't read this article on Ashley S. in the Auburn student newspaper and have a completely different opinion of her after the fact. A very good read about Ashley and how she saw everything in regards to the show, thus leading to how she acted. And yes, I'm sure she will be on "Bachelor in Paradise 2" even after giving that half ass answer last night.
Ratings are in from last night, and the show drew its biggest audience of the season with 9.5 million viewers and a 2.7 in the Adults 18-49 demo. Somehow, Juan Pablo's finale drew a 3.3 in that demo so it's down from that. The ATFR show drew 9.6 million and a 2.4 in the demo. Needless to say, one hell of a successful season considering when I first told you all they were only leaving the states once and you knew Chris was a farmer, the reaction I got was basically a bunch of booing and hissing. Well, seems like it had zero effect on the ratings as this was one of their most successful seasons yet. Just goes to show, the lead really doesn't matter. People tune in because the formula of "train wreck" TV is working at its finest. The dates, the drama, the casting – all much bigger reasons to watch this show than for an actual love story.
I got an email from a former contestant on the show who has started a Kickstarter Campaign for a film he needs funded. Here's what he had to say:
"Have you ever been worried that you hired the wrong wedding videographer? Former bachelorette and bachelor contestants Robby Descant and Tenley Molzahn are teaming up in California to make a short film about just that. They launched a Kickstarter campaign to help raise funds to bring the script to the screen. Please check out the link below and donate what you can to help make this film a reality. Thank you!"
https://www.kickstarter.com/projects/1174208091/bullfrog-bullfrog
I've already donated $50 myself and they still need close to $5000 for the project to be a go. If you're interested, help out and donate. You aren't billed unless they reach their goal.
Ok, on to "Bachelor" stuff. I told you the day after the season ended I would tell you about some information I had all season that I didn't want to share, basically to spare myself a rash of emails. Well, here it is. After they left Bali and came back to Iowa, Kaitlyn actually came with them. She actually had to spend an extra week in Dubuque while filming was wrapping up because as you know, they've been keeping the final 3 person with them until filming wraps, so word doesn't leak their home. Which made sense in previous seasons because the overnight dates and final rose ceremony location were in the same place. Just like Andi stayed in St. Lucia until the final rose ceremony wrapped and so on and so forth. But to fly Kaitlyn back to Iowa just to sit there for a week? Geez, the least they could've done was put her and her handler in an LA hotel or something to keep her hidden. But Dubuque? Man, brutal.
Can you imagine if I would've told you months ago, "Hey, I heard Kaitlyn stayed in Dubuque and didn't come home until filming ended" how many "Kaitlyn comes back at the end!" emails I would've gotten? Like 100. Not to mention, Kaitlyn got home from filming later than Whitney and Becca did. Becca was in Kansas City the day after the final rose ceremony for her grandmother's funeral that her sisters posted for everyone to see on Instagram. That certainly didn't help her case as Chris' new fiancé. But I'm telling you, that Kaitlyn info would've been 3 months of, "Well how do you know Kaitlyn doesn't try to show up again?" or "Why would they keep Kaitlyn there until after filming was over?" or "Don't you think it's possible that Kaitlyn shows up at the final rose ceremony?" So yeah, I can share it now because obviously I knew she didn't, but sharing that earlier would've been the death of me. Sorry. Had to keep that one to myself.
As we know, they confirmed last night they are going with both Kaitlyn and Britt as the "Bachelorettes," and the 25 guys will decide on the first night who they want it to be. What I found interesting is remember the poll question from last week where I asked all of you who would you want to see as the "Bachelorette?" In over 18,000 votes, Kaitlyn won in pretty much a landslide, tripling the amount of votes Britt got: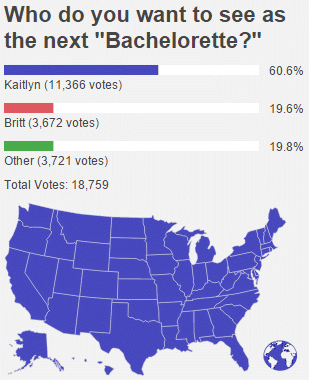 Yesterday when I brought up the fact there was a good possibility we were gonna have two "Bachelorettes," I asked you who do you think the GUYS will choose as their lead. Right now, it's running 55% to 45% in favor of Britt. Do you still think that? Keep voting:
This whole concept of Kaitlyn vs Britt will be discussed in length on pages 4 and 5 of today's column. Just thought it was interesting that I'm assuming a lot of you are the same people voting in both polls, and 60% of you wanted Kaitlyn to be the "Bachelorette," yet you're pretty much readily admitting you think the guys will choose Britt by that poll above. We'll see. I give my thoughts later.