This may have been brought to your attention already, but looks like Jade may have had a boyfriend during some of the beginning of the taping process! This guy just posted this tonight.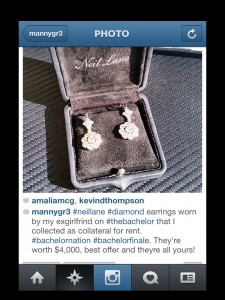 Comment: Not to mention that guy personally emailed me Monday night and wanted me to put that on my site offering me 10%. I never responded back. Maybe I should've. He's definitely legit because I was emailed his name back when I confirmed Jade. Was told it was a guy that she had just screwed over. Sounds like he's still bitter. I just never followed up with it.
________________________________________________________
Hey Reality Steve,
Long time reader – congrats on another season spoiled !! Do you think Kaitlyn was initially signed on to be bachelorette before they asked Britt. Reason I'm asking is kaitlyn did not seem impressed during the announcement and made a comment like this wasn't ideal
And basically saying she didn't know it was going to be two bachelorettes when she signed on whereas; Britt looked over the moon excited. Any insight ?
Thanks and looking forward
To reading during the bachelorette.
Comment: She knew it was going to be two "Bachelorettes" when she signed her deal. They both did. Now the question I don't know is, when they initially brought it up to Kaitlyn did they first go to her and say, "We're thinking of doing 2 Bachelorettes, are you interested?" My guess would be no. Because when I reported two weeks ago Kaitlyn was gonna be the "Bachelorette," I wasn't told anything about Britt still being in the picture. So I'm not sure. I'm sure she thought it was just her during the negotiating process, but as they got closer to the finale, they throw the wrinkle in. Guess she didn't want to back out.
________________________________________________________
Sorry if this is a dumb question but it's been bothering me..at the final/ last rose/ proposal in most cases.. Do they really turn one down than pop the question to the next back to back? Or is it split between two days?! It's within a couple hours.
When are they going to officially announce he's on dancing with the stars? On ATFR he was saying how he wanted to be back to a normal life… Hello buddy being on another t.v. Show isn't a normal life. Get out of here..It was announced Tuesday morning on GMA.
So since Britt and Kaitlyn are both going to be running to find "true" love.. If I understand it right…the first episode they are going to meet both girls then pick who they want?!
So already been threatened by my friends if I look at the spoilers that they are going to kill me..: that is going to take a lot since I'm so addicted to reading your columns… But don't tell them I'll probably peek cause I can't help myself… And this wasn't the most dramatic season.. Way to beef it up ABC.
Comment: I'm sure we'll all know by at latest the end of the weekend. Filming is beginning today/tonight.
________________________________________________________
Dear Reality Steve,
I want you to know that I do a killer "celebrity" impersonation of you. If I ever apply to SNL, I'm going to use that in my audition, but I think the reference may be too obscure.
First of all, congratulations, you were RIGHT! You've always proven yourself right except for the one time, or twice.
A few points: The Bachelorette is usually the relieving time when the rejected woman gets to be the one making the calls. To pit two people against each other who have JUST FINISHED competing against each other (and hoped this would be the end of their rejection)… well, it's kind of lame… even if it has been done before with 2 Bachelors. It was obviously unnerving to the studio audience, too. They were groaning like they were truly sick to their stomachs. I think the overwhelming response was for Kaitlyn, and the talk of it being "50/50" is inaccurate. Producers know that Britt's face is going to draw a lot of people to the screen. So they brought her into the mix even when Bachelor Nation said, go Kaitlyn.
My Bachelor watching partner asserts that Britt's god-given beauty has made her into an adult baby — a fragile, emotional person who gets what she wants. "She hasn't earned a place as the Bachelorette," he says. "Has she worked hard for anything in her life? Well, she probably has been a missionary."
I wish her all the best. But my heart felt most for Kaitlyn, who seemed to deserve her spot (after some real heartache, not just emotional blubbering).
Comment: The most amazing part of your email is saying you do an impression of me. Someone does that? I didn't know I had anything distinct about me to impersonate. Well, other than my handsomely good looks, my charming personality, and my salon style hair.
________________________________________________________
Heart breaks for genuine Kaitlyn … men think with their appendiges not their brain and Britt gives off a really sexy vibe. The fact she is an attention seeking airhead won't matter to the guys so long as she pouts and flashes her attributes. So chances are she will be chosen.
Oh well lots of other shows I can watch Monday nights and I hope others do the same. If Britt is chosen I hope its the lowest rating ever for the show.
Thanks for your site … makes the show much more interesting as you see how editing tries to keep the suspense up …
Comment: I wouldn't be so sure. I think at this point, the show would probably be disappointed if the guys picked Britt. Don't forget the producers will still have complete control of who the "Bachelorette" is, even though they will swear up and down they didn't.
________________________________________________________
Hey Steve,
Curious if you think the producers will stack the deck with guys they think will pick one or the other to control who gets chosen while pretending to actually leave it up to them? Seems the fans overwhelmingly prefer Kaitlyn so maybe they're doing this to create drama but will manipulate it so it works out in favor of the fan favorite. They already know which guy likes which girl going in. These guys were cast long before they made the decision to go with 2 Bachelorettes. They will get the "Bachelorette" they want. I just don't know who the producers want. I think they always wanted Britt, then once Kaitlyn became America's favorite and everyone in Bachelor world is tweeting #TeamKaitlyn, I think they know what they have to do at this point, whether they want to or not.
Also, do you think the rabid "I refuse to watch if ____ is the Bachelorette" fans will actually go through with it this season? Seems like since they're creating such a divide between the two camps, pitting one against the other, they might actually get a decent sized drop off if the first night doesn't go their way. I for one didn't mind Britt all that much until I found out it would either be her or Kaitlyn getting rejected on night 1. Now I'm firmly on Kaitlyn's side and would not be invested in Britt knowing that her happiness would equal Kaitlyn's disappointment.
Congrats on the successful spoilers yet again!
Comment: I don't think so. Plus, it'll be impossible to prove. All we can do is compare Kaitlyn's/Britt's seasons to past season. We can't compare a Kaitlyn season to a Britt season because they're each not getting their own.
________________________________________________________
Hi Steve,
Great job this season as always. I'll keep this short
Has the final couple ever spent the night of their final date before the final rose ceremony together? And if not, why not? They've already spent the night together in the fantasy suite. Does the show not let them because that might give away the ending? That wouldn't happen if he slept with both again and at that point he's always supposedly undecided. No, the last time they sleep together is the overnight date.
Did In-n-Out burger pay you for that spot on your blog? If not, they should have.
Comment: No. I actually only just tweeted it out, and basically there isn't much money to be made, if any, on Twitter unless you're an A-list celebrity.
________________________________________________________
Hey RS,
First off, I love reading your column, but my fiancé hates it because I make him watch it with me and he doesn't want to know what happens.
You keep talking about how you think that the guys will choose night one if they want Britt or Kaitlyn to be the Bachelorette. I was just thinking. Many years ago, MTV did a show called A Double Shot at Love in which they had bisexual female twins as the leads. They were both the lead and could choose whoever they wanted to keep at each 'choosing ceremony'. They could even switch with each other who they wanted to keep at the next ceremony. I think it was quite a few episodes in (or even the finale) where they had to make it official as to who was pursuing whom. It's confusing and I don't remember all the details as it was many years ago.
Do you think it would be possible for this type of scenario to take place in order to keep both girls in the game a little?
Just a thought of a little different scenario.
Comment: No. Because Kaitlyn and Britt aren't bisexual twins. At least not that I know of. Would be kinda hot though if they…forget it.
________________________________________________________
Hello Steve,
Sounds like all those weirdo emails you received questioning your sources are coming from people on the show. Maybe even Fleiss' interns. Producers can be VICIOUS, cutthroat people who will smile at your face and stab you in the back in a minute. They are masters of deception and manipulation. Don't think for one second they're not reading your blog or trying to trip you up. Double check every source! Keep your friends close and your enemies closer. I wouldn't even post the emails or respond to them. They were probably trying to get you to stop doing what you're doing. Don't!!! I don't and I won't. I strictly keep those emails so the majority of my readers who actually have a brain and listen to my spoilers can have a good laugh at the ignorant's expense.
As for the show itself, I didn't watch most of the season and skipped through most of the episodes I did watch. Chris is one of the worst Bachelors the show has had. It's very selfish to want to go out and find a woman and plug her into his life as he sees fit. Relationships are give and take!! He also kissed Britt in front of other girls among other snafus. The AFTR was beyond boring. I mean, Becca couldn't possibly have cared less that she was dumped. And he chose Whitney? Yikes. She seemed very defensive last night.
I agree that Britt is the best fit. Maybe because I skimmed through most of the episodes but I don't see why she's so hated. Maybe she's a drama queen but that doesn't make her fake. She seems genuine and sweet and probably just likes to be the center of attention. Doesn't mean she's fake. Kaitlyn is cute and funny but if guys are going to choose a woman after one night, they will always go for the hottest one first, hands down.
Keep doing what you're doing. Your blog is what makes the show watchable. The clowns that work on that show should be thanking you!!
Comment: I always thought, even as of Monday, that if the guys had to choose, they'd go for looks on the first night and Britt would win. Now, I really would be shocked if the guys ended up choosing Britt today/tonight.
________________________________________________________
STEVEEEE! Oh my goodness I love you. Let me just tell you that I have been watching the show since season 1 of the bachelor and ever since I started going to you for spoilers… I've been hooked. I can always count on you to give me details plus some behind the scenes stuff which I find SOO interesting. My friends will hate when I say I know who wins, but I have always defended your knowledge and sources:) Yes, there has been a few slips in the past with information but sh*t Steve, you are one hell of a guy with your information. I do plenty of research and stalk to crap out of reality TV, and I have no idea how you do what you do. You are so hilarious and so good on how you word all your recaps to make them easy to understand. I guess I just wanted to say.. don't let the hate get to you. But I know you don't listen to the skeptical haters. JUST KEEP DOING YOU. You are the only source out there that I can count on. Not only for just knowing who wins, but you also give us the dirt on random things you find out which I find so interesting. THANK YOU REALITY STEVE! NEVER STOP <3 Comment: Thank you. I do my best. Sure I'm gonna miss small things here and there like maybe a group date rose, or who said what to whom, but if I say "Here are your episode-by-episode spoilers," those are going to be pretty solid. When I didn't have the first 5 episodes this past season, I told you I didn't. I still had info here and there within those 5 that ended up being accurate, but I didn't have everything laid out for you. If I know something, I'll say I know it and I'll report it. If I say "this is what I'm hearing" or "I think this happens" then it very well could, but I'm not as sure. Some people seem to have a hard time making that distinction. If I don't know something, I will absolutely say I don't know it, or haven't heard that from my sources.
________________________________________________________
Hi Steve,
Well done on the result at the finale! I never doubted that Whitney would win, even without your spoilers it made the most sense as the season went on. I want to comment on this "double Bachelorette" situation and express what a bad idea I think it is.
Kaitlyn would make a much better bachelorette and is the most popular. She is funny, sexy, witty, confident and mature. It's a real shame she is being sidelined here, it's not fair at all- not to mention misogynistic. Guys may choose Britt based off her initial hotness and lose interest later based on what a drama queen/cry-baby/deluded/immature/disingenuous/actress she is. I hope they have more sense than that.
Okay rant over my real question: If the producers really want to mix things up and have two bachelorettes and get everyone excited about the new season why have one of them leave the first night? Makes no sense. They are hyping up this whole thing for it all to be over on night one and for the rest of the season to be normal. Plus, there is the thing that you brought up about the whole thing being spoiled initially about which bachelorette stays. I think it would be a far better and drama-filled season if both try to "find love" with the guys for the duration of the show. It could even lead to them liking the same guy which would make it interesting, there are so many possibilities…..Anyway, I'm curious to hear your thoughts on this?
Also, I know you've been told this before but you should really read Sharleen's recaps. She is really great, coming at it from a former cast member's perspective and giving lots of great behind the scenes info.
Thanks for all you work!
Comment: I just don't see how it can happen. The show isn't adding 11 more episodes. It's not going to be 4 hours every Monday night. That's way too congested. And essentially the show has said they plan on having the guys eliminate one girl on the first night. Unless that changes today, that's what they're going with.
How would they possibly do 8 hometowns and 6 overnight dates?
________________________________________________________
great job this season as always! i never doubted you. i did accidentally ruin the show ending and the two bachelorette twist for my coworker –> not good. she is now threatening to ruin survivor. now that would be upsetting!
couple of things:
1. did you ever give any more thought to saving your thursday spreecasts as podcasts? i listen to rob cesternino's during my commute and would love to add you to the mix. Me and my webmaster are looking into this for next season. We're seeing how cost effective this is.
2. i still can't pull up your site on my phone. pop ups take me away from the main page. any way to make them open as a new page instead of taking the user away from the main page? We're working on that as well.
3. how pissed did kaitlin seem about sharing spotlight with britt? certainly seemed at the WTA she thought she had it and britt was doubly upset by seeing chris and recently losing the gig. then last night britt was over the moon and Kaitlin couldn't hide it. She definitely didn't hide it. Pissed.
4. was that the first ending where the second place person legit wasn't upset? becca was more like, eh i don't love him anyway. she even acknowledged she had to business going on the show. That I can remember, yes.
5. why a cow? Because Chris is a farmer and I guess they didn't think they had enough farming jokes this season they had to throw one more in.
6. i know you won't believe me but… i am actually a person who says "i won't watch if it is britt" and will hold true to that. but then again not a true fan, i skip seasons here and there based on lead. made it 10 minutes into ben's. don't plan on watching britt. your site is enough for me – no need to actually watch 🙂 Which is fine. But that makes you someone this show isn't catering to.
anyways, thanks for another great season!! love your site!