Another public date yesterday in San Antonio that plenty of people on social media spoiled, as Kaitlyn had a 1-on-1 date with Shawn Booth. He's a guy that was on the sumo wrestling date that Kaitlyn got quite cozy with (in the video you'll see I had from that day), as well as someone who initially caught Kaitlyn's eye because Shawn was the guy who received the first impression rose this season. Not to mention, the Ryan Gosling comparisons have already started. Yeah, I can see it. At the rap battle, it was brought up during his "battle" with his opponent. I'm gonna go out on a huge limb here and say we can probably expect Shawn to be getting a hometown date this season. I don't think I'm overstepping my bounds by saying that. From everything I'm hearing, he's definitely one of the top guys that are left. And if she doesn't choose him, you can immediately put him near the top of the list for the next "Bachelor." Now granted, it might be tough for this guy to keep a secret considering how many people he told about going on the "Bachelorette" (more on that in a little bit).
In case you weren't following on Twitter yesterday, here were some of the tweets that started coming out in the afternoon when these two went kayaking in the River Walk.
Just hanging out with the new bachelorette and one of her men ???????? #TheBachelorette @BacheloretteABC pic.twitter.com/uH2TiFcoUA

— Lauren Hudson (@Lauren123789) April 2, 2015
Just met and talked with kaitlyn on her one on one! She's so sweet!!!! @BacheloretteABC pic.twitter.com/1QUq3YUTYZ

— Ramey Deshotel (@ramey_deshotel) April 2, 2015
Saw the bachelorette on a casual one on one date pic.twitter.com/P2uZy3krcd

— Chandra Jespersen (@cljespersen) April 2, 2015
@cljespersen update: they are blocking off the Alamo to continue the date tonight pic.twitter.com/FWwogJk5iO

— Chandra Jespersen (@cljespersen) April 2, 2015
They kayaked towards downtown as the film crew was in a barge ahead of them, and ended up at the Arneson River Theater at La Villita.
As for his bio, it has been added to the Kaitlyn's Guys page in the navigation bar up top. That brings us to 11 total guys that I have released so far. Right now, I have 23 of the 25 profiles and bios done. I have the first names of the other two guys, just not their bios. They aren't important to the season anyway, so I'm not in a rush to find them. I will be releasing those little by little as the season wears on. Like I said, I just want to see how this plays out before I start unloading all these guys on you. Be patient my friends. There's a lot you will be filled in on. In the meantime, enjoy all these dates getting spoiled by social media because it's not gonna last much longer.
_________________________________________________________
11. Shawn Booth: 28, Nashville, TN. Originally from Windsor Locks, CT. Graduated Keene State College in New Hampshire in 2008 where he played soccer. This is his sister Meghann's FB page and Instagram (booth10) account. Moved from Connecticut to Nashville a year ago to do consultant work for insurance companies, but as you'll see, has since resigned from that job and when he returns from filming, he'll go back into teaching group fitness classes. Also buddies with Ron Worrell from Andi's season, as you can see a few pictures on his Instagram of them together.
Twitter – @Shawn_Booth
Instagram – shawn_booth18
LinkedIn – Shawn Booth (deactivated as of 3/15)
Here were pictures of Shawn on the sumo wrestling date at Universal CityWalk:
Kaitlyn liked him so much, she let him give her a piggyback ride once the date was over:
This was an email he sent out to co-workers telling them he's resigning to go on the show. It was posted on the Twitter account of @kaylaa_nichols at the beginning of March, but has since been deleted. Woops Kaylaa. Be a little more careful next time.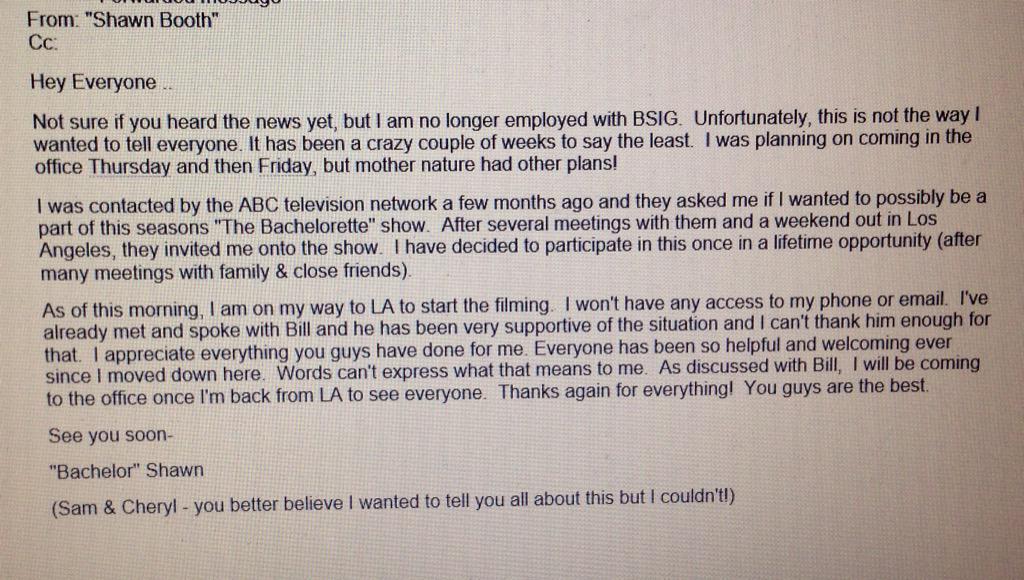 And then another guy that liked taking a picture of himself at the airport right before leaving to go on the show: