Well, well, well…lookie what we have here. I know a lot of you have asked over the years about getting a better mobile version for my website. Your wish is my command. We launched a new mobile version last night around 8:00pm CST that should be a little easier to read. However, the ipad version of it wasn't working, so that still resorts to how it looks if you were to view the site on desktop. We are looking in to fixing that as we speak, so I'll let you know when it can be viewed differently on the ipad when/if we can find out what's wrong. In the meantime, I haven't had any problems with the new mobile version, but I'm sure some will occasionally pop up, so please be patient. It's a work in progress. We're trying new things with our ads, and yes I'm aware that some ads are redirecting people off the page on the mobile site. I've contacted all my advertisers and told them this is unacceptable and we think it's been taken care of. Since I told them, it hasn't happened to me so we'll see how it goes from here. Hope you all like the new look, and remember, it's a work in progress so please give it a little time.
Last Friday night, the "Bachelorette" rose ceremony was filmed at the Alamo, and some people who stood outside at 1:00 in the morning tried getting pictures. Granted, they're far away and blurry and you can't really make out who is who, but it was still a good effort:
I know how many guys originally went to San Antonio for episode 5, so considering we only have 2 more episodes now before we get to hometowns, I have an idea of how many were eliminated that night. As for where they're headed next, well, we let Twitter spoil that for us over the weekend: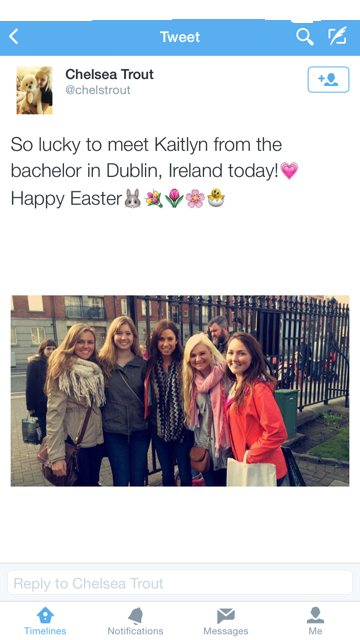 They begin filming episode 6 this week in Dublin, Ireland. I love it when social media does my job for me. I told you last week I had no idea where they were going after San Antonio, and it took all of one day for someone to spot them in Ireland, so thank you to that person for tweeting out the picture. If dates get spoiled this week, I'll be sure to re-tweet and post those as well. If not, even better. Just means less stuff you know before I release the spoilers. I will most likely be releasing a few more guys this week, so stay tuned.
Daily Links 4/6
-Chris will be dancing the rumba tonight on DWTS and he's dedicated to the love of his life, his soulmate, his fiancé – Whitney. Awwwwww, how cute. Whitney really likes taking pictures with the OTHER Witney and posting them to social media. I guess she really wants to keep making it clear to people that it's totally ok for Chris to be dancing that intimate with her and she has no problem with it whatsoever.
-Michael Keaton hosted SNL this past weekend and here's EW.com's recap. Overall I liked the episode, with a huge shout out to the last skit of the night where he was a creepy older guy talking about Easter, with hilarious supporting roles from Kate McKinnon and Bobby Moynihan. You know it's an 11:50pm skit when you see weirdness like that.
-You'll never believe this, but someone from the Kardashian clan is making headlines again. I know, shocking. But Kylie Jenner is taking some heat for a photo she posted the other day that I guess depicted black face? Again, another case where I think people were looking to attack her. Trust me, I can't stand the Kardashian's as much as the next person, but I really don't think she was aiming for blackface here. What Julianne Hough did last Halloween? That's black face. This is just stupid makeup and almost making herself look like an Avatar character.
-"Survivor" castoff Kelly had her conference call with the media last week. As I mentioned, it still seems like the Blue Collar alliance that was able to get Tyler and Carolyn over with them would seemingly have the 6-5 advantage this week. However, I think Rodney now becomes the swing vote since he doesn't see eye to eye with the rest of them. Will be interesting to see where he goes.
-Kaley Cuoco Sweeting isn't even married a year I don't think and already she's dealing with divorce rumors. I don't know where these started or who started them, but when she has to come out and vehemently deny them, as opposed to just ignoring them, tells me where there's smoke, there could be fire. We'll see. Always gotta be leery of those couples where one person is way more famous than the other person (i.e. Hilary Swank and Chad Lowe).
-"Marriage Boot Camp Reality Stars" has announced their cast for season 3, and I tell ya', it's a Who's Who among the insignificant names in the reality TV world. Hell, The Situation is on it and I didn't even know he had a girlfriend. I watched the first few episodes of the first season of this show because Trista and Ryan were on it, and I was bored. Not to mention, WE TV isn't even in HD and boy did that make it look low budget. I know. First world problems.
-There's a reason why we haven't seen much of Juliette Barnes this season on "Nashville," it's because Hayden Panettiere was pregnant during most of the filming, so I guess they couldn't do much for her storyline. Until this week when her character finally pops. I've always found it awkward when a big giant dude dates a little small woman just because it looks funny. You know, like Hayden and her boyfriend, professional boxer Wladimir Klitschko who goes 6'6". Hayden is 5'0". Too funny. He must crush her.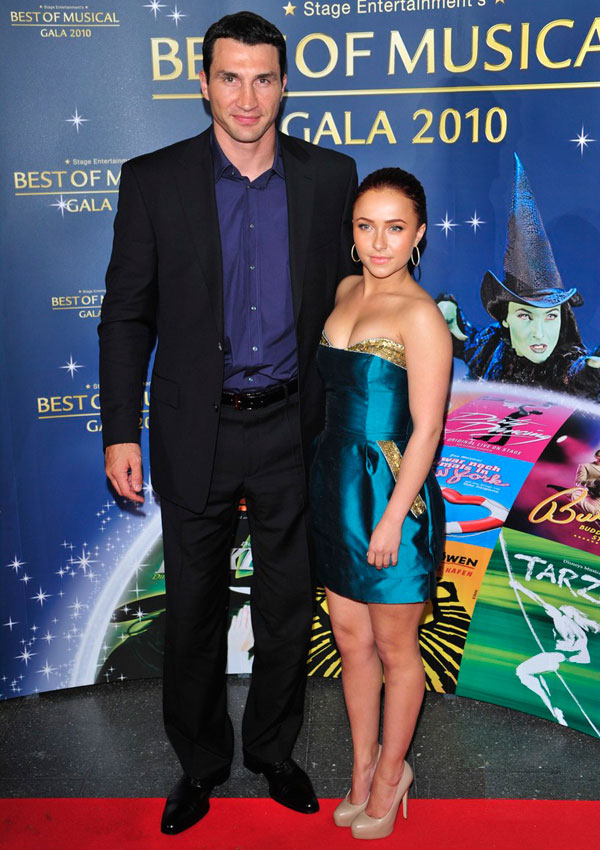 -Usually winners from "America's Got Talent" fade off into the sunset and you don't hear much from them outside of season 2 winner, Terry Fator, who's been headlining in Vegas ever since he won. But honestly, can you name any winner that's taken off since they won? Me neither. Last season's winner Mat Franco may have a chance. He's going to have two NBC specials airing soon, along with getting his own show in Vegas coming up. I'd say that's pretty big.
-Uh oh. Another celebrity couple is heading down that road. You know, the road where they sign on to have a reality TV show about their marriage, when inevitably end in divorce like it has for so many other reality TV couples. Kellie Pickler and her husband-that-Ive-never-heard-of have signed on for a new reality series on CMT called "I Love Kellie Pickler". So what has Vegas set the over/under at on how much longer their marriage lasts?
-Chris Martin and Jennifer Lawrence were spotted together again recently sparking rumors that they might be back together. Hey, all the power to them. If he can handle the fact that most living, breathing males have all seen her private nude pictures that got hacked into, then good luck to them. Well, except me. I never saw them. Ever. Didn't even know until it was too late. I'm sure they were wonderful though.
-The fat shaming of Kelly Clarkson continues. A Fox News reporter Chris Wallace joined in on the action when he said Kelly should lay off the deep dish pizza. Look, we all know Kelly hasn't lost any weight that she put on during the baby she delivered over 9 months ago. That's not a secret. But if you're a reporter from a major news organization, you probably don't want to be saying sh** like that.
-Giuliana Rancic appeared on the "Today" show this morning to address her weight issues again as well as her comments about Zendaya on "Fashion Police." Basically what she's been saying this whole time, but a little more in depth. Yes, she's skinny. We can all see. But if it comes from her cancer medication, does she really need to take to TV to tell people that? Isn't she just giving in to the trolls by doing that?
-Reggie Bush is expecting baby #2 with wife Lilit Avagyan. Hey, didn't rumors recently start that Nori West is actually Reggie's baby and the Kanye thing is basically a cover up? And how creepy is it that once Kim and Reggie broke it off, he went out and got himself a poor man's version of Kim?
-Kendall Jenner wore this outfit for Easter mass yesterday. Just thought you should know.
-The son of Michael Jackson, Prince Jackson, is apparently spiraling out of control and may need an intervention soon. No sh**? Man, I never saw that coming. He had such a normal childhood growing up with a blanket over his face. You'd think a kid like that would be totally well adjusted and run smoothly in most social circles. Hmmmm. Confusing.
-And finally, Happy Opening Day to all baseball fans out there. Well, unless you're a Cubs fan who had to deal with the bathroom problems at Wrigley Field last night. Yeah, that doesn't look too sanitary. Then more people decided to email their stories to Deadspin.com and what you thought was bad was actually worse. Exactly how did Wrigley Field operators think this would go with only 2 working bathrooms in a full baseball stadium on opening night?
Send all links and emails to: steve@realitysteve.com. To follow me on Twitter, it's: www.twitter.com/RealitySteve. Instagram name is "RealitySteve," or join my Reality Steve Facebook Fan Page. Talk to you tomorrow.