Social media has changed the way the "Bachelor/ette" spoilers have gotten out. Before the advent of Facebook, Twitter, and Instagram, this show could go about filming for 2 months every season with barely anything getting out. It just wasn't a big deal to people. Now, this show can basically go nowhere without someone with a camera getting a shot of it, hence the reason in recent seasons, they've opened dates up to the public. Those aren't spoilers. I mean, I guess technically they are, but when they are asking people to come see filming, they're not trying to hide anything. If everyone can see with their own two eyes what's happening, it's not a secret. Only makes my job easier. But every once in a while the show tries to get tricky and begins trolling their own audience. Take what's happened in the last 24 hours. As we know, I spoiled back in New York that Nick returned to the show during the rap battle group date, and even gave you pictures of him alone with Kaitlyn that night at Chelsea Piers. Then we know he made it to San Antonio due to the mariachi group date we saw pictures of him on. Now that filming has moved to Dublin, Ireland the question was brought up again, "Is Nick still there?" The answer?…
Yes, he is. Despite his Instagram post yesterday and despite his tweets this morning, I can assure you Nick is still on the show. Producers are obviously aware that Nick being on the show has been spoiled, so they've decided to have a little fun. They're not fooling anyone, but they sure are getting people to talk, which is exactly what they want. I'm here to tell you Nick is still on the show and any social media activity from yesterday and today is just producers jerking with people. Either they had him purposely send out the Instagram and Twitter post, or they did it for him.
Not 30 minutes after I posted yesterday's "Daily Links," someone in Dublin, Ireland tweeted this photo at me that I re-tweeted to all my followers (they've since deleted it):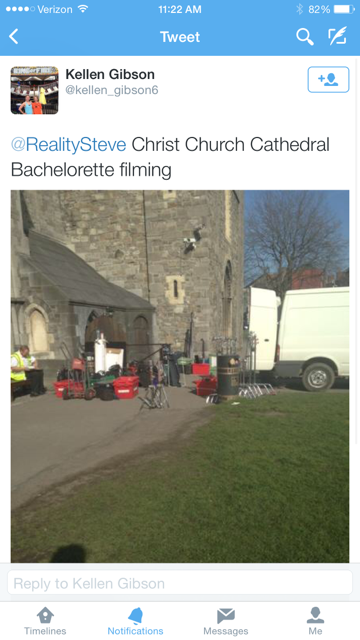 I can confirm to you that yesterday's 1-on-1 date did take place at the Christ Church Cathedral. At least the night portion did. Not sure what they did during the day. So there's yet another date that was spoiled from this season on social media. Lets see how many others in Ireland can get spoiled.
Daily Links 4/7
-I don't watch this show but since she's hot, I'll bring it up. Nina Dobrev is leaving "Vampire Diaries" after six seasons. What a shame. Six seasons of shows I never watched, yet I'm saddened she's leaving the show. I'm guessing it's to start making more movies. I only saw her in "Lets Be Cops," so if she wants to make any more, she can go right ahead. I won't complain.
-Some stalker paparazzi got the first pic of Bruce Jenner we've seen in a couple weeks I think when they saw him/her hiking in Malibu. But that's not the most important news regarding Bruce. Diane Sawyer has nabbed the exclusive interview with him that'll air on ABC on April 24th for 2 hrs. I'm serious when I ask this: Does this mean he will change his name to something feminine too, or does she just keep her name as Bruce? I think I've seen it both ways. Didn't know the exact protocol for something like this.
-Nick and Vanessa Lachey shared their first photo of daughter Brooklyn over the weekend. Man how time flies. Who would've thought 10 years ago and Nick and Jessica would both be re-married and having kids with other people after watching their newlywed life play out on MTV? Not I, said the liar.
-Boy J-Lo just can't keep her hands off the young meat, can she? Looks like she's back together with her boy toy Casper Smart as they're taking her kids down to Mexico for a little R&R. Is it safe to say J-Lo is the ultimate cougar in Hollywood right now? Or is there someone else who's escaping me? Hell, she looks better now than she did at 25.
-As announced on DWTS last night, they will be having another summer live tour from June through August this year, and Melissa Rycroft will be the host. I've never seen one of these in the past, and this basically solidifies I never will. I guess once her reality show failed, Melissa needed to find another way to get herself back in the public eye again, so she agreed to do this.
-Oh those silly Jenner's. Always playing around and being pranksters. Such young, funny kids, you know? I mean, if you're a girl and you have a sister, you can probably relate where these two are coming from. Seriously, like you haven't stuck your hand down your sisters pants and posted it to social media before for everyone to see? Please. Stop being such a prude. Let them fondle each other for us all to see. Makes the world a better place.
-You knew this story would get my blood boiling. No one makes fun of Zayn and gets away with it. Bill Maher thought it'd be hilarious to compare Zayn to the Boston Marathon bomber. Yikes. I know Maher is all about pushing the envelope, but really? Think he might be regretting that one? Probably. And oh yeah, for those that are asking, there is only one reason why Kentucky's undefeated season went up in flames on Saturday. #BecauseZaynleft
-More game show hijinx. Talk about putting your foot in your mouth. You think this guy isn't looked at differently by parents in his neighborhood after giving this answer on Jeopardy?
–Fox News analyst Chris Wallace has apologized to Kelly Clarkson for fat shaming her over the weekend. Yeah, I'd say that was a smart move considering it's not like you're any prize to look at either. At least he admits it. Unfortunately this won't be the last case of fat shaming in Hollywood. I set the over/under about a week before someone else does it.
-There's a show on TV called "Neighbors with Benefits" that focused on a street where the married couples were swingers. Well, let me rephrase that. There was a show on TV called "Neighbors with Benefits." They were just cancelled after only two episodes had aired. Can't imagine why this concept didn't work and was panned by critics. Real head scratcher. I guess "The Soup" will have to find a new show to make fun of this week.
-The "Star Wars" saga will soon become available on digital downloads. I tell ya', you won't find a more passionate fan base than the ones who follow the Star Wars series. Those nerf herders know everything there is to know about this franchise…and then some. I still think to this day, the funniest Triumph the Insult Comic Dog's best bit was when he visited the dorks waiting in line for "Attack of the Clones" in NYC. Classic.
-Ashton and Mila decided to take in the Dodgers Opening Day at Chavez Ravine yesterday and took selfies. Stars. See!!! They're Just like us!!!!! They go to baseball games and take selfies. Of course, those two were probably sectioned off somewhere so the gangster Dodger fans didn't end up shanking them. I can say that even being a Dodger fan since 1986. I'll watch them on my MLB Extra Innings package, but I have zero interest in attending those games. I value my life.
-Jennifer Love Hewitt is expecting baby #2 shortly, and she's already dressing the part. There are some women who still try to go for the sexy look once they're pregnant. Not Jennifer. She's basically given up and gone to the unkept, ratty hair, mumu look. I just lost my hard on for her.
-Season 31 of "Survivor" that airs in September, has already begun filming. And according to the spoiler sites, season 32 looks to be an All-Star season with a different twist. 40 former contestants, including a couple from back in season 1, were asked to make videos so fans can vote on them returning to the show. Website RealityBlurred.com has the list of 40 contestants who are in the running for season 32. Man, that's a lot of people I don't remember by name. Faces look familiar, but half those names I wouldn't recognize.
-And finally, a Giuliana Rancic story that doesn't involve her weight or the "Fashion Police" scandal. She has a new book coming out and in it she says back when she was dating Jerry O'Connell, he cheated on her with Spice Girl Geri Halliwell. Not only that, but when he started banging Rebecca Romjin while he and Giuliana were still together, he just stopped returning her calls. And when she confronted him on it he ended it over text by saying, "Nope. Sorry, homegirl, Things change, but you take care, okay?" Wow. Seems like a keeper.
Send all links and emails to: steve@realitysteve.com. To follow me on Twitter, it's: www.twitter.com/RealitySteve. Instagram name is "RealitySteve," or join my Reality Steve Facebook Fan Page. Talk to you tomorrow.