Man, has it really been a full week since I've done a "Daily Links?" Well, at least I gave you 8 more guys on the "Bachelorette" along with more spoilers and some teasers during that time. Speaking of those teases, a lot of you emailed me guessing yesterday on any of the 10 teases I gave you. Of all the emails, and of all the guesses, one person guessed one of them right. I mean sure, if you guessed every name for every question, eventually you would get them all right, but it's pretty funny how basically everyone got everything wrong. Then again, all you have to go off this season is pictures and locations of the guys, so why would I expect you to actually know what's happening in filming? I'm just curious to see how people make their assumptions based off of head shots and pictures, when in reality, it means nothing. We haven't seen any of them do anything other than have their picture taken by random strangers, yet, some people have formed some serious opinions on Kaitlyn's guys. Interesting dynamic. Let me just say that there's a lot more still to come about what's going on this season that I'll fill you in on. Yesterday I teased you with 10 things. I have another 10-15 I could probably do. That's how much information has yet to be put out there. A lot of stuff this season. Looking forward to it.
Daily Links 4/15
-Chris and Witney seem to survive the bottom 2 of DWTS every week. Has there been an episode where they weren't in jeopardy? I don't think so. Regardless, I'm sure you saw this picture over the weekend that got people talking. Yes, she shaved his chest for their Disney dance this week but, ummmmm, it certainly doesn't look like that's what the picture is insinuating. I hope I don't need to spell this out for you. After having to deal with cheating rumors all last week, I'm sure fiancé Whitney was thrilled to see these pictures made public.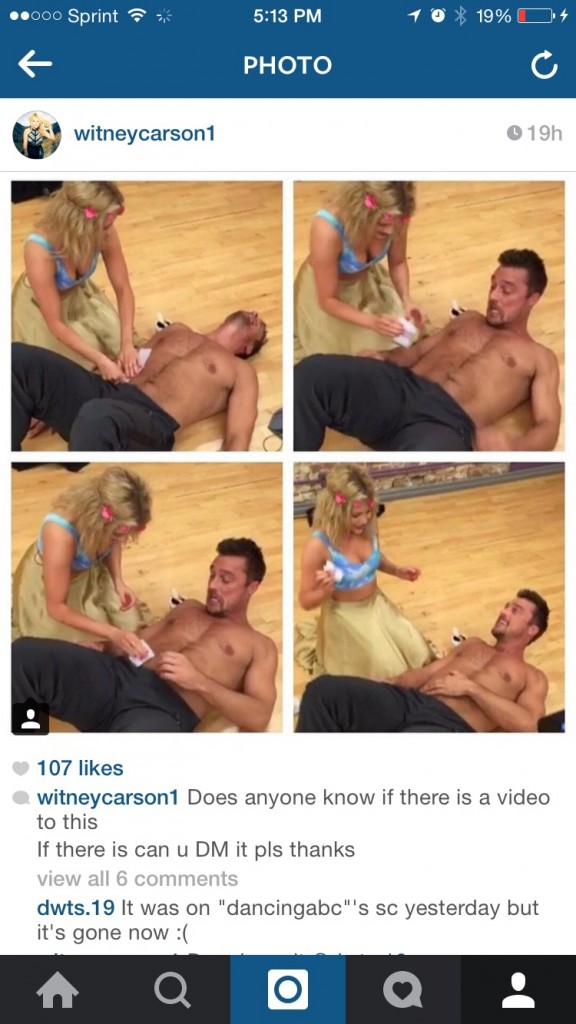 -If you want behind-the-scenes DWTS scoop, a colleague of mine Jessica Radloff covers it every week for Glamour magazine. Always some good little nuggets and stories in there for you if you're really into what happens after the show.
-Speaking of former "Bachelor" contestants on Instagram, I bring you Nikki Ferrell. Look at her camo pants everyone! Don't you want a pair now? Totally, right?! I mean, the way her legs just accentuate the style in those pants are perfect.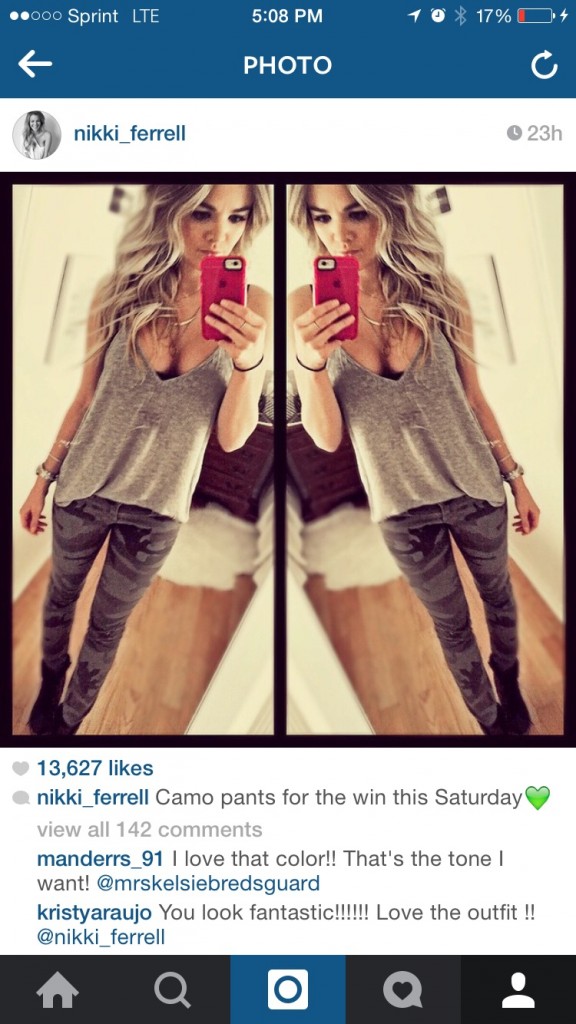 If anyone thinks for a second that Nikki posted that pic to show off a pair of camo pants, I don't know what to tell you. When you got em', you flaunt em'. There's a reason women get boob jobs. It's to do things like this. Very subtle, Nikki.
-Nell Kalter's final RHOBH recap of the season is here. Thank you for all her recaps on "Vanderpump Rules" and RHOBH this season. She will absolutely be back next season covering both shows due to the great response she's gotten.
-Since there hasn't been a "Daily Links" since last Wednesday, there's a few stories that are a few days old but worth mentioning. You know, like Jennie Garth getting engaged over the weekend. WHAT? To who? Brandon or Dylan? Who the hell is David Abrams? And why the hell didn't she tell him, "I choose me." Someone get to the bottom of this now.
-The"Scream" franchise is beginning a run on MTV and frankly, I'm absolutely looking forward to it. The only show I watch on MTV is "Catfish," and even that is starting to run its course. However, I will add "Scream" now since I've always been a fan of the franchise. Lets see how it does.
-The MTV Movie Awards were this past weekend and I guess the biggest thing to come out of it was another trailer for "Pitch Perfect 2." Yes, you can count me in as someone who's ready to be pitch slapped. Bring it on.
-Ryan Reynolds escaped injury during a car accident in Vancouver recently. Not much real news to report here since he's ok and wasn't close to being injured, but I figured I'd mention the story to remind everyone that he and Blake named their daughter James. Their daughter. James. Just think about that one and get back to me.
-Have you ever woken up and thought to yourself, "I want to be on the same exact eating pattern as Kim Kardashian?" Well, now you can. She shared her daily meals with Harper's Bazaar and it's fascinating really. And by "fascinating" I mean "coma inducing." I can't wait until their next article all about Kim's daily bowel movements.
-Ireland Baldwin, the daughter of Alex Baldwin and Kim Basinger, has checked herself into rehab. Let me say that again. Ireland Baldwin, the daughter of Alec Baldwin and Kim Basinger, has checked herself into rehab. Interesting. What would've been more interesting is if the daughter of those two DIDN'T end up in rehab at some point.
-Kelly Clarkson says she doesn't plan sex with husband Brandon Blackstock. Is there a reason we've moved on from talking about her weight to now her sex life? People are curious about that? Really? How invasive. I know I sure wasn't.
-Now here's something you don't see every day. Or ever for that matter. Tori Spelling had to go to the hospital on Easter Sunday after tripping and falling onto the grill at a Benihana's while with family. For those that don't know, I'm a huge Benihana's guy. Love that place. But in all my times there, I've never tripped by the grill, then tried to catch my fall with my arms on a BURNING STOVE. I'm gonna go out on a limb here and say Tori was hammered. Just a hunch.
-Billy Joel is expecting his first child with girlfriend Alexis Roderick. Alexis is 33 and Billy once had dinner with Jesus. And oh yeah, Billy has a daughter with Christie Brinkley that is 29 years old, so I'm sure that's not the least bit awkward for her.
-Speaking of Christie Brinkley, you ask anyone roughly my age who their dream girl was in the early mid 80's and just about everyone would say Christie Brinkley just based off her performance in "National Lampoon's Vacation." Well, unoriginal Hollywood is at it again as they are rebooting the franchise with just "Vacation" and the first picture from the set is out. This one will have Rusty and his wife on a family vacation, while Clark and Ellen will make an appearance. Wonderful. I'm sure this will go off as well as "Dumb and Dumber 2" did.
-Remember "New York" from the "Flavor of Love" show and her own spinoff "I Love New York?" She's back in the news because she went and got herself some wonky boobs. She appeared on E!'s "Botched" last night and I'm sure it was a massive train wreck. I didn't watch, but, yeah. It was.
-What year did throwing baby gender announcement parties start and when will they end? I understand everyone wants to get creative with these, but it's getting out of hand. So lets see, there's now gender announcement parties, baby showers, bridal showers, and bachelorette parties now that all happen before the wedding does? Great. Ladies, let me fill you in on something. Your boyfriend/husband wants NO PART of a baby gender announcement party. None. And if he says he does, he's lying. With that said, this couple made their baby announcement with a cheesy rap to the "Fresh Prince of Bel Air" theme song while driving. Shoot me.
Send all links and emails to: steve@realitysteve.com. To follow me on Twitter, it's: www.twitter.com/RealitySteve. Instagram name is "RealitySteve," or join my Reality Steve Facebook Fan Page. Talk to you tomorrow.