Wow. Do you realize today is exactly one month away from my 40th birthday party in Vegas at Mandalay Bay? I'll be giving more updates as we get closer, but right now we're pretty much right at capacity. If you are still interested in coming, and you are not driving, to confirm a spot on the guest list you just have to show me you purchased a plane ticket. Not a lot of room left. I really can only take maybe 5-7 more people, so if you're still interested, you would have to purchase soon. Anyone who has already purchased and I've told is confirmed for the guest list, if anything changes on your end, please let me know. The party is Friday night, June 5th in my room. Appetizers and open bar, along with a little surprise I have for everyone. If you can't make it Friday and are interested in hanging out Saturday, that's fine as well. Just let me know you'll be there and I'll update what the plan is for Saturday as we get closer. Obviously if you want to show up, I can't stop anyone from coming to Vegas. I just cannot guarantee entry into the room party Friday night due to capacity in the room. But there will definitely be a meeting place Saturday night if you're interested in showing up, so let me know if you're interested.
One correction that I've made to yesterday's column. The people Britt and Brady were hanging out with in Cardiff on Saturday was not her sister. Britt only has a younger brother, Karl Nilsson. And neither of Brady's siblings live in San Diego, so I'm not sure who the people are they were with.
I told you that every day leading up to the premiere on the 18th (minus this Friday and next Monday), I would give you some info regarding the "Bachelorette" that I haven't released yet. Today you're getting pictures. Yay! Pictures! We all like pictures, no? I've had these pictures since, well, the day they happened. Are they earth shattering? Jaw dropping? No and no. But hey, they're pictures that no one else has so I figured I'd share them with you so you can get more familiar with Kaitlyn's Guys. As you know, filming started on Thursday night, March 12th and the first 3 episodes they filmed this season were in LA before they headed off to New York. They left for NY on Tuesday, March 24th out of LAX. I told you at the time I had pictures of a few of the guys at the airport. Here they are:
(L to R): Tanner Tolbert, Ben Higgins, Jared Haibon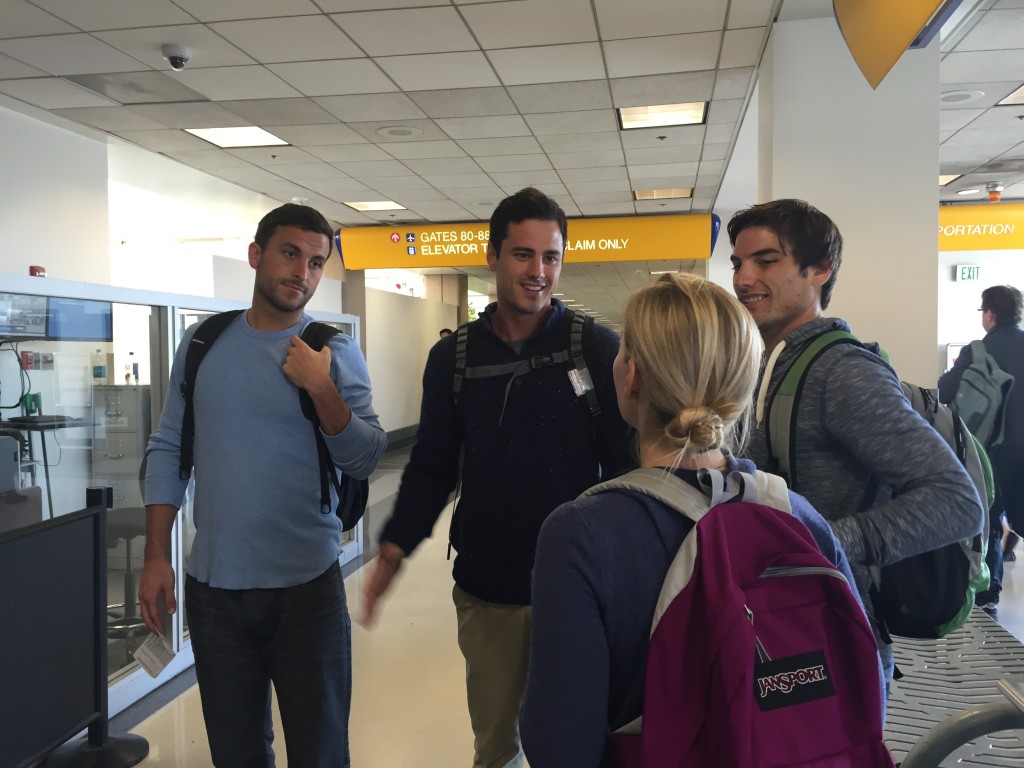 Ryan Beckett (Jonathan in hat with the earring)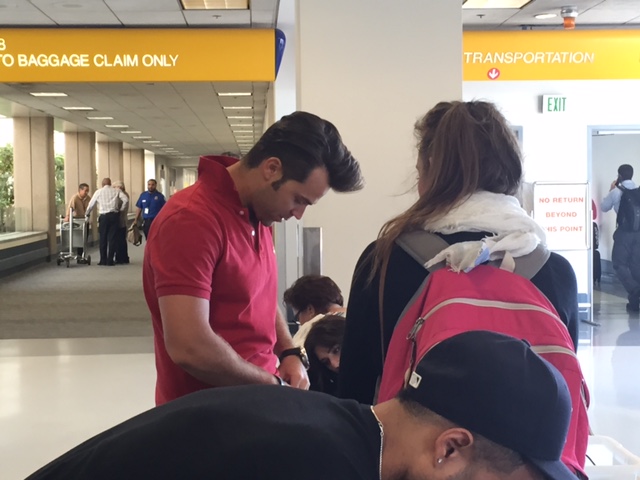 JJ Lane (on left in plaid shirt) & Justin Reich (in the background getting their bags – Joe Bailey with the sideburns & Ben Zorn next to him)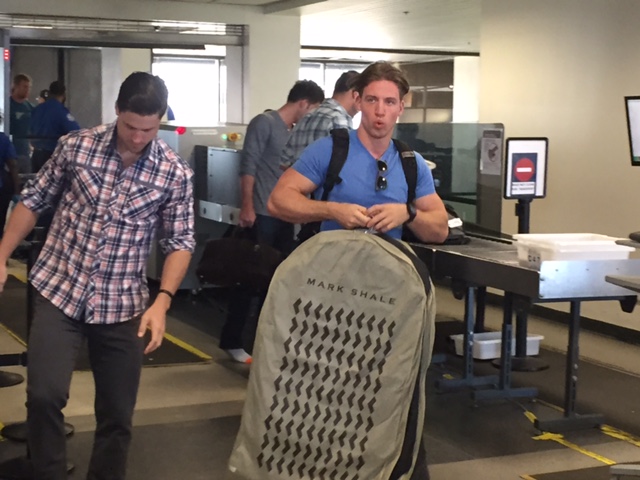 Corey Stansell (Jared in background)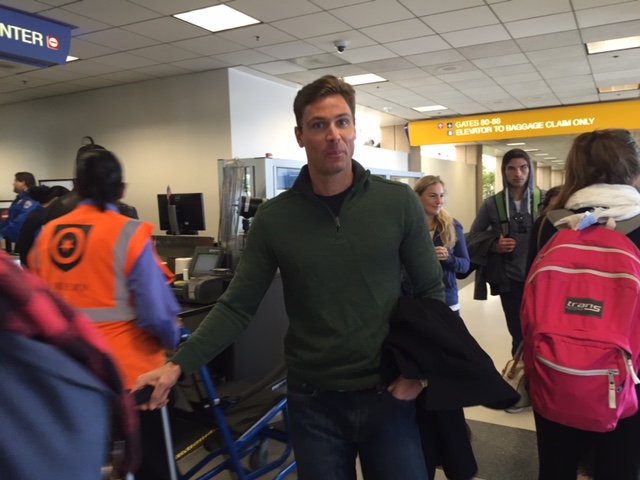 (L to R): Corey, Chris (middle), Jared (in hoodie), Shawn Booth (far right w/ water bottle)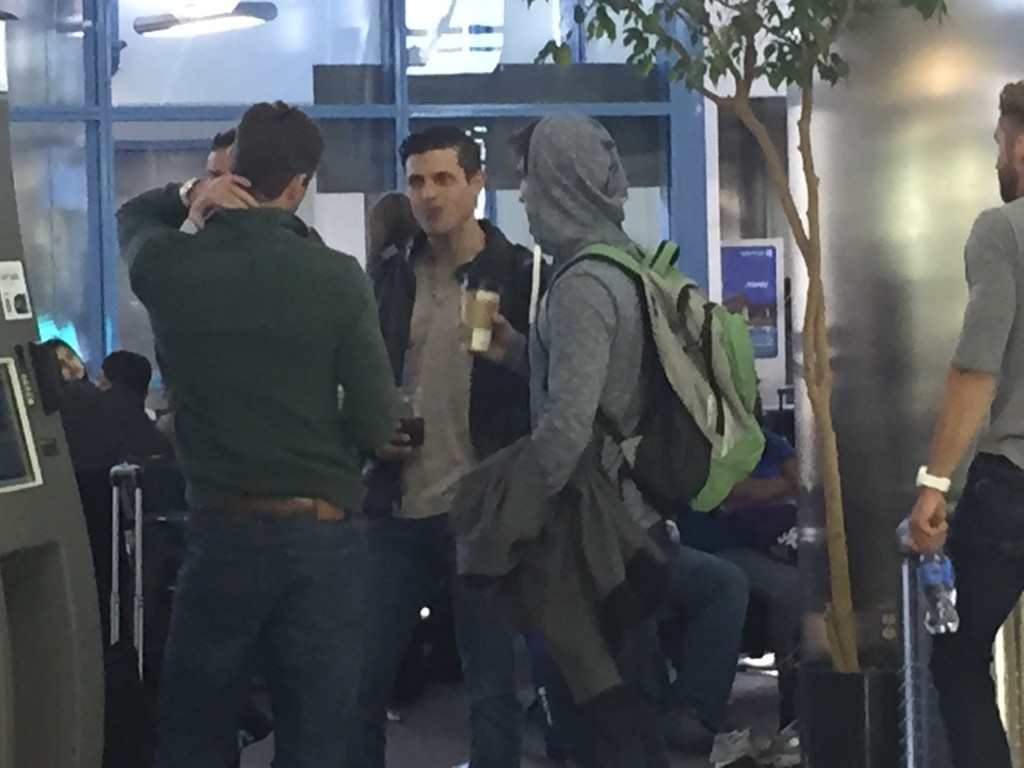 What's funny about the airport pictures is, I'm not sure how many of you know this, but when they're early in the season and traveling in groups, they are not supposed to interact with anyone in the airport or on the plane other than each other. If people randomly ask them questions, they are supposed to lie about who they are and what they're doing. For past seasons whether it's "Bachelor" or "Bachelorette," they have been told to tell people they are a traveling volleyball team or soccer team. On this particular day, the guys were telling people they were on a rowing team. Once they were pressed on exactly where they were headed and what rowing team it was, they basically shut down and their "chaperone" with them told the person to stop taking pictures. Oops. Too late. I love how the show wants to keep this sh** guarded like it's the CIA, yet every single season it gets spoiled. A volleyball team? Yeah, totally believable. The girls on the "Bachelor" season even have to say that too when they travel. So dumb. So anyone who's ever traveling in the future and you see a group of good looking people not wearing any sort of matching uniform sweats or jackets yet say they're part of a traveling volleyball team, just know it's probably the "Bachelor" or "Bachelorette."
Once they were in New York, I already gave you the breakdown of who and what happened on the rap date, so here are a few pictures from it:
(L to R): Jonathan, Tanner, Ben Z., JJ (plaid shirt), Corey, & Shawn Booth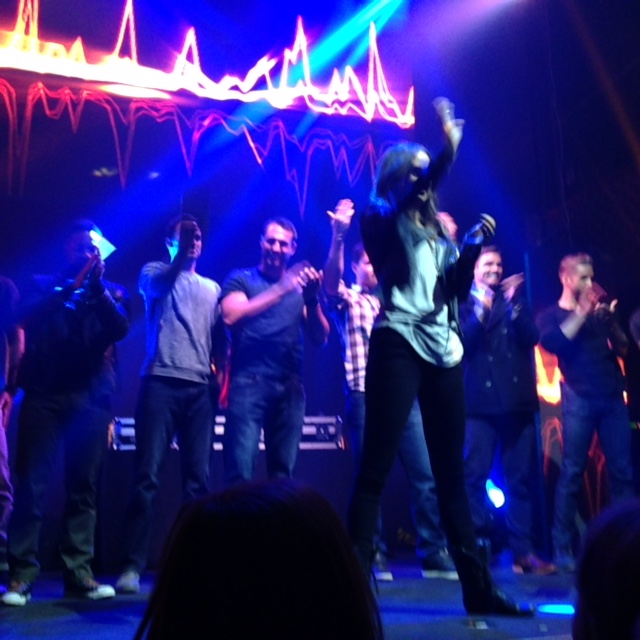 (L to R): Shawn (behind Kaitlyn), Tanner, Justin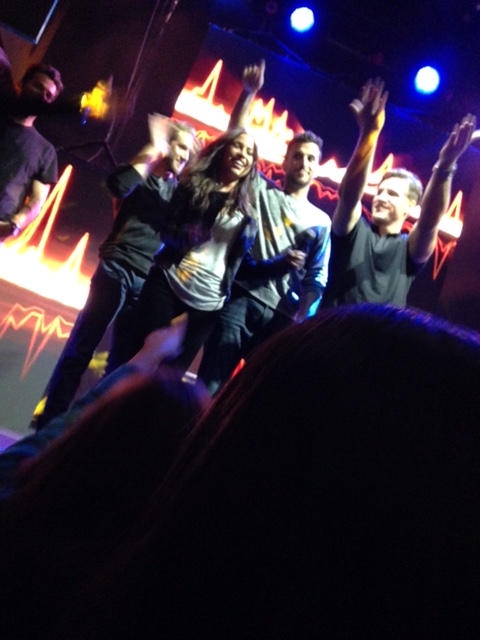 Rap Battle: JJ vs Corey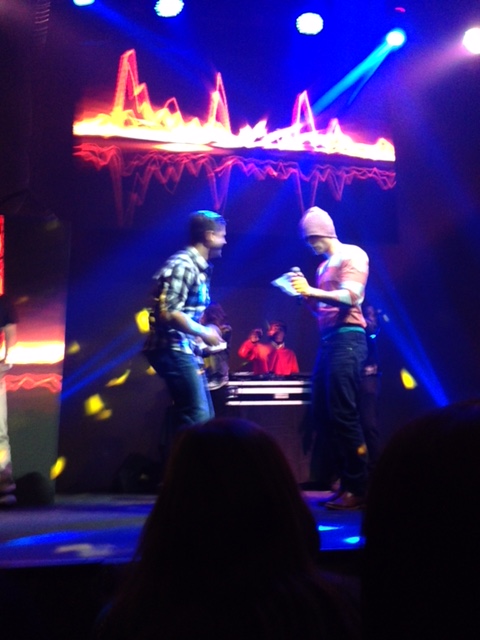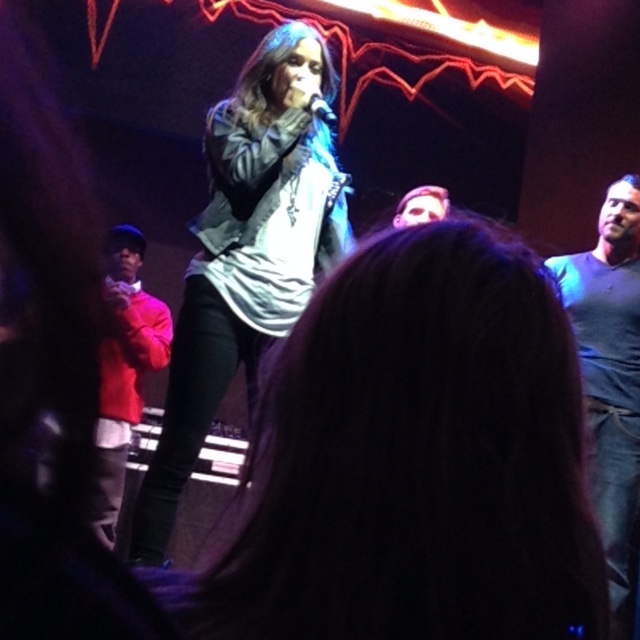 Kaitlyn & Doug E. Fresh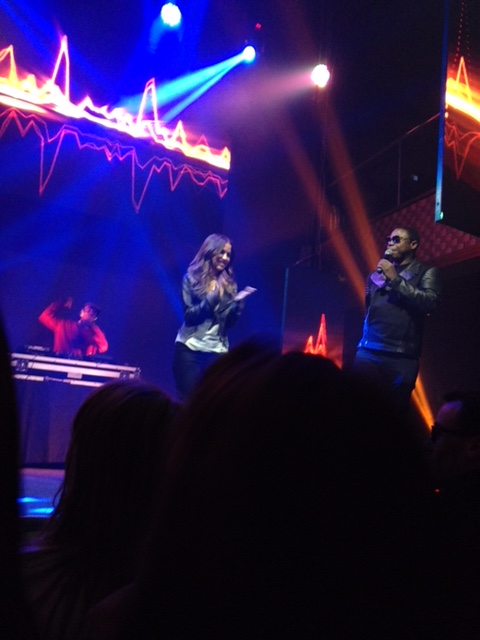 And finally, I'll end it by giving a little background to one of the teaser answers I gave you earlier. I asked you what Roberto had in common with one of the guys from this season, which ended up being Chris. I loved hearing some of your guesses, but honestly, none of you were anywhere close to what the answer was. Remember in Ali's season when she had an episode in New York she had a group date where the guys auditioned for a role in the "Lion King," Roberto ended up winning and the two of them got to perform in the show? They did the same exact thing on Kaitlyn's season, except the show the guys auditioned for was "Aladdin." Chris ended up winning the group date and got to perform briefly with Kaitlyn in "Aladdin" that night. I'm sure just like Ali and Roberto, they stuck these two in the back and nobody noticed or had a clue they were in it. Although afterwards, a couple people caught Kaitlyn and Chris outside the theater as they were being filmed:
Casual selfie with the Bachelorette pic.twitter.com/dpuZ3NueIE

— Paige Dabney (@paigecdabney) March 28, 2015
I just met the bachelorette ???? pic.twitter.com/KgABVPgaLN

— Ali Schackow (@AliSchackow) March 28, 2015
So that's it for today. Back with more tomorrow including "Daily Links."
Send all links and emails to: steve@realitysteve.com. To follow me on Twitter, it's: www.twitter.com/RealitySteve. Instagram name is "RealitySteve," or join my Reality Steve Facebook Fan Page. Talk to you tomorrow.