Episode 2: (airing May 25th) Los Angeles, CA (19 to 16)
Group Date: 8 guys in a boxing match. Details of the date was spoiled back on April 14th. Laila Ali was the judge, along with Chris Harrison and Kaitlyn. There were 3 one minute rounds. 4 matches in the first round, 2 matches in the semifinals, then a championship match.
Round 1:
Ben Z. beat Daniel
Corey beat Justin and ended up giving him a black eye
Kupah beat Tanner
Jared beat Ben H.
Round 2:
Ben Z. beat Corey
Jared beat Kupah
Championship:
Ben Z. beat Jared (possible Jared might've suffered a concussion)
Ben Z. ended up getting the group date rose at the after party.
1-on-1: Clint Arlis. Left mansion in an old school Mercedes convertible. Their date consisted of doing some underwater photography then afterwards had dinner. Clint got a rose.
Group Date: Comedy club date hosted by Amy Schumer. Ian, Joshua, Tony, JJ, Chris, Joe, and Jonathan were on the date. Most memorable thing from the date is Joe called Kaitlyn up on stage for his last joke and said there are two types of people, winners and losers, and he doesn't want to be a loser so he kissed her.
Also, there was another female comedian there who got up on stage and did a song about boobs and ended up motor boating Joe and Ian. Kaitlyn even got up there to tell jokes and made one about Britt saying she chewed her up and spit her out like breakfast. Actor Justin Long was sitting in the audience but didn't get up on stage or was part of the date. Just an observer. JJ got group date rose.
Ryan B., Cory Shivar, and Shawn Booth didn't get a date this episode.
At the cocktail party, Kupah and Kaitlyn had a disagreement about something they didn't see eye to eye on and she ended up sending him home.
Rose Ceremony Eliminations: Daniel Finney and Cory Shivar. Kupah eliminated before rose ceremony.
Episode 3: (airing June 1st) Los Angeles, CA (16 to 14)
Group Date: Sumo wrestling at Universal City Walk. 6 guys started out on the date: JJ, Chris, Clint, Shawn B., Joe, and Tony. The world champion sumo wrestlers come to the mansion in the early morning to demonstrate with the guys before the date. Since Tony is very anti-violence, and not happy with the fighting, he basically eliminates himself from the date and doesn't want to participate. He showed back up later on after the sumo wrestling and told Kaitlyn that he was leaving. It's unknown if he actually injured himself during the morning session with the sumo wrestlers and that's how he tore his ACL. But hey, since he's a healer for a living, lets see if he can miraculously heal his own knee by meditating or talking to his plants. At Universal City Walk, my mom, sister, and niece all happened to be there that day and got pictures and video, some of which were posted back on March 24th. Shawn Booth got the group date rose.
Clint vs Sumo guy:
JJ vs Sumo guy:
1-on-1: Ben Zorn. When the date card is delivered, the card is from Chris Harrison and not Kaitlyn. Kaitlyn doesn't know who is on her date until he shows up. They had a "Fear Factor" date in an abandoned warehouse that basically mimicked the "Fear Factor" show. Ben got the rose.
Group Date: 6 guys (Ryan B., Joshua, Ben H., Jonathan, Tanner, and Jared talk to a bunch of little kids at school about sex. Ben H. got the group date rose.
Corey Stansell, Justin Reich, and Ian Thomson don't have date this episode.
At the cocktail party, Clint started acting like a horses ass and was becoming too cocky for everyone there, and Kaitlyn sends him home.
Rose Ceremony Eliminations: None. Tony was gone on his group date and after Kaitlyn sent Clint away, she cancelled the rose ceremony and brought the remaining 14 guys to New York.
Episode 4: (airing June 8th) New York, NY (14 to 11)
Group date: Rap Battle Date w/ special guest Doug E. Fresh. This was spoiled back on April 21st. 8 guys competed against each other: Shawn B., Corey, Ryan B., Justin, JJ, Tanner, Ben Z., Jonathan. There were four 2-man rap battles, where the winner was chosen by audience applause. Kaitlyn started out by rapping first and managed to rhyme Britt with sh**. Clever. Here's how it went:
Shawn Booth vs Justin – Justin referenced Shawn getting the first impression rose. Also mentioned he looked like Ryan Gosling with down's syndrome. Ouch. Shawn was the winner.
Corey Stansell vs JJ – Corey dressed the part, had on a beanie, and the consensus was he had the best rap. JJ rapped about the Duke Lacrosse rape and got boo'ed, and rightfully so. JJ and Clint had a bromance in the earlier episodes that Corey brought up, as did Kaitlyn when she rapped in the beginning. Corey was the winner.
Jonathan vs Ryan Beckett – Ryan said you wish you were as black as me. Jonathan said he was the whitest black guy. Ryan was the winner.
Tanner vs Ben Zorn – Tanner made a bunch of steroid references, protein shakes, and something about a rocket in his pocket. Tanner was the winner.
Justin Reich got the group date rose.
(L to R): Jonathan, Tanner, Ben Z., JJ (plaid shirt), Corey, & Shawn Booth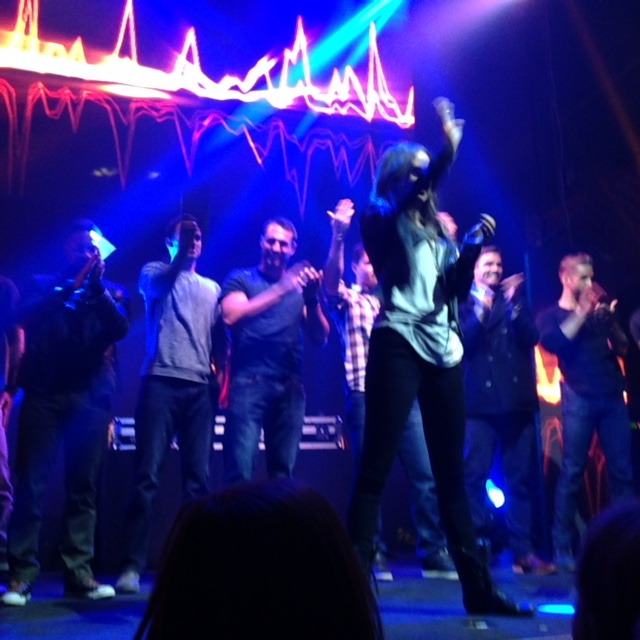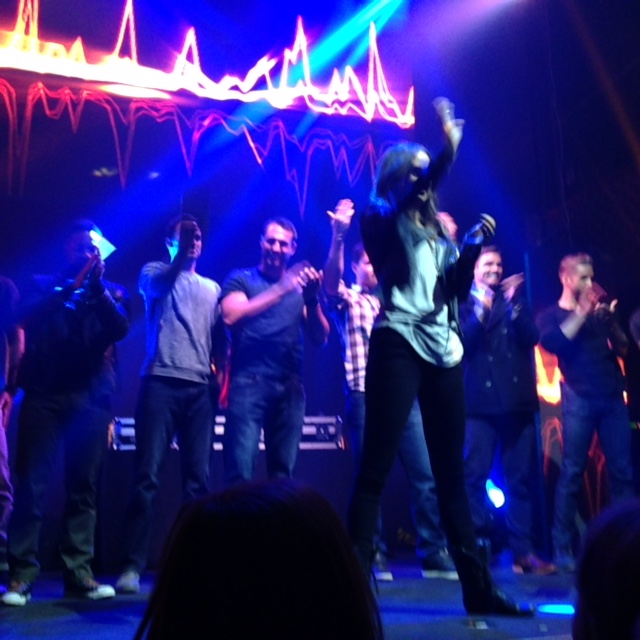 (L to R): Shawn (behind Kaitlyn), Tanner, Justin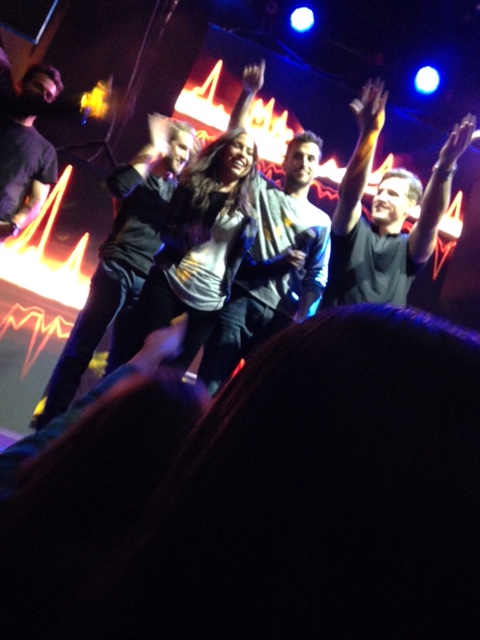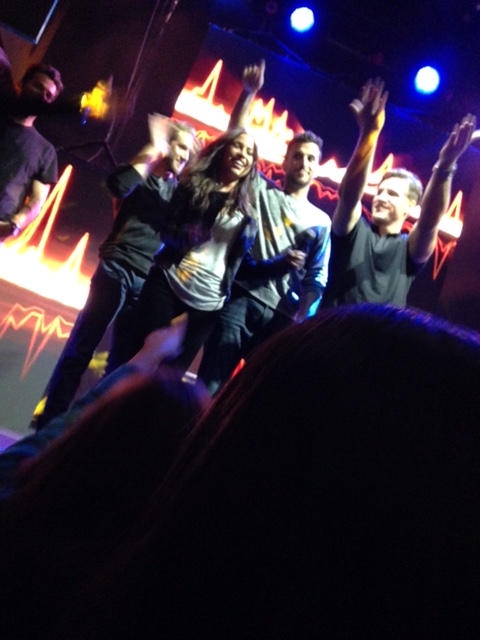 Rap Battle: JJ vs Corey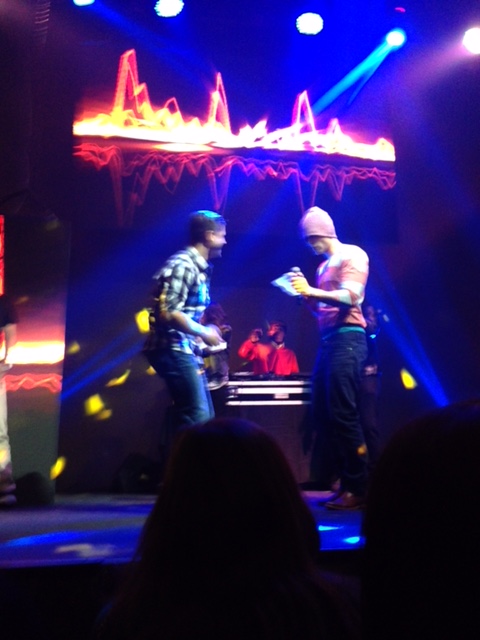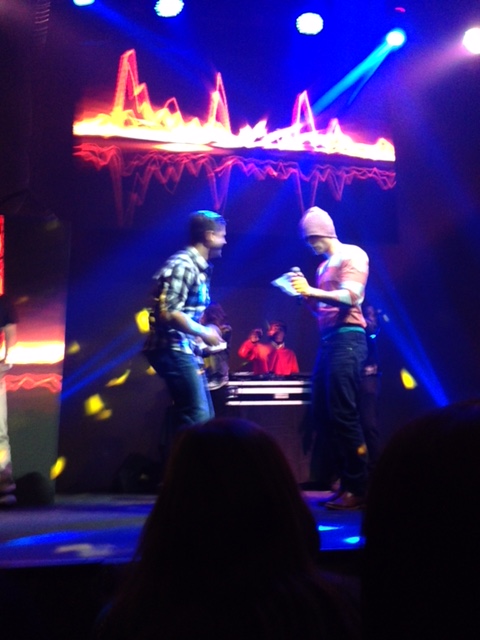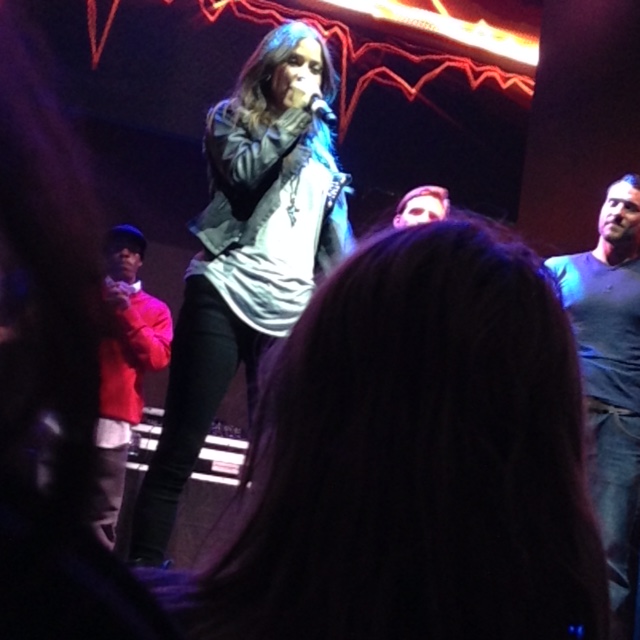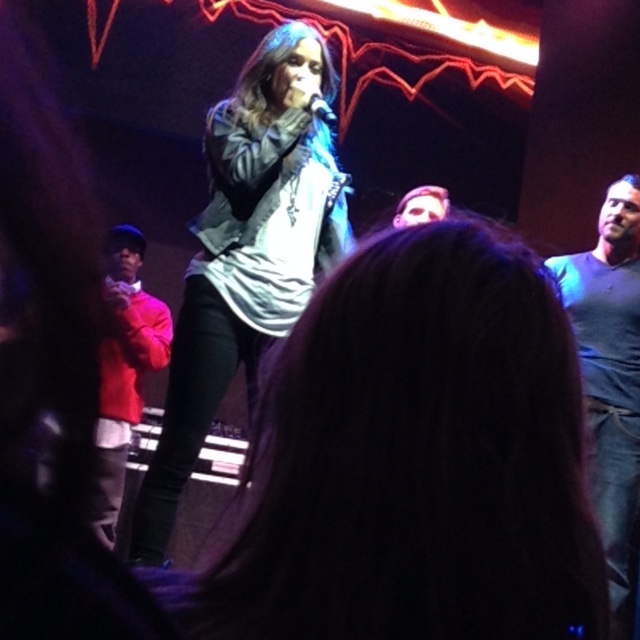 Kaitlyn & Doug E. Fresh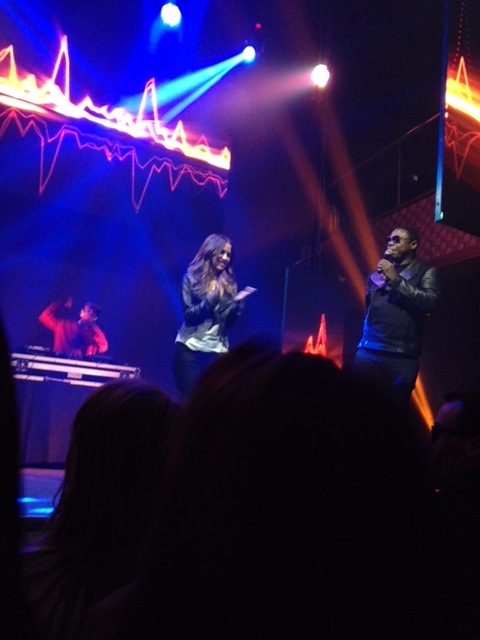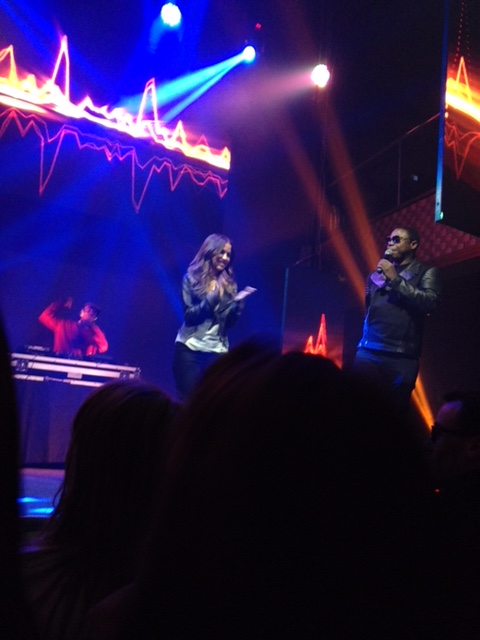 The rap battle after party was on a boat in Chelsea Piers. This was when Kaitlyn told the guys that a guy from a previous season came up to her after the rap battle and asked to be on the show. She said it was Nick and he had emailed and texted her a few times before. She didn't know what she wanted to do yet and asked the guys. They were against it, so she said she wouldn't bring him on that night but he might come on later.
That night while the guys presumably thought Kaitlyn was off filming an ITM, is when she met up with Nick and they made out. This was spoiled exclusively here the day after it happened:
Let me give a little background to the whole Kaitlyn and Nick thing. Yes, she told the guys on the group date he was someone that had contacted her before, but she kinda withheld the truth on that one. Kaitlyn and Nick talked ALL THE TIME while Chris' season was airing. He made it known he was into her, and she was well aware he was into her. Their relationship was much more than a few texts and emails. These two were Facetiming a lot in the weeks leading up to her leaving for the "Bachelorette." Now, did Kaitlyn absolutely know Nick was gonna be on her season? That I don't know. But I'm sure she had an idea he was going to be. Why do I say that? Because Nick knew before Kaitlyn's season started he was coming on the show. And since they were talking all the time before she left for filming, I mean, do we really think Nick didn't mention to her that he could possibly show up?
As I've said many times, nothing on this show happens spontaneously. Everything is meticulously planned in advance. Nick had already told work before Kaitlyn's season started filming he was going to be gone, he was just waiting for the call from producers on when he was gonna show up. So I'm sure this episode will make it seem like, on a whim, Nick just decided to fly NY (wait, how would he know where they were?) and ask to be on the show. All bullsh**. This was planned in advance by producers and Nick that he was going to be on the season, it was just a matter of when he was going to appear. Kaitlyn couldn't possibly have been that surprised when she saw him in NY. And the fact they made out on Chelsea Piers pretty much should tell you all you need to know about their "relationship" prior to the show. I was told they had never met each other in person, but talked all the time. So it's basically like they had met. Trust me, these two were in contact A LOT. Him saying all the stuff he did on social media was just a storyline to make it known he was into her, when behind the scenes, these two were Facetiming all the time. I'm sure the other 14 guys on the show really appreciated her leaving out that detail.
1-on-1: Jared Haibon. They had a helicopter ride over NYC and went to the MET Museum. Jared got to dress in a tux for the occasion. Jared got the rose.
Group date: Aladdin performance with 5 guys: Ben H., Chris, Joshua, Joe, and Ian. Whoever performed the best in auditions got to perform with Kaitlyn in the Aladdin show later that night. Chris wins and gets to be in the show with Kaitlyn. Chris gets the group date rose. A couple fans spotted them in Times Square after their performance:
While Chris was on his date and the others had returned, Chris Harrison brought Nick into the lobby of the Knickerbocker hotel where it was told to the guys Kaitlyn is allowing him on the show. At some point this night is when some of the guys took clothes from his suitcase, wet them, then put them back in his suitcase to wrinkle. Nick told Kaitlyn about this at the cocktail party because he likes to complain. For Christ sakes, it's water. Calm down. Poor little Rudolph didn't get to join in any of the reindeer games I guess.
Rose ceremony Eliminations: (at Citi Field) Corey Stansell, Ryan Beckett & Jonathan Holloway eliminated.