So People magazine released the partial BIP cast list this morning, however they left out everything important – namely the four guys (to start off) from Kaitlyn's season who are on the show, and the "surprise" guest. We'll get to that in minute. One thing this article did was confirm that they definitely started out with 16 (9 girls and 7 guys), and made the list I'm about to show you official. So anyone who's thinking this was somehow planted and sent to me so I'd post it and that's not the cast, well again, that's not what happened. I can't make this any clearer than I do every season: This show does not go out of their way to try and fool me with planted information or anything like that. It's never happened before. Info that I've gotten in the past that's been wrong has never come from anyone even remotely associated with the show. I say it all the time: people just like giving me info. This BIP info is no different.
So I tweeted out Sunday about how maybe if they don't want their cast spoiled, production should be more careful about where they leave the cast list lying around. I can even tell you the source on this one (without name of course because you wouldn't know them anyway), but it was a couple that was honeymooning in Nuevo Vallarta last week that was having dinner at one of the restaurants at the resort and found this cast list. They emailed it to me Thursday night when I was in Vegas, and whaddya' know, here are your BIP cast spoilers: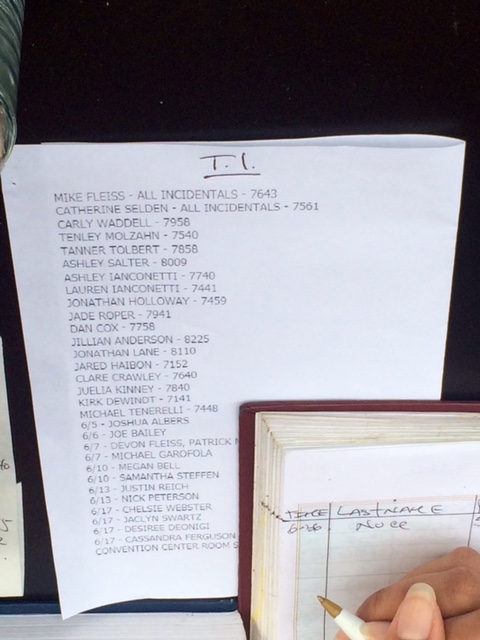 So lets break this down now:
-The show will start with 16 people (9 girls and & 7 guys). They will be:
Girls:
Carly Waddell
Tenley Molzahn
Ashley Salter
Ashley Iaconetti
Lauren Iaconetti
Jade Roper
Jillian Anderson
Clare Crawley
Juelia Kinney
Guys:
Dan Cox
Kirk DeWindt
Mikey Tenerelli
Tanner Tolbert
Jonathan Holloway
JJ Lane
Jared Haibon
-The sibling I was teasing who was cast and is the "surprise" contestant "People" mentioned is Ashley I's sister, Lauren. This is what she looks like. Basically a blonde version of Ashley:
-Based on the cast list found, Joshua Albers, Joe Bailey, and Michael Garofola joined the cast over the weekend.
-Megan Bell and Samantha Steffen arrive in Nuevo Vallarta tomorrow then join the cast shortly thereafter.
-A couple names on that list that you might have questions about. Catherine Selden is the show psychologist. She travels everywhere with the show. Obviously you know who Mike Fleiss is, so he's there. You see on Sunday 6/7 the names of Devon Fleiss and a Patrick. That's Mike Fleiss daughter and her fiancé Patrick Martin who are getting married next July in Colorado in case you want to buy them a gift. No, Devon and Patrick aren't on the show. Looks like they're just vacationing on daddy's dime. Must be nice.
-Justin Reich and Nick Peterson arrive this weekend, with the final remaining 4 girls arriving later next week.
-You might see the name Desiree Deonigi and ask who that is. That's Mackenzie Deonigi from Chris' season. The 21 year old who has the kid. Not sure why it's written as Desiree on that list, but if you google Desiree Deonigi, it links to the girl we know as Mackenzie. Maybe it's her middle name? Whatever the case, that's the girl it's talking about.
-So of the two tentative lists I'd previously posted, the only names I hadn't heard at all that were going to be a part of the show were Dan Cox, Nick Peterson, JJ, and obviously Lauren Iaconetti. All the other names were mentioned, including 19 of the 20 I posted last Wednesday.
-So 9 girls from Chris' season and 7 guys from Kaitlyn's season. What's even more amazing than that? That of those 7 guys, six are the guys whose names start with "J": JJ, Jared, Jonathan, Joshua, Joe, and Justin. I'm sure that won't get annoying. Not to mention there will be 4 other girls on this season who's names begin with "J." 11 of 27 "J's" on the show? Geez.
So lets see how many entertainment outlets now run with this cast list, and which ones just adhere by ABC rules and only run with the list ABC gave them. Put it this way, if a site only posts the 11 of the initial 16 like "People" did, you know they're in ABC's back pocket. Everyone else, feel free to bite off this list and be sure to give credit where it came from. That's all I ask. Even though this cast list is now out there, I don't see any of these people getting swapped out or them changing arrival dates, etc. But if for some reason they did, you know the reason why. And that's exactly why they won't because they don't want my spoilers dictating how they run their show. That would be the ultimate sign of defeat, and they'd never admit that. Unfortunate, but hey, be more careful where you leave your cast lists.
Also mentioned I had some information regarding Kaitlyn's season I wanted to share. Since I posted the episode-by-episode spoilers back on May 18th, I told you I was going to try and find out any details I could about the finale and what went down. Well, I've been able to find out something regarding Nick that, once again I can't prove, but it definitely happened.
Nick was the first guy out at the final rose ceremony, he proposed, and Kaitlyn said no.
So there you go. I'm not 100% sure on how it went down with Shawn if he proposed or not, still working on that one, but I know without a doubt now that Nick did propose and Kaitlyn said no. Womp Wooooooooooooomp. So anyone still holding a candle for Nick, sucks to be you. It happened. Deal with it.
On to "Reader Emails…"