As we head down the last month or so of the season, the tabloids start ramping up their coverage of the "Bachelorette" and you can expect to see some story about something related to the show in there every week. Obviously the biggest news of the past week was last Friday's bombshell of Kaitlyn's Snapchat video in bed with Shawn. Every major outlet ran a story on it: E!, TVGuide.com, Huffington Post, Perez Hilton, TMZ, EW.com…well, all except for two: US Weekly and People. The two outlets who cover this show more than any of the others, and whaddya' know, in the biggest social media scandal this show has ever had, neither of them have said a peep about it when all their competition has run with it. Why? Because ABC is in bed with them and they will feel the wrath if they do. You can see US Weekly's cover this week is about Ben and Jennifer, and Kaitlyn made a sidebar, but there's nothing in there about the Snapchat video. Btw, if you're still doubting Kaitlyn sleeps with Nick on Monday, basically that headline on the cover about Kaitlyn is about how Kaitlyn breaks Shawn's heart because she slept with another man. I love it when media outlets basically reveal who they have to protect. US Weekly and People not running a word about the Snapchat video and it's been five days is hilarious. They're not going to either, trust me. They can't. Fleiss would be on the phone with them in four seconds cutting off all their media access if they do.
Former contestant on Sean's season, Katie Levans, wrote a column online today about what the whole experience was like. You probably don't remember Katie by name, but when you read the story it'll probably ring a bell. Looks like she had a whale of a time on the show and would recommend it to anyone. Or whatever the the opposite of that is.
I guess we got a resounding answer to the poll question yesterday. As of this post, 7,500 people have voted and a whopping 84% of you are happy with the new spoiler. I guess you are all hopeless romantics after all. Either that, or you loved that I was wrong. One of the two.
Don't forget "Dr. Reality Steve" back tomorrow along with your live video chat which I'm sure will be quite interesting. Bring it. I've never hid from being wrong and won't this time. Let me have it.
Our RHOC recapper Nell Kalter's post went up a little late yesterday, so if you haven't read it, you can check it out right here.
Wanted to point this out that an emailer brought to my attention yesterday.
"So…Nick was the last person to receive a rose at the Mets Stadium. Oh, the suspense. Kaitlyn gives out her heart-felt speech about Nick. Suspense. Who will she choose? One rose left. The music gets louder, and louder, until — It's Nick who receives the last rose.
My, oh my. Did you see the editing mistake?
Look at the picture when Shawn was called up for his rose.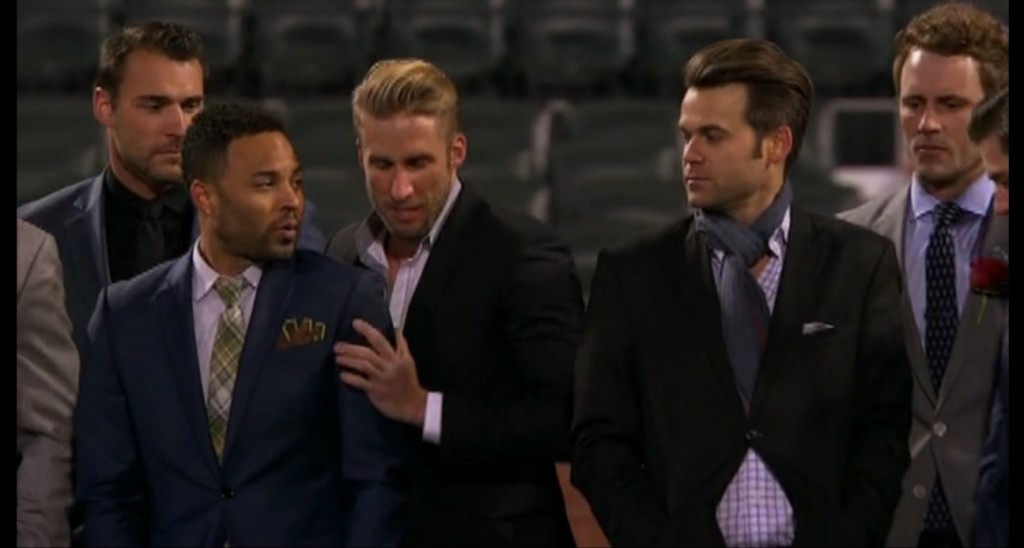 I guess another intern will get docked pay this week for that blunder. Then again, this happens at least once or twice a season, so by now it shouldn't surprise us.