Hi Steve!! Okay, am I just completely off here, or was last night's episode already aired? I just sat down to watch it and I had already seen it last week. Am I missing something, because I just fast forwarded through the entire thing.
Thanks Steve!!
Comment: It didn't air on TV but it aired online. The first 4 episodes were released online a couple weeks ago, but they aren't doing that anymore. The remaining 6 episodes of the season are only going to be shown on Lifetime at 10/9c every Monday night.
_____________________________________________________________
Hey Steve,
I'm ashamed that I'm to the point where I apparently care enough about
this show to email you, but here it goes.
First off, thanks for your defense of the Kaitlyn/ Nick sex situation.
It's abhorrent the things that people are saying to her, and I get
that she isn't your favorite but it made me glad as a feminist (uh,
and just a thinking human living in 2015) that you defended her right
to do whatever the hell she wants with her body.
Second- did you notice that after the date with Nick they had her
"commenting" about the night, but it was obviously from the night
before? I know they re-edit and switch up soundbites all the time,
but typically with the ITMs they at least try to put them in
nondescript clothing. She was straight up in that formal purple dress
with her hair all done up. Editing getting lazy? They do that a lot. More than you think. I just don't have the time every episode to point out how many ITM's are shot before or after the date, even the next day, or even weeks later. I could write a whole column on that.
Third- this season's dates are the worst ever. Really? A wake? Snore.
Time for some new writers. I honestly don't think this season's dates are that much worse than any previous season. Group dates are always silly.
Lastly- I thought it was super creepy the way they filmed Kaitlyn on
the balcony talking to "herself" (obviously talking to a producer who
they blacked out.) She wasn't wearing a mic and was straight up being
filmed from the bushes. I'm sure they know that they can be filmed
any time, with or without their knowledge, but it seemed even sleazier
than normal. Totally reminded me of Unreal.
Thanks as always for your recaps and spoilers!!
Comment: Almost like Clare talking to a raccoon when she was really talking to a producer and they just spliced in shots of a raccoon. Stupid.
_____________________________________________________________
Now that we know most seasons have pre-fantasy suite sex, do you think Britt & Chris did have sex when they snuggled/took a nap after the hot air balloon date? The producers would never want to imply it because they were Cast as girl next door & conservative farmer. Thoughts?
And because you love alliteration,
Curious in the Caribbean
Comment: I'm pretty sure they didn't.
_____________________________________________________________
hey steve,
huge fan of your spoilers and insight- they make a very boring show really entertaining and less embarrassing to admit how much i love it haha. i get the show, what its about and how the game is played, so i've never felt the urge to write in before now…
i can see having 20 minutes together off camera between ITMs and outfit changes, but how did shawn get 6 hours off camera before fantasy suites? i know sean lowe admitted to begging mike fleiss for more time with catherine, but that was the night before proposals and he made it seem like even then, it was a one time exception. obviously shawn and kaitlyn's midseason hang out would not be deemed important enough to break protocol.
so lets say that maybe cameras were there with shawn and kaitlyn. i imagine producers decided not to show it with the intention of making what happened with nick seem worse and alienate him in the eyes of the guys and viewers. if thats the case, why do you think they would show shawn's conversation with the producer, his admission that he spent off camera time with her and his explanation of what she told him?
excited to hear your thoughts 🙂
Comment: Probably to further the storyline with Nick like you mentioned.
_____________________________________________________________
I tweeted this one out yesterday because it was so good…
Kaitlyn is a selfish whore with no morals and a pathetic excuse for a human being!! She should crawl in a hole and die. She just showed our kids that it's okay to have sex on a first date!!! Kaitlyn is total trash and deserves all the hate she's getting!! I hope the fans break her spirit so that our kids can see that whoring behavior isn't rewarded. I can't believe you're supporting her!!! She belongs in the dumpster with the trash and the filth!! Get this Canadian piece of sh*t off our TV screens and send her back to Canada!!! I can't wait to see Kaitlyn cry like a little BITCH at the Men Tell All!!! She's a dirty WHORE who treats people like SH*T!!!
Comment: I mean, what do you even say to something so ignorant? Just goes to show how some people who watch this show are completely out of touch with reality. This person has issues far beyond what they think Kaitlyn's problems are.
_____________________________________________________________
Hi Steve,
I'm going to make this simple… it's called RESPECT. NO ONE is going to respect someone who goes on national television and admit to having sex with someone they barely know unless they are trashy. Like she really saw a future with Nick. He has ZERO substance and all he did was horn her up and she gave in. And what about her family watching this? Do you think her parents watched this episode thinking "Wow Kaitlyn, I'm so proud of you and the decisions you've made on this show… way to go kiddo." Just classless.
Yes I know, everyone has an opinion, and I know you think she's a big girl and can make her own decisions but 90% of the other people in the world see what I see and it's just pathetic and all she wants is attention… and GUESS WHAT?! She got it. Emily Maynard didn't even spend the night in the fantasy suites with the guys because she's a class act. I bet every dude out there was like "wow she's marriage material"… If Kaitlyn wasn't looking to find her husband and this was BIP, I get it… but don't prance around pretending you want to settle down and get married and hook up with NICK out of all people on national TV. This is why the world is against her decision. GET IT??!?!
Thanks for your time.
Comment: 90% share your opinion? That's asinine. No they don't.
And yes, Emily did sleep with Arie and Jef off camera, it was just never shown because she had an image to uphold.
_____________________________________________________________
Hey Steve!
Just wondering..in the season highlights, they "showed" the crew knocking on Kaitlyn's door and she replies "he'll be out in thirty seconds", followed by a naked guy running in a field. Did they stage that for the promo? Does she have another sexcapade other than Fantasy Suites? Or was it Nick and they switched that scene up for the birds and the bees for the episode? (touché ABC, touché..) As I say every season, a lot of what's in the beginning of the season promo never gets shown. Happens every single season.
I'm soooo eager to see how the guys handle the news about her romp in the sack with Nick. I know she doesn't sit them all down and tell them, but obviously they find out. Shawn is gonna lose his ever loving sh*t. I'm happy they obviously get past it though. Ashley S. is smarter than we think; Kaitlyn's def in lust with Nick. Get that sh*t out of your system and then settle down with someone who can offer you more than just a good booty call.
Anyway, thanks for the updates. Makes the show helluvah lot more entertaining 🙂
PS. I feel like Ian/Kelsey and Josh/Carly are destined to be together. They're like carbon copies of each other in the opposite sex.
Comment: Well neither Ian or Kelsey are on BIP, but Joshua and Carly are. Are they hooking up? You'll know soon enough.
_____________________________________________________________
Oh Steve…. I sometimes wish you had a little drum "punch line" sound effect you could put in at the end of your sentences. I play them in my head for you on zingers like this: "….But we'll go a little deeper into that once we get around to her date. You know, like Nick did to her." ????Buh-dum-ch!
Comment: I do my best. Be sure to tip your waitress. I'll be here all week.
_____________________________________________________________
Hi Steve!
Do you have any info about the "6 hours" Shawn and Kaitlyn spent in his hotel room? He mentioned it to the producer he was speaking with on Monday's episode….does the lead sneak off like that a lot and get that much time off camera every season?
Comment: Every season? Yes. Every contestant? No. If you ask for it, they will allow it. It's becoming more common in recent seasons.
_____________________________________________________________
I feel like JJ and Nick are so similar – both cocky, drama-causing, attention-seeking white boys who make questionable fashion choices..
Comment: JJ's sock drawer looks like it was stolen from Rainbow Brite's room.
_____________________________________________________________
I thought you might find it amusing that your site is blocked when you're on the United Club wifi. I was 3 hours delayed and needed my reality Steve fix, wtf united?!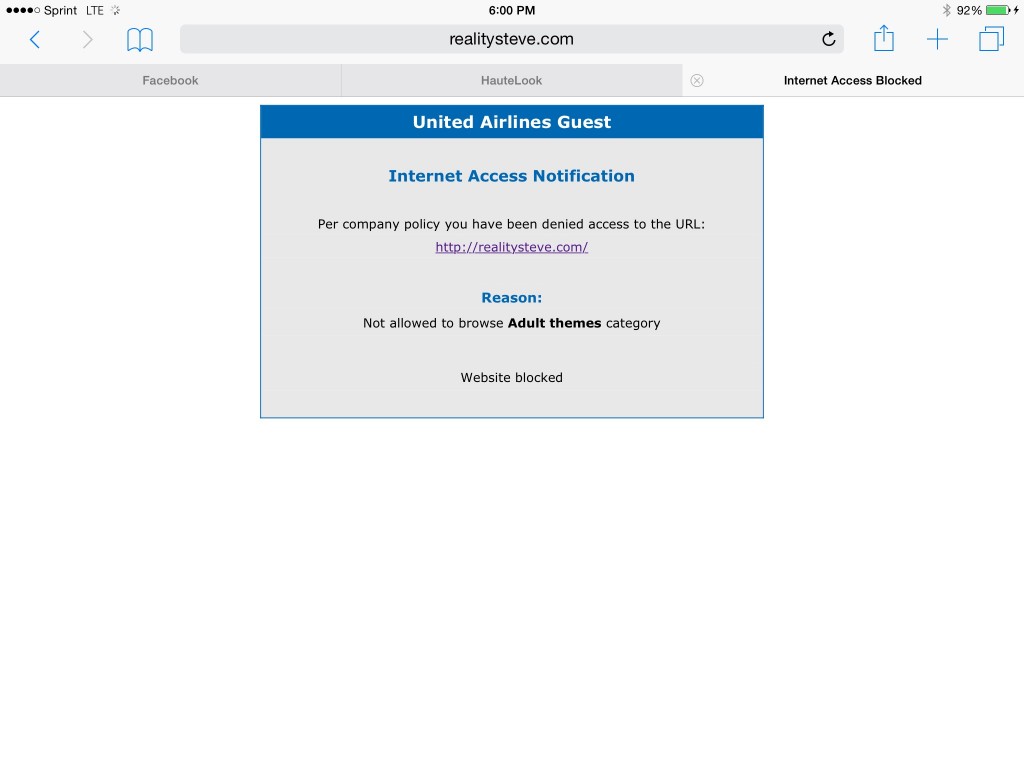 Comment: Dammit United. Get with the program. Adult themes? Really? What a shame.
_____________________________________________________________
Hey Steve-
A few questions for you:
1) on the Bachelor/ette do producers have specific girls/guys like on unREAL? like ones that they specifically try to promote and get to cause drama? Absolutely.
2) did we ever get confirmation that Clare/Juan Pablo and Courtney/Ben actually had sex? are there any others that had sex before the fantasy suite? Yes on Courtney and Ben. She admitted it in her book, but said it only lasted 20 seconds because they were standing in an awkward position and it was in the water. Basically they played "just the tip." No on Clare and Juan Pablo.
3) I know these guys are characters and you don't really care about them, but if you had to pick, which of Kaitlyn's guys could you most see yourself being friends with if you knew them in real life? I really have no idea. Tough to answer when you don't know them. Basically outside of Tony, most seem rather normal.
4) I know you didn't think Ben H. would be Bachelor but I think America is really starting to like him-similar to the Kaitlyn situation. Do you think he has a shot at it or is it really gonna be Josh Murray? (idea for poll question next week: who do people want to see as Bachelor?) Looking like him or Josh now.
5) Did you see Mike Fleiss' tweet last night "be on the lookout for our next Bachelor"? Does that mean they're close to announcing or was it a joke in reference to Ian?
Comment: They won't announce it til much later in the summer.
_____________________________________________________________
After reading that horrific email you received on Twitter. I thought I would ask you a just for fun, light hearted question. If there is a season of Unreal 2 and they added a blogger who spoils the show, who would you want to play you? My choice would be Matt McGorry from How to Get Away with Murder.
He is also in Orange is the New Black. I am around your age and can not believe how much people care about such unimportant things. Only if they put that much energy into real world problems. Have a great night!
Comment: Well, I watch neither of those shows so I don't know who you're talking about. However, some people have said I remind them of Zachary Levi, so maybe he's up for the role. Of course, he's in the "Heroes" reboot so he might be busy. I've also gotten David Schwimmer, Danny from "New Kids on the Block," and Craig Robinson from Ali's season. So go with any of those three.
_____________________________________________________________
RS,
Did you see the newest Unreal episode? Such parallel or somewhat mirroring the Bachette episode. Question is for Unreal do you know if they shot the whole season in advance? Or if they do it episode to episode? I'm not sure if you've mentioned it before. I hope they extend it after the season. I'm enjoying the show twists and all. I hate it when shows get cut mid season.
Comment: Yes, all 10 episodes are in the can. As far as I know, it's not getting cancelled and you'll see the remaining 6 episodes every Monday night up to the finale on August 3rd.
_____________________________________________________________
Hey Steve,
People who give you flack because the rose ceremonies are being held to the next episode are lame. Basically I read the "episode-by-episode" spoilers as "rose ceremony-by-rose ceremony" spoilers.
Also, I would imagine that the show having the rose ceremonies at the beginning would be driving viewers to your site. If I was an average viewer and haven't been reading your site already for years, I would go straight to google who was going home at the beginning of next week's episode. Your site is the first link after googling "who goes home next week on the Bachelorette." Have you noticed an increase in traffic to your site after the episode airs without a rose ceremony after the dates vs. the traditional rose ceremonies. I feel like the show is tampering with and taking "importance" away from one of its iconic segments by moving the rose ceremony around in the episode and not ending with it. I can't even remember why the guys with roses have them and the guys going home seem to just be gone 5 seconds later. Thoughts?
Comment: Nothing's really changed in my traffic in regards to altering when they are showing rose ceremonies. I guess after 30 seasons they just decided to change that one aspect of the show up. Can't blame them. Last season they did it once or twice. This season we've only seen the rose ceremony happen in the episode it was supposed to once. That's too much. I have no idea what their future plans are for it though. We won't know until next season starts airing.
_____________________________________________________________
Do you have a list of links to your radio interviews and tv segments from this season. I went back and found a couple, but can't always play them when I read the post. Thanks!
Comment: I've only done one radio and one TV appearance this season. Yesterday has the TV appearance and my radio one was done back on May 20th with the "Kidd Kraddick in the Morning" show.
_____________________________________________________________
RS,
I forgot if you read Sharleen Joynt's blog for Bach but I came across it earlier she was mostly defending both sides of Kaitlyn and Nick as their friend. I'm getting confused now with Unreal and what these former contestants say. What do you think of abc/Kaitlyn milking this whole thing since Ive seen her on GMA, Yahoo, etc and Fallon as they promoted. Articles about it on most outlets. Seems like a producer driven situation in that sense? But obviously there's more to it. Do you think its intentional?
Did you mention before the winner of this show getting anything money, goods etc? Thanks!
Comment: Sharleen definitely is speaking with knowledge because she knows both of them and has spoken to both of them. She'll never out either of them, but it's obvious her opinions are shaped by what she knows.
_____________________________________________________________
Hi Steve. I was just wondering if you caught what the producers editors did on the show on Monday. Right after kaitlyn and nick have sex. Which by the way was ridiculous the way the held the camera on the door the whole time as if we needed to reminded every 10 seconds that they were in there. The way they kept going back and fourth to the guys convos about how nick knows what he's doing and will just get in there the whole scene was cringe worthy. The most classless and tasteless way for them to have shown this story. Anyway once they're done with that nonsense and go to commercial the intro when they come back is a clever shot first at a couple birds then the bee in the flower. The birds and the bees. They are nauseating. No way someone didn't plan that. I don't buy they coincidentally just happened to snap a shot of nature and got that. It had me laughing though.
Thanks for all your hard work
Comment: Of course it was planned.
_____________________________________________________________
Have you noticed that Kaitlyn looks obliterated in a lot of her ITMs? Yes yes, I know this show and all it's drama relies on lots of heavy drinking. I don't, however, remember seeing a bachelor or bachelorette appear so drunk episode after episode. Her eyes become half closed and sleepy, she's swaying and slurring by the time she's doing the end of date/end of cocktail party ITMs. I almost feel bad for her.
Perhaps Kaitlyn just doesn't "act sober" as well as the others or perhaps she's drinking a bit more? Didn't Nick tell the guys "there was a lot of whiskey consumed" on their impromptu overnight date?
I'm not saying drunk one night stands are rare or should be slut-shamed but at what point should a producer step in and say "hey this girl is wasted…let's not leave her with creepy stalker Nick?"
Just putting that out there.
Comment: I honestly haven't noticed it to the extreme that you have. I'm sure she's a little buzzed, but wasted? I haven't caught that.
_____________________________________________________________
Hey Steve
About Kaitlyn and her pre sex deal with Nick. I can see you fighting for her. Maybe you will be around to console her children and grand kids with they find out on a Facebook or social media site calling their mother a slut.. sleeping with another man while daddy was in the next room. posting url's of her.. I think they will pay the price for her choices, Shawn also if she is still with him.
Maybe her choice to do Nick was very poor to say the least. The old Kiss and tell guy will be posting the nudies of her also and everyone else that she ever sent them too. IMO that is where the price will be paid.. Maybe she is as shallow as Ian claims.. I pray it dont happen but Murphys law will prevail im sure. Someone will pay, Sadly it will be her children.
Comment: Yes. The children are our future. Teach them well and let them lead the way. Show them all the beauty they possess inside. Give them a sense….OF PRIDE!!!!!
_____________________________________________________________
Steve,
In Ali's blog yesterday, she made mention of Mike Fleiss saying that one Bachelor slept with 6 of his 25 women…do you know who?
Comment: Actually when her blog was first posted, she said 17 of 25. It's now been changed to 6. She's referring to Bob Guiney. That's the rumor that's been making the rounds for years. And if we're being technical, Fleiss actually said in an interview it was "5 ½." Whatever that means.
_____________________________________________________________
Send all links and emails to: steve@realitysteve.com. To follow me on Twitter, it's: www.twitter.com/RealitySteve. Instagram name is "RealitySteve," or join my Reality Steve Facebook Fan Page. Talk to you tomorrow.