So the big news to come out of yesterday that many of you asked about was the TMZ report that Marcus and Lacy's wedding was fake. I don't know anything about this and it was the first I'd heard, but I think people are getting caught up in semantics. If there's no wedding license in Mexico or the U.S. that they've found, then I guess by technical terms they aren't legally married yet. But when they post that headline, you get people thinking that they aren't even a couple and/or they were just hired for the show. That's not true. They live together in Orange County, they are engaged, everyone of their family members that was flown down to Mexico that day was paid for as were their accommodations. So did the wedding we saw on TV legally bind them as a couple? I guess not according to that story, but they are a couple and living together and are planning a ceremony in the states when Marcus returns from Coast Guard boot camp. I guess I don't see this as big of a deal as most people do. It's not like they're two people who aren't even a couple and pretended to get married on TV. That's not the case. By the way, an email sent to Lacy yesterday went unresponded to, but that doesn't surprise me. I'm guessing she will say something on social media in the future about it. But I think we're just dealing with semantics here and it's not nearly as big of deal as TMZ made it out to be with their attention grabbing headline.
A lot of you have asked me about the UnREAL finale that aired on Monday and what's gonna happen next season. Well, I don't know and that's because the producers themselves don't really know yet. They haven't even started breaking season 2 yet. However, they did do a couple interviews with some ideas they've been throwing around. They spoke with E! Online about it and also did another interview you can read here. I enjoyed the finale actually because there were parts I didn't see coming.
One other UnREAL note, the actors who play Adam and Anna are now dating in real life. Awwwwww, how cute. Their own love story.
Get your "Dr. Reality Steve" emails in for tomorrow, as well as the live video chat happening again tomorrow night. On to "Reader Emails"….
________________________________________________________________
Not sure if this type of thing is of interest to you or not. Kalon showed up in my matches on Hinge — an online dating app that matches you through FB mutual friends (so a little more private than say OkCupid). I took screen shots of most of it for you. Pretty sure Lindzi Cox is in one of the photos. And of course he features his helicopter.
Comment: Hinge? Really? How many dating sites are there? I've never even heard of that. But Kalon on it? Not surprising.
________________________________________________________________
Hey, Steve! I just wanted to give you ONE girls opinion on something (because I obviously can't speak for all of us.) You may not care even the slightest bit, and that's cool, hahah. I'm sharing anyway. 😉
I watch The Bachelor/Bachelorette faithfully every season, but I'm not sure why because the cheesy, over-the-top things that contestants say to the leads makes me want to gag. That's why I enjoy your site. You sift through the bullshit. Thanks. When Kaitlyn was reading the poem or whatever it was Nick wrote for her, I had to cover my ears because it pained me THAT much. You mentioned that Shawn's gift to Kaitlyn was just a jar of junk. But to me- a girl who isn't into flowers and fancy dates and lovey-dovey words- I thought it was one of the sweetest gifts I've seen given in a long time on this show. Nick put a picture of them making out in a frame, and then wrote some crap on a piece of paper. That took him what? 30 minutes? Shawn's gift, while its not something that would look beautiful on a mantle, was way more thoughtful and time consuming. He had been saving things from the very beginning, and carrying them from place to place. From the looks of that jar, he kept EVERYTHING. It took him weeks to collect all that stuff. I would much prefer Shawn's gift over Nick's, simply because it seemed like more thought was put into it. (And I'm not just saying that because I've always been team Shawn.)
I know how you felt about Shawn's gift, so I just thought I'd throw my two cents in. 🙂
That's all.
I can't think of any cool alliteration, so…
Adios.
Comment: Well technically the producers just saved it because I'm sure they knew early on he was lasting long. I don't see anything special that he did.
________________________________________________________________
Steve,
Having been around TV for 45 years and currently a writer about culture and media, I have to wonder what's real about your relationship with the Bachelor franchise. It would cost you probably $5-10k for the research, but it would fascinating to poll a sample of 400 Bachelor viewers and ask them about you. What percentage of regular viewers reads your spoilers? How does it impact them?
Honestly, I think you may underestimate the positive impact you have on the whole franchise. You, in fact, may actually be a key factor in ABC's ability to sustain viewers. Yeah, it's not research I plan on ever doing, but I just look at it from the opposite view. People are turning away because they read spoilers. If anything, it makes them want to tune in more. We've seen the ratings for this show year after year after year. Their base audience comes back every single season and has for years. I don't see that changing anytime soon.
Aside: UnReal is interesting but suffers (badly) from an absolutely awful script. It's painfully bad, and they're going to need new writers if they want to take it further. IMO
Comment: Is UnREAL going to win an Emmy? No. But I wouldn't say the script is painfully bad. You have to take the show for what it is. They aren't trying to be a dramatic television show that has some deep effect on its viewers. I thoroughly enjoyed the first season and am looking forward to the second. And no, it has nothing to do with the contract I signed with them and that they pay me to cover their show. As I've said numerous times, I've turned down way more opportunities for shows/products that wanted to endorse on my site that I've accepted. I've only done the ones that make sense for my audience, and that show definitely does. Tons of positive feedback for UnREAL in "Reader Emails" for the last couple months. That's a good thing.
________________________________________________________________
Hello,
I am a long time reader never have I sent an email. I know you get dumb questions and get annoyed.
This may be a dumb question ( or a couple ) but after being on Twitter the last few weeks ( especially during the show ) I have noticed Josh's mom (Lauren Murray) tweeting/favoriting a lot of Andis tweets. One of them saying " Love you sweet girl XOXOXO" Looking back she never really did until recently. Andi and Josh seem to tweet the same thing too. It's just weird.
Josh is also being kinda negative towards the show in his tweets (if I am reading between the lines right) Josh's sister is also still favoriting Andis tweets and IG post.
Seems like Josh's mom does not want any of her kids in a relationship. Even his sister has ended her relationship suddenly.
Any news about them?
Sorry, I know they are old news but these weird tweets have me confused.
Hope your feeling better ,
Thank you,
Comment: I have no idea. I haven't seen or read any of Mama Murray's tweets. And only occasionally seen what Josh has said when people directed me to it.
________________________________________________________________
hey Steve
which spoiler was more satisfying for you – the video of Nick on the phone or Kaitlyn's snap video?
Comment: That's easy. Nick on the phone because it was exclusive to me. Nobody else had it. Anyone following Kaitlyn on Snapchat saw the video she accidentally sent out.
________________________________________________________________
Hey Steve!
Always read the spoilers, awesome job on another great season. And thanks so much for the heads up on UnReal. I never would have known about it and that show is great!
I think you probably have heard this, but I just got on Tinder in Orange County, CA (yeah I'm late to the tinder game) and Chris Bukowski definitely popped up in Newport Beach.
Yikes. Swipe left.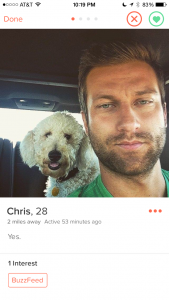 Comment: Great. Now he's spreading his seed all over my old stomping grounds. Wonderful.
________________________________________________________________
Hey Steve,
I love your blog and read it after all episodes. I agree with you that I don't think Kaitlin and Shawn will last and you said the same with Chris and Whitney. I was curious if there ever were any couples in the past that you thought would actually last after their finale?
Thanks!
Comment: Not really. Ashley and JP I thought had a chance because they weren't interested in Hollywood, but I was still a tad doubtful. It's not because I doubt the people, but more so the process. You don't know that person at the end of filming so nothing that happens on the show and the engagement at the end doesn't tell me anything about whether or not the couple will eventually make it.
________________________________________________________________
hi steve. i have two questions.
1. i read one of the q's from the reader's emails today, and someone asked if kaitlyn had slept with ben h. i don't care if they did or didn't, but i was just curious how you knew it was a definite yes. There are plenty of things I know about the franchise I'm unable to answer how I know. That's one of them.
2. i know you had said michelle & cody went on some celebrity marriage boot camp. two questions about that. how can they go on a marriage boot camp if they aren't married? and since they have been back on social media, they have not referred to each other once. in fact, cody snap chatted about his new apartment in chicago. have they split again? I think people are taking the title of the show too literally. I think "Celebrity Marriage Boot Camp" is more about a boot camp for people who either ARE married, WILL BE married, or are THINKING of getting married. Like, if you take a "boot camp" class at the gym, you aren't actually taking real boot camp like in the military. It's more like, "Hey, you want to be married, well you need to take this class to learn more about it." Some couples on the show are married, some are engaged, and some are just dating.
And yes, you're correct. Michelle hasn't posted one thing on social media either about Cody or with Cody since they returned from filming. I don't know what's going on with them. Whereas before they left, she was snapping, tweeting, and Instagramming with him every day.
thanks! hope you feel better soon. 🙂
________________________________________________________________
HI Steve,
i really like your webcast and your emails. if so many of them really come on to just improve their brand, if YOU were the next bachelor, what would or should you do to stand out on the show and really really improve your brand? my ideas are 1) try to be a really nice, considerate guy like Shawn 2) do something really different like dress really great, start a new clothing trend, or new hairstyle trend. something really cool that people would want to copy 3) don't kiss all the girls, make the kiss really mean something
just a few thoughts, what would you do ?
Comment: In short, more or less not act like a complete ass clown and man whore. It's not like the show is gonna let you promote product on there, so you just have to be normal that companies would want to "buy stock" in.
________________________________________________________________
Hi RS,
First of all, thank you for being such a decent person (you're blunt, but never mean). It's nice to read!
I have two questions:
1. Did you notice Shawn's toast during the Meet Her Parents segment, and how they awkwardly used their hands to keep their glasses from clink-ing? Why did they do that? I was kinda skimming that part of the episode and didn't even notice. Sorry.
2. Have you read the Glamour article, and are any of the theories true? Do you think Nick could have been hired to spice up a dull season? Is it possible Kaitlyn is the rebellious Mockingjay? I'd love your opinion on this!
Thanks for doing that you do,
Sammie.
PS, here's the link, in case you haven't read it (although I'm sure you already have it):
http://www.glamour.com/entertainment/blogs/obsessed/2015/07/bachelorette-kaitlyn-coverup
Comment: I'm not sure exactly what that author was getting at. From the second I told people Nick was on this season back in April, people were speculating that this was all a set up. So for that author 3 months after the fact to think they have some sort of grand conspiracy theory, I don't get it. It's nothing new.
And they're flat out wrong about making up the fact that Nick and Kaitlyn were in touch before the show. They absolutely were, so once they throw that part out there and it's dead wrong. Nick wasn't hired to come on the show. Kinda makes the rest of their speculation a moot point. To insinuate it was all a set up with no proof of anything seems pointless. That means she's saying Nick came on the show knowing he'd get taken to the end only to get dumped. That's not what happened.