So a lot of you seemed to enjoy the trip down memory lane yesterday of Jake & Vienna's break up. I mean, did you watch that? All of it. I could probably do a 3-4 page column just on that interview alone. From the constant talking over each other, to Jake's smarmy grin for 24 minutes, to Vienna's awful apology of "I'm sorry I went to the tabloids but I only did it because I knew if I didn't, you would," to Chris Harrison telling them "We don't care about the dog," to talks of GPS', furniture moving, lack of intimacy, etc. That interview had EVERYTHING. Of course, Jake threatening to basically backhand her on national television probably took the cake. I don't who Jake's publicist was before that interview, but I hope Jake fired him shortly thereafter. Holy crap, did he honestly think he came off well in that interview? Not saying Vienna is a saint, but Jake, you might wanna back away from threatening women on national TV. Probably not a good look for you. Or anyone. What an absolute train wreck that I could not for a second take my eyes off of. I think I'll go watch it again.
As mentioned here a couple times, Ashley S. is not with anyone from the show and once BIP filming ended, she got back together with her on again/off again boyfriend from college. From what I hear, things picked up immediately after BIP, they're giddy, and we can probably expect an engagement soon. If you haven't checked out either of their Instagrams, here's what they've posted recently:
And here's a throwback on his page from their college days: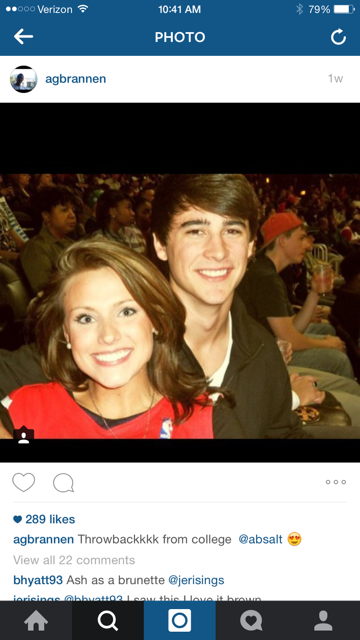 His name is Austin Brannen. Went to Auburn with Ashley and is currently in commercial real estate. He basically looks like a cross between Drew Kenney and Ben Scott if you ask me. On to "Dr. Reality Steve." Only one email this week to get to…
_________________________________________________________________
So I have been married to a wonderful man for over 11 Years. He is a great father and husband. His problem: He is very selfish when it comes to buying material things. He sees something and that is all that consumes his mind until he gets his hand on it. I try to discourage him but then I always feel like I am a crappy person because he works hard. I do too but I could never spend the amount of money on myself that he does. (there was a purse that I wanted that was $300 that I wait 3 years to buy until I saved my extra money and the price came down) First, he HAD to have a dirt bike, then he had to have a motorcycle now it's his obsession with guns. He bought one behind my back and I didn't find out until I saw it charged on our credit card. We live comfortable but we also have debt that I want to get paid off (student loans and vehicles) I have tried to be like well you know that money could go to this or that but I always walk away feeling like I am his mother and that is not what I want to act like or sound like. Please help me find a way to nicely get this obsessive spending under control.
Twisted in Texas
Comment: Lets immediately get the, "Wow, shocker a guy in Texas has an obsession with guns" joke out of the way immediately. No, not everyone in Texas owns a gun. Just seems like they do.
With that said, I've never been married. But basically every one of my friends is. And we talk about things. I would say by far the biggest running theme in conversations with them is that pretty much any arguments/problems/discussions that come up during their marriage that lean to being negative all somehow link back to money. I get it. Finances are always going to be an issue in a lot of marriages. Some can navigate through them better than others. But if your husband is buying stuff behind your back, and he's buying stuff he doesn't necessarily need before loans and vehicles are paid off, and it bothers you, you definitely have to say something.
So when you bring up to him that the money could be used to pay things off, what is his answer? Does he not respond? Does he give a smart ass answer back? Does he say you'll eventually get to it? It's one thing to splurge on yourself on occasion. Hell, I do it maybe more than I should, but I don't have anyone else to look out for. So for the time being, I'm enjoying myself. When that time comes of having a gf/wife and kids, then I will have no problem curbing my spending habits. But it sounds like your husband is doing it more than he should, and that could lead to a problem. Especially when his splurging is buying things on the little more extravagant side. However, he's doing it because he know he can get away with it. You don't sound like you've let how really upset you are by it come out, so he just figures you'll get over it.
You need to be more stern with him regarding it, but not come off as preachy. It could something as little as setting aside a certain amount every month, knowing what you eventually need to pay stuff off. That way he doesn't feel like he can't spend any money on anything good, but it's still accomplishing your goal of working towards debt and vehicle pay offs.
Now, his latest purchase of a gun behind your back is a different story. Did you guys talk about this? Is this gun for protection or he likes to hunt or something? Or, does he just like to collect them? I'd say your talk probably needs to center more around why he bought a gun first, and then the finances of it later. Did he not think you'd see the credit card bill or something? Buying stuff behind your back isn't the smartest thing in the world either.
I think there's definitely a compromise here, but all families handle their finances differently. What works for some may not work for others, so that's for you and your husband to decide. I don't know how much you guys make collectively, I don't know what your finances are, and I don't know what your disposable income is every month. And why should he only get to make purchases for himself. I'm sure besides purses there is something you'd probably want on occasion. So all those factors come into play. But if you guys have money left over every month after bills are paid, I suggest just setting aside a set amount every month towards paying off the student loans and vehicles, all while still having spending money for the both of you. I think an approach of, "You are not buying anything until this stuff is paid off" won't go over well, so, create a budget and stick to it. Won't be easy, and like I said, everyone's finances are different, but I would go that route. And in the meantime, go buy yourself something nice on the credit card and see how he reacts.
_________________________________________________________________
Send all links and emails to: steve@realitysteve.com. To follow me on Twitter, it's: www.twitter.com/RealitySteve. Instagram name is "RealitySteve," or join my Reality Steve Facebook Fan Page. Talk to you tonight.