You know what's funny? Considering I grew up in Southern California and in the Pacific time zone, I always thought it was weird how the East Coast would get to watch stuff first, and live events (incl Monday Night Football) started at 9pm. That was so crazy to me. This weekend I've been in CA because tonight is the night 8 months in waiting as I'm taking my niece to the Taylor Swift concert at Staples Center. I'm sure I'll be Periscoping plenty tonight from the limo ride up, to the concert itself, so be on the lookout for that. But with that, I haven't been able to live tweet the show the last two nights because I'm watching it well after the Eastern and Central time zones have. Figure it's kinda pointless since I'm not seeing it as it happens. I haven't lived in CA since 2006, and social media wasn't around back then. So it wasn't such a big deal to watch this show on the Pacific time zone. Or any show for that matter since nothing would get spoiled. Like, I don't know how you west coasters do it anymore. Must suck having everything spoiled before you see it. If I ever made the move back out here, I would no doubt need to get the east coast ABC affiliate on my DirecTV. I cannot watch this show on west coast. I feel like I wasn't invited to the big party when that happens. First world problems, I know.
So if you saw my Twitter feed on Saturday, you saw me reference the fact that it was possible a misdirection was coming in regards to the "Bachelor," but that no matter what, it was still Ben like I told you over a month ago. That's because I'd heard Nick was gonna be in LA this weekend. But not for "Bachelor" stuff. He's now modeling for Wilhelmina and he has meetings. But of course Nick wasn't gonna let an opportunity pass him up to let people know he'd be in LA, knowing that the "Bachelor" announcement was coming last night. So yeah, I figured he was gonna let people know he was there, and sure enough he did. As for him agreeing to be part of that facade last night, I have no idea when that came together, but are any of you the least bit surprised he agreed to that? Even though I wasn't watching it live, before you ask, no I wasn't worried he was the "Bachelor." There's a reason I told you it was Ben over a month ago. Because it was always going to be him. Nick was never a serious candidate. But when the show gets outed a month in advance, of course they're gonna have a little fun with their audience, and Nick was their pawn. So you bring him out for a 2 minute interview to try and "fool" the spoiler? What was the point of that if you knew it wasn't him and Ben was there? It literally makes no sense because even if you didn't know the spoiler, having people fooled for 2 minutes into thinking it was Nick accomplishes…what exactly? So dumb.
Funny thing happened to Jade Sunday night, and it just furthered my theory that basically all these contestants will eventually spoil their own season at one point. Andi did it, Nick did it, Kaitlyn did it, and now Jade had a little oopsie on Sunday night when she Periscoped after the show. I'll let an email I got right after it happened explain it to you: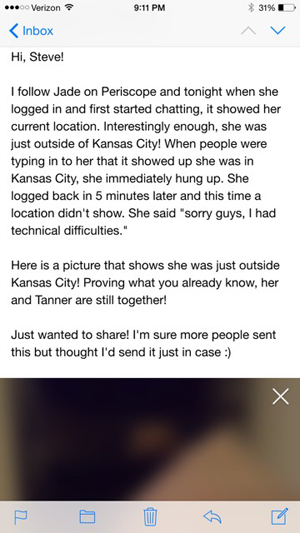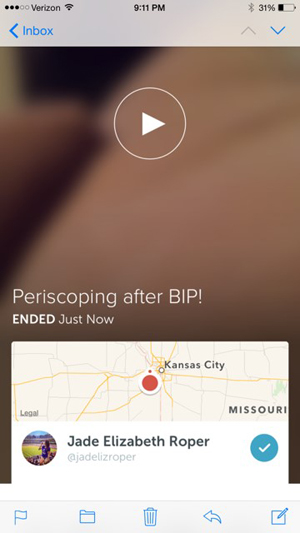 Never ceases to amaze me. Lets see who'll be the ding dong during Ben's season who spoils it once they're back from filming.
With Nick Peterson coming on the show this week, some Johnny Come Lately fans don't really have a clue who he is or what he did. Well, then you need to watch this. Watching this again was brilliant. I forgot how great this moment was in "Bachelor" history:
So for all those that don't like "Bachelor in Paradise" and would rather them go back to "Bachelor Pad," that's pretty much your reason why they won't. How can you possibly ever top that ending? It can't be done unless you change the rules. Nick pulling out the "Keep" and watching the crowd go wild, all while half the contestants on stage couldn't believe it was an awesome moment for this franchise. Awesome. Lets face it, Nick destroyed "Bachelor Pad" all by himself. And it was glorious.
The ratings are in, and this show continues to grow every week. Sunday night's ratings saw 4.2 million people with a 1.3 rating, both up from last week. And for the 4th week in a row, Monday's numbers have gone up as well as last night drew a season high 5.5 million viewers, and a 1.8 rating, up from 1.5 last week. If you wanna compare both "Bachelor in Paradise" seasons, this one is doing way better. Complain, whine, piss, moan, and bitch about it all you want – people are watching.
Just wanted to give a shout out to Sharleen's Monday blog for Flare Magazine. She hit the nail on the head with all her Juelia stuff. Her blog for today isn't up yet, so I'll just retweet it once it's posted.
Nell Kalter's RHOC recap is now up for your viewing pleasure. Did I see that some husband from this franchise got busted by the Ashley Madison scandal? Wow. Real shocker. I know it wasn't an OC husband, but still. I'm sure those are coming.
Little problem with the poll question. Writing today's column on my new computer, I totally forgot to remind myself about the site where I create the questions, so I have to go digging for that info. Since this column is already late as it is, I'll post the poll question here in a couple hours once I run some errands to get ready for tonight, so check back later if you want to vote.